Learn to score high points with secrets to the interactive attractions at Disneyland Park! – Are you game for a great time?
Learn the inside tricks and tips to scoring great fun at Toy Story Midway Mania and Buzz Lightyear's Astro Blasters! Jump in and control the lights at Mickey's Fun Wheel and Glow with the Show wear, and test your skills at the shootin' expo in Frontierland. Wow your friends and family and take control as part of your magical vacation at the Disneyland Resort.

Toy Story Midway Mania!
Disney California Adventure was created with classic turn of the century amusement parks in mind. Boardwalk games and fun are part of the mix. Toy Story Mania allows you to virtually play the classic board walk games while you are immersed with the characters from Toy Story.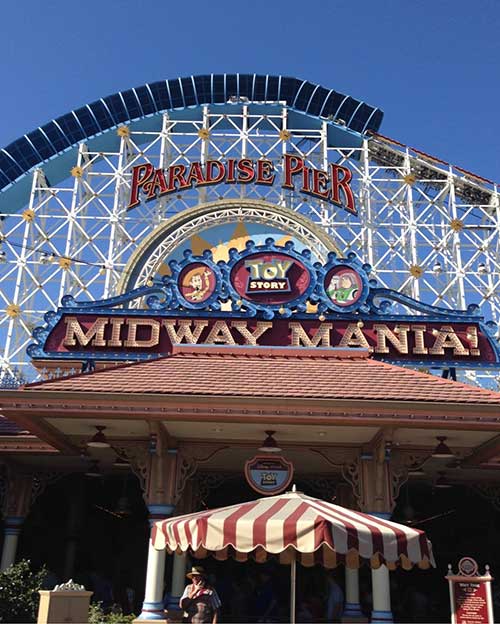 Toy Story Mania is part of the Paradise Pier area of Disney California Adventure. As you approach, Mr. Potato Head serves as a classic "Boardwalk Barker" and encourages you to enter. The technology that drives the character allows him to interact with guests; he can even recognize members of the crowd. You can have a ball watch him calling out jokes "to the guy in the green jacket" or to the "little girl with the blue dress." Don't miss this magical piece of the attraction.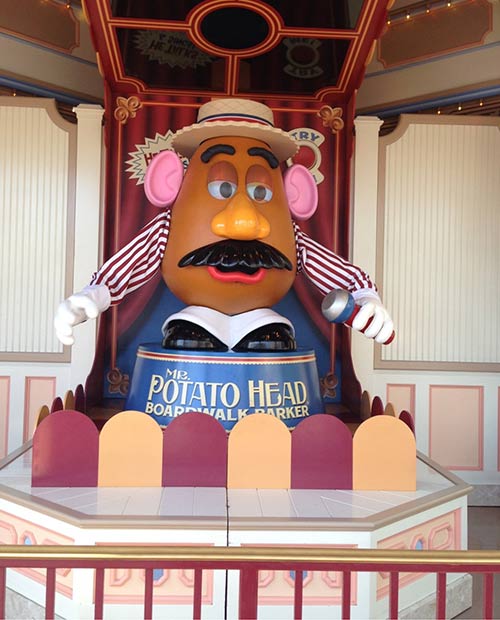 Upon arrival, Toy Story Mania also features Hidden Mickeys. Can you see the Hidden Mickey on the wall as you enter the ride? It is a great reminder to look for the magic in the details at Disneyland.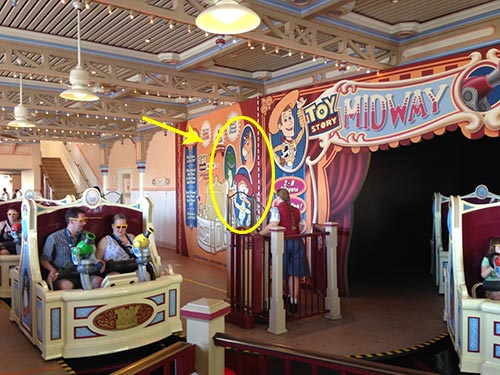 Once you pick up your 3-D glasses, you will enter the carnival car. Your virtual "Action Shooter" throws as many rings, darts, balls, and eggs that you can muster throughout the entire experience. Get ready to take aim at the targets, complete with some 4D surprises!

Practice Game
Warm up for the real game with some practice shooting. Be careful to safe your energy for the end! Throw a few "paint balls" at the targets provided by Woody and Rex and get ready for the pandemonium to begin! Remember, shoot as much as you want, but take note that some targets are worth more points than others. There are a total of five games in all…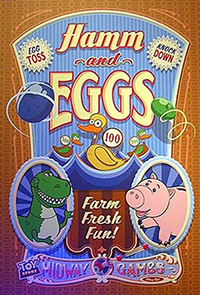 Hamm & Eggs

Throw eggs at the barn yard characters! In order to score major points and avoid a scrambled egg, look in the bottom corner – a fox will appear, he is worth 500 points. As soon as you hit him, two chickens will run out worth a total of 3,000 points.
After blasting the barnyard foes, turn your attention to the top of the screen. Shoot all of the targets in the barn and it will flip upside down. Look for the three mice targets and blast all three – they are worth major points together, but as soon as you shoot the last one, the entire screen will change to 1,000 point targets and you can score a crazy amount of points. Here is the secret – your carnival car companion is not your competition, work together to get it done and score major points together!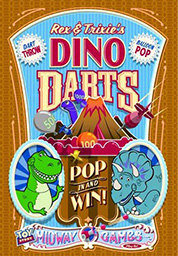 Rex and Trixie's Dino Darts

Throw darts at balloons and targets in the "primeval world" hosted by Rex and Trixie! Remember to work with your teammate. You will see five balloons on both sides of the screen. Shoot them! It is such a surprise – they are water balloons and end up splashing you!

When all five balloons are shot, 500 point balloons will rain down the screen. However, if you are really good and shoot the 5th balloon at the exact same time, the balloons will switch to 2,000 points each!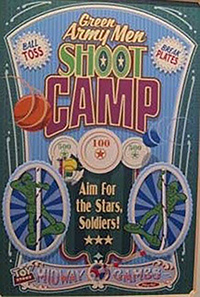 Green Army Men Shoot

It is time to test your baseball throwing arm! Try and knock down the green army men and their tanks and helicopters before they get you. Once again, remember to coordinate with your carnival car partner. It is even a good idea to practice before you arrive at the attraction!

When the game starts watch for a 2,000 point plate that will pop on both sides of the screen. Once again, try to hit the plates at the exact same time. If you hit them, a tank will appear and will shoot out 5,000 point plates. Get them all, but at this point, your team mate becomes your competition, see who can get all of the plates first!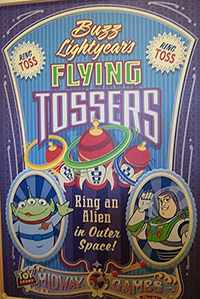 Buzz Lightyear's Flying Tossers

Just like the classic midway game, throw rings and try to cover the Little Green Aliens from Toy Story! The secret to Flying Tossers is to look for the rocket ship filled with eight aliens.

Throw your ring over it and it will explode as the eight aliens try to escape. If you can ring all of them major points will appear!
Woody's Rootin' Tootin' Shootin' Gallery
Your last chance to "hit it big" at Woody's Frontier Gold Rush Town! This part of the attraction has three separate sections and it happens fast, so be ready with your "ride partner."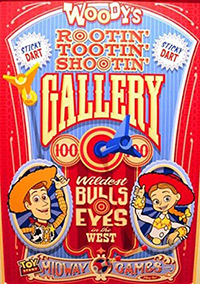 Section 1: Unleash major points, by hitting every target once, they appear again, but you only need to hit them once – don't shoot them twice. Clear the screen of all targets and the screen will change to 1,000 and 2,000 points. As the screen nears the end your carnival car will start moving… Keep shootin' and get as many points as you can…
Section 2: Simple – keep an eye out for the most points and shoot 'em all!
Section 3: This is your chance to really rack up major points! Two gold mine cars will come directly at you… shoot the left and then the right and repeat. Watch out for the cave bat that will appear – shoot him! Go back to the mine cars and watch for the next bat – this one is worth 5,000 points – if you get him the two final mine cars will be worth 5,000 each. Now, get ready for a sprint, shoot as many mine cars as you can! They will progressively increase in points… Keep shooting, keep shooting – your hand and wrist will experience fatigue, but pain through it!
Whew! You made it and with the tricks you have learned – you will most likely have one of the day's best scores! Way to go! It is just like winning the gigantic stuffed bear on the Midway! Post your score to Facebook, Instagram or Twitter by using #getawaytodaywin and let us know you how did!


Buzz Lightyear's Astro Blasters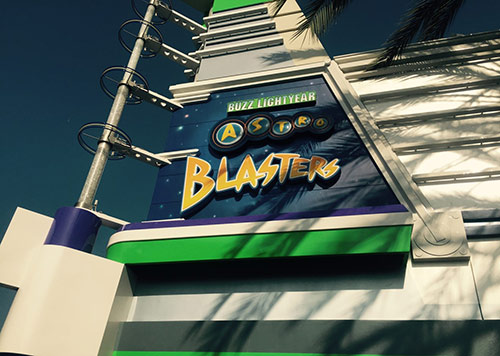 Buzz Lightyear's Astro Blasters is located at the entrance to Tomorrowland at Disneyland Park.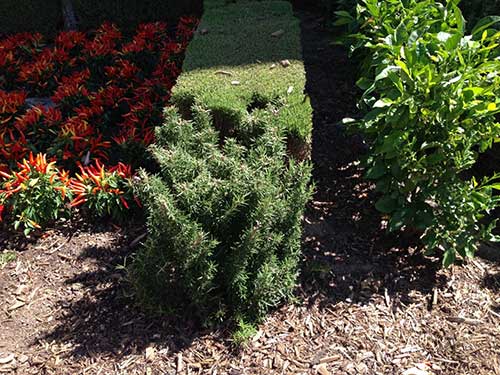 Look at the flower gardens in the area. All of the plants are both beautiful and edible. Check out the peppers, rosemary, and basil - one of visions for the future - edible plants in flower gardens!

Buzz Lightyear's Astro Blasters was developed from the story line around Toy Story 2. You become an honorary toy and a Star Command recruit on a mission. Use your laser guided cannon to help Buzz Lightyear save the day from the evil Emperor Zurg.
Each "space ship" is armed with a laser cannon – take aim at the items marked with a Z – you get extra points when they are lit.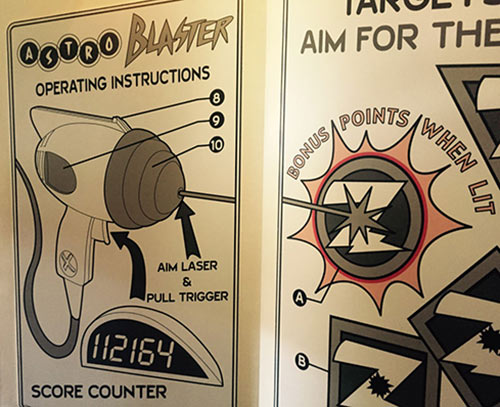 Drive the spaceship. Each space ship has a single steering joystick. The recruit in charge of steering can position themselves to get the best scoring potential.
The first room: Look for the over-sized red robot. If you aim for the inside for the arms, you can rack up to 100,000 points – you should be able to hit them all!
OOOOO! THE CLAAAWWW! (Said with a Little Green Alien accent) As you pass from room one to room two look for the claw – you need to rotate the space ship but if you hit the Z under the claw you can get 100,000 points!
Second room: Look near the back of the room and find the volcano – you can score major points with one hit and it makes the volcano "blow its top!" Aim for Zurg! Shoot all of the Zs around Zurg and you can score extra points! Look for the Z hidden under his arm and shoot away!

Third room: Say "Cheese!" The final room does not have many major scoring options, but, smile for the camera when you see the flashing lights. You'll be able to spot your ride photo after the adventure is over. Send yourself the photo via email!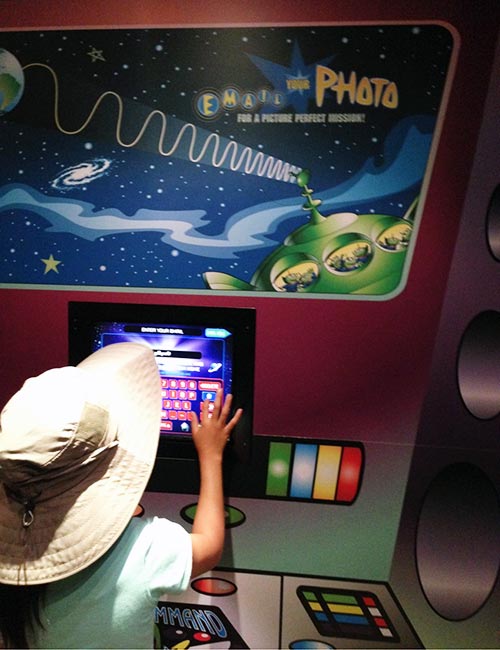 How did you do? Did you score Galactic Hero status? You are a winner either way!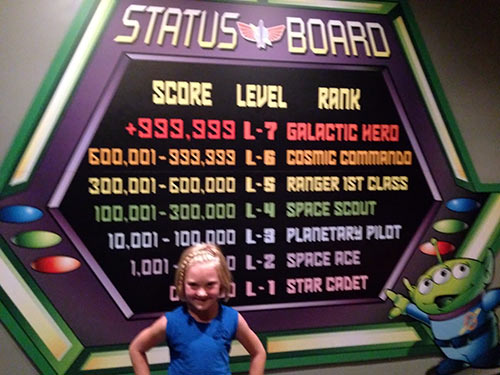 Mickey's Fun Wheel Challenge:
As part of the World of Color experience on Disney has created a game that you can play on your mobile device. While you are waiting for World of Color, Go to www.funwheelchallenge.com and connect to the local WIFI. It is not an app, but powered through the Wi-Fi system. Mickey's Fun Wheel is the iconic Ferris Wheel overlooking Paradise Bay at Disney's California Adventure. Match the colors that you see on your phone. Here is the magic part: If you win, you can control the lights and colors on Mickey's Fun Wheel! It is so much fun that kids of all ages grown when the show starts. But that soon leaves when the magic of World of Color shoots water in the air well over 100 feet!
Glow with the Show!
Disney has created some very special ears, bows, and other light up the night wear for Disneyland after dark fans. Radio frequency controls the light and lets you be part of the show at Cars Land, the fireworks, parades, the Mad T Party and other parts of the resort. But, there is a secret: If you buy one of the magic paintbrushes, you can control the ears too! Check out Denali, our correspondent on how the magic paint brush works.
Frontierland Shootin' Exposition

Swing by to test your shooting skills at the shooting gallery, themed to look like Boot Hill in Tombstone Arizona. Check out the cacti… Many are Hidden Mickeys!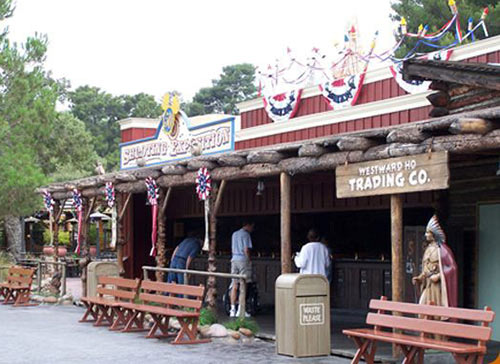 You will notice the cigar store Indian in front of the shooting gallery. Many do not know that his twin can be found on Main Street. Frontierland's has a red cape and Main Street's a green cape.
Thanks for playing along. Your Get Away Today expert would love to help book your trip to Disneyland to try your new skills at Disneyland Resort's interactive attractions. Check out our
Disneyland packages or Disneyland tickets! Book online or call the vacation experts at 855-GET-AWAY.