Soarin' Around the World is one of the newest attractions at Disney California Adventure Park. It replaced Soarin' Over California this summer and has been a HUGE hit. If you haven't had the chance to ride it yet, we're giving you a scene by scene guide of what to expect.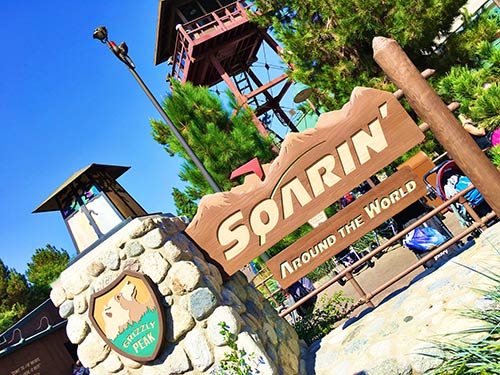 Since opening in June, Soarin' Around the World has been a hit... around the world! It is currently in Disney California Adventure Park in California, Epcot at Walt Disney World in Florida, and at Shanghai Disneyland, where it plays at Soarin' Over the Horizon. Today we wanted to share a sceny by scene guide of the incredible places you'll see from around the globe.
We want to make it very clear, this article is full of SPOILERS. If you want to ride Soarin' Around the World and have it be a complete surprise, don't read this article. If you just love everything Disney and want to know as much about the attraction as possible, we think you'll enjoy it. Also, as an FYI, this is definitely a spoiler for the attraction, but be aware that the screens before you get on the attraction will show you where you'll be traveling on your trip around the world.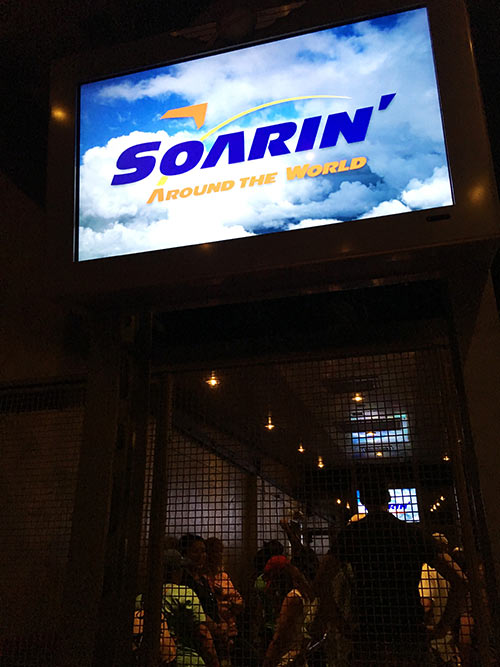 The Matterhorn in the Swiss Alps is your first stop on Soarin' Around the World. It seems especially fitting since you can ride the Matterhorn over in Disneyland.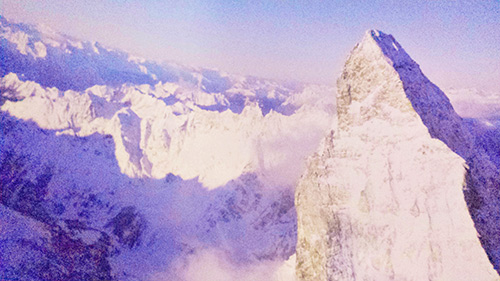 Next, you'll visit the ice fjords in Greenland in a way you'd never be able to see them in real life. It is incredible.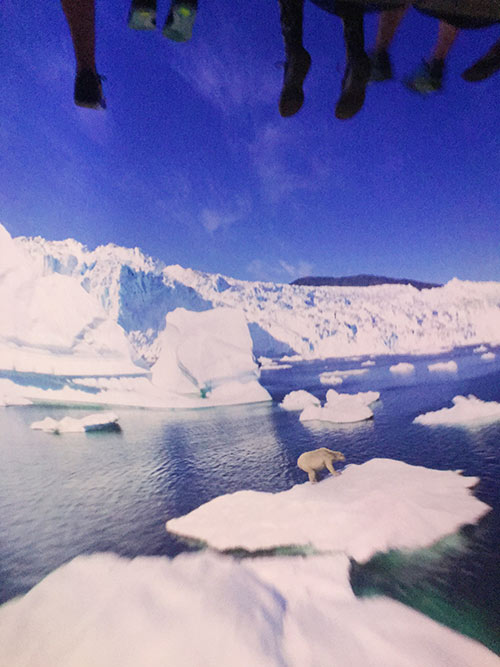 Your next stop in Soarin' Around the World is Sydney Harbor in Australia. We looked for P. Sherman 42 Wallaby Way, but no luck!
Next, you'll get an incredible arial view of Neuschwanstein Castle in Bavaria Germany, the inspiration for Sleeping Beauty Castle in Disneyland. It is stunning.
Then, you'll soar over a herd of elephants at the base of Mt. Kilimanjaro in Tanzania. I don't want to give away all of the spoilers, but this is one of my favorite smells you'll experience on the ride.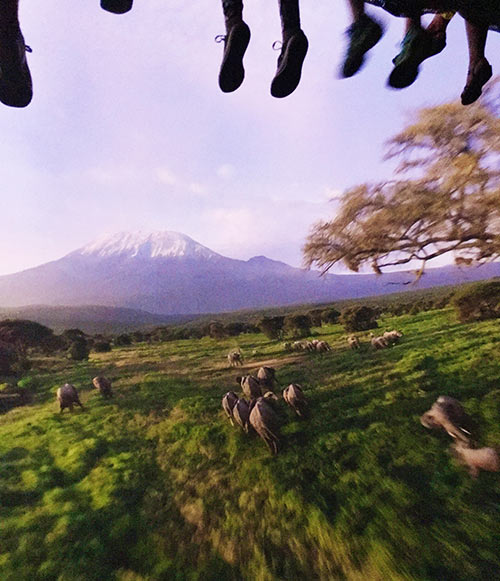 You'll then make the trip to the Great Wall of China for a completely incredible perspective of one of the world's most recognizable landmarks.
After that, you'll explore one of the Seven Wonders of the Ancient World, the Great Pyramid of Giza.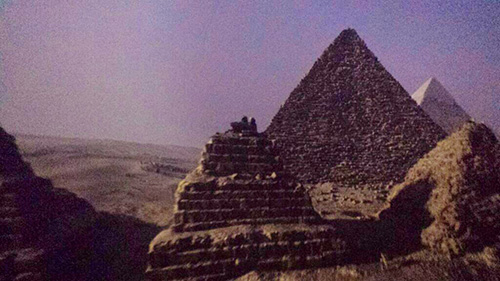 Next, you'll swoop over the Taj Mahal in India where you'll also enjoy the lovely scent of flowers.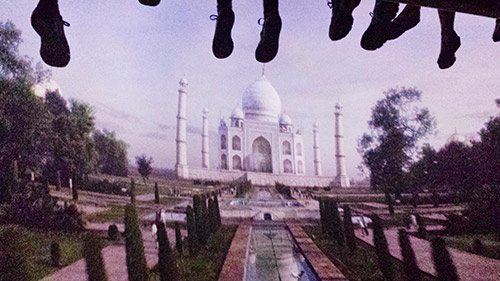 Your next stop on Soarin' Around the World takes you to Monument Valley in Utah. Watch for a Hidden Mickey!
You'll then enjoy breathtaking views of the Fiji Islands as you breathe in fresh ocean air.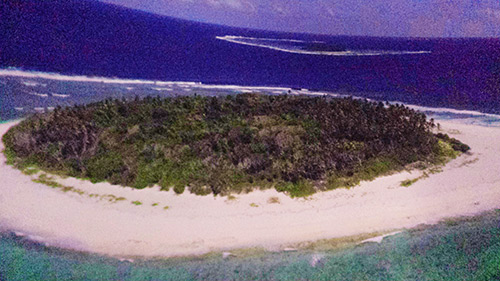 Then, you'll get a bird's eye view of Iguazu Falls, one of the largest waterfalls in the world where Argentina and Brazil meet. You can almost feel the spray from the falls!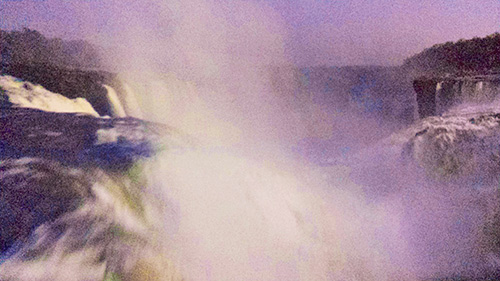 You'll know you're getting close to the end of your journey when you visit The Eiffel Tower in Paris at night. Just as you'd imagine, it is spectacular.
Your final stop on Soarin' Around the World is Disneyland. Or Epcot. Or Shanghai... all depending on where you ride it. The ending sequence of Soarin' Around the World at Disney California Adventure Park is similar to Soarin' Over California, but you'll notice that Disneyland is no longer holiday themed. There's nothing like quite like ending a journey around the world at Disneyland... and realizing that you're actually there!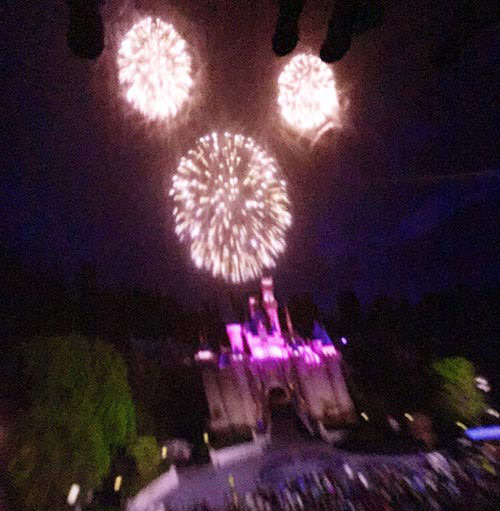 I hope you love the new Soarin' Around the World as much as I do. I recommend getting a Fastpass for it, as it is still new and really popular. However, even without a Fastpass, it's worth the wait!
We'd love to help you plan your next trip, whether it brings you around the world, or to Disneyland! All of our Disneyland packages can be found online, as can many of our other 1,900+ destinations worldwide. Our agents can be reached at 855-GET-AWAY and visit our most popular destinations on a regular basis. They are happy and ready to give your their personal recommendations and expertise for your vacation.

Check out these other great articles: