Everyone knows the Disneyland Resort is a special place and Thanksgiving is a special time of year. When you combine the two, it's magical. We've compiled 10 Reasons to Celebrate Thanksgiving at the Disneyland Resort this year:
1.  You can show Mom how thankful you are for her by giving her the day off. When you celebrate Thanksgiving at the Disneyland Resort, there's no prepping, no cooking and no clean-up. I can't think of a mom who wouldn't appreciate that!
2.  The Disneyland Hotel Banquet is known for its incredible spread. Adults can dine on prime rib, crab legs, shrimp, salads, artisan cheeses, and of course the regular Thanksgiving trimmings - turkey, mashed potatoes, gravy, stuffing and cranberries. Kids have their own station with homemade pizza, macaroni and cheese, chicken and other favorites. Everyone will love the ample dessert buffet with pumpkin pie, a chocolate fountain, tarts, cookies and other sweet treats. Reservations are available from 12-6pm on Thanksgiving Day and they fill quickly, so make your reservation by calling 714-781-DINE today.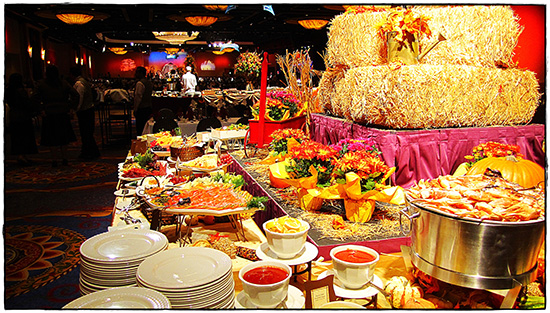 Image credit: The Disney Parks Blog ©Disney
3.  The Pilgrim's Post is new to the Thanksgiving feast in the Disneyland Hotel Ballroom this year. Kid-sized lounge chairs, Disney films and make-your-own Thanksgiving greeting card stations provide the perfect place for kids to hang out after they're done eating. During your time at the banquet your family can visit Minnie Mouse and her friends in her dining room and get some great photos. You can also wander over to the Woodland Friends themed area of the ballroom and meet up with the Country Bears.
4.  Traditional Thanksgiving dinner is served at many of the regular table-service and even quick service restaurants throughout the Resort on this one special day of the year. You can find classic Thanksgiving dinner prepared at the following restaurants: Flo's V8 Cafe, Carnation Cafe, Plaza Inn, Blue Bayou, French Market, River Belle Terrace, Ariel's Grotto, Wine Country Trattoria, Storyteller's Cafe and Disney's PCH Grill.
5.  Thanksgiving dinner doesn't have to be traditional at Disneyland. If you're in the mood for a Thanksgiving meal with a twist, consider turkey crepes at Cafe Orleans, holiday tamales at Rancho del Zocalo Restaurante, turkey Wellington at Steakhouse 55 or turkey tortilla soup from the Harbour Galley. Of course you could always choose to chow down on a giant turkey leg from one of the carts throughout both parks. It seems like something you would have eaten on the first Thanksgiving.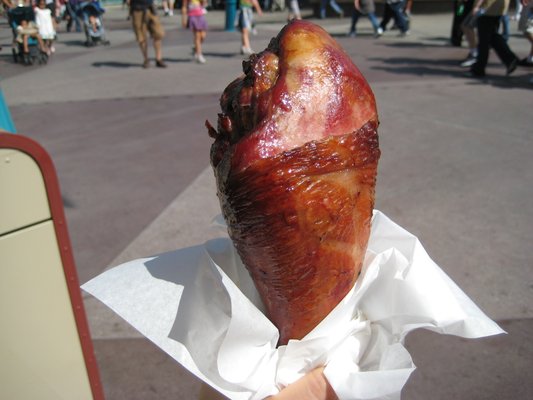 Image credit: Yelp
6.  Goofy's Kitchen is always a great place to rub shoulders with your favorite characters. This Thanksgiving you can spend your holiday surrounded by your family and your favorite characters too. In addition to the fun offerings normally available at Goofy's Kitchen like peanut butter & jelly pizza, traditional Thanksgiving dinner is part of the all-you-care-to-eat buffet.
7.  Moving on from the food, the decor alone is enough to get most into the holiday spirit and there's no better way to kick off your holiday season. Sleepy Beauty's Winter Castle glistens with thousands of twinkling lights, Cars Land is covered in tinsel and homemade holiday decorations, a 60-foot Christmas tree welcomes visitors to Main Street U.S.A., and the entire resort oozes holiday cheer.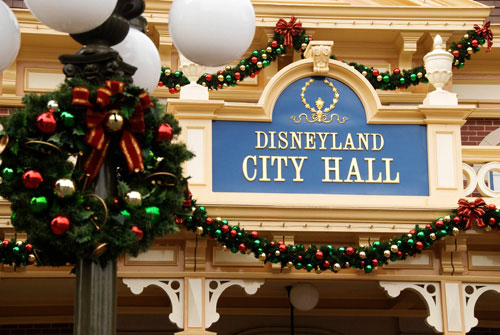 Image credit: DisFanReview
8.  World of Color - Winter Dreams is returning for its second year with Olaf hosting a special holiday version of the nighttime show. You'll want to get your FASTPASS tickets for the night's show as it is not to be missed. PS - if you have Olaf fans at your house, you can give him a warm hug over at Anna and Elsa's Boutique in Downtown Disney and he's opening an ice rink in Downtown Disney just for the holidays as well!
9.  A Christmas Fanstay Parade kicks off the night at Disneyland Park. Larger than life gingerbread cookies, toy soldiers, Disney Characters, Santa and others all make their merry way down the parade route to Main Street U.S.A.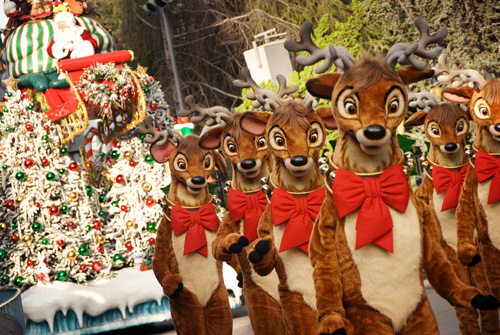 Image Credit: DisFanReview
10.  Believe... in Holiday Magic Fireworks takes place in front of the castle immediately following World of Color on Thanksgiving night. It may be tricky to get to both shows on Thanksgiving day, so be sure to plan multiple days and schedule in time to watch both shows. If you can make it back to Disneyland Park following World of Color, you'll see and hear the fireworks on your way over and may be able to get to Main Street just in time to experience a magical snowfall.
There are so many more reasons to visit the Disneyland Resort this Thanksgiving - and we have one more reason that you'll be thankful for. We still have a few 4th night free specials available at some of our most popular Anaheim area hotels as well as our 
discount Disneyland tickets
! You can book any of our
Disneyland packages
online or call our vacation experts at 855-GET-AWAY. Your family will be thanking you for a wonderful vacation this Thanksgiving!

Check out these other great articles:
Holidays at the Disneyland Resort 2014
Inside Scoop on All Things Frozen at Disneyland
Thanksgiving Family Gratitude Jar Craft Idea