SeaWorld San Diego is one of our most popular theme parks. Our agents visit SeaWorld each year and we love their exhibits, animal encounters, attractions, shows, and so much more. In addition to visiting SeaWorld San Diego on our own vacations, we visit once a year all together as a staff as part of our annual familiarization trip to Southern California. Between all of our visits, we thought we'd seen it all, but this year proved to be a much different visit than any other visit before. We blogged about our entire trip and gave a spotlight about our day at SeaWorld, but we had such an incredible time that we thought it deserved its own article. So without further ado, here is what we got to experience at the best day at SeaWorld ever: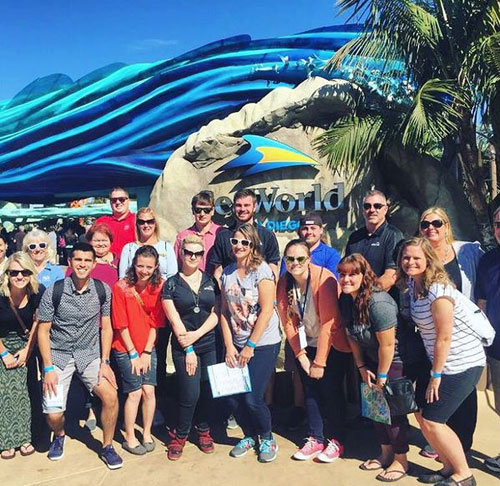 As you walk into SeaWorld you are welcomed by Explorer's Reef - a completely interactive experience where you are able to touch and play with the likes of feeder fish, sharks, and so much more! We were able to spend some time exploring each station and learn about why each animal is important.
After we had our fill of Explorer's Reef, we got prime seating at one of the Shamu Shows, Killer Whales: Up Close! This entertaining and educational show answers all of your questions about killer whales and what they do at SeaWorld! Plus, you get to watch as these trainers and whales put on a show that memorizes and amazing adults and kids of all ages. It is absolutely breathtaking the things these whales can do and they unbreakable bonds they have with their trainers. But be careful, during the show you might get wet!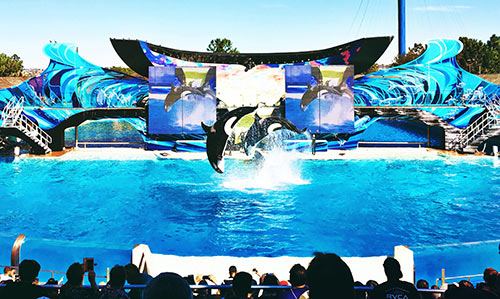 We made our way over to our lunch where we were treated to a delicious array of food overlooking the dolphin encounter area. As we enjoyed our lunch and fantastic view, a couple Animal Ambassadors stopped by to say hi! We were able enjoy the company of an armadillo and porcupine, and learn all about them and their species. We said goodbye to our new friends and had the pleasure of hearing from the head of the SeaWorld Rescue team. It is astonishing how much they do for the animals and the amount of time, care and resources they put into rescuing every single animal they can.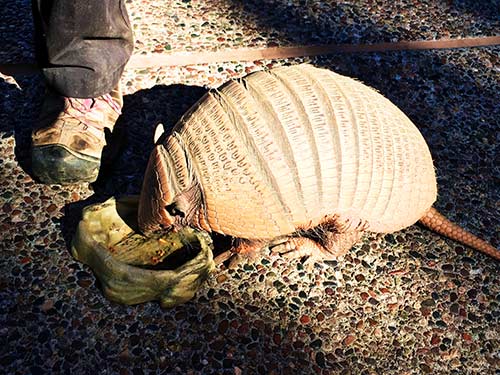 After we said goodbye to our new friends, we took a couple of steps down to the Dolphin Encounter. All SeaWorld guests are able to purchase this experience at the parks once they arrive.
At the Dolphin Encounter you are able to play with dolphins yourself! Feed, touch and interact with the amazing dolphins of SeaWorld. We were able to feed the dolphins their favorite fish, communicate using hand signals and shake their cute little fins.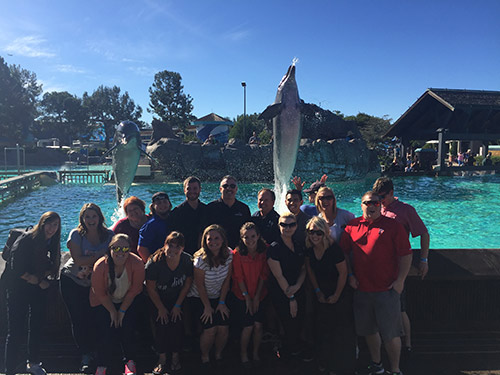 We next headed over to the behind the scenes of the killer whale stage to hear from the head trainer herself! We got to ask questions and learn what the life of the whales and trainers is like. Each trainer takes their job very seriously and care so deeply for each whale in their care. We got to see an up close look at how they practice and train these massive creatures and how much they love what they do. Being a whale trainer is a 24/7 job that requires you to be ready at a moment's notice. Hearing first hand how passionate they are opens your eyes to how much good SeaWorld does.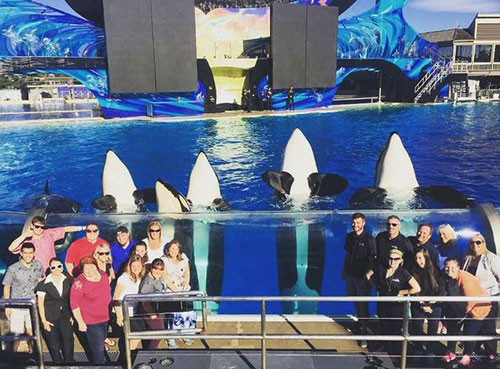 One of the best and most delightful shows at SeaWorld has to be Pets Rule! The intelligence of these creatures is only rivaled by their cuteness. These rescued pets range from cats and dogs to chickens and pigs with everything in between. You truly never know what will happen next. Pets Rule! showcases the incredible talent these animals possess and is sure to provide lots of laughs for the whole family.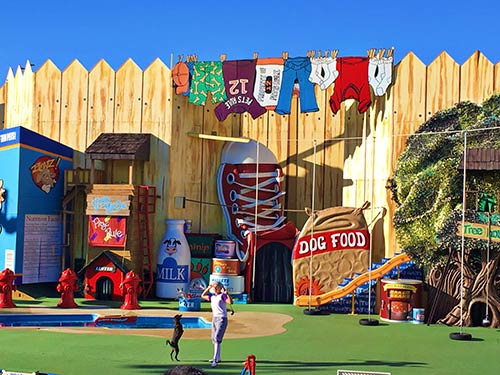 We then were treated with a once in a lifetime opportunity to go meet a 3-week old baby dolphin. Words can not describe how adorable this newborn was. It refused to be more than a few inches from its mom at all times, but every once and a while it was brave enough to makes it way up to the surface which just melted our hearts. Just the tiniest most precious dolphin you could ever see. We also go to feed the mom some of her favorite treats and give hand signals for her to do tricks!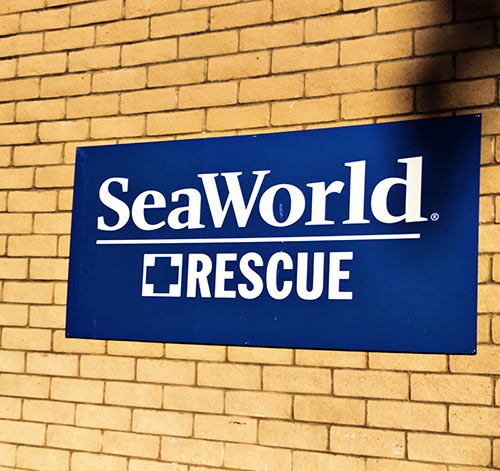 After the one of a kind encounter with the mom beautiful baby dolphin, we parted with our fantastic SeaWorld contacts and had just a few minutes left at the park before we left. Some of us of course decided to ride the thrilling Manta roller coaster. You would never expect SeaWorld to have such an awesome thrill ride, but they delivered. This surprisingly long coaster, full of twists and turns, make Manta a must ride for every SeaWorld guest.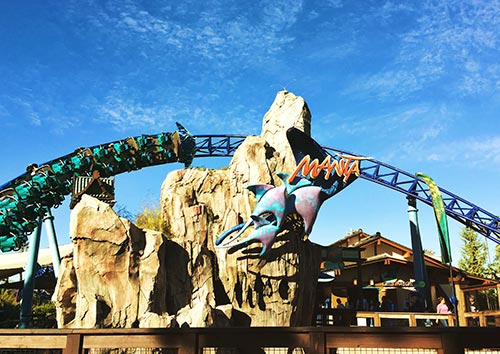 And that ends our perfect day at SeaWorld San Diego. We can not thank SeaWorld enough for the best way to end our FAM trip - just an all around amazing and educational experience. We encourage everyone to check out
SeaWorld Cares
to learn more about all of the good they do for conservation and rescue of animals in the wild and the animals in their care. There is so much to see and do at SeaWorld in San Diego. We didn't even scratch the surface. There is nothing quite like being able to see, learn and experience these animals up close. Book your SeaWorld vacation online or call our agents at 855-GET-AWAY.
Check out these great articles: