The Beaches Resorts in the Caribbean offer the ultimate luxury in all-inclusive family vacations. No matter the age of your children, the Beaches Resorts have something for everyone. From Sesame Street characters and activities for young children to teen and tween clubs for your older kids, everyone in the family has something just for them. Incredible beaches, pools, restaurants and more are all available to families at the Beaches Resorts in the Caribbean. Our agents spent a week in Jamaica and as a part of our itinerary we visited the two Beaches Resorts in Jamaica; Beaches Ocho Rios and Beaches Negril. We put together a top three list of both of the Beaches Resorts in Jamaica so we can pass on our first-hand experiences to you.
Our first stop in Jamaica was Beaches Ocho Rios. We stayed in the Greek Village with beautiful sweeping views of the ocean. Our doors opened up to a large deck with ample seating.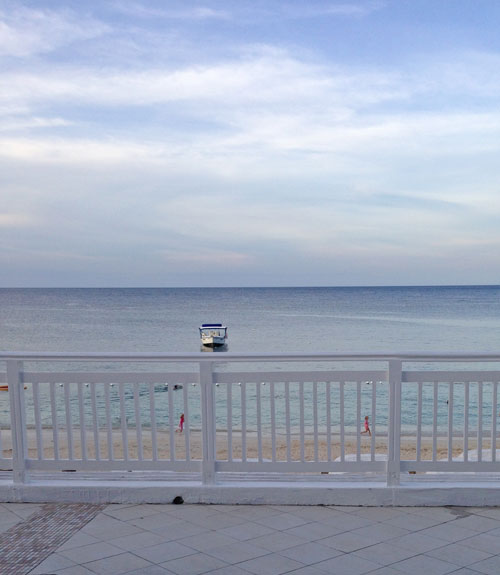 It was tough, but we came up with our three favorite things at Beaches Ocho Rios:
1. Beaches Ochos Rios is not just suitable for families, but rather designed for families. All of the entertainment was family friendly and they offered entertainment for all ages. Sesame Street shows for the littles, fire dancing where kids were brought up to be involved and nightly parties for everyone to enjoy together.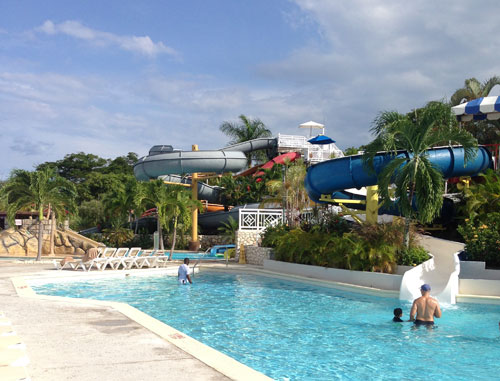 2. The food. I think we managed to try just about a little of everything. It was tough job, but we had to take one for the team here. When my guests return from Beaches Ocho Rios, they always talk about the pizza. Since this was my second time to the resort, I was counting down the time to when I could order this and it did not disappoint. In addition to the pizza we had crepes, jerk chicken and smoothies of every kind. We also loved the s
easonal specialties like the pumpkin soup, and steak served with their signature Blue Mountain coffee infused steak sauce and a fried mashed potato.
3. The people. Everyone from the guests to the staff was there to create memories. The resort had a warm welcoming feeling. We found ourselves running around the beach catching sand crabs with children from England as their parents just waved and watched from a nearby pier. The staff actively got guests engaged in various activities. I made the mistake of wearing yoga pants as I roamed one morning and found myself in a very intense workout with the fitness center trainer. I guess that just means that I get to feel good about that second dessert now, right?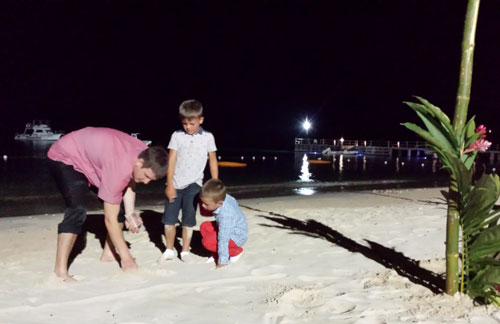 A few days later we found ourselves at Beaches Negril where we did it all. We napped on the beach, enjoyed the sunsets, dined around, lounged in the lazy river, were pampered at the spa, sang at the piano lounge and danced the night away at Club Liquid. Narrowing this top three list down was tough, but here we go:
1. The staff. There was not anything that they couldn't accommodate and were happy to call in special favors.
I knew before I left that I needed a picture with Elmo for a client of mine... I made the request for his presence as we were departing, and sure enough within minutes, Elmo was there to send us off in style.
2. The kids clubs. The kids club units were bright lively and active. Each separate unit had its own theme, from the Xbox play lounge to trench town to the nursery. We did not see many kids in the centers as they were all out with the activity directors fully engaged in the amenities of the property. However, the kids clubs provide a great place to come cool off however when the sun is getting to you.
3. The beach and water activities. The pools were the place to be. You'd find both adults and kids floating in the lazy river, going down the water slides and out snorkeling in the ocean. There were so many options, it was hard to find time for it all. But we tried!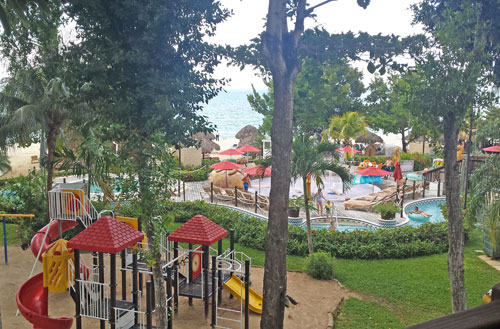 If you're looking for an unforgettable family vacation that everyone will love, we highly recommend the Beaches Resorts in the Caribbean. You can view all of our specials online, or call one of our Sandals and Beaches vacation specialists directly. We'd love to help answer any of your questions, and of course help you find the very best deal for your Beaches vacation at 855-GET-AWAY.

Check out these other great articles: