Not only is
Ogden, Utah
home to some of the best camping, fishing, hiking and of course, skiing, but Ogden is blessed with some of the best flavors your taste buds can handle. Sure you can find your favorite chain restaurants in Ogden but if you look a little deeper you will find some funky flavors you definitely shouldn't be missing out on. Here are my top 10 favorite places:
Tona- If you are a sushi lover, Tona is absolutely the place you need to be. Chef Tony is so creative with his rolls and appetizers. I have been a frequent diner at Tona for six years and I still find new things that I love all the time. Three rolls that I would highly recommend would be the Escolar Cilantro, the Grinch and the Coconut Crunch. They also have AMAZING seasonal appetizers.
www.tonarestaurant.com 801-622-8662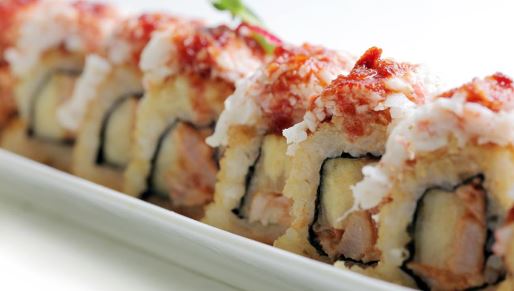 Image Credit: Tona Restaurant (Coconut Crunch)
Javier's - The first Javier's opened in Ogden 22 years ago. Javier now owns seven different locations from Ogden to Farmington. It is my very favorite Mexican restaurant and it is very moderately priced. I love their basic enchilada and shredded beef taco dinner plate. Plus, the service is excellent, as Javier has kept many of the same waitresses since opening day. www.javiersmexicanfood.com
Roosters Brewery- Located in the middle of historic 25th street in Ogden, Roosters offers a large menu to satisfy whatever you are craving. Pizzas, pastas, hamburgers, chicken, steak and fish plates; Roosters really has it all, and it's all really good! This is one restaurant that I change what I order every time. A few things that have brought me back for more are the "What a Crock" artichoke dip appetizer, their Fish Tacos and their soup of the day! www.roostersbrewingco.com
Union Grill- Sister property to Roosters, Union Grill is located inside the Union Station on the west end of 25th street. Their menu offers a great variety of appetizers, sandwiches, pastas and more! I particularly love to start by getting their French Onion soup and to end with their famous bread pudding! www.uniongrillogden.com
Image Credit: Union Grill (French Onion Soup)
Zucca – On the south side of Ogden, this fine Italian Trattoria is home to my absolute favorite soup. The tomato bisque that they serve daily is simply divine. They also have authentic Italian dishes throughout the entire menu. They win awards yearly for having such excellent food from City Weekly Best of Beehive and Salt Lake Magazine's Dining Award.
www.myzucca.com
Lee's Mongolian Barbeque- This little hole in the wall is just off of Washington Blvd in downtown Ogden. Mongolian barbeque is a style of stir-fry that you get to choose everything that goes into your bowl and then have it cooked right in front of you on an extremely hot Mongolian grill! You blend the meats, vegetables and sauces you like best for a unique flavor you are sure to love!
www.leesmongolianbbq.com
Slack Water Pizza- Slack Water Pizza Pub, on Washington Blvd right below the Ogden sign, is a little bit of funk mixed with gourmet food. Everything I have had there is such high quality. I strongly recommend starting with their buffalo wings. The wings come with a huge side of blue cheese dressing with fine blue cheese crumbles inside. All of the pizzas are unique with fun names to boot… I really love the Presto Pesto, the Pulled Pork BBQ Bonanza, and the Tastes Like Burning. The Presto Pesto is covered with their house made pesto sauce and then topped with a three-cheese blend, vine ripe tomatoes, pine nuts, roasted garlic, and chunks of feta. They also have a great beer selection with beers imported from all over the world and are tucked right up against the Ogden River with some great patio dining.
www.slackwaterpizzeria.com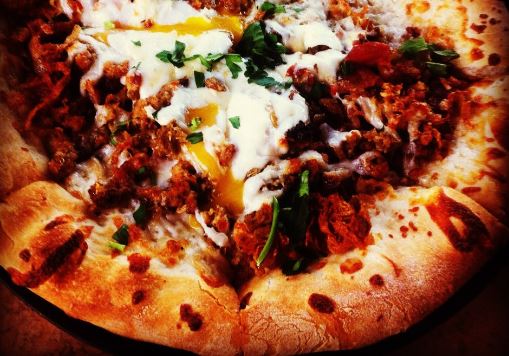 Image Credit: Slackwater Pizza (breakfast pizza)
MacCool's – Attached to the famous Ben Lomond Hotel in Downtown Ogden, MacCool's offers a unique flavor to the area – Irish. This Irish pub offers yummy known classics like corned beef and cabbage, Irish Rueben sandwich, and a variety of meat pies.
www.maccoolsrestaurant.com
The Oaks- This little spot serves American cuisine that is sure to leave you satisfied. However, the real reason I love The Oaks is the location. You can find The Oaks just a couple miles into the Ogden Canyon. They have indoor and outdoor seating that overlooks the Ogden River. It's the perfect place for lunch on your way to or from the ski resorts. www.theoaksinogdencanyon.com
Timbermine - If you are looking for a great steakhouse, Timbermine offers the best steaks in Ogden with an old mine ambiance. The lighting is dark, the booths are private and the food is amazing! The only thing I don't like about Timbermine is that their prime rib is so good that it has ruined all other prime ribs for me. www.timbermine.com
Ogden is full of year round adventures and now you know my insider tips on the best places to fuel up before or after an exciting day in the mountains. There is still plenty of time to get in some fabulous spring skiing and Get Away Today offers the best prices on hotels, ski passes and ski rentals!
Book your
Ogden adventure online now
or call one of our expert reservation agents at 855-GET-AWAY.

Check out these other great blog articles:
Get Away Today Explores Ogden, Utah
Discount Ski Packages from Get Away Today
Sundance Film Festival Comes to Ogden