Get Away Today is your expert for all things Southern California and that even includes airport shuttles. Our favorite is Karmel Shuttle. I have personally used them four times in the last month alone for two roundtrips, and each time was seamless. Here's why we think Karmel is the best Southern California airport shuttle - in no particular order:
1. Karmel Shuttle services the three most convenient Southern California airports; LAX, Long Beach and Santa Ana/John Wayne/Orange County with service to the most popular attractions like the Disneyland Resort, Universal Studios Hollywood, and the San Pedro and Long Beach cruise ship terminals.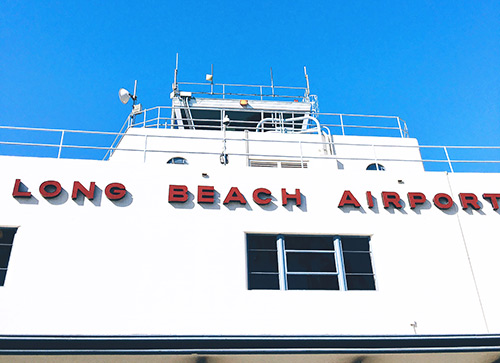 2. You make a reservation with your flight information along with how many travelers and bags you'll be bringing, which means they're at the airport when you get there with the appropriate vehicle and space.
3. You can easily make your reservation online after you book your discount vouchers with us. We send you an email with the link to get everything set up.
4. Karmel shuttle sends a reminder text for you to confirm within 48 hours before your trip. It just makes you feel good knowing everything is in order.
5. Once you land at your airport, you'll get a welcome text from Karmel with instructions and a link to click once you collect your bags.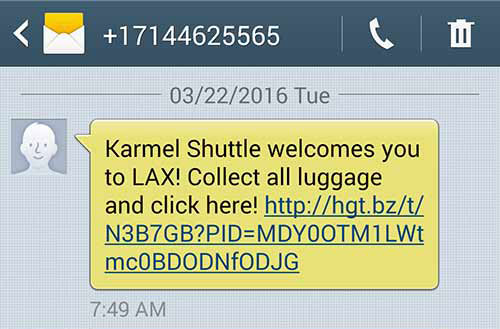 6. Speaking of that link, it's slick. You click it and it contacts your shuttle's dispatch. You'll shortly get a text with your shuttle number to look for and specific instructions on where to meet your shuttle. After you get your bags, you may have a wait of just 5 - 20 minutes.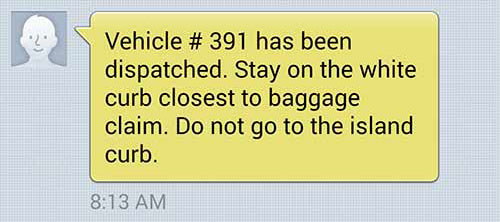 7. Once your shuttle picks you up, you'll get another text asking you to rate your ride on a few items on a scale of one to five. Any score of a three or less means that once your route is complete, your driver must return to the Karmel terminal for an immediate inspection and is pulled for the day. It ensures a quality ride every time!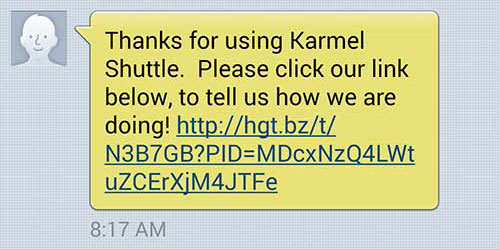 8. Each shuttle has been comfortable and clean with plenty of luggage space.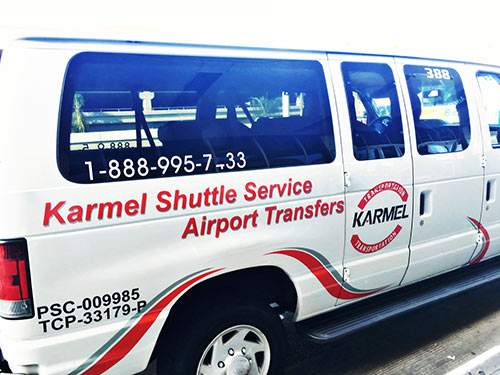 9. All of the drivers I've experienced have been helpful, prompt, and great drivers.
10. There are shared and private shuttle options depending on what you need. But again, since you make reservations and the vans only hold up to 9 passengers, even a shared van is speedy.
11. Kids 11 and under ride free on some of our most popular routes - including to/from Orange County or Long Beach and the Disneyland Resort.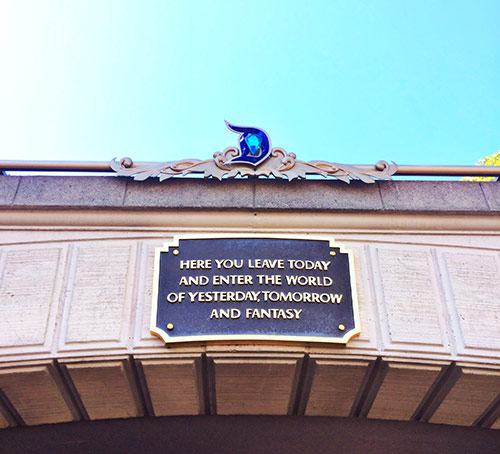 Now along with all of these reasons why we think Karmel is the best Southern California airport shuttle, you should know a few things.
First, no car seats are provided, but they are required. If your kids use a car seat or booster at home, you'll want one for the shuttle ride. Most airlines allow you to check car seats free of charge. I haven't heard of an airline that charges for that service, but it never hurts to make sure before you show up at the airport.
Second, our vouchers include all taxes and fees, but not a gratuity for your driver. If you feel like they did a great job, they definitely appreciate the tip.
Third, using Karmel Shuttle can save you a lot of money on parking at both your hotel and at the theme parks! If you're traveling to the Disneyland Resort, you can easily get around using ART (Anaheim Resort Transit) which offers frequent transportation between the area hotels and Anaheim area attractions including Disneyland, the Garden Walk, Outlets at Orange and even Knott's Berry Farm! Our tickets include two free days of riding and kids 11 and under ride free! If you're visiting Universal Studios Hollywood, both the Sheraton Universal, which is close enough to walk, and The Garland offer free shuttle service between the hotel and Universal Studios and the CityWalk.
If you have any questions about Karmel shuttle, or want to get your vouchers, you can call our agents at 855-GET-AWAY or book online here.

Check out these other great articles: