These easy Mickey Halloween Cupcakes are ear-ily awesome. Sweet candy corn frosting with chocolatey Oreo Mickey Mouse ears will have your family screaming for more this spooktacular holiday season.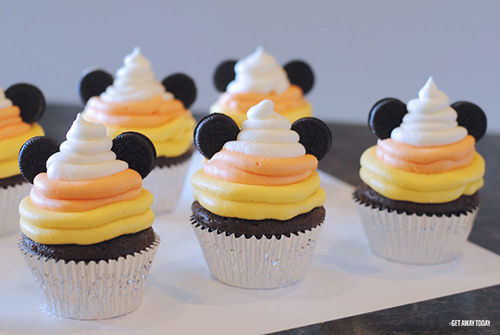 Halloween Time at the Disneyland Resort is frightfully delightful and ear-ily awesome. Mickey Mouse transforms the park into a not-so-scary Halloween celebration that is fun for the whole family. The parks are brimming with moonlight magic and wickedly wonderful entertainment and decorations. It is such a great time to celebrate the magic of Disneyland.
I have taken my family to Disneyland twice during Halloween Time and it was a hit on both occasions. Main Street U.S.A. is decked out with incredible hand carved pumpkins that will have you grinning and glowing like a jack-o-lantern yourself! I love that all of the decorations throughout the park are more family-friendly compared to other Halloween season decor. Even the spookiest of decor is appropriate for the little ones in your family.
Boys and ghouls will love running into Jack Skellington and more of the most popular Disney Villains. The Evil Queen is really fun to take pictures with. Don't expect her to smile too much, though - she has a reputation to uphold.
Disneyland announced this year that they are expanding their Halloween Time decorations and celebrations to California Adventure Park. I can't wait to see what fun is in store. Cars Land is being transformed into Radiator Screams! The en-"tire" land will be decked out in Halloween garb. Even Mater and Lightning McQueen will be dressed for the occasion.
Of course, the seasonal food at Disneyland is always something to look forward to. The bakers and candy makers love to surprise guests with magical goodies that are certainly brewed up with some type of delicious sorcery. One special treat that spirits into shops during Halloween Time is the Candy Corn Mickey Mouse Cupcake. They are cute, yummy and will fill your tummy with sweet Disney magic.
Give your Halloween celebrations at home a touch of Disney haunting with this simple tutorial for Mickey Halloween Cupcakes. They are a tomb-tastic treat for any Halloween event!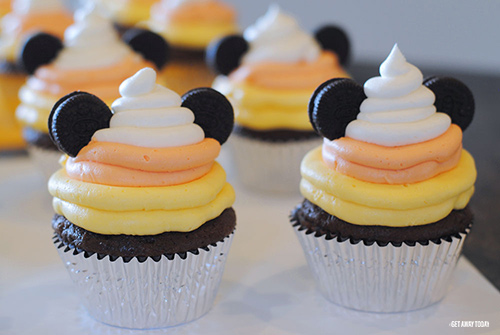 To brew up a batch of your own Mickey Halloween Cupcakes, you will need:
Cupcakes (homemade or store-bought)
1 lb. Salted Cream Butter
5 Cups Sugar
1 1/2 TSP Real Vanilla
Orange Food Coloring
Yellow Food Coloring
Bake a batch of your favorite cupcakes. I chose chocolate flavor because I love how it pairs with buttercream frosting. The fudge chocolate cake mix is always a scream. I chose the silver foil cupcake liners, because I feel like they present best with chocolate cake. Sometimes the paper cupcake liners get a little bit washed out with the dark cake inside of them.
While your cupcakes cool, make a batch of buttercream frosting. My favorite buttercream frosting is made with:
1 pound salted cream butter
5 cups powdered sugar
1 1/2 teaspoons of real vanilla
Blend the above ingredients together until the frosting is smooth, light and creamy. Taste it to make sure it has enough sweetness. I prefer a mildly sweet frosting, but some people like it to have more of a sugary kick.
Separate the frosting into three dishes. You need a varied amount of frosting in each bowl. The orange frosting is the bottom layer on the cupcakes, so you need the most of that color and the least of the white frosting that makes the tip of the candy corn.
Color the orange and yellow frosting with food coloring. You can make orange frosting by mixing yellow and red together. Use about 2-3 drops of yellow per drop of red.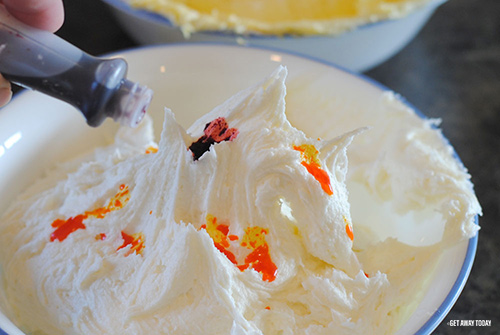 Place the orange frosting into a piping bag that has been fitted with a round tip. I used the medium tip, but the large one would be great as well! Pipe the frosting in a circle starting on the outside of the cake and rotating towards the center.
Then, do the same with the yellow frosting. The goal is to make it look like a candy corn. You can do two layers of each frosting color to get a nice cone shaped frosting candy corn.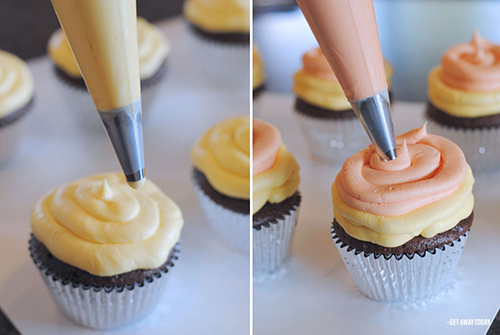 Then, finish the frosting with a white frosted tip. It should come to a point at the top.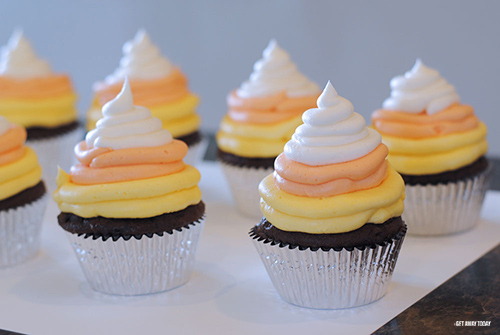 My favorite part of the Mickey Halloween Cupcake decorating was adding the Oreo Mickey Mouse ears. Buy a bag of Mini Oreo Cookies at the grocery store, or grab some online. We've included a link at the bottom of the article. Place two cookies onto the candy corn frosting mound to transform it into Mickey Mouse. Push them in just far enough that they stick to the frosting and don't droop. I found it was easiest to place both ears in at the same time, so the cupcake didn't try to scoot around under the pressure.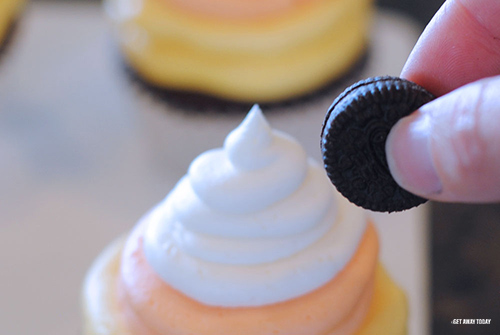 Aren't the Mickey Halloween Cupcakes adorable? I love a project that is simple yet festive. Enjoy making your Halloween Time at home just as spooktacular as at Disneyland!
If you would would like to spirit away on a Halloween adventure with your family, we can help. Our discount Disneyland tickets and reduced hotel rates make sure your Disneyland trip won't be spooky for your wallet, either. You can book online or give our Disney experts a call at 855-GET-AWAY.

Check out these other not-so-scary articles: