Theme Park Line Games make waiting in line fun! You can play these five easy theme park line games with your family during your visit to Disneyland or Walt Disney World to turn wait time into play time.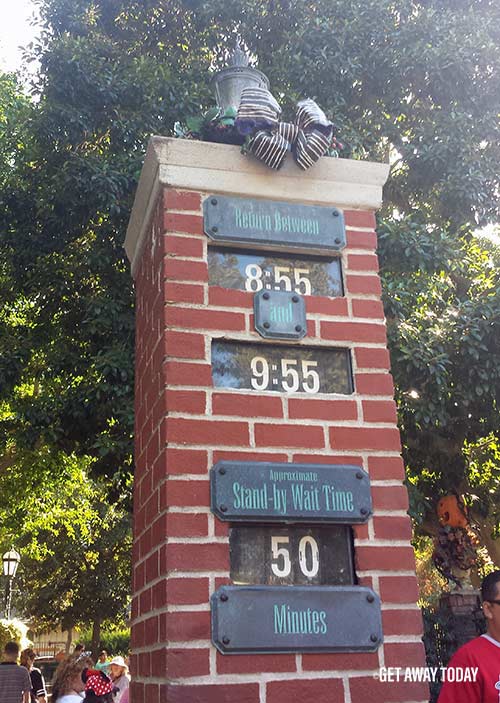 One of the main concerns people have about taking their family to the Disney Parks is waiting in lines with their children. If you are worried about standing in lines and keeping your children entertained while you wait for your turn on the attractions, do not fear! There are so many ways to transform the down time in to play time with these five theme park line games. The atmosphere at Disneyland and Walt Disney World is so festive and entertaining you don't even have to be on a ride to have fun. It is magical just being in the parks! Shake a little bit of that same Disney magic onto your family with these five Theme Park Line Games to truly enjoy your time in line.
Heads Up Disney!
One of the most popular theme park line games at Disneyland is Heads Up Disney. When my family was visiting Disneyland a few months ago, we saw so many families playing this game together in line. It was fun just watching them play.
Heads Up is an App that you can download to your smart phone from Google Play or the App Store. It was inspired by Ellen, so you know it is packed with loads of laughs. The goal is to guess the word on the "card" that is placed on your forehead by listening to the clues your friends or family shout out to you. Simply tilt the phone down slightly to shuffle to the next card once you have guessed correctly. Your turn is timed, so you want to be quick! There is a special Disney card deck you can purchase to make the words all Disney related...perfect for your day at Disneyland or Walt Disney World. You can even play this game with young children. They love guessing their favorite Disney characters. Heads Up provides hours of laughs and entertainment. In fact, you might have so much fun playing that you may be slightly disappointed when your wait is over!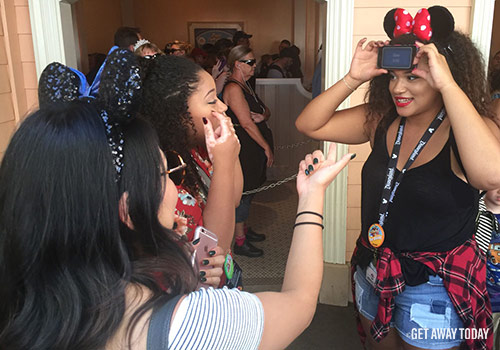 Hand Clapping Games
Theme park line games don't all involve technology. When I was a little girl my friends and I would play hand clapping games at recess. That was before the days of iPhones, drones and hover boards. We had a blast testing to see how fast we could do the pattern without messing up.
Teach your kids a challenging and playful hand clapping routine to practice while they wait in line. There are some classic routines you can find on You Tube if you can't quite remember how the pattern works. Childhood was a long time ago for some of us! Patty Cake, Miss Mary Mack, Slide, Concentration 64, and Say Oh Say Playmate are some of the most popular hand clapping games. Have fun clapping and slapping to the beat. It sure beats listening to kids ask how much longer!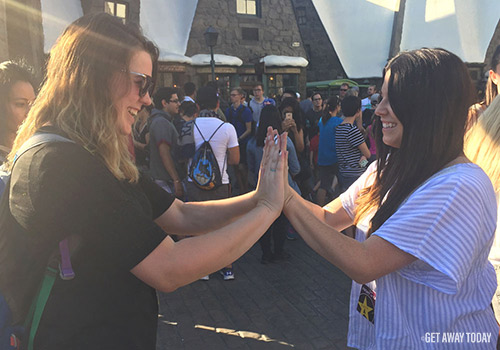 Count the Mickey Ears
Don't you just love how many Disney park visitors wear Mickey or Minnie Mouse ears? It is one of my favorite traditions. There are so many cute styles of ears for sale in the shops and hundreds of DIY ears you can make at home before your trip. On our last visit to Disneyland, my kids started talking about all the Mickey and Minnie ears while we were waiting in line for a ride.
Suddenly, it turned into a number of theme park line games! We counted how many Mickey ears we could see. We counted how many ears we saw with sequins. How many ears had a bow? How many Star Wars ears could we find? We picked our favorites and played I spy the Mickey Ear where one person spied some ears and the others in the group tried to guess the ears by asking for clues. Be creative and have fun! If you see ears, say cheers!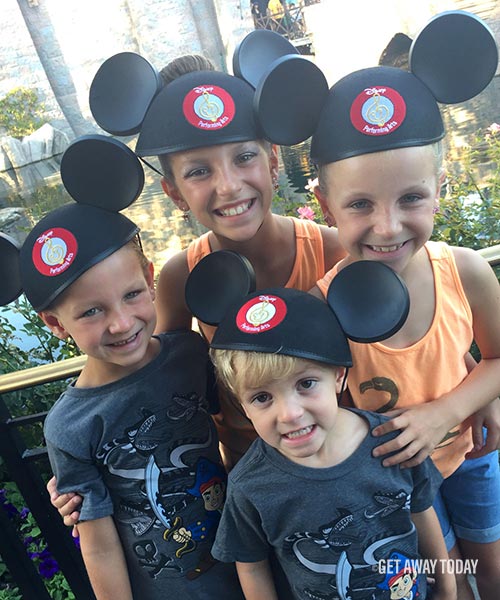 Fill Your Belly
I suppose that eating isn't "technically" a theme park line game, but it sure does make the time in line more pleasant. When my family travels to Disneyland, we typically pack a lunch to bring into the park. We also load up our backpack with plenty of snacks and drinks to keep our kids' bellies happy and full.
And if you don't want to pack in your own food, of course there are countless snack shops and restaurants throughout the parks that have a variety of food to satisfy any picky eater. A hungry kid is not something I want to deal with at Disneyland. Instead of taking breaks to eat at the picnic areas, we typically feed our children while we are in line for an attraction. It is like killing two birds with one stone. Buy a snack and eat it in line! There are plenty of garbage cans placed in the queue areas so you can toss your trash when you finish eating.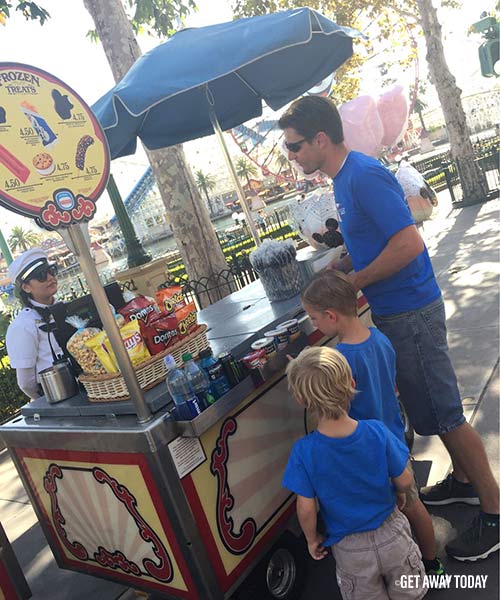 Where are You From?
People travel to the Disney Parks from all over the world. It is amazing to talk to folks in line and find out where they live. While we were waiting in line to see Minnie Mouse at her house, my family met a group that had traveled from a beautiful town in Ontario called Goderich. They showed us some pictures on their phone of their hometown and we were able to chat about the fun things to do in their local area. It was really interesting and now I have a new place on my travel bucket list. This theme park line game is educational. See if you can meet someone from every state in the USA. Keep a list. Make a goal to find groups from at least 20 states! You will be surprised how fun it is to talk to people in line and make new friends.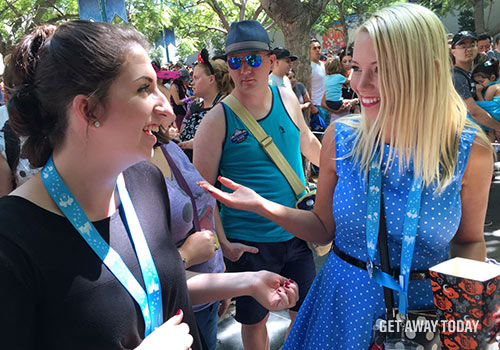 I hope you have fun with these five theme park line games. They are designed to keep your kids happy and distracted while they wait in line for their favorite Disney character, show or attraction with little to no prep. In fact, you may find that spending time together in lines may be some of your best memories from the whole trip!
I have been to Disneyland annually for the past six years and have never experienced very long wait times. It's just long enough to have some fun in line and then hop on a ride! You might also be interested in tips and tricks to discovering the shortest wait times, utilizing the Fastpass system and the best times to visit the parks without crowds. Check out these aritcles on our blog for more info:
When you're ready to make vacation memories with your family, we're here to help! Book any of our
Disneyland packages
online or call our Disney Experts at 855-GET-AWAY.

Check out these other great articles: