Looking at the Tilt Hotel for your upcoming trip to Los Angeles and Universal Studios Hollywood? Our Tilt Hotel review highlights everything you want to know about the hotel, including information on the rooms, location, amenities and more.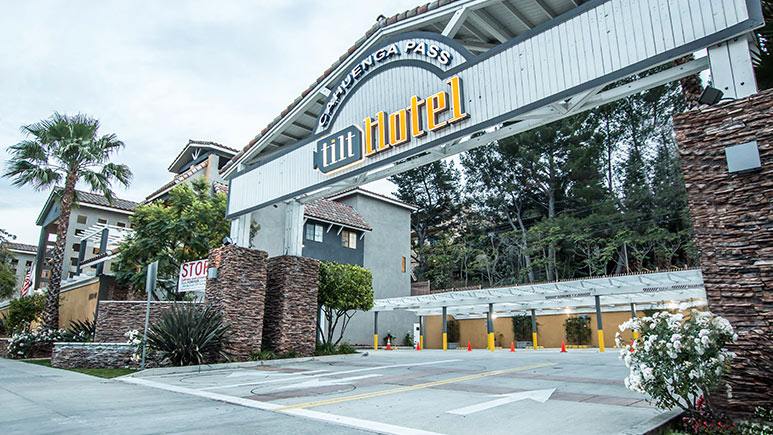 Universal Studios Hollywood is the perfect destination for movie buffs, adventure lovers and beyond. Where else can you drink a Butterbeer, visit a real-life working film studio and be chased by dinosaurs all within a few minutes of each other? The best part is that Universal Studios Hollywood is located near everything else that makes Los Angeles such an interesting place to visit, including the Hollywood Walk of Fame, Chinese Theater and Hollywood Sign.
Since there's so much to see and do, you'll want to choose a hotel that is nearby and offers some great amenities. And that's where the Tilt Hotel comes in! As one of our new partner hotels in the Universal Studios Hollywood area, we knew we had to share more about the boutique property. So grab a seat and pop some popcorn, it's time for our Tilt Hotel review:
Tilt Hotel Review
Location:
Lights...camera...action! You'll feel like you're in the middle of the limelight when you stay at the Tilt Hotel. The chic hotel sits on Cahuenga Boulevard in the middle of Hollywood, keeping you close to all the city has to offer. You can even walk to Universal Studios Hollywood from the Tilt Hotel, although it is a bit uphill. If you want to save your feet for walking inside the park, we'd recommend driving or taking an Uber or Lyft instead.
The Hollywood Walk of Fame, Chinese Theater, Hollywood Sign, Rodeo Drive in Beverly Hills and Dodgers Stadium are just a few of the other popular area attractions only a short drive from the Tilt Hotel.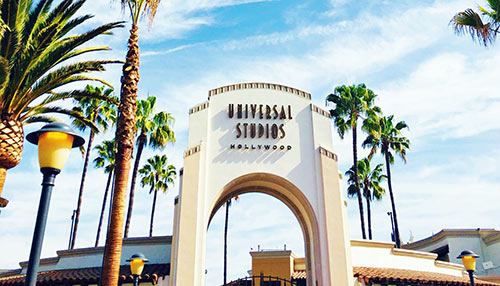 Amenities:
One of our favorite parts of this Tilt Hotel Review has to be the amenities offered. On top of such a great location, guests can enjoy free Wi-Fi, an indoor heated pool, and a microwave and mini-fridge in every room. Each room also has USB plugs, making it convenient for everyone in the family to charge their devices and no one will have to worry about not being able to Instagram that iconic Butterbeer in front of Hogwarts picture!
The hotel also offers self indoor parking for $15 per night, a great value when you consider how many hotels in the area charge $20+ per night for the same service. A guest laundry as well as guest copy and fax machines are available during your stay as well.
Rooms:
It wouldn't be a true review of the Tilt Hotel without including information about the rooms found at the hotel. When you book a stay at the Tilt Hotel, you'll have the option between rooms with two queens or one king. Each room offers comfortable bedding, wood flooring and a Hollywood themed decor. There are even two suites available that offer two queens and a king for larger families or friend groups. These suites are very limited, so you'll want to call 855-GET-AWAY to request them at our discounted rates.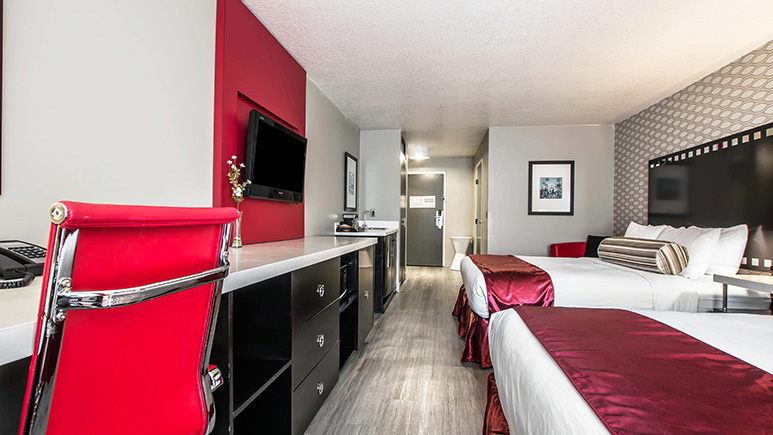 Fun facts:
You'll love staying at the Tilt Hotel even more when you know a few fun facts. First, the hotel is named after a popular camera movement used in creating movies, the perfect embodiment for the city it resides in. On top of that, the entire hotel is themed around Hollywood and the business of making movies. You'll notice their front desk is currently named "Box Office", while the lobby decor nods to big stars and the headboards in each room resemble film strips.
Our favorite fact from this Tilt Hotel review has to be that you can save so much when you book with Get Away Today! From our reduced hotel rates to our discount Universal Studios Hollywood tickets, you'll be saving on your movie-star vacation in no time. Book online now or give our agents a call at 855-GET-AWAY.

Check out more hotel reviews for your Southern California vacation below: