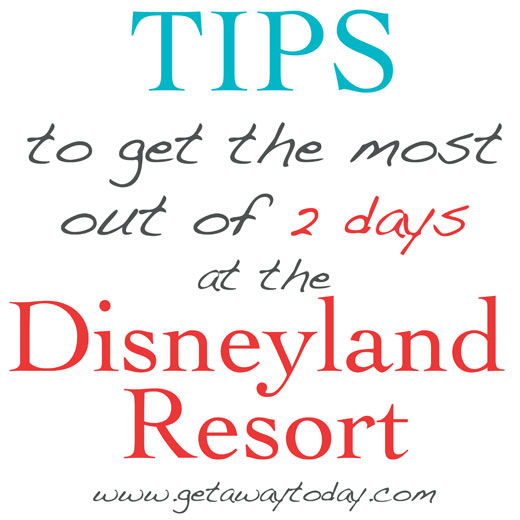 There is so much to see and do at the
Disneyland Resort
that we recommend staying as long as you can to get the full experience. However, we know that sometimes you can only stay a couple of days. We've put together a game plan to make the most of your time when you don't have a lot of it. Here are my top tips to have the best trip with just 2-days at the Disneyland Resort:
First of all, make sure you get a Park Hopper ticket. Disneyland and Disney California Adventure Park have different hours, so you'll be able to have the most hours of actual park time by visiting both parks in the same day. It also gives you ultimate flexibility - incredibly important if you only have a couple of days.
Second, check the park hours before you go and make a plan. Pay attention to park hours and particularly to show times. Plan to see your "must" shows on the first day. That way if something happens the first night (sometimes shows get cancelled due to weather or technical difficulties), you'll have a second chance to see it. If I had to pick just ONE show, it would be World of Color - and you need a FASTPASS ticket to get an assigned area. You can get a ticket to the show at the Grizzly River Run FASTPASS distribution area each morning or book a World of Color dining package. You'll also want to pick your personal "must" attractions and prioritize to make sure you get to do those first in case you run out of time.
Third, use the FASTPASS system wisely. Before you use your park ticket to get any old FASTPASS, make sure you look at the return time and the next available FASTPASS time. Since you have limited time, you want to be sure you get the FASTPASS tickets you really want first. Radiator Springs Racers is most likely one of those attractions and they run out early, so you'll want to get it first on your Disney California Adventure Park day. Space Mountain, Splash Mountain and Indiana Jones are really popular FASTPASS attractions in Disneyland that I consider a "high value" FASTPASS.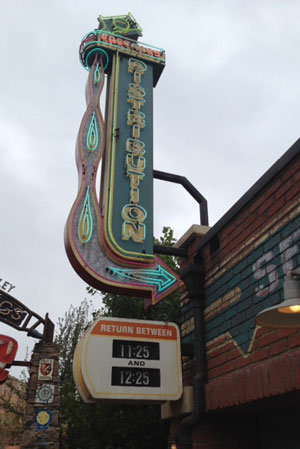 There are a couple of other ways to maximize ride times that won't work for everyone. The first is to consider using the single rider queue available on certain attractions. Your party will wait together, but will be paired with another party to ride. While you may not be sitting next to your group, oftentimes you'll still end up in the same vehicle, like on Radiator Springs Racers or California Screamin'. Another trick to riding more often is the child swap option that allows a rider to wait with a small child while the rest of the party rides. Then, they are able to ride the attraction with their party while another group member waits with the child. This way your party doesn't ever have to wait in line twice for the same attraction. Check with a Disney Cast Member about both of these options if they apply to you.
Next, book a Disney Character Dining experience to get one-on-one character time without waiting in lines. You could schedule a dinner at Goofy's Kitchen inside the Disneyland Hotel the night before you use your park tickets, or a Character Breakfast if you are leaving the morning after your two days of fun in the parks. If those options won't work, you may want to select Minnie & Friends Breakfast in the Park (inside Disneyland) or Ariel's Princess Celebration (inside Disney California Adventure) so you don't have to leave a park for your character meal.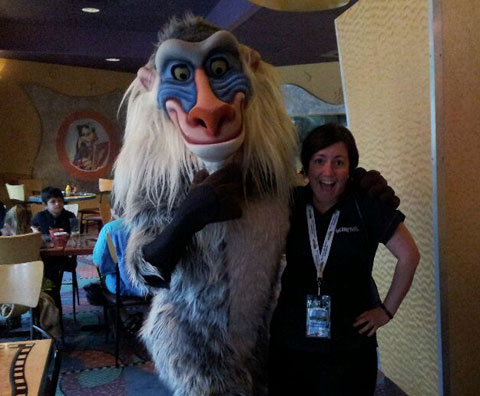 If you've purchased e-tickets, pick them up the night before you enter the park if possible. Your days of use don't start until you activate your ticket by entering a park. If it's not possible to pick up your tickets the night before, you'll want to be in line at the ticket gate well before park opening on your first day. If you've purchased hardstock tickets that were sent to you before travel, you can save even more time and go straight to the gate. If you're staying at one of the Hotels of the Disneyland Resort, you can pick up your park tickets at hotel check-in. This is just one of the perks of staying on property, which leads me to my next tip...
Stay as close to the Parks as possible. Staying at one of the three Hotels of the Disneyland Resort leaves you completely immersed in Disney magic during your entire stay. You also get early access to a theme park each day of your stay. Staying at one of the Disney hotels is the only way to get early access to Disneyland with less than a 3-Day ticket and the only way to get into Disney California Adventure Park (including Cars Land) an hour early - period. There's nothing quite like waking up AT the Disneyland Resort, but if you can't stay on-property, the next best thing is to stay at one of the hotels within walking distance or a quick shuttle ride away. You don't want to stay too far away and risk getting caught in traffic or deal with parking.
Most of all, enjoy! With proper planning you'll be able to get the most out of your time for a quick getaway! If you thought you didn't have the time to experience Halloween Time or the Holidays at the Disneyland Resort, you're in luck because our exclusive weekend getaways are on sale now!
You can get 2 or 3 nights on select hotels with 2-day Disneyland Park Hopper Tickets starting at just $248 per person for a family of four
! You can also use this special mid-week on select dates. The amount of tickets and hotel availability are limited for this offer, so you'll want to book your escape today!

Check out these other great articles:
Holidays at the Disneyland Resort 2013
NEW: World of Color Winter Dreams
7 Things All Parents Should Know Before Going to Disneyland
Top 10 Apps for Your Disney Vacation