Have you ever visited Catalina Island? Catalina and the City of Avalon are just 22 miles off the coast of Southern California and have so much to offer. This small island is the perfect place to spend a day while on your Southern California vacation. With three terminals located at San Pedro, Long Beach and Dana Point, you can be to Catalina in about an hour from any of these ports on the
Catalina Express
. If you're staying near Disneyland, we recommend traveling from Long Beach. Catalina Express's state of the art vessels run throughout the day and prices start at $68 per person for round trip transportation. Catalina Island will make you feel like you've been swept away into the Mediterranean. Because there is so much to do, we've narrowed down our list to the Top 5 Things to Do on Catalina Island: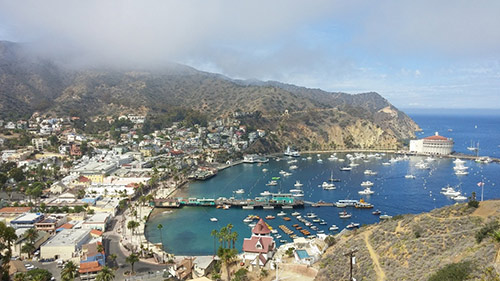 1. Golf Carts: Renting a golf cart and driving around Catalina Island is one of the most popular things to do. Catalina is a beautiful Island with so much to offer. The island is small enough that you can drive around the entire city of Avalon in about an hour. You will be able to see amazing sites of the water and the city as well. This family friendly ride is an activity you surely do not want to miss! You can rent a four or six passenger golf cart to explore the island at your own pace. Rentals can only be made once you reach the island, a quick walk from the dock. Because they are so popular, golf cart rentals can sell out, so we recommend getting there as soon as possible.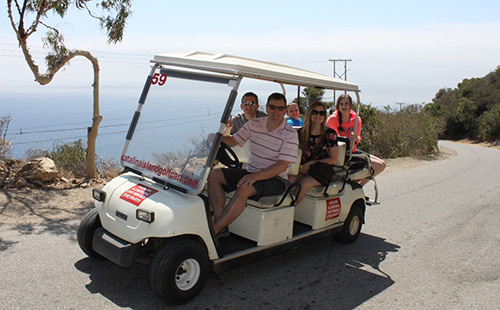 2. Zip Line Eco Tour:
This Zip Line Tour is something you cannot miss when you head to Catalina Island. You can propel down five separate zip lines running 1,100 lineal feet. By reaching new heights, you can see the beautiful island from a bird's eye view. In total, you will travel close to three quarters of a mile pushing speeds of 40mph. You don't miss out on this unforgettable ride! You can even pre-purchase a
Zip Line Eco Tour Combo Ticket
with round trip transportation from Long Beach from Get Away Today to save on your adventure.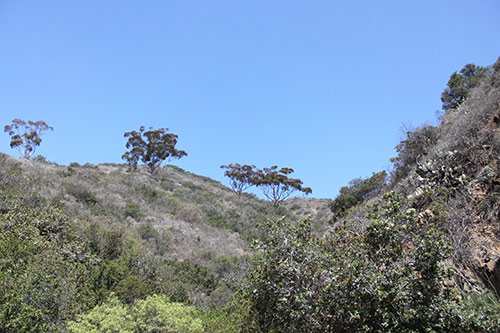 3. Semi-Submersible Submarine Tour:
If undersea adventures are what you love, then this is the perfect activity for you! Take a 45 minute tour on "The Nautilus" where you will enjoy 360º underwater views and individual window seats for each passenger. This is a fun way to experience Catalina in a whole new way! Getting to experience the marine life is really neat and a great activity for adults and children alike. This can also be pre-purchased as a
combo ticket with your roundtrip Catalina Express
transporation from Long Beach.
4. Hiking: Catalina Island has over 200 miles of trails across the island. If you are really looking for a challenge, there is a 37.2 mile trek along the back of the island. If a more leisurely walk is something you prefer, there are different loop trails you can following giving you a taste of the backcountry. Hiking is a favorite activity on Catalina Island, where you can see plants and animals from all over the world, including some that are native only to Catalina Island. With a wide variety of trails to pick from, you can't go wrong with taking a hike while visiting the island.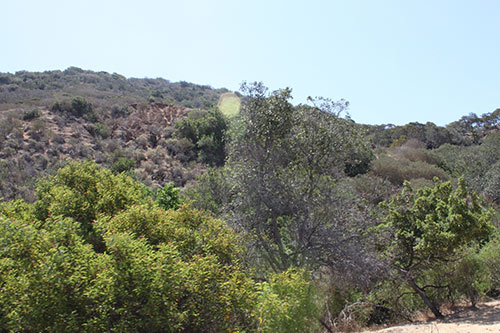 5. Shopping: You can't miss the shopping in Avalon. With tons of little quaint shops, you can find great souvenirs to take home. From key chains and sweatshirts, to the yummiest snacks, shopping is a must on Catalina Island. You're sure to find something to remind you of your day exploring this unique island.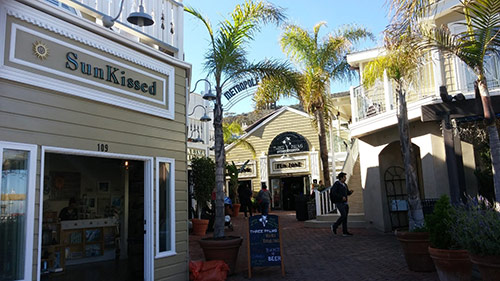 If you have ever considered traveling to Catalina Island, don't wait any longer! Let Catalina whisk you away. Just 22 miles off of the coastline of Southern California, you can travel across the sea in comfort and style. Just about an hour away from the coast, you can be driving golf carts, zip lining, taking undersea tours, hiking, and shopping the quaint shops Catalina has to offer. Book online or call our agents at 855-GET-AWAY today to schedule your trip or add it on to your Southern California vacation!

Check out these other great articles: