Disney's Grand Californian Hotel & Spa is one of the most beautiful and serene hotels in the Anaheim area. Unmatched style and customer service is the pride of this amazing hotel. Staying on property brings you the added benefits of Extra Magic Hour, that continued Disney magic throughout your stay and much much more. The Grand Californian offers award winning food, three unique pools and a relaxing spa all at your fingertips. We put together just a few of the many reasons to stay at Disney's Grand Californian Hotel & Spa.
Disney put together this wonderful video spotlighting all the magic that can be found at Disney's Grand Californian Hotel & Spa:
Disney's Grand Californian Hotel & Spa welcomes you to their warm and welcoming Californian inspired hotel. As you enter the awe-inspiring lobby and make your way to your comfortable rooms, you have an instant feeling of home. The beautiful wood and stone bring to life the Craftsman-style architecture and decor that fill ever inch of the Grand Californian Hotel. But the magic of this elegant property is just beginning.
Aside from the beautiful design and incomparable amenities, Disney's Grand Californian Hotel offers an exclusive private entrance straight into Disney California Adventure Park only available to guests of the Grand Californian! Just steps away from all of the fun, Disney's Grand Californian Hotel allows for you walk from your room right into the park. This is the only hotel attached to the parks! Perfect for mid-day naps or leaving things behind in the room, the location and private entrance give you the flexibility to vacation the way you want.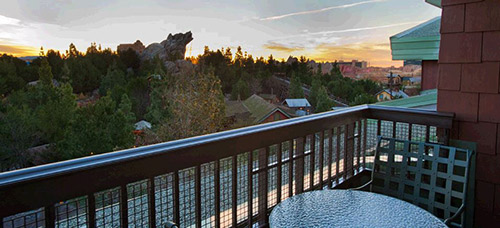 Disney's Grand Californian Hotel & Spa boasts an incredible array of activities for both adults and kids to maximize your vacation. Take a swim in any of the three themed pools on property. Ride a wild waterslide or enjoy a relaxing dip in the pool. You can also catch a cool pool party every day around 2 PM near the Fountain Pool for fun games, music and dancing! If the adults are looking to get away, Pinocchio's Workshop is a fully equipped children's activity center full of exciting games and fun for your little ones. Adults can escape to the relaxing oasis of the Mandara Spa. Guests can receive massages and facials located right inside the hotel. And on select nights you and your family can catch a movie under the stars. Bring your own food and drinks and enjoy classic Disney movies next to the fire.
Disney's Grand Californian Hotel also hosts a variety of award winning restaurants. At Napa Rose you can indulge in delicious food and wine during an elegant fine-dining experience. Or you can experience breakfast with your favorite Disney critters at Storytellers Cafe! You can also enjoy a delicious home-style buffet meal for lunch and dinner as well.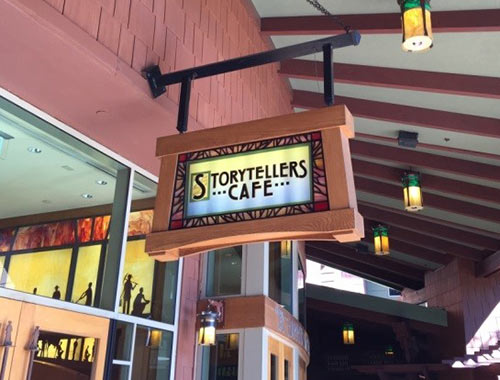 Disney's Grand Californian Hotel & Spa completely lives up to its name. Just moments away from Disneyland and add on the incredible amenities and exclusive on property bonuses, Disney's Grand Californian Hotel has everything you could need for a magical vacation. And right now Disney has a special offer on select nights through June 16th, you can
save up 20% on Disneyland Resort Hotel stays
. Book your next
Disneyland package
online or call our agents at 855-GET-AWAY.

Check out these great articles: