We love looking back at all the Universal Studios Hollywood memories over the years. This article is no longer being updated, but is a great way to look back and see what was happening at Universal Studios Hollywood when this was originally published.
Universal Studios Hollywood has hit the momentous milestone of entertaining guests for 50 years! This iconic park has continued to take guests on thrilling adventures, behind the scenes movie magic and creating memories to last a lifetime.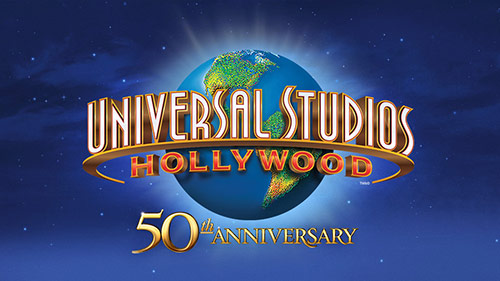 2015 marks Universal Studios Hollywood's 50th Anniversary and they are bringing it in with a bang! With spotlights on an all new "Fast & Furious - Supercharged" thrill ride, the expansion of "Springfield" around "The Simpsons Ride" and the addition of a "Nighttime Studio Tour", Universal Studios is bigger than it has ever been with this enormous transformation. Not only are they adding on to the park, they are making upgrades as well! The historic "Glamour Trams" used on the Studio tour will be undergoing a complete makeover. By 2016, they will roll out a whole new fleet of streamlined trams with ultra-comfy cushions and a polished exterior. It will continue to add on to the one of a kind experience you will embark on with the hallmark of Universal Studios Hollywood, the famous backlot Studio Tour.
And now, the all new grand finale to the Studio Tour is the exhilarating "Fast & Furious - Supercharged"! This heart pounding thrill ride takes guests on an epic race underground reaching speeds of over 120 miles per hour. Original cast members Vin Diesel, Dwayne Johnson, Michelle Rodriguez, Tyrese Gibson and Luke Evans will take you on a legendary journey through the Fast & Furious franchise. This high speed 3-D adventure can only be experienced at the end of the Studio Tour in Universal Studios Hollywood.
Guest visiting The Simpsons Ride will now get to walk straight into the iconic town of "Springfield". Filled with trademark spots from the show, guests can eat at places like Krusty Burger, Cletus' Chicken Shack, Luigi's Pizza and Phineas Q. Butterfat's Ice Cream Parlor. You can also catch a donuts and a drink at Lard Lad Donuts, Moe's Tavern and Duff Brewery! The brand new "Springfield" will look like it came straight out of your television.
For the first time ever you can now take a ride on the outstanding Studio Tour at night! The "Nighttime Studio Tour" will acquaint guests on how film makers have made movies in the dark all these years. Over 20 locations along the tour will demonstrate all of the lighting and special effects that go into a nighttime movie production. You will learn some of the best secrets and tips of the trade as you tour the backlot of Universal Studios Hollywood. You can catch the "Nighttime Studio Tour" every weekend from July 4th through Labor Day.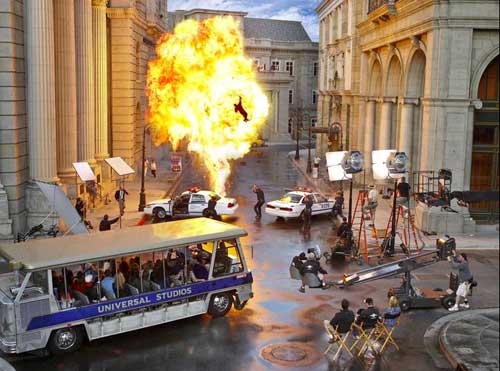 Universal Studios Hollywood has been a staple of Southern California for 50 years now. Continuously opening guests imagination to the magic of movies, breathtaking adventures and fun for the whole family. And now with all these incredible new additions and the highly anticipated arrival of "The Wizarding World of Harry Potter" (coming in 2016), now is the time to experience all the excitement Universal Studios has to offer. Get Away Today would love to help get you there to make unforgettable memories with your family and celebrate Universal's 50th birthday. Book your Universal Studios Hollywood vacation online or call our travel experts at 855-GET-AWAY.

Check out these great articles: