Your kids are going to be so excited when they see our "We're Going to Disneyland!" Mickey Balloon Surprise. It is an easy and dramatic way to reveal a Disneyland vacation to your family. Make this Christmas one to remember by giving your family a future vacation to Disneyland.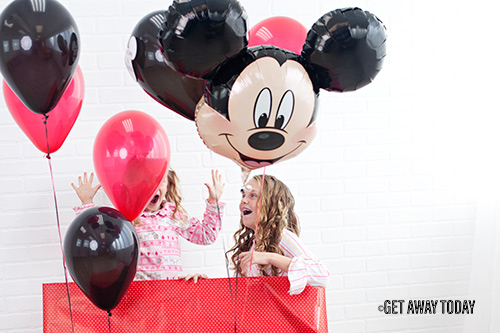 Giving the gift of a vacation is increasingly popular for a number of reasons. It's unexpected. It's less clutter. It's something your family will remember forever. It's something your family can look forward to for days, weeks or even months to come depening on when you travel. It's exciting when you hear "We're going to Disneyland!" We could go on and on with reasons why we love the idea of giving the gift of a vacation.
But instead, we'll just share one of the easiest, cutest and most dramatic ways to say "We're going to Disneyland" with a Mickey Balloon Surprise. All you need are a few items:
A big box - the bigger the better
One Mickey Mouse mylar balloon
A number of coordinating colored latex balloons
Balloon weights - be creative with these
Our "We're going to Disneyland!" sign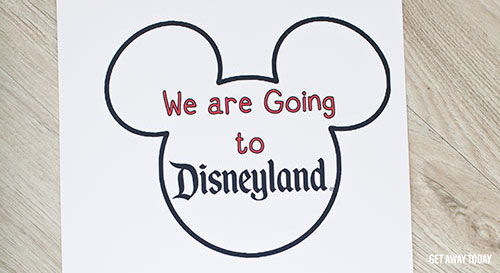 Start by downloading and printing our "We're Going to Disneyland" sign:
We're Going to Disneyland Printable Sign
Then you'll want to find a really big box. Truly, the bigger the box, the better. The more balloons you can fit in the box, the more dramatic the effect. If you don't happen to have an extra super large box lying around, you can call around to local businesses and see what they have. Try a grocery store or large appliance store.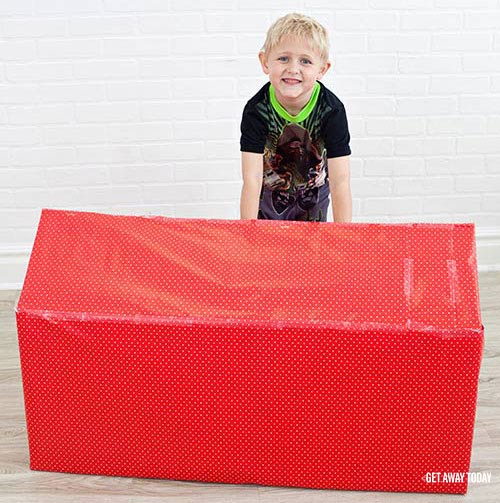 Next you'll want to pre-order your balloons from your local party store. One giant mylar balloon with a few color coordinating latex balloons will make a big impression. We of course love the classic Mickey balloon surprise, but you could choose any of your family's favorite Disney characters. Cinderella, Lightning McQueen... anyone at all! It's a good idea to go into the party store to order in person so you can get an actual idea of the shape and size when the star of the show (your main mylar balloon) is fully inflated.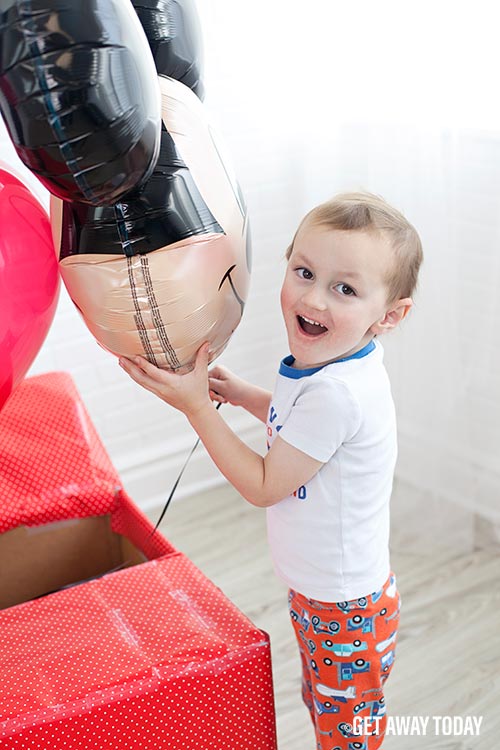 You'll want to schedule your balloon pick-up for as close to Christmas morning as possible. If you can't do it the day before, your mylar balloon will stay inflated enough to float up for a few days. However, although it will still float up easily and look great, if you're afixing our "We're going to Disneyland!" sign to one of your balloons, it will need to be as inflated as possible or the weight (even though light), will weigh down the balloon.
You'll want to wrap the outside of the box of course. I recommend wrapping it so that the box easily opens. If you want the box to open easily by just lifting the flaps, you can wrap the box before putting your balloons inside. Finish it off with a nice bow to hold the lid or flaps down.
If you want to completely cover the box and have your kids rip into it, you'll want to wait until after the balloons are placed inside to wrap it. If you want your balloons to be lined up and placed in somewhat of an organized manner, you'll want to wrap the box first, and then strategically place your balloons inside. Either way, you'll want two people to get the balloons in the box because it's harder than it looks! You'll also need some weights tied to the bottom of your balloons so that your balloons don't fly up to the ceiling.
As for balloon weights, make it fun with some small Disney surprises. You could tie a balloon around a box of Disney themed fruit snacks, a Disney DVD or any other small trinket.
And really, that's all there is to it. Your kids will be thrilled as they open the Christmas morning surprise of a lifetime and then enjoy the countdown until your Disneyland vacation begins.
If you haven't booked your Disneyland vacation yet, let us help you say "We're going to Disneyland!" to your family. Check out our Disneyland packages which combine the best hotel specials and discount Disneyland tickets. You can book online or call our agents at 855-GET-AWAY.

Check out these other great articles: