I've been to SeaWorld San Diego many times. I love it. It's a fantastic park that does so much good. But recently I had an opportunity to do two incredible things that I've never done before at SeaWorld San Diego. And I learned a lot. So, today I want to share what I learned at SeaWorld with you. And, we've teamed up with SeaWorld to give you the chance to visit the park yourself, so be sure to enter our giveaway at the end of the article.

First, I got to go behind-the-scenes to the rescue area with the head of the rescue and animal care department, Keith Yip. Keith has been with SeaWorld for over 30 years and his passion for helping animals is apparent when you meet him.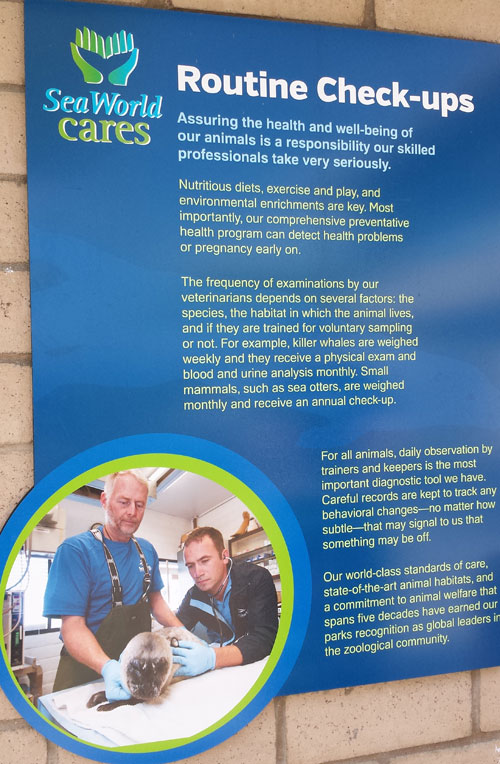 The day I visited the rescue area was pretty quiet as most of the staff was out that day doing a big release of sea lions and seals. I got to see their weighing area where they bring in new rescues, and storage areas where they keep the mammals that they have on site. I also got to see the baby area where they'll make bottles for the babies that are still nursing. We also got to see the hospital which includes a surgical center. I was allowed to take pictures of anything I wanted with no restrictions. Looking back, I wish I would've taken more!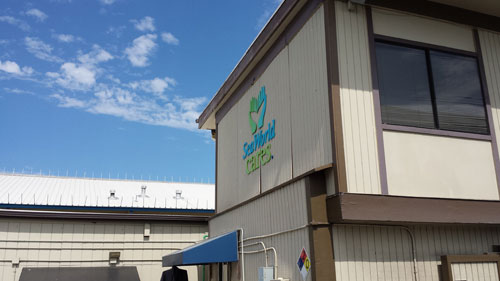 People may not know, (I didn't) that SeaWorld does more rescues and more surgeries than any other facility worldwide. In fact, many nearby facilities will call SeaWorld to come to the rescue when they are unable to do what they need to do. In a normal year, SeaWorld may rescue a few hundred animals and averages one per day.
This year has proved to be anything but normal. Earlier this year, they were rescuing approximately 20 mammals per day. Before this year, the previous record for rescues was 488 mammals and that was in 1983. So far year to date, SeaWorld has rescued 1,124 mammals. And when we say mammals, that includes sea lions, seals, dolphins and whales. They rescue more animals and more types than any other facility. They also have the highest survival and highest release date. They are the only facility that will rescue and rehabilitate whales and dolphins. They always help and never turn away, now that's incredible! Because of the huge influx of animals this year, they've built make shift shelters for them like this one.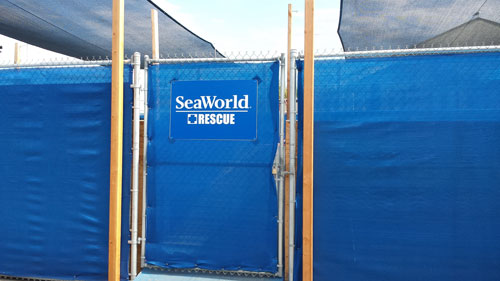 In addition to building makeshift shelters, SeaWorld hired and additional 65 people to assist with the influx in rescues. They believe that there is an influx this year, because there have been so many babies and the water has been warmer than previous years. The older seals and sea lions know how to swim out farther and deeper for fish, but the younger ones don't and are unable to find food. Most of the rescues are young animals, and are able to stay at SeaWorld until they are ready to go back home to the wild.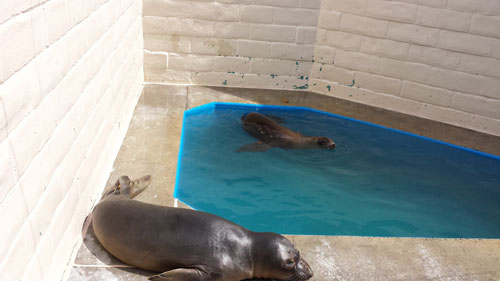 These seals are recovering together. One just had major eye surgery after an injury.
While behind the scenes, we also got to see the dolphin maternity ward. We saw a pregnant mama and her friends. It was so much fun and such a treat!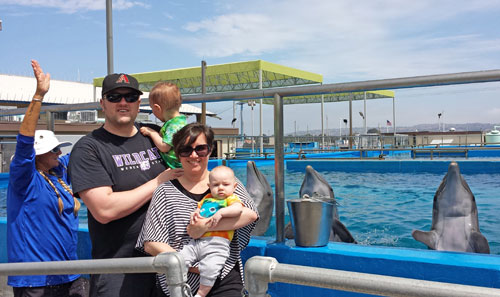 After the rescue area, we were in for another treat with the first Shamu show of the day, Killer Whales Up Close. This show is educational and entertaining. It answers so many of the questions that everyone wants to know. How many types of killer whales are there? What do killer whales eat? Why do they jump? How do they communicate? And so much more. We learned a ton. This show has such a different feeling than other Shamu shows I have been to, and I highly recommend it.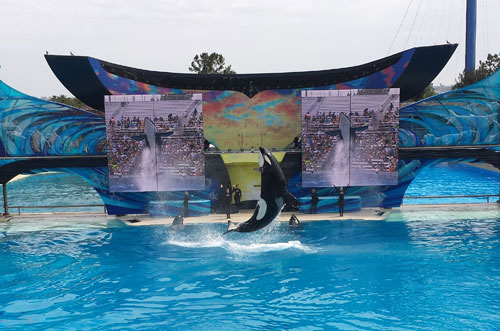 The second opportunity that was so incredible this visit was getting to meet with Kristi, head killer whale trainer at SeaWorld. She shared her experiences starting at the park nearly 30 years ago. Her love for the animals she cares for and the work she does radiates from her.
SeaWorld is currently home to 11 orca whales that live in a pod, like a family.
Kristi feels like the killer whales in her care are her children and wants the very best for them. She cares and advocates for them. We talked a little bit about the Blue World Project, which is the new orca expansion project. It will be amazing.

They are building a bigger pool that is nearly three times as deep as their current pool. This will give the whales more underwater time and gives guests a unique opportunity to see these gorgeous creatures in a more natural environment.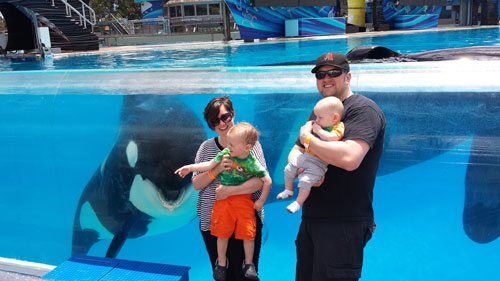 Following our special meeting, we got to experience Dine with Shamu. This is a delicious all you can eat breakfast and lunch opportunity that you can purchase when you visit the park. The food is delicious, but most importantly, you get a special up close view of the whales in a relaxed environment. When the
Blue World Project
is complete, the Dine with Shamu area will disappear. Because of this, you will want to book your reservation for Dine with Shamu before it goes away!
One of my favorite quotes and one that SeaWorld uses often is, "In the end, we will only conserve what we love. We will only love what we understand. We will only understand what we have been taught..." Baba Dioum
I firmly believe that the best way to learn and see all the good that SeaWorld San Diego does it to see if first-hand. Our San Diego vacation packages include SeaWorld tickets good for up to 7 days admission. With so many world-class shows, interactive exhibits and exciting rides, you'll want to visit again and again. If you travel during the summer, you'll especially want to experience SeaWorld Summer Nights with extended night hours and exclusive shows including a fireworks display over Mission Bay. You can read about
10 Things You Don't Want to Miss at SeaWorld This Summer
here.
We've teamed up with our friends at SeaWorld to give away two prize packages each valued at over $150. Each prize package includes two 1-day SeaWorld San Diego tickets and fun SeaWorld merchandise. All you have to do is watch a quick video about SeaWorld to enter. The more videos you watch, the more entries you'll get. Enjoy!
a Rafflecopter giveaway