Every Sandals Resort offers a unique experience; no two Sandals Resort has the same feel, layout, clientele or offerings. Thanks to Get Away Today and Sandals we were able to spend a full week in Jamaica experiencing eight very diverse properties. We got to stay and play at both Beaches Resorts for families and the Sandals Resorts for couples. When you call us, we have been there and tasted the cuisine, jumped in the ocean and saw and/or slept the exact same rooms you will on your Sandals vacation. It was tough but we put together the top three or four things we loved about each property we visited. You can read about the
Best of the Beach Resorts in Jamaica here
. But today, we're focusing on the Sandals Resorts.
Although it's not a Resort, it's worth mentioning that at the beginning of our trip we traveled to the Sandals Golf and Country Club for an afternoon, which is available to Sandals Ocho Rios guests. Greens fees and transfers are included with your stay, but a caddy is required to keep play pace and available for a minimal fee. The grounds are stunning; very lush and green. Golf Digest Magazine granted it a 4 star rating for courses to play on while on vacation. We were all out there playing a hole or two, when our Sandals rep discovered none of us had tasted coconut straight from a tree. Because Sandals is all about your experience, we were pulled over to the side and a whole crew of Sandals staff managed to shake out enough coconuts for us each to have one. They cut and cleaned them for us, and even showed us how to create a spoon and scoop out the jelly.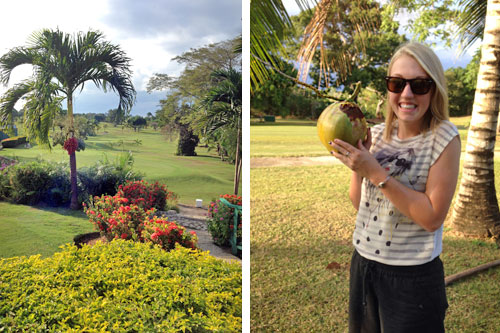 Sandals Royal Plantation:
This is an all butler boutique resort. The Royal Plantation has 74 suites on site and is unique in many ways. This property sits right next door to Sandals Grande Riviera. Guests who stay at the Royal Plantation can shuttle over or stroll along the beach down to the Grande Riviera, but guests from the Grande Riviera cannot use any of the amenities offered at the Royal Plantation - an all butler property needs to remain a bit exclusive.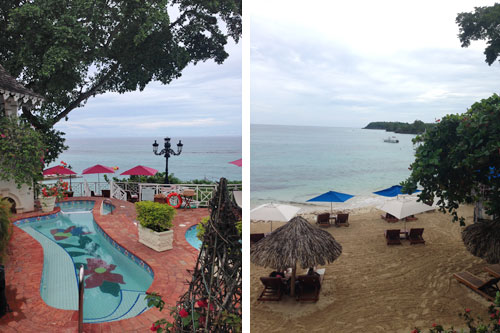 Top 4 for the Royal Plantation:
Privacy

: Even at 93% occupancy, there was not a crowd to be seen. Plenty of pool and beach loungers, no waiting at any of the dining venues or bars. The property is designed to ensure that everyone has their own totally pampered beach escape.
Butler service

: Once you experience this luxury you may never vacation without it again. The Butlers go out of their way to anticipate your needs and beat you to the thought. You will find Butlers bringing Mangosas down to you on the beach. The Mangosa is the signature drink at this resort.
Dining

: The dining is elegant and simply divine. Lobster BLT anyone? At this resort they will hand pick the mangos

, breadfruit and anything else in season and incorporate it into their cuisine. All meals can be enjoyed anywhere; your butler can bring it to you on the beach or poolside or you can leave your lounger and dine in a restaurant. They also take room service up a notch. Here they have "in room dining" each suite has a table and chairs, your butler can bring your meals to you, it is not just dropped and left however, they dress the table with a linen and silverware and will bring your meal as you request it - served in courses or delivered all at once to leave you in privacy.
Drawing Room

: This

room has seen some very influential people throughout the days. Winston

Churchill has dined on the exact table that still stands there to the day.

All the furnishings are antiques that have been refurbished, but are original to the era. This room can be reserved for weddings, receptions or even dining options.
Sandals Grande Riviera:
This resort is very unique. The Grande Riviera recently completed a 60 million dollar renovation. This is really more like two resorts in one, plus an added beach club. This resort is so large that they have three types of transportation options: golf carts, jitneys and private vans that will take you to the different areas of this resort: t

he garden side, the sea side and the Ochi Beach Club. The communal areas are very modern and upscale. Outdoor fire pits, fine dining and a total of 105 pools on site and 22 hot tubs!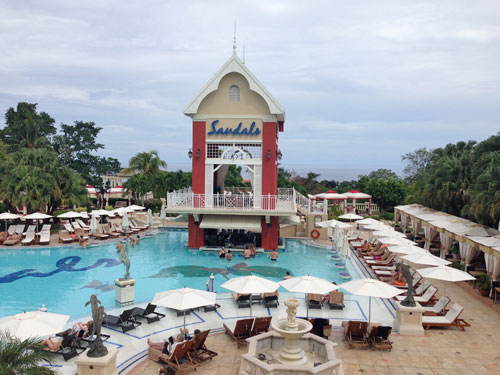 Top 4 for Grand Riviera:
Ochi Beach Club

: This night club is hip and modern. They have themes almost every night and rumor has it, they are even planning to have a fireworks show at the end of every week in the near future.
Groups

: This resort is great for groups traveling together. They have villa houses that can accommodate several families giving you a private unit. With a resort this large, they have a room for every budget.
Dining

: The dining options are endless here. I would advise to plan on two dinners each night, plus a lunch and a half and a full breakfast of course. - and yes they would allow this. They don't count your meals or drinks here. A Foodies heaven. There are 16 dining options including Soy the recently added Sushi restaurant.
Activities

: there is so much going on at this resort, take part in all that you can. The White night chocolate buffets, the reggae nights, and the "show you stuff" talent show. Participate in it all Sandals is known for great prizes like a free week to return again!
Sandals Royal Caribbean:
This is my personal favorite Sandals Resort in the Montego Bay or Ocho Rios area. This resort has a very elegant European flare. This resort has its own off shore island, the perfect place for a quiet beach day or it can be reserved for the ultimate destination wedding.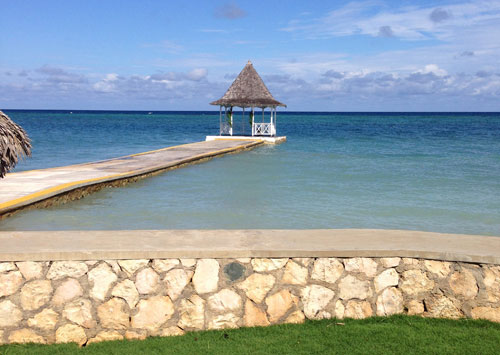 Top 3 for Royal Caribbean:
Staff

: The staff at this resort is truly there for you. The water activities staff were seen all over the beach engaging with the customs, tempting them to try something new - with instruction and assistance of course. The bar tenders were all part of the entertainment. They were dancing stacking bottles on their heads and made you feel completely engaged. I saw them whip up so many drinks both alcoholic on non-alcoholic and nothing stumped them. Next time you are there you must try the "Moo-Goo," a non-alcoholic glass of heaven.
Beach

: The beach is so serene here and completely safe. I may have spent the night in a beach lounger here before. Not recommended as the mosquitoes come out to play at night, but I woke that morning feeling so refreshed - it was worth every bite.
Rooms

: The rooms are currently some of my favorites. There are some super excited renovations both underway and upcoming, including over

the water bungalows! An overwater bungalow and an all inclusive resort?!

Does it get any better than this?
Sandals Montego Bay:
This was the very first of all the Sandals, their flagship resort. Butch Stuart grew up here before it was a Sandals.
Miss Eleanor's dining option (Mr. Stuart's grandmother) still has the very same tiles on the floor of the restaurant because he had made a promise to her that he would never replace them. A very cool place to see and experience.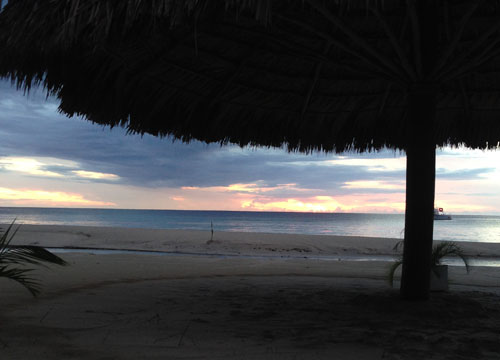 Top 3 for Montego Bay:
Amenities

: This resort is a stay at one play at two. The Royal Caribbean and Montego Bay share their amenities. This doubles your dining, entertainment and beach options. This resort really makes it feel like you have had two very different vacations in one.
Night life

: This resort has the most to offer in the evenings. It is

not unusual to have the place popping until 1 a.m. or later. Their main stage is where most of the shows and activities take place and is very centrally located.
Casual atmosphere

: you can let your hair down a bit more on this resort. There is only one dining option that would require a reservation and resort evening attire. Get club level, order room service to start

your day and forget the agenda. Here you will literally bump into your

next activity.
Be mindful - this is a more active resort, it definitely has its night life! And because it can get loud here, if that is not the scene you are into, you might want to choose to stay at another one of our fabulous Sandals Resorts. If that is your scene, then go ahead and get your party on! This is the resort to do it!
Sandals Negril:
The drive here has some of the most beautiful scenery Jamaica has to offer. Each time you think you have figured out the Sandals company and know what's coming, you come across a property like Sandals Negril. Both the Beaches and the Sandals Negril sit along a stretch of the world famous 7 mile beach. This beach offers the perfect combination of tranquility and entertainment. The section surrounding the resorts are calm and peaceful. If you walked down the beach is where you will find street performers and vendors.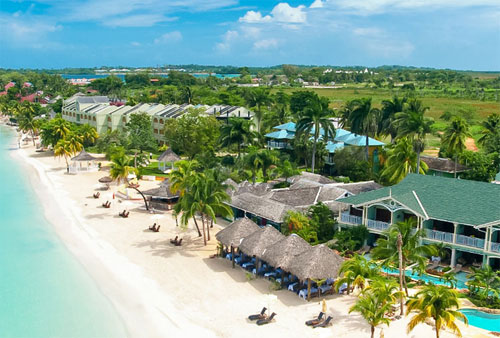 Top 3 for Sandals Negril:
Beauty

: This resort has an artistic flare here you'll see rock hallways, perfectly positioned decor such as oversized vases and, of course, the sweeping view of the ocean that words cannot describe.
Casual atmosphere

: As you walk in the doors here you are greeting with an attitude of sit back relax, let us take care of you. The lobby seating even includes bench swings!
Rooms

: The rooms are beautiful, well designed and modern. Some of the suites here were simply breathtaking. This is a resort I would plan on getting a

suite - maybe the swim up crystal lagoon beachfront suite.
This was the last stop on our journey, and I couldn't think of a better way to end it. I definitely see myself returning to vacation here.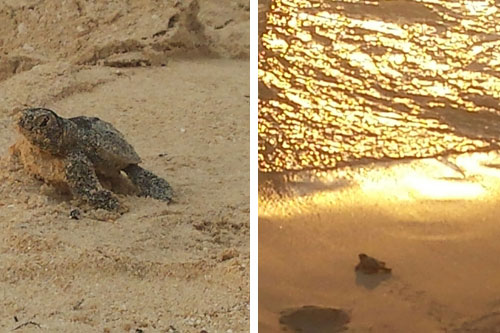 Top 3 for Whitehouse:
Beach

: I know it's not a world famous beach like in Negril, but I loved it so much more! With the resort in complete isolation there is by far more beach than people. You'll find huts, hammocks, loungers, food and beverage options and even wildlife!
Sandals preservation committee

: Sandals Whitehouse sits on a 500 acre nature preserve, so they focus great efforts on preserving the untouched beauty. While we were there we had the amazing opportunity to watch the release of the latest nest of sea turtles. This is the 19th nest that Sandals Whitehouse has protected and released. The sea turtle is an endangered species and have a tough long life ahead. When Sandals learned that this was a nesting area they began this program to protect them from poachers and predators. The nests can hatch anytime from April to November - truly luck of timing!
The Resort itself

: I know it's a generalization, but the resort was my favorite by design. This is an all ocean front resort. All rooms in all buildings will have a beautiful view of the ocean. They have several dining options, shops and even invite in the various craft vendors to help you find that perfect souvenir. Of course I had to buy a hand carved sea turtle to always remember my stay.
When you're ready to book your next Sandals vacation, give us a call! We'd love to help you find the perfect resort for your Jamaica vacation. You can explore all of the Sandals Resorts on our website, or call us at 855-GET-AWAY for personalized assistance, recommendations, and of course, the best deals.

Check out these other great articles: