SeaWorld San Diego is so much fun year round with interactive exhibits like Explorer's Reef and Dolphin Point, inspiring shows like Killer Whales: Up Close and Pets Rule!, and exciting rides like Manta and Journey to Atlantis. There truly is something for everyone at SeaWorld San Diego.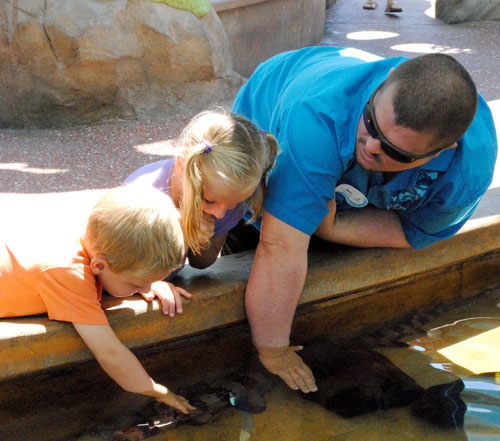 This March brings a number of special experiences with SeaWorld Wild Days held each weekend. Guests will be able to gather in the "Wild Days Amphitheater" for daily presentations all about SeaWorld's conservation efforts. Learn firsthand from some of SeaWorld's and TV's best and well known veterinarians, trainers, educators and rescuers. If you've ever wanted to learn more about all of the good that SeaWorld does for animals and our planet, Wild Days Weekends in March is the time! Here's a quick overview of the SeaWorld Wild Days calendar of events and presenters to help you plan your trip: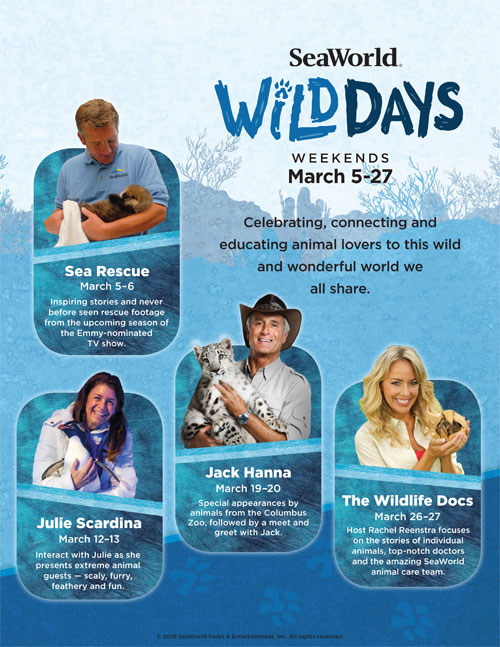 The best part about booking your San Diego vacation with Get Away Today is that our tickets include 7 - days admission to SeaWorld San Diego for $20 off the 1-day price! With that kind of flexibility, you can visit as many times as you'd like during your vacation. If you time it right, you could even stay a full week and space it out to include one Sunday visit to the park and then the following Saturday visit again to cover two of the different Wild Days presentations!
If you can't make it to SeaWorld this March, there is still so much fun to be had at the park in 2016. Here is a brief overview of all of the extra fun that is coming to SeaWorld San Diego this year:
April 2 - May 1: SeaWorld's Magic Weekends
May 7 - June 12: SeaWorld Seven Seas Food Festival (Select Dates)
June 25 - August 14: SeaWorld's Summer Vibes (Select Dates)
September 3 - 18: Fiestas Patrias (Select Dates)
September 24 - October 30: SeaWorld's Halloween Spooktacular (Select Dates)
November 18 - January 1: SeaWorld's Christmas Celebration (Daily)
Check our blog regularly for more information about these events as they get closer. In the meantime, you can book your San Diego vacation online, or call our vacation experts at 855-GET-AWAY. Our agents visit San Diego and SeaWorld each year to give our guests personalized recommendations for their vacations. We'd love to help you make your San Diego vacation a reality!

Check out these other great articles: