Find out our favorite features of the Wyndham Garden Grove in this week's hotel spotlight. With perks like free amenities and big changes coming, you'll want to try this property for your next Disneyland vacation.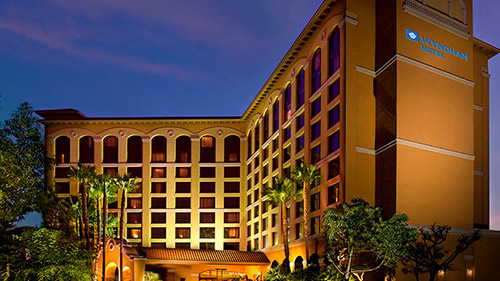 We love being able to offer a wide range of hotel options in the Anaheim area and feel lucky to work with so many great hotel partners. One of our favorite Anaheim hotels has to be the Wyndham Garden Grove hotel. Get Away Today has an exclusive contract for reduced rates and specials like 4th Night Free specials, making this deluxe property cost less than some of our moderate and even value properties at times.
There's more than just a great price to the Wyndham Garden Grove, though. In fact, we've highlighted our favorite features of the hotel in a recent video. Check it out below:
Who's ready to stay at the Wyndham Garden Grove on their next Disneyland vacation? We know we are! Here's a quick highlight of our favorite features found at the Wyndham:
Free amenities. We're not just talking about having a fridge in your room or a 24/7 fitness center available. No, we're talking about the big things, like free breakfast and free parking. All hotel guests receive a free shuttle that runs throughout the day to and from the Disneyland Resort. However, only Get Away Today guests receive free parking and a free hot breakfast every morning of their stay. Parking and breakfast tend to be two of the biggest costs of a vacation, so scoring them for free is definitely one of our favorite features at the Wyndham.
If you've stayed recently, you know there is a $15 resort fee paid directly to the hotel. That resort fee covers some of the other amenities offered, like the fitness center, business center and pool area. This has also been discounted for Get Away Today guests, since it's typically $20 per night.
For those planning to travel in 2018, this favorite feature gets even better. With the new contract, there is no longer a $15 resort fee for guests staying at the Wyndham Garden Grove in 2018. Let's look at the savings. Get Away Today guests won't have to pay the $20 per night resort fee, the $16 per night parking fee, or the $15.95 per adult and $7.95 per child for the buffet breakfast. For a family of four staying four nights, that's a savings of $192 dollars! And that doesn't include what you'll save with our discounted rates, either. There's a reason we love all the amenities offered at the Wyndham Garden Grove Hotel so much!
Newly renovated pool area. The Wyndham Garden Grove recently finished renovations on the large outdoor pool and Jacuzzi area. If you loved the area before, you'll love it even more now! You can relax in the heated pool or even rent one of their cabanas for a day. With the poolside restaurant only steps away, we recommend having an extra day in your vacation just to enjoy the new area.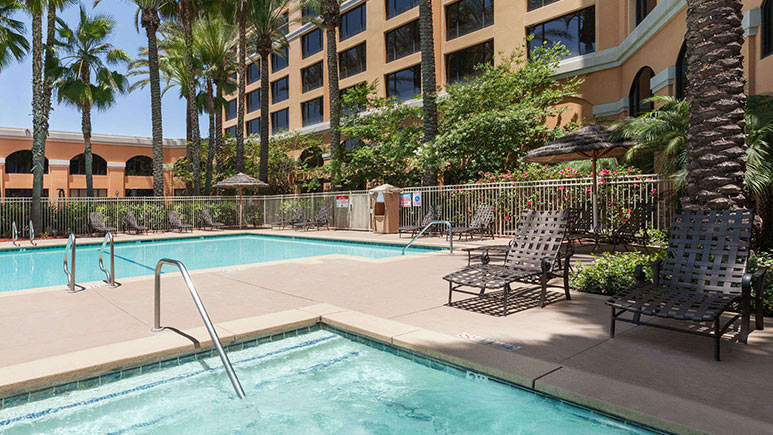 The pool isn't the only thing at the Wyndham Garden Grove getting a makeover. The hotel has recently decided to begin renovating its guest rooms as well. Just like the pool, we already loved the space and furnishings, but are excited to see the new look. Keep an eye on the Wyndham Garden Grove Hotel page for more information about the upcoming renovation dates.
New lobby and restaurant area. We couldn't have been more impressed touring the new lobby and restaurant area at the Wyndham Garden Grove area. If the modern feel of these areas gives us any idea of what's to come for the rooms, we know it's going to be great. Speaking of the restaurant, you'll want to eat a meal or two at the in-house California Grill & Bar. You'll find a variety of dishes here, all focused on cuisine that California is known for. Whether you enjoy a burger at lunch or the sirloin at dinner, you can't go wrong dining here. Plus, there's nothing easier than dining at the restaurant only a few floors down from your room.
What is your favorite part about staying at the Wyndham Garden Grove Hotel? Let us know in the comments below. Or, chime in with your favorite hotel for future spotlights - we love knowing what hotels our guests enjoy the most!
If you're ready to book your next stay at the Wyndham Garden Grove Hotel, add on our discount Disneyland tickets for the most savings. Even if you're traveling in 2018, you'll want to book now to take advantage of 2017 prices before they go up with the new year. You can book any of our Disneyland packages online now or give our travel experts a call at 855-GET-AWAY.

Check out more hotel spotlights: