Search
Featured Posts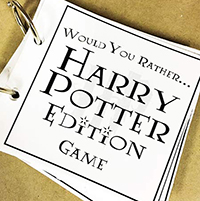 posted by Kimberly Fidler
We are so excited about the
Wizarding World of Harry Potter coming to Universal Studios Hollywood
in California on April 7, 2016! Hogwarts and Hogsmeade will come to life and immerse guests in the magic of Harry Potter.
One of our most popular games that we've put together on our blog has been our "Would You Rather" Disney themed game. So, of course we decided to make a Harry Potter inspired version to celebrate the upcoming West Coast arrival of the Wizarding World of Harry Potter. This version of the game is full of questions regarding your favorite wizards, witches, spells and more! One of the best parts about this game is it can be played with as many or as few players as you wish. You could easily play it at a large party, or even by yourself if you're a true Harry Potter fan. You may find yourself getting to know aspects of your family, friends and even yourself that you didn't know before!
Making your own game is easier than catching the Hogwarts Express. Just print off the free pages below one at a time. There are nine pages each with six cards. We recommend using a card stock or sturdy paper.
Harry Potter Would You Rather 1
Harry Potter Would You Rather 2
Harry Potter Would You Rather 3
Harry Potter Would You Rather 4
Harry Potter Would You Rather 5
Harry Potter Would You Rather 6
Harry Potter Would You Rather 7
Harry Potter Would You Rather 8
Harry Potter Would You Rather 9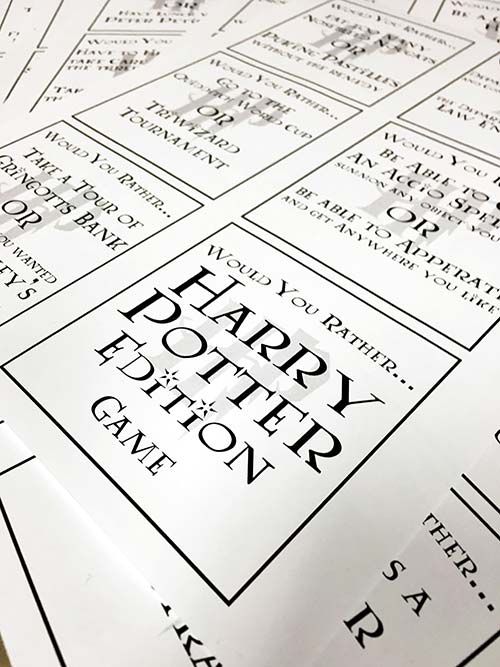 After you've printed out the questions onto your paper, you may want to consider laminating the cards. If you are laminating the cards, do that before cutting them. If you don't want to laminate them, you can go ahead and cut the page into three columns. If you want to make a book out of your cards, be sure to cut right along the right hand side of the line and leave the left side with the extra border. This will give you space to make a binding or punch holes.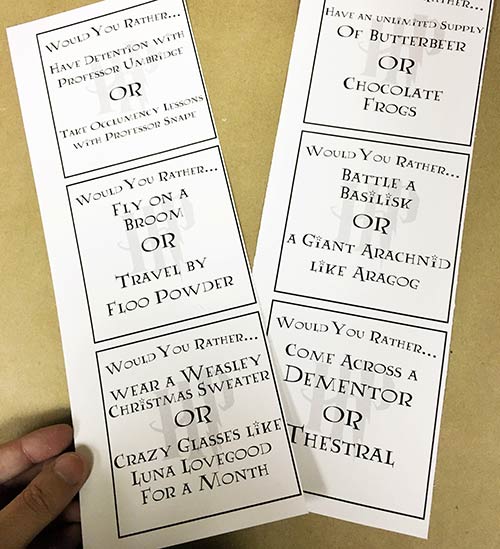 If you choose to punch holes your cards or have them bound together to make a little booklet, you can do this yourself with anything... binder rings, wire, etc. Or, have it bound at your local print shop.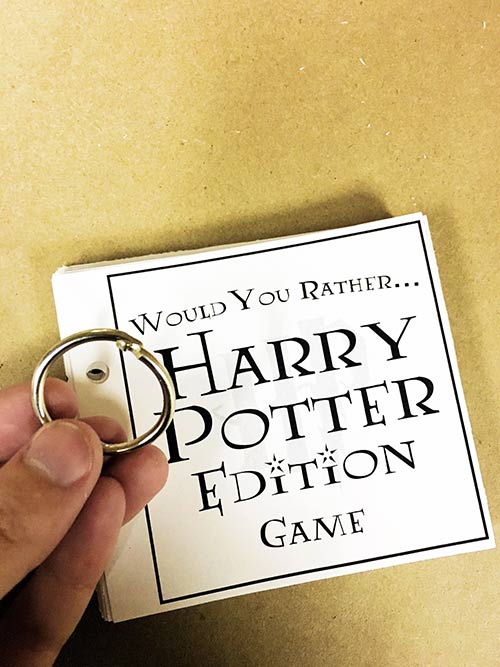 You could also easily choose to leave the cards loose and keep them in a bag. It can be as simple as that! Whatever you decide to do, we're sure you're in for hours of whimsical fun.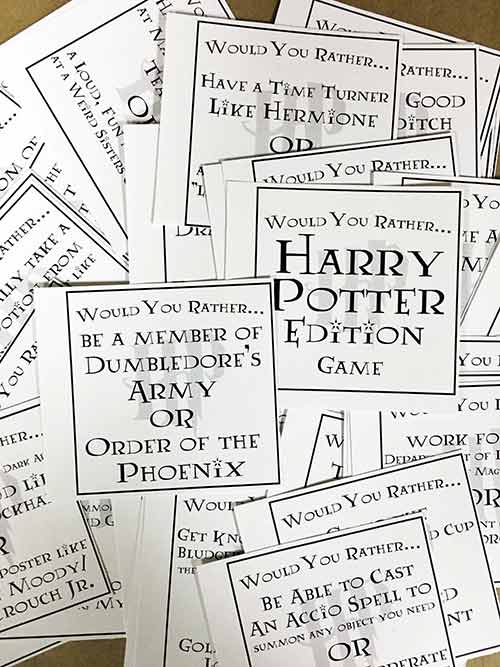 Our Harry Potter Would You Rather Game would make a fun family game night while you're counting down the days until your Universal Studios Hollywood vacation where you'll get to experience the Wizarding World of Harry Potter. Make it a Harry Potter party with some
butterbeer
and
magical treats inspired by Honeydukes
. Or, if you're taking a road trip, print it off and make the time fly by playing on the road. It would also be a fun (and free) gift if you're surprising your family with a vacation to visit Universal Studios Hollywood.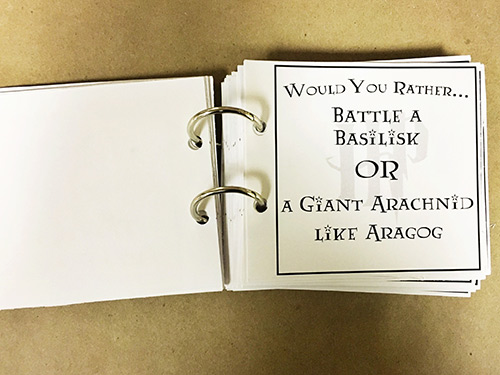 If you haven't booked your
Wizarding World of Harry Potter
vacation yet, book now. You can hold your vacation for just $125 down. Stay nearby at one of our
Universal Studios Hollywood
hotels, or make it part of your
Disneyland vacation
and take advantage of our
free night specials
at select Anaheim area hotels. Either way, we're sure you'll have a magical vacation!

Check out these other great articles:
The Wizarding World of Harry Potter is Coming To Universal Studios Hollywood
The Best Butterbeer and Golden Snitch Donut Recipes
Harry Potter: 3 Easy Honeydukes Recipes
Free Harry Potter Spells Printable and Wand Tutorial