Paint the Night Parade is arguably one of the most popular nighttime parades to debut at Disneyland. Check out Disney's recent live feed of the parade and our list of 10 things to look for at Paint the Night Parade on your next vacation. Plus, we have some exciting news about how long this fan favorite will be sticking around!
We all love Paint the Night Parade and were so ecstatic when Disney brought it back to run in Disney California Adventure Park as part of Pixar Fest. For months, we've all been holding our breath and wishing on stars to hear the it will continue past Pixar Fest, which ends on September 3rd. Luckily, Disney answered those wishes as they shared in a recent live viewing of Paint the Night that both it and the Pixar Play Parade will continue on past September 3rd. Talk about exciting!
While no end date was announced, we wouldn't be surprised if both stuck around through the holidays and into 2019. Of course, we'll make sure to share as soon as any end-dates are announced. For now, we wanted to focus on 10 things to look for at Paint the Night Parade the next time you see it! There are so many details in each float that it's likely you could miss a few without knowing what to look for.
10 Things to Look for at Paint the Night Parade
First, check out Disney's recent live feed of the parade here:
Then, read our list of 10 things to look for at Paint the Night below. Did you catch them all? If not, you should go back and watch the video. You'll be surprised just how many details there are! And, we won't tell anyone if you decide to watch the video every night until your next Disneyland trip. It sounds like the perfect countdown tradition to us!
1- The lights! While these are all easy to spot, can you guess how many points of light make up the entire parade? According to Disneyland, the parade contains more than one million sources of light. Can you imagine not only putting all of those lights together, but also programming every single one of them? It's no wonder we are all so amazed by the technology of Paint the Night!
2- Tinkerbell and friends. It's hard to miss Tink since she's the centerpiece of the first float, but did you notice that her fairy friends are a part of the float as well? You can find Iridessa, Silvermist and Rosetta dancing with the other fairies in front of Tinkerbell's float each night. For little ones who love the recent Tinkerbell movies, you'll want to point these flying friends out!
3- Big puppet sidekicks. We love that Tigger, Genie and Lumiere are recognized as some great Disney sidekicks in Paint the Night. Did you realize that these are puppets? While they are motorized on the bottom, all of the upper body movements are controlled by puppeteers at the base of each vehicle. We can only imagine how much of a workout that is for the entire parade!
4- Your favorite monsters. When Sully and Mike appear, you'll want to keep an eye on those doors. Not only will they keep moving positions, but they'll occasionally "open" to show a monster friend or two. How many Monsters Inc. and Monsters University pals can you spot?
5- Lightning's favorite sponsors. The Cars float is one of the most photographed, with Mack stretching over 53 feet long and showcasing a cool 3D design. Disney didn't forget any details here as you can easily point out Rusteze decals on both Mack and Lightning. In case you didn't know, Rusteze is the rust preventive company that sponsors Lightning throughout his racing journey. We love when Disney remembers to pay attention to these details even outside of the movies!
6- Ariel's swimming companions. How many fish friends can you find when Ariel and King Triton float by? The float has a total of nine fish along with eight flowers and more than 200 blades of grass. It might be hard to count all the grass blades, but try and look for all the fish and flowers the next time you watch Paint the Night.
7- A spinning Slinky. The Toy Story float featuring Slinky, Buzz and Woody is one of fan's favorite floats in the entire parade. You can find also find Jessie and the Green Aliens tagging along near this display! Take a closer look at Slinky and you'll notice that every disk he's made up of is actually spinning. According to Disney, those disks continuously spin at 120 RPM throughout the parade and are synced to match custom video content. Do you think he gets dizzy with all that circling?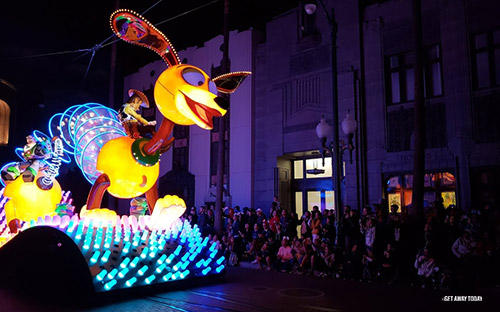 8- The enchanted mirror. Belle's float in the parade contains a video screen meant to represent the Enchanted Mirror from Beauty and the Beast. With over 500,000 pixels, it's one of the largest video screens in the entire parade. While you probably won't miss this large screen, you may not have realized what it was representing from the tale as old as time. You'll also notice Rapunzel and Cinderella here, with a few regal chandelier and swan dancers mixed in. Princesses always love this part of Paint the Night!
9- Incredible crime fighters. The brand-new Incredibles float has been another big hit, celebrating the Incredibles 2 movie and the opening of Pixar Pier. You'll find Mr. and Mrs. Incredible at the front, with Frozone and Violet on top, and Dash racing around the entire float. But where's Jack-Jack? Keep your eyes open and you might just see him pop in and out, with all his different forms!
10- Mickey's big finale. Mickey and friends are there to finish the Paint the Night Parade and let you know just how much they want to do this again. Did you know that the glowing vehicles that Minnie, Goofy and Donald ride are controlled from behind-the-scenes? What look to be handles for steering are actually lights to make sure the characters are lit up enough to be seen by everyone. Mickey's float is perfect for the finale, since it holds almost 7,000 pixels that are each individually programmed.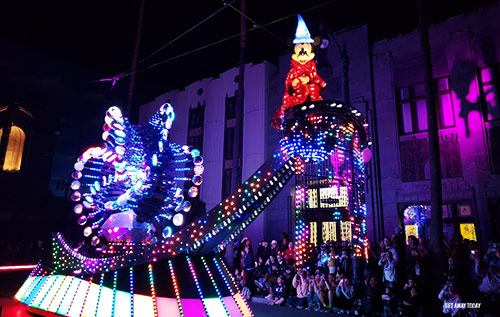 We don't know about you, but we are sure excited that Paint the Night Parade and Pixar Play Parade are sticking around past Pixar Fest. What's your favorite float in this nighttime spectacular? Let us know in the comments below. And to read all the fun facts on Paint the Night Parade, click here for the Disneyland Resort News page on this amazing entertainment.
If you haven't already, now is the time to book your Disneyland vacation. There's so much to still see this year, including Pixar Fest, the brand-new Pixar Pier, Halloween Time and the Holidays. Book any of our Disneyland packages online now or give our Disney experts a call at 855-GET-AWAY. We can't wait to help you do this again!

Check out more Disneyland updates: