UPDATED JUNE 2023. We teach you how to use the Disneyland app to make your Disneyland vacation the best ever! It serves as a map, calendar, ride guide and form of payment all in one. We show you what the free app looks like, some of our favorite features, and even a few tips and tricks for the parks.
How to Download the Disneyland App
The Disneyland app is a big part of a Disneyland vacation experience. It's the ONLY app you'll need for your Disneyland vacation and we love it. You'll be amazed at all you can see, do and plan with the most accurate and interactive Disneyland app available. And... It's free.
The first step on how to use the Disneyland app is to download it for free! Here is where you can get it:
Disneyland app on the Apple Store
Disneyland app on the Google Play
How to Use the Disneyland App - Tips
We recommend downloading and using the Disneyland app before your Disneyland vacation to familiarize yourself with the entire Disneyland Resort.
You'll be able to see where all of the attractions are in relation to each other. You can also get an idea of how the Disneyland Resort is laid out with the Disneyland Resort Hotels, Downtown Disney and the two theme parks.
If you have any special needs while on your trip, you can also use the app beforehand so that you know where everything you need is located. Find the Baby Care Centers, Lost & Found, First Aid Stations and even water bottle refill stations.
How to Use the Disneyland App - Food
You can also use the free Disneyland app to make restaurant reservations up to 60 days before you travel, which you'll want to do for Character Dining or any of the super popular restaurants like the Blue Bayou.
Or, if you're lucky and there are still some restaurants with open reservations while you're in the park, you can make reservations the same day from the app.
If quick service is more your style, use the Disneyland app while you're in line for an attraction to see what dining options are closest to you. Use the menu to mobile order your family's meal choices before you even get to the restaurant or food cart!
No matter if you are using the Disneyland mobile app to make restaurant reservations or mobile ordering, you can find plans you've made and food you've ordered on the app under "My Plans." It is so easy to keep track of everything.
How to Use the Disneyland App - Favorite Features
Disney is continually updating the app and adding new features. To help keep track, we've bullet pointed some of our favorite features— including more of the recent additions.
Link all of your discount tickets purchased from Get Away Today
Purchase and use Disney Genie+ for select rides, attractions and shows
Join the Virtual Queue if available
Locate PhotoPass photographers throughout the Disneyland Resort
Get approximate ride wait times
Find showtimes, parade times and routes, park hours and restaurant hours
Utilize mobile order to prepay for food from most quick service dining locations; skip the line and pick up when it's ready!
Look at menu items and prices for restaurants - including those in Downtown Disney and those that don't offer mobile ordering
Find Disney Characters throughout the Resort and appearance times
See shopping locations and use mobile check out at select locations
Locate bathrooms
Another Time and Money Saving Tip!
You hopefully know by now that you can find all of our Disneyland packages and Disneyland tickets on our website. We currently offer Park Hopper and 1-Park per Day tickets that have the option of pre-purchasing Disney Genie+.
If you purchase Disney Genie+ before your vacation, you are locking in our low daily rate, which can fluctuate if you decide to buy the day you arrive. Disney Genie+ must be added for each day of your ticket in order to lock in our prices. Or you can choose to upgrade on a day by day basis once you're at Disneyland.
, you'll receive your tickets via email after purchase. You can add your e-tickets to the Disneyland app right away and use that as your entry into the theme parks (with valid theme park reservations). You can also bring your printed e-ticket to the gate—both options work!
And of course, you'll never pay the full gate price when you buy your Disneyland tickets through Get Away Today!
Locate Wi-Fi Hotspots and Charger Locations
When using the Disneyland app, you can either use the Disneyland Resort free park Wi-Fi or your own data. Many people find that their own data works better, however, the Wi-Fi has improved pretty dramatically since Star Wars: Galaxy's Edge opened.
You are going to want to use the app a lot during your Disneyland vacation. Because of that, you'll want to make sure your phone stays charged. We recommend you bring your own external charger to the parks, or consider purchasing a Fuel Rod once you're at the parks.
There are Fuel Rod machines located throughout the entire Disneyland Resort. For about $30, you'll get a brand new external charger and converter kit. Then, when it's out of charge, you just return it to any of the Fuel Rod kiosks and exchange it for a new one - free. It's super easy and takes the stress out of keeping your phone and external charger at full power.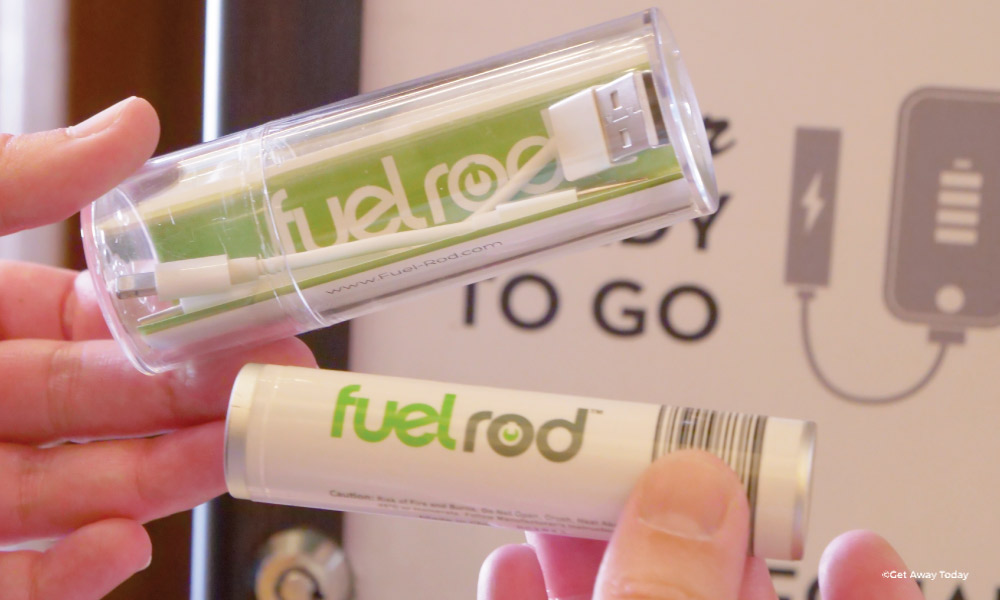 As you can see there is SO much that you can do when you know how to use the Disneyland app. We hope you learned a few things to help you out on your next Disneyland vacation. If you haven't booked your Disneyland package yet, we'd love to help you with that too!
Book your Disneyland vacation now online or over the phone by calling 855-GET-AWAY.