The Courtyard Anaheim Theme Park Entrance is the perfect hotel for families visiting Disneyland. They have everything and more that you need for your vacation, including a water park! Read about my recent stay at the new Courtyard by Disneyland here.
Photo Courtesy of the Courtyard Anaheim Theme Park Entrance
On my last trip to Disneyland I was able to stay at the Courtyard Anaheim Theme Park Entrance. It is the newest Courtyard by Disneyland. I was really excited because I had seen the outside with its towering water park and had heard great things about it. I was pleasantly surprised when the Courtyard by Disneyland not only met, but exceeded my already high expectations. I've put together a list of10 things that I loved that I think you'll love too.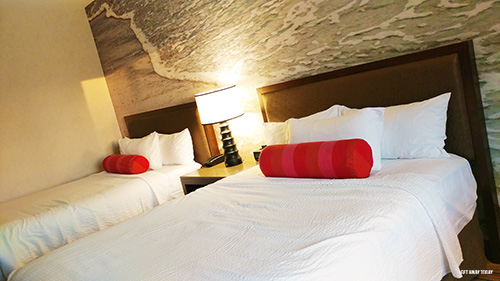 10 things to love about the Courtyard Anaheim Theme Park Entrance
1. Location - To say that the Courtyard Anaheim Theme Park Entrance has a good location is an understatement. It is a perfect location, about a five minute walk to the front gates of Disneyland and Disney California Adventure Park. Many of the rooms have views of the park where you can see the top of Space Mountain and the Matterhorn. If you're staying over a weekend like we were, you can watch the Disneyland fireworks. If your room doesn't have a park view, there is plenty of viewing from the Surfside Waterpark on level two. But the Courtyard's location isn't just great because of Disneyland. It's also within walking distance to tons of family friendly restaurants. Panera Bread, McDonald's, IHOP and Mimi's Cafe are just a few of the easitly walkable restaurants.
2. Surfside Waterpark - You can't talk about the Courtyard Anaheim Theme Park Entrance and not talk about the water park. In fact, whenever I mention the new Courtyard by Disneyland, I say, "the one with the water park." This is not just some splash pad called a water park, but they do have one of course. The Surfside Waterpark is huge. They also have tall tube water slides for big kids and adults, smaller slides for the little kids, a kiddie pool, a swimming pool and a hot tub. The water is heated and the hours are long. You have to be a guest to access the water park and are given a wristband for each member of your party when you check-in.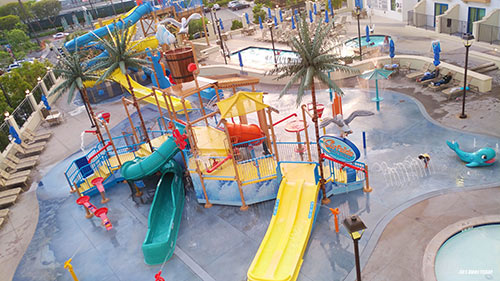 3. Double Sinks - There are few things that irritate me more in a hotel room than having no counter space. No matter how well you pack, when you have five people all sharing a bathroom, you have everyone's tooth brushes, hair brushes, fash wash, make-up, hair supplies, deodorant etc. Not only does the Courtyard by Disneyland have plenty of counter space, they also have double sinks. Brushing teeth and washing faces before bed just got a whole lot easier.
4. Showers - Sure, some hotels may have double sinks, but, how many do you know of that have double showers? The Courtyard Anaheim Theme Park Entrance does! All of their rooms have one shower/tub combo and a separate stand alone shower. Getting everyone ready for the day takes half the time when you have multiple people showering. It's especially nice for rinsing off after a fun afternoon at the Surfside Waterpark.
5. Bunk Beds - I think it must be written somewhere in kid code that bunk beds are the coolest. My kids freaked out when they saw that our room had bunk beds. Every room at the Courtyard Anaheim Theme Park Entrance has a set, which is so smart. It's a great use of space and helps you easily and comfortably sleep up to six guests in their rooms with two queen beds.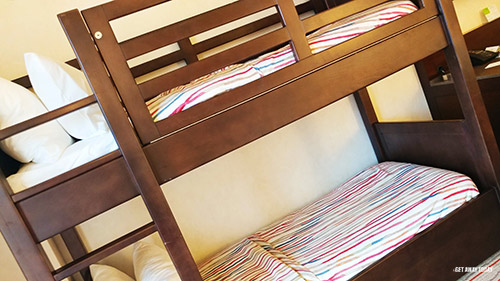 6. Fridge and Microwave - When travling with small kids, having a fridge and microwave in your room is a must. You can keep milk cold and reheat leftovers, making an in-room meals or snacks a breeze. It didn't make the top 10, but I also loved the fact that our room also had a little seating nook with a table. We sent Dad to McDonald's in the morning and had our little breakfast at our table overlooking the waterpark. It was perfect.
7. Hulu, Youtube and Netflix - Another thing that is awesome about the Courtyard Anaheim Theme Park Entrance are their TVs. They are all set up so you can easily access your Hulu, Youtube and Netflix accounts. That may not seem like a big deal, but when you have kids that want to watch the same episode of Dinotrucks again and again, it is! It was so nice to be able to have their show up on the TV and use my iPad without any of the kids asking to use it to watch "their shows."
8. The Bistro - The new Courtyard by Disneyland also has an awesome Bistro in the lobby. It's casual, affordable, has a good variety and is delicious. Although there are so many restaurants close by, it's still nice to not have to leave your hotel again to find dinner after a day of fun. We loved their pizza and sandwiches.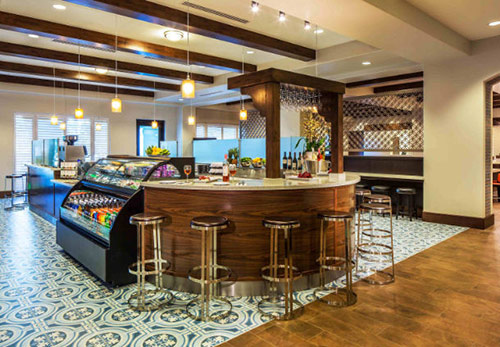 Photo Courtesy of the Courtyard Anaheim Theme Park Entrance
9. Valet Parking - Another unique feature of the Courtyard Anaheim Theme Park Entrance is that they don't have a parking lot. Instead they used their space for that awesome waterpark and offer valet parking only. I don't know about you, but I love being able to load and unload everything right in front of the hotel and not having to find a parking spot. The valet service was fast, friendly and super convenient. Plus, parking was $20 per night, which is inline with many of the area hotel's standard parking rates. This could change at any time, so check before your trip, but I thought it was so reasonable considering the location and level of service you get!
10. The Service - The people at the Courtyard make all the difference. We were warmly welcomed from the moment we pulled in to check-in until the time when we drove away after loading up and checking out. The front desk made us feel so welcome, the bellhop helped us with our luggage and gave us a quick rundown of our room, and everyone we encountered was just over the top helpful and friendly. Our contact there also just happens to be one of the best we work with. If there is anything that you need or are celebrating something special during your stay, be sure to let our agents know and we'll pass it on. We always feel confident sending our guests to the Courtyard Anaheim Theme Park entrance because we KNOW that they'll have an awesome experience.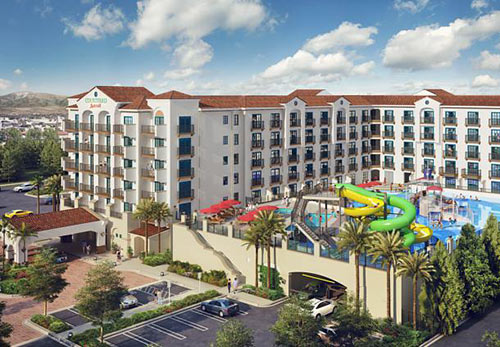 Photo Courtesy of the Courtyard Anaheim Theme Park Entrance
If you want to discover even more reasons to love the Courtyard Anaheim Theme Park Entrance, we'd love to help. I don't think you can go wrong! You can book your stay online or call any of our reservation experts at 855-GET-AWAY.

Check out these other great articles: