One of the great things about visiting Disneyland is the extra special touches and details. The closer you look, the more you find. Go on an adventure to find secrets and gems at the Happiest Place on Earth! Take the time to experience the hidden treasures in Disneyland and be your family's guide on an amazing adventure. The excitement and treasure hunt will create unique family traditions and memories to last a lifetime. To help you get started, here are eight things you didn't know you could do at Disneyland:
Get Disneyland's roster of King Arthur's Carousel horses.
Walt Disney purchased an 1875 Dentzel Menagerie Carousel from the Sunnyside Amusement Park in Toronto, Canada to be operational on the opening day of Disneyland. Horses were removed and altered because Walt wanted each one to be "prancing." Each horse on the carousel has a unique name and no two are the same. Your family can pick up a list at City Hall in Main Street, USA which features a total of 85 horses.
Each horse has a unique theme with special detail. "Jingles," the lead on the carousel was Walt's favorite and is still ridden by Julie Andrews each time she is in the park. Jingles features Ms. Andrews' initials and hints to her role as Mary Poppins. Our family rides the same horse on each trip. It is one of our favorite memories and it has created a tradition to see time pass and children grow within pictures over the years. Which is your favorite horse? Testy Pat, Romance, Dagger, Champion?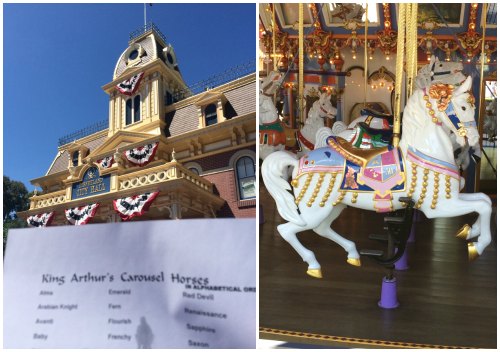 Photo credit: Jingles on King Arthur's Carousel at Disneyland Park. Stanford Clark
Escape from the door in the top of Sleeping Beauty Castle.
Look for the entrance to the "Sleeping Beauty- walk-through-attraction" enter on the Fantasyland side of the castle. The attraction takes you inside the castle and tells Princess Aurora's story in beautiful dioramas. When you arrive within the heart of the castle, travel to the top of the stairs, pull on the castle door and find a startling surprise!

Try to get the apple from the Wicked Queen.
Look above the entrance to Snow White's Scary Adventure in Fantasyland. The Wicked Queen peeks at the crowd to see if anyone dares to touch the apple that she has left in the castle plaza. If you dare, grab the apple and see what happens!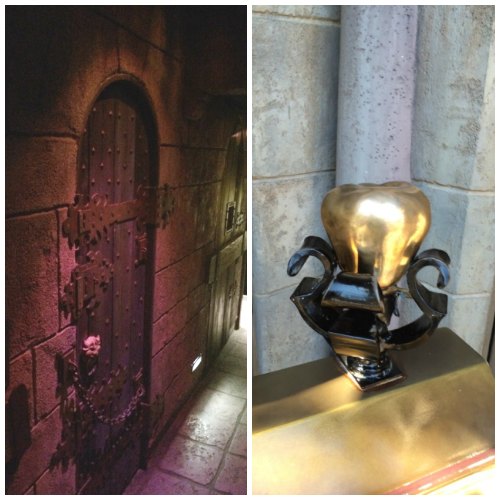 Sleeping Beauty Castle Door and Evil Queen's Apple
Photo credit: Stanford Clark

Pilot the Mark Twain Riverboat.
There is much to learn at Disneyland, it can be a classroom for all members of the family. Part of the park is a living historical museum which includes horses, antique cars, gas lamps, steam locomotives, a steam boat and many other unique attractions. The Steam Boat is named the Mark Twain. "Mark Twain" is a river boat term meaning, "mark number two" or two fathoms deep (twelve feet). The term was used to denote that the water was deep enough to go full-steam ahead. Later, Samuel Longhorn Clemens created his pen name using the term. Ask a cast member if you can pilot the Mark Twain Riverboat. If you are very patient and very lucky, they will invite you up to the wheel house to drive the venerable river boat.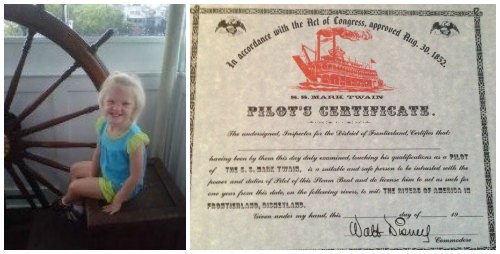 Photo credit: Chris and Candice Dallin
Get your very own Jungle Cruise map.
The Jungle Cruise is a crowd favorite, featuring Disneyland's own guides / comedians. You can even see the 8th wonder of the world, the back side of water! But watch out for Schweitzer Falls (named after Dr. Albert Falls). Ask a cast member for a Jungle Cruise Map and follow your progress as you explore the jungle rivers of the world. And it's a fun (and free) souvenir.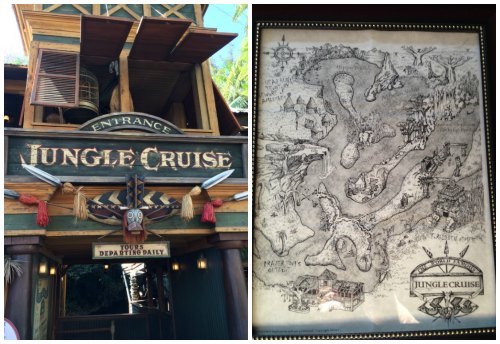 Photo Credit – Jungle Cruise ride: Stanford Clark. Jungle map: Chris Dallin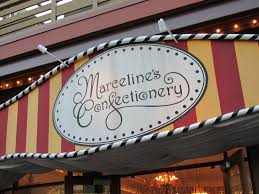 Go on a hunt for a "Hidden Mickey."
Disneyland Imagineers and cast members have placed a likeness of Mickey's head throughout the park. Each attraction has at least one "Hidden Mickey" and they are found at unique places throughout the park. Look closely, they may be hard to find! Ask the cast members to tell you where you might find one. It is a great adventure to see how many you can find. Practice your skills with this picture...
Get great, oh, ok, "fun" advice from the four fun figures of fortune.
Disneyland features some whimsical and exciting "fortune tellers." They dish out some sage and funny advice to those seeking information about the future. Fortune Red discusses pirate advice, Shrunken Ned is a "health expert," the magical lamp ponders our culture, and Esmeralda gives thoughts about the future. Put in a few coins and they will dispense your advice on a printed card. A few examples:
"If the Universe is expanding, why is it so difficult to find a parking place?" The magical lamp, which can be found in the market in Adventureland.
"Be very careful about following the advice of health books, you could die of a misprint," or "Never eat anything bigger than your head." – Shrunken Ned, Adventureland.
"Chance be like a glass, it glitters most when it breaks." – Fortune Red, New Orleans Square.
What will your advice / fortune be?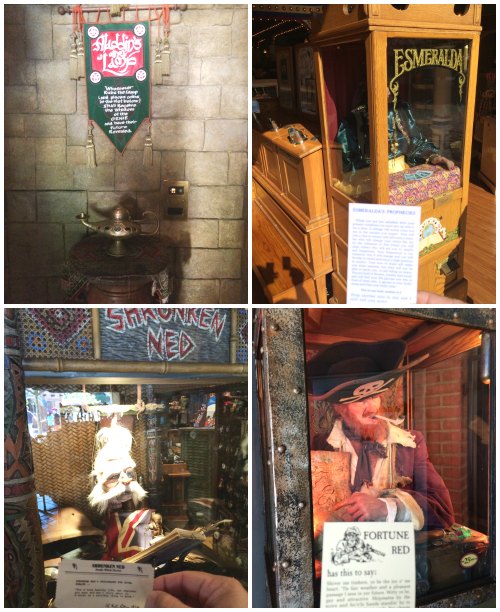 Photo credit for the four figures: Stanford Clark
Find hidden Disneyland rides from the past.
When Walt Disney said, "that age can relive fond memories of the past," in his opening speech in 1955, he was not thinking of Disneyland's past. But, for several Disneyland aficionados, there is great joy in searching and finding hints and secrets of past Disneyland attractions. When a ride is retired, Imagineers almost always leave something behind as homage to the attraction.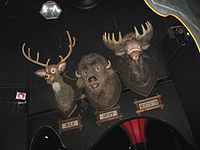 For example, The current Adventures of Winnie the Pooh attraction used to be the home of "The Country Bear Jamboree." The original hosts are still in the area, and you can see them! When your "honey-pot ride car" takes you from the "Heffenlump" room into the birthday room within the Winnie the Pooh attraction, look behind you and behold, say hello to "Max, Buff, and Melvin!" A great memory from the past! Look around the park and you'll find several other nods to "retired" rides.
Walt Disney said "as long as there is imagination left in the world, Disneyland will never be complete." Disneyland is constantly changing. At the time of the blog post all special activities are current. Disneyland management may change things from time to time, but if things have changed, they are bound to be magical.
Let Get Away Today help you plan your next adventure to the Disneyland Resort with any of their
Disneyland packages
or
Disneyland tickets
! Book online or call our vacation experts at 855-GET-AWAY.

Chris Dallin is a Disneyland fanatic. He travels to Disney parks several times a year and continues to find hidden gems, joy and magic in the Happiest Place on Earth. Tune into future blogs for additional ways to experience the Disneyland Resort.
Check out these other great articles:
10 Things You Didn't Know About Main Street U.S.A.
15 Ways to Reduce Wait Times at Disneyland
20 Ways to Make the Most of a Summer Day at Disneyland