Disneyland Easter Eggs and Hidden Mickeys are all hidden in plain sight—some more obvious than others, but they offer endless ways to explore Disneyland Resort without the need for any tech or smart devices. It's like an old school game of eye spy!
You may be familiar with Easter eggs in Disney movies, like the famous A113 found in nearly every Pixar Film. But why "A113?" That's the thing, an Easter egg is easy to miss because it only means something to people who know, people on the inside. And today that's you!
A113 is the now-famous classroom used by students at California Institute of the Arts. Many of the students from this private art university in Santa Clarita, California (first envisioned by Walt Disney himself) went on to join the Pixar team as animators. They threw in these little nods to the past here:
License plate number on Ms. Davis' minivan, Toy Story
Git, the lab rat, has a tag on his left ear, Ratatouille
Graffiti in the streets of San Francisco, Inside Out
In this same manner, a unique set of little known facts and hard to find treasures at Disneyland and Disney California Adventure Park are hidden in plain sight. Easter eggs at Disneyland Resort are a great way to converse with and engage your family in interesting trivia and Disney knowledge.
Hidden Mickeys are a representation of Mickey Mouse subtly placed into the design of an attraction, or other location at Disney Resorts. The most common Hidden Mickey being a formation of three circles like the silhouette of Mickey Mouse. Once you start searching, you'll see them in everyday life too!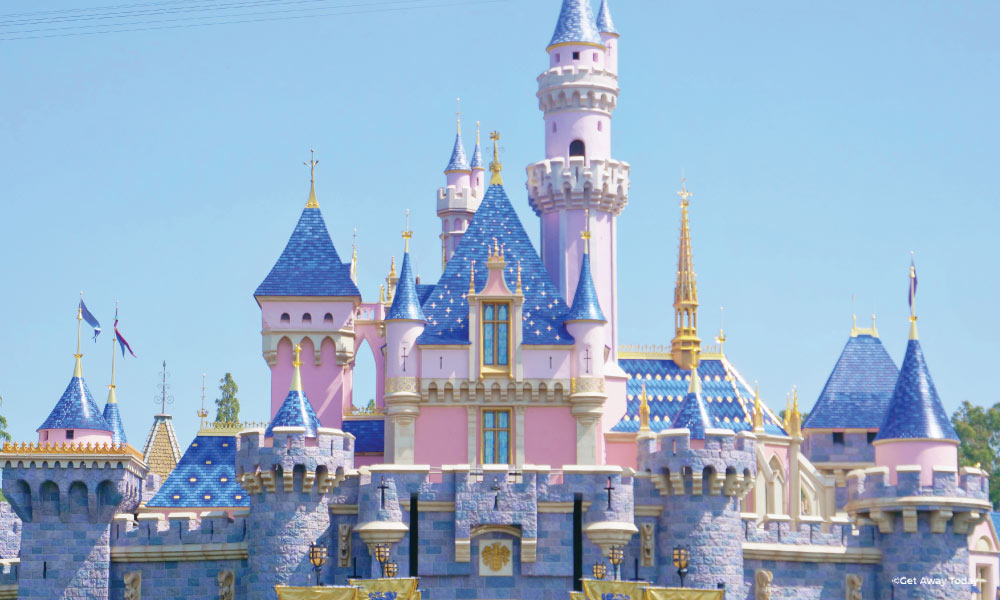 Disneyland Easter Eggs
Disneyland is magical in many ways, one of which is the painstaking attention to detail. Disney Imagineers and designers take special care to hide Easter eggs expecting that Disney fans will search and find the details that make the park so special. Disney experts who know the details and the specifics behind Disney history are rewarded by the understated references to all things Disney. On your next trip to Disneyland, look for the Disneyland Easter eggs detailed in today's article!
Disneyland Easter Eggs - Weenies
In the 1950s, hot dogs were new to the American culinary scene and were once called "weenies." Americans loved the new meal-on-the-go that could be purchased at the baseball park, beaches, amusement parks and more. Guests were drawn by the smell and were beckoned to check out the source.
Walt Disney created Disneyland as an experience where families could choose their adventure. Families get to immerse themselves in the hustle and bustle of early 1900s America as they stroll down Main Street, U.S.A. They arrive at the Hub in front of the castle from which place they get to choose their next adventure in whatever land they desire.
Walt wanted to create a reason to visit each land and beckon guests toward their next experience. To this day, Disney Imagineers call the iconic figure of each land a "weenie." As guests stand at the Hub and contemplate which path to take, it's hard not to be drawn into any of the other lands.
Frontierland has the Mark Twain River Boat with the billowing steam, delightful bell and whistle. Fantasyland has the iconic Sleeping Beauty castle drawing every child, young and old into the land where fairy tales come to life.
Tomorrowland once featured the TWA moonliner, which was replaced by the Astro Orbiter, beckoning guests to experience the challenge and promise of the future. Then there is Adventureland, one of our staff favorites.
Disney detail novices often wonder why there is no "weenie" at Adventureland, beckoning them into the park. Oh sure, there is the sign with wooden masks, tribal shields, spears and fire torches, but there is no iconic attraction that calls you inside. To find this Disneyland Easter egg, look a little closer. To find this Disneyland Easter egg, I suggest you look a little closer. Guests will see that the path that leads into Adventureland takes a dramatic turn to the left. That's it… that is the beckoning… because true adventure is around the next corner!
Disneyland Easter Eggs - 1764 Crypt
The 1764 Crypt is located on the banks of the Rivers of America in the New Orleans Square, not far from the Pirates of the Caribbean and the Haunted Mansion. Once you know it's there it is hard to miss this hidden, sealed crypt.
There are many stories, speculation and rumors about the crypt. Some believe that it was going to be a pathway connecting to Tom Sawyer's Island or a pirate backstory, but most believe that 1764 is a significant part of New Orleans history, including Spanish influence and the beginning of the Creole culture. Even if none are true, it is fun to find the hidden crypt. This Disneyland Easter egg is one you don't want to miss!
Disneyland Easter Eggs - Stan Lee
Stan Lee was the creator of Marvel Comics which were later turned into many beloved films that all had one thing in common up until his passing in 2018: a cameo by Stan Lee. Fans look forward to his cameos. In fact there were even some filmed before his death and delighted viewers for brief moments in newer Marvel movies. We don't know how many were recorded and fans are anxious to see how Stan may turn up in some of the future films, whether in person or video audio clips.
Stan Lee can be seen in the movie that introduces the Guardians of the Galaxy attraction at Disney California Adventure. And Stan Lee isn't the only Easter egg in this attraction!
The story goes like this: guests are invited to the Collector's palace to view his collections from across the Universe. Many hidden gems are scattered throughout the attraction's queue. One of the boxes on the ceiling holds Figment, a purple dragon, featured in one of the retired attractions at Walt Disney World.
The queuing area after the library holds Harold the Yeti, the original monster from the Matterhorn Bobsleds. Many other references to Disney past, cultural references and specifics can be found in the "Collector's archives." As part of the introduction to guests, the Collector gives instructions on his collection, such as what guests may experience and an invitation to see his newest acquisition, the Guardians of the Galaxy. Stan Lee makes a quick cameo and asks if "anyone validates parking."
Look closely and you will see references to other cultural icons and events, including the moon landing and the opening of Disneyland. In addition, look for references to the previous attraction, Twilight Zone: Tower of Terror. The attraction has certainly become a collection of Marvel, Disney and Lucasfilm memorabilia.
Disneyland Easter Eggs - Monsters, Inc.
Monsters, Inc. Mike and Sulley to the Rescue! If you have ever traveled by bus or subway, you will find the details of Monsters, Inc. Mike and Sulley to the Rescue delightful. The queue carries many details that make standing in line more fun! Look for rules, information and specifics as if you were traveling with a bunch of Monsters in Monstropolis.
One sign reads, "If you are made of liquid, you must contain yourself at all times." Another vending machine carries treats that Monsters crave, including: "Same Old Raccoon Bar." Whichever Disneyland Easter Egg you go after, choose your adventure and make lasting memories!
See Disneyland's Easter Eggs in Person
Unlike Disneyland Easter eggs, Hidden Mickeys are fun and engaging with no Disney history or expert memory required!
It's A Sign - And a Hidden Mickey!
Hidden Mickeys love to hang it in signs around Disneyland Resort. Some of our favorites and hidden in these locations:
Marceline's Confectionary, Downtown Disney District
Gibson Girl Ice Cream Parlor, Disneyland's Main Street, U.S.A. (check the window signs)
Jungle Cruise, Disneyland's Adventureland (make sure you look at each ride sign!)
Ride with a Hidden Mickey
Hidden Mickeys adore the attractions of Disneyland Resort, and there are so many coming along for the ride. Here are some of our favorite Hidden Mickeys on Disneyland attractions:
Space Mountain, Disneyland's Tomorrowland (check your seat before you sit down or listen for that Hidden Mickey sound)
Pirates of the Caribbean, Disneyland's New Orleans Square (look for 3 barrels hanging from the ceiling)
Haunted Mansion, Disneyland's New Orleans Square (dine with Mickey In the ballroom scene)
Hidden Mickeys Rock
These ones can be trickier to find because they're less noticeable in some cases. The rock work and scenery of Disneyland Resort is a masterpiece of imagineering. I love finding Hidden Mickeys molded into rock work but sometimes you really have to be paying attention. Have you spotted these favorites hiding under a rock?
Millennium Falcon: Smugglers Run, Disneyland's Star Wars: Galaxy's Edge (take the ramp as you exit and notice the rock work on the wall)
Tiana's Bayou Adventure (coming 2024), formerly Splash Mountain, Disneyland's Critter Country (check your height and see if you can spot the itty bitty Hidden Mickey)
Gadget's Go Coaster, Disneyland's Mickey's Toontown (keep your eyes peeled while in queue)
Sail the Rivers of America, Disneyland's Frontierland (keep an eye out in the water for any rocks)
Disneyland Hidden Mickey's
We've only mentioned a few Hidden Mickeys and there are plenty more waiting to be found during your Disneyland Resort vacation! At Get Away Today, we would love to help you plan your next family vacation. Whether you want to search for Disneyland Easter Eggs, visit Star Wars: Galaxy's Edge or experience
Halloween Time at Disneyland
, we have the experts who can help make that happen. Take advantage of our discount Disneyland tickets, interest free
Layaway Plan
and discount
hotels near Disneyland
when planning your trip! See all vacation packages online, or give us a call at 855-GET-AWAY.