We love Disneyland history and looking back at memories over the years. This article is no longer being updated, but is a great way to look back and see what was happening at Disneyland when this was originally published.
If you haven't heard by now, Paint the Night is back at the Disneyland Resort as part of Pixar Fest. Get a glimpse into the Paint the Night Parade at Disney California Adventure Park, where we were able to go behind the scenes.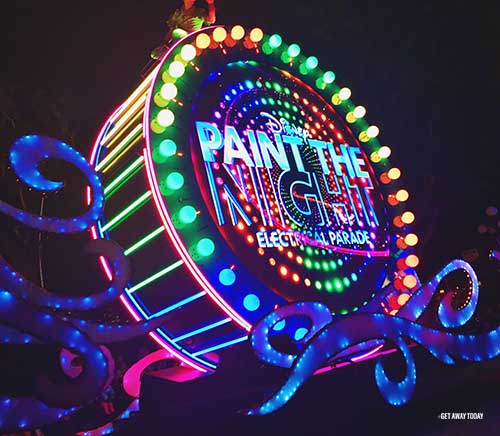 We were able to experience the Paint the Night Parade as it kicked off at Pixar Fest. We were also lucky enough to go behind the scenes and interview Tracy, who is the show's director. We got to see one of the floats up close and ask all about what we can expect from Paint the Night Parade now that it is in Disney California Adventure. Enjoy:
As a reminder, the Paint the Night Parade is only available at Disney California Adventure Park for a limited time as part of the Pixar Fest celebration. You can watch the parade nightly from now until September 3, 2018 and you won't want to miss it!
The parade has over 1.5 million lights, incredible music, larger than life floats and electric performers. There is no other parade like it! The parade kicks off with Tinkerbell and continues to tell your favorite Disney and Disney Pixar stories. Most of the floats are the same floats and sequences that appeared during the Diamond Celebration, but a new one is joining the line-up in its new temporary location. Some time in June Mr. and Mrs. Incredible will be joining the Paint the Night Parade with their very own float. It will be, well... incredible! The new float will be joining the stunning parade on June 15th, when Incredibles 2 flies into theaters.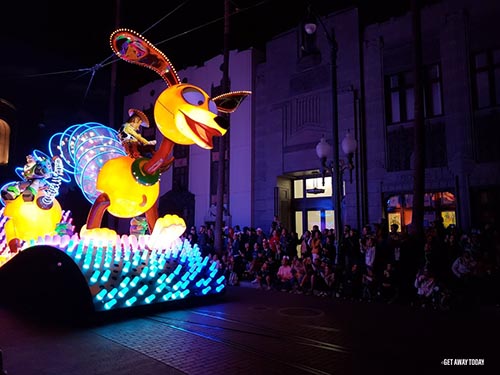 One really nice thing about having the Paint the Night Parade in California Adventure is that the parade route is really large and there are some unique viewing options. You can stand Paradise Gardens to watch it go by, or find a spot along Hollywood Boulevard where it feels even larger and more immersive.
For a more exclusive experience, book one of the Paint the Night parade dining packages. You can choose from two table service dinner locations; Carthay Circle Restaurant and Wine Country Trattoria. These dining packages include a three course meal and a reserved viewing area for the night's parade. There's also a third option, which is the Sonoma Terrace Paint the Night Reception. This is the only option that includes dining while watching the parade. You'll have a seat with premium parade viewing while enjoying appetizers and drinks.
Reservations for the Paint the Night can be made up to 60 days in advance and we highly recommend making them as early as possible. You can make reservations on Disneyland.com, on the official Disneyland app, or by phone at 714.781.3463.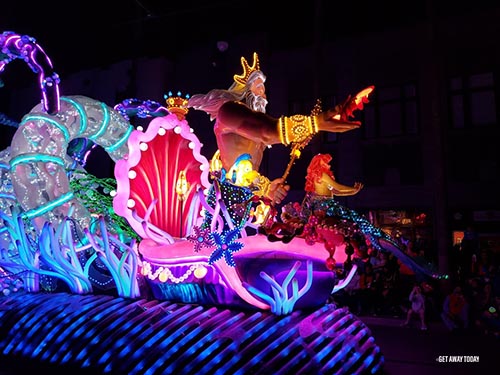 Whether you're doing a dining package or not, you'll want to check the schedule for the parade times. During busier times there may be up to two parades each night. Later parade times will have fewer crowds, but remember that with such a great parade route, you can likely find a good spot for either show time. No matter how you see the Paint the Night parade, just make sure you see it before September 3, 2018.
When you're ready to book your Disneyland vacation, check out our discount Disneyland packages online, or call our agents at 855-GET-AWAY. We love being your Disney vacation experts and can't wait for you to watch Paint the Night in person!

For more Disneyland Pixar fun, click below: