If you're trying to decide between hotels near Disneyland for your next family vacation, check out our Anaheim Springhill Suites Maingate review. You'll find a list of amenities, pictures and more in this week's hotel review.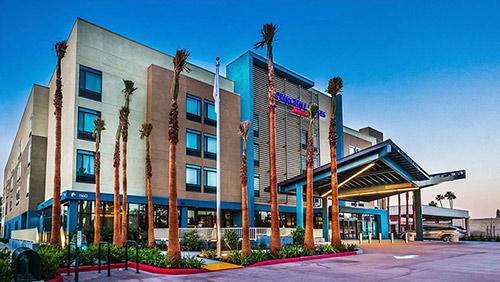 With so many hotels near Disneyland, how do you choose the best one for you family? Well, lots of research on the different properties always helps – as well as reading reviews from people who have stayed at each of these properties. At Get Away Today, we strive to make the planning process as painless as possible for you. Whether you call in and talk with one of our travel experts, or by providing as many hotel spotlights and reviews as we can on our blog.
This week, we're giving you a better look at a top-rated hotel in our Anaheim Springhill Suites Maingate review. From location and room types to amenities and reviews from real guests, we'll answer everything you want to know about the Springhill Suites Maingate.
Anaheim Springhill Suites Maingate Review
Location: The Anaheim Springhill Suites Maingate hotel is located just under a mile from the Disneyland Resort, on 1160 West Ball Road. It's serviced by the Anaheim Resort Transit and just a short ride from the front gates. Or, guests can easily walk and be at the entrance to Downtown Disney in about 15-20 minutes. Either way, it's the perfect hotel near Disneyland for families looking to avoid some of the hustle and bustle of Harbor Boulevard, while still being close to the magic.
Rooms: Only built in 2014, the Springhill Suites Maingate features large and spacious rooms with fresh, modern décor. Guests can choose from King Studio Suites that offer a king and sofa bed to fit up to four or Queen/Queen Studio Suites that offer two queens and a sofa bed to fit up to six. Spacious closets and bathrooms with great lighting can be found in every room, as well as a microwave and small refrigerator. The microwave and refrigerator are great if you're looking to save money on food, while the spacious rooms allow for families to not feel like they're on top of each other during their Disneyland trip.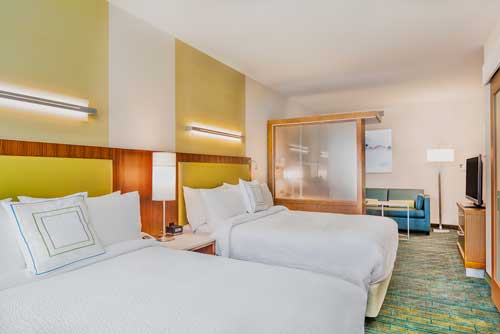 Amenities: One of our favorite parts of this Anaheim Springhill Suites Maingate review has to be the amenities offered here. When you stay at the Springhill Suites Maingate, you'll enjoy a hot breakfast buffet every morning, with a make-your-own waffle bar included. It's a great way to save on food costs and start your Disney day off right! The hotel also offers exercise and laundry rooms, as well as a large pool and hot tub. While you might not think a hot tub is important, it can feel amazing to rest your feet in after walking all over the Disneyland Resort.
Anaheim Springhill Suites Maingate Reviews from Guests:
"Clean rooms, friendly staff, tasty breakfast, comfy beds, good water pressure, etc.! My party and I got to the hotel 3 and 1/2 hours earlier than check-in at 3 pm, so we decided to see if a room was available for us -- and there was one! It was amazing! We were ecstatic with the hotel's quick service… I definitely recommend."
-Timothy G.
"My family and I were really happy with this hotel all the staff were super nice and helpful. The room was super clean and beds were comfy. The walk to the park was not too far plus free breakfast it was GREAT!!"
-Anon.
"Great hotel, good walking distance to Disneyland, pretty good breakfast and friendly staff! Would stay again."
-Ashley S.
"Would definitely stay here again. Hotel was close to Disneyland, we were able to walk and avoid the crazy traffic. The staff and breakfast were great! Would highly recommend staying here."
-Kathie J.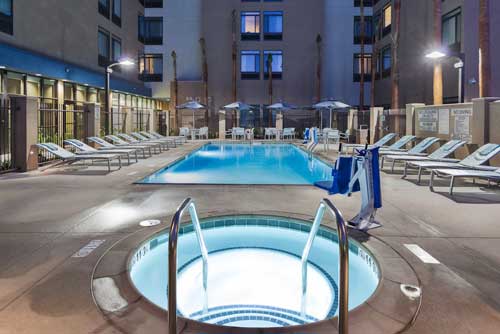 As you can see from these Anaheim Springhill Suites Maingate reviews, we aren't the only ones who think this hotel near Disneyland is a great choice. The best part is they offer exclusive savings with Get Away Today! On top of reduced rates, you can save even more with their 4th Night Free Special, available on almost all check-in dates. Plus, Get Away Today guests enjoy a reduced parking fee of only $7 per night, something that costs other guests $15 per night.
Don't forget to combine these fantastic hotel savings with our discount Disneyland tickets! By booking any of our Disneyland packages, you'll be taking advantage of the best prices on your entire vacation. Book online now or give our Disney experts a call at 855-GET-AWAY.

Check out more Disneyland area hotel reviews: