Looking for an affordable hotel near the Disneyland Resort? Read our Castle Inn & Suites review, including pictures, guest reviews and exclusive specials.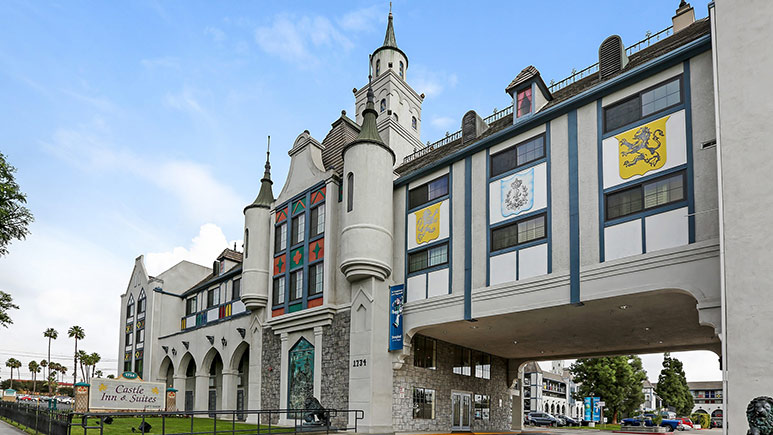 We understand that visiting the Disneyland Resort can be expensive. It's why we at Get Away Today aim to do everything we can to make it affordable for families across the globe. On top of offering discount Disneyland tickets, we also offer an array of hotels with reduced rates. Whether you're looking for a value, moderate or deluxe property, we have options. Options that we like to spotlight each week on our blog, so you can have a closer look at the hotel you may be thinking of staying at.
Today, we're looking at one of our top-rated value hotels; the Castle Inn & Suites. In this Castle Inn & Suites review, you'll find out everything our guests love about the hotel. From amenities and location to photos and real guest reviews, you'll be able to decide whether the Castle Inn & Suites is right for you.
Castle Inn & Suites Review
Location: Maybe one of the most important decisions when booking your hotel for a Disneyland vacation is the location. How close will you be staying to the park? The Castle Inn & Suites is located right across the street from Disneyland and clocks in at about a 5-10 minute walk (depending on pace). If you've stayed on Harbor Boulevard before, you've likely seen the castle-themed hotel on your walk to the park. Since the hotel is a short hop, skip and jump away, this may be our favorite perk on our Castle Inn & Suites review.
Rooms and pool: Location is great, but what about the rooms? The Castle Inn & Suites offers both standard and suite rooms for families of all sizes. The hotel prides itself on providing clean rooms with plenty of space for the family to spread out. We especially love that each room has a refrigerator AND microwave available – making it easy for families to save even more money on food. Another great thing on our Castle Inn & Suites review is that the pool area includes a hot tub. Whether you're spending a day hanging out at the pool or not, the hot tub is always great to rest feet in after a long day at the parks!
Amenities: On top of location and rooms, the Castle Inn & Suites also boasts some great amenities. You'll be able to take advantage of free parking, in-room internet access, laundry services (for a fee) and exclusive pricing. That's right, you'll get access to even better prices for this top-notch value hotel when you book with Get Away Today. On top of already-discounted rates, look for specials like 3rd and 4th Nights Free for select dates. If you take away anything from our Castle Inn & Suites review, let it be how much you can save!
Castle Inn & Suites reviews from guests:
"My family just spent 4 nights at the Castle Inn and we loved it! The castle theme was very cool, and the kids loved meeting Rusty the Knight. Yes, it's an older building, so if you are looking for all things shiny and new, this may not be the place for you. If you are looking for a comfy place to rest your head at the end of a long day at Disneyland though, it's perfect. It's so close, you can literally see the Guardians of the Galaxy ride across the street. My kids thought that was the coolest thing ever and it just amped up the excitement level. We stayed on the top floor and it was quiet all night. The room was clean and spacious for my family of 4 and the beds were comfortable enough… I definitely recommend staying here and we look forward to visiting again!"
-Courtney E.
"This was our first Disney trip and while not a resort, I understood it would be a standard hotel room. It was clean, nice sized fridge in room, lots of towels available and very quick walk to Disneyland. Free parking is also a plus. I do wish they used brighter colors for bedding and furniture, but the beds were very comfortable and included extra pillows. Would definitely stay here again!"
-Shelly A.
"Just seeing the Castle Inn & Suites from the street put me in a good mood, it was fun and exciting. The rooms were average, they were very clean and the beds were comfortable. The mini fridge and microwave were very convenient and nice to have. We were able to walk to the corner to go to Walgreens, CVS, or 7-11 to get breakfast items which helped save some money. The walk to the park was fast. The pool area was pretty small, but being there in January it wasn't busy at all… We stayed for a week and would definitely stay there again."
-Alyssa B.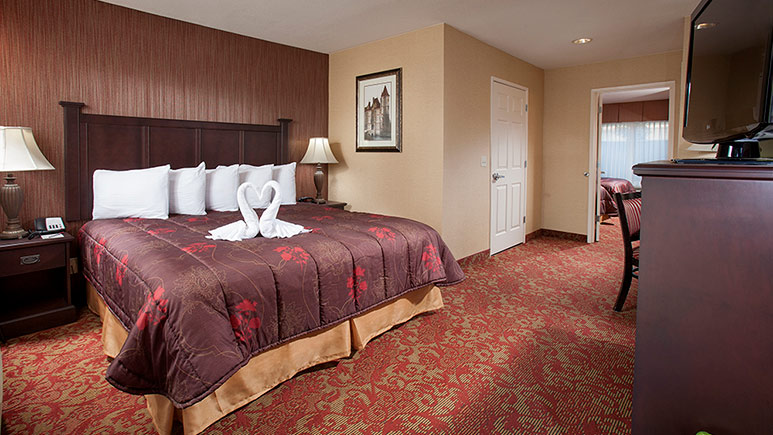 As you can see from our Castle Inn & Suites review, it's one of our top value hotels. If you're looking for an affordable hotel that's close to Disneyland, this may be your perfect choice. Plus, you can combine our exclusive pricing with our discount Disneyland tickets to save the most on your Disney vacation. Book online now or give our travel experts a call at 855-GET-AWAY.

Check our more hotel spotlights: