There are a lot of things to consider when choosing a hotel for your Disneyland vacation. Our Clarion Hotel Anaheim review will give you all of the details you need to make an informed decision. We'll cover the rooms, amenities, location, dining and the deals of this hotel near Disneyland.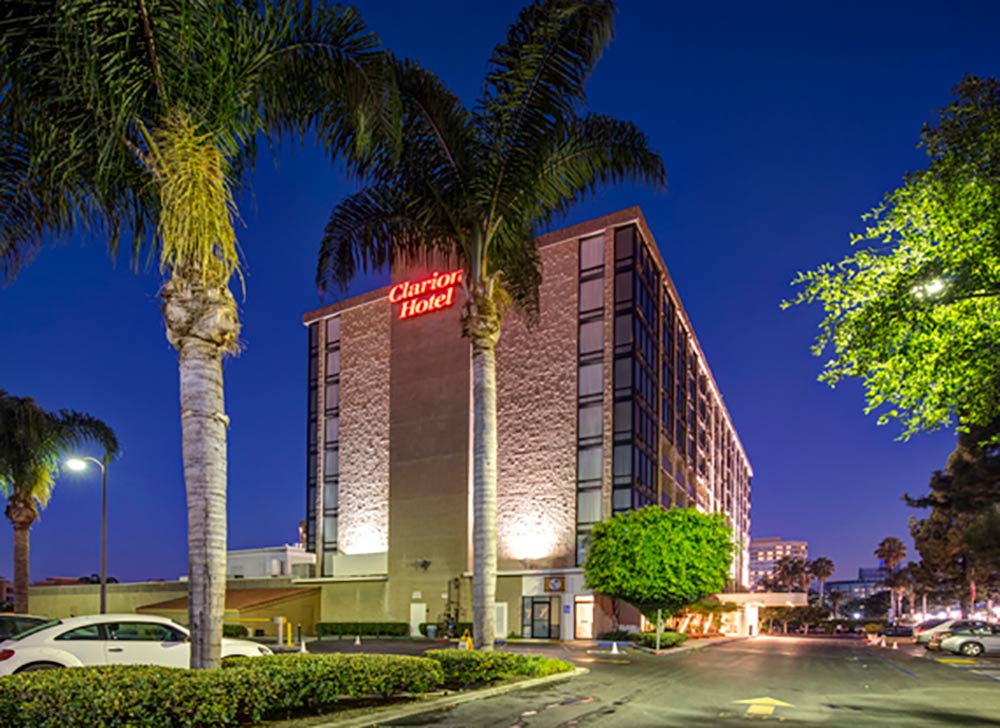 Clarion Hotel Anaheim Review
The Clarion Hotel Anaheim is one of our very most popular value hotels near Disneyland, and for good reason. It has all of the features of a full-service hotel, but without the hefty price tag. What it lacks in fanciness, it makes up for in warmth and service. Plus, when you book with Get Away Today, you get exclusive perks that we'll get to later. For now, read all about the Clarion Hotel to find out if it's the best fit for your Disneyland vacation. We've broken everything down by rooms, amenities, dining options and location.
Clarion Hotel Anaheim Review - Rooms:
There are two room types at the Clarion Hotel Anaheim; standard rooms and studio suites. Both of the rooms feature two double beds, a mini fridge and similar decor. The major difference between the two rooms is that the studio suite has a sofa pull out bed and a microwave. It's also 30% larger than the standard rooms. While the studio suites can technically sleep up to six guests, we only recommend that if you are traveling with small children. The sofa bed is smaller than a standard sofa bed, and would be more comfortable for a family of five or smaller. The standard rooms comfortably sleep four guests.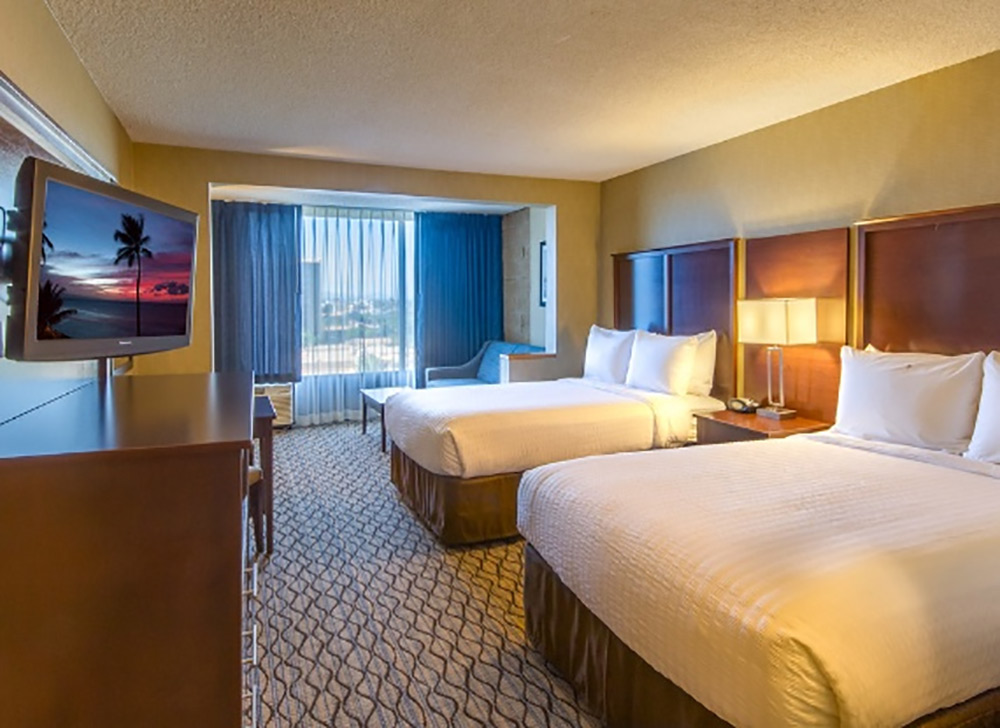 The rooms themselves have been redone recently to include fresher decor and new bedding. While the bathrooms in the rooms weren't updated, they are kept clean. Although the rooms are nothing fancy, they are comfortable and kept up well.
Clarion Hotel Anaheim Review - Amenities:
The Clarion Hotel offers a number of amenities that you'd expect from a higher end property. You'll get free WiFi in your room as well as throughout the property. The Clarion also has a gift shop, game room, fitness center, full-service concierge desk, coin operated laundry service and other services.
The Clarion has a large outdoor swimming pool that is heated yearround. It even offers poolside service! One thing to note is that the Clarion Hotel does not have a hot tub. If that's important to you when booking a hotel for your Disneyland vacation, you may want to find another property.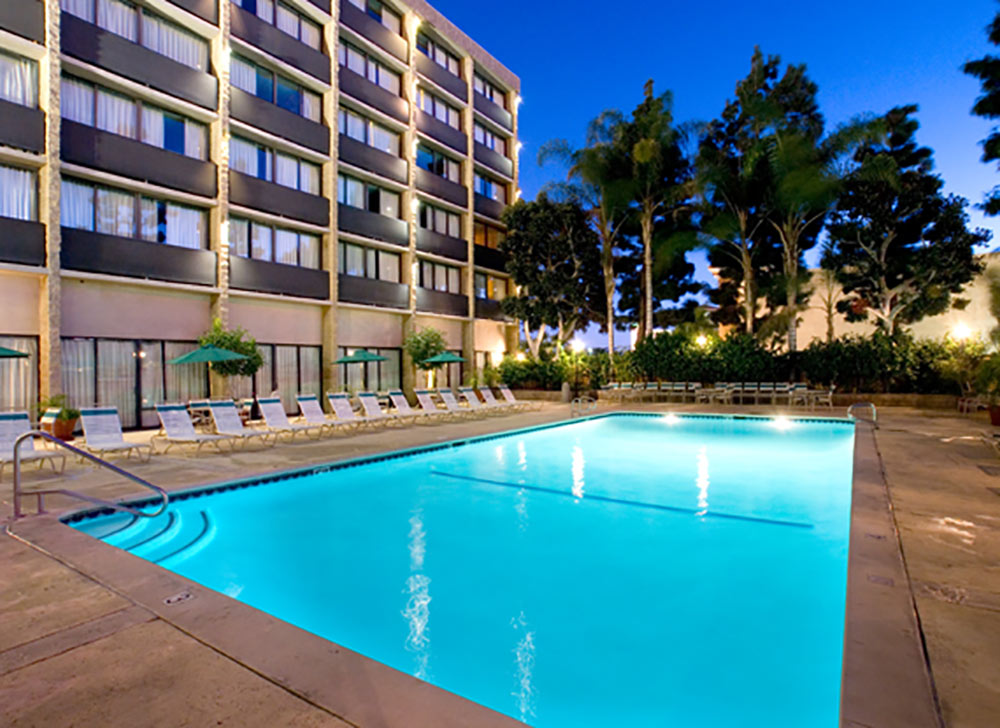 Parking at the Clarion Hotel Anaheim is available on-site. Self park is normally $16 per day, but when you book with Get Away Today, it's free! If you're staying for a few nights, those savings can really add up. It's one of the exclusive perks we mentioned at the beginning of the article.
Clarion Hotel Anaheim Review - Dining:
Another one of the exclusive perks of booking with Get Away Today is free breakfast! The Clarion Hotel Anaheim has one in-house restaurant, the Palm Tree Cafe, which serves breakfast, lunch and dinner. Breakfast is of course our favorite since it's free for Get Away Today guests. When we get guest reviews about the Clarion, nearly everyone comments on how amazing the wait staff is at the Palm Tree Cafe.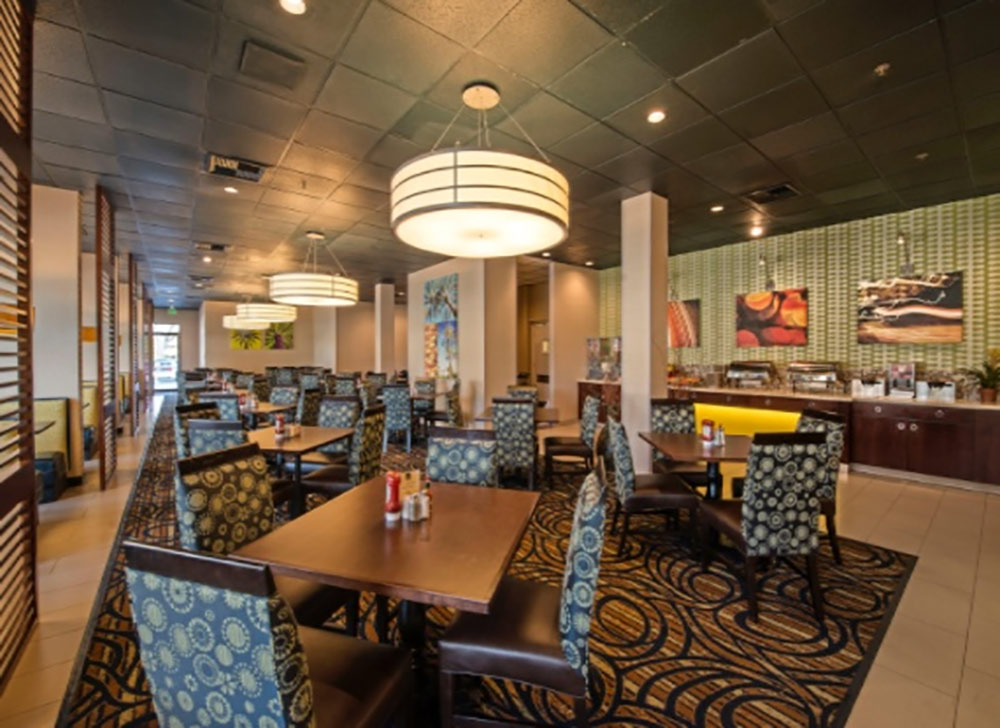 If you're looking for something beyond the Palm Tree Cafe, you won't have to go far. Because the Clarion is located so close to the Convention Center and other hotels, there are tons of options within a few minutes walk. The Anaheim Marriott next door has three dining options, and Hilton Anaheim across the street has stand alone restaurants and an entire food court. There you'll find a Starbucks, Baja Fresh, Sbarro and more.
Clarion Hotel Anaheim Review - Location:
As you may be able to tell by now, we love the location of the Clarion. If you're planning on going to the Convention Center, you won't find a better location. If you're headed to Disneyland (which is most likely), you're just over a half mile walk. Or, you can opt to take the Anaheim Resort Transit system, or ART for short. The Clarion sells ART passes on-site, but you can purchase them with Get Away Today beforehand and get two days free.
In addition to being within half a mile to Disneyland, you're also a close to the Anaheim Garden Walk. It's about a 12 minute walk to The Cheesecake Factory, California Pizza Kitchen and a number of shops and entertainment options. As you can see, the Clarion has many perks besides being one of the friendly hotels near Disneyland.
Clarion Hotel Anaheim Review - Deals:
One of the things that makes the Clarion Hotel one of our most booked hotels is the amazing value we offer. Not only do Get Away Today guests receive free parking and free breakfast, we offer the lowest rates. Many times we even offer a 3rd night free on both the standard and studio suite rooms. You can find all of our best and current deals for the Clarion Hotel Anaheim on our website, or you can call our agents at 855-GET-AWAY.
Overall, we love the Clarion for its warm people and the value that it offers. If you're used to staying at higher end hotels, the Clarion may not be the best choice for you. However, if you're spending most of your time in the parks at Disneyland, or are just looking for getting the most bang for your buck, the Clarion is likely a good fit.
You can read our most recent guest reviews here: Clarion Hotel Anaheim reviews. You can also call our agents at 855-GET-AWAY to talk to any of our reservation specialists. Either way, we'd love to help you decide if the Clarion Hotel Anaheim is right for you. And if it is, we'll help you get the most value out of your Disneyland vacation.