There's nothing quite as refreshing as a cool treat on a hot day and there's no question that the Disneyland Resort serves some of the coolest treats around. We've got the scoop on delicious Disney treats for your summer vacation. Here's our list of the top cool treats and where to find them throughout the Resort: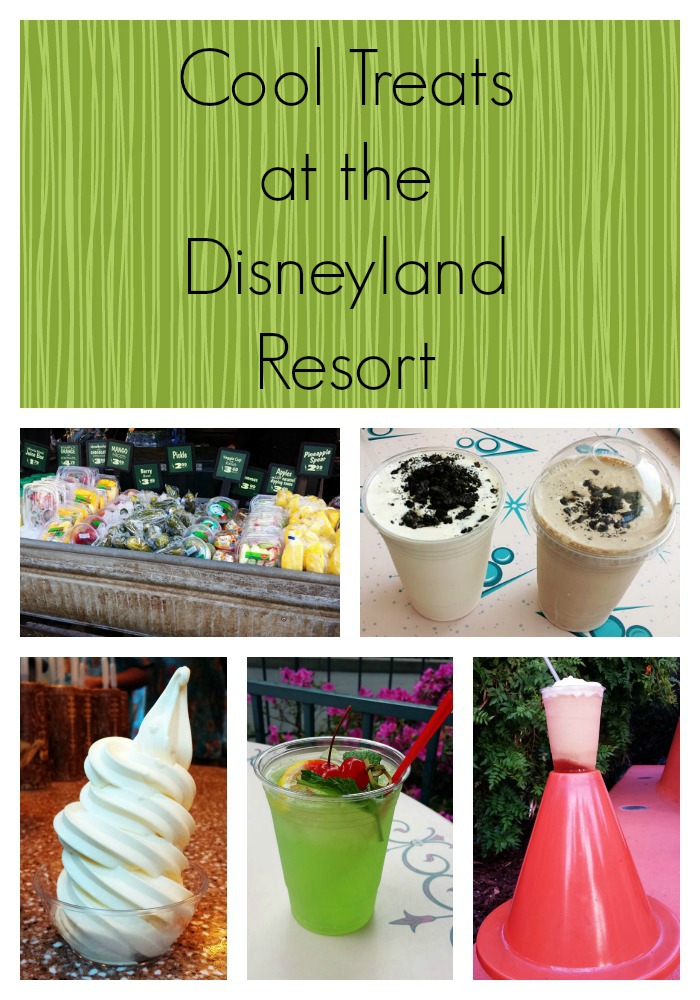 Mint Julep
- If this lime-mint concoction doesn't refresh you, nothing will. But, they're hard to find. Look for the Mint Julep sign tucked behind the French Market Restaurant in New Orleans Square. It's worth the search!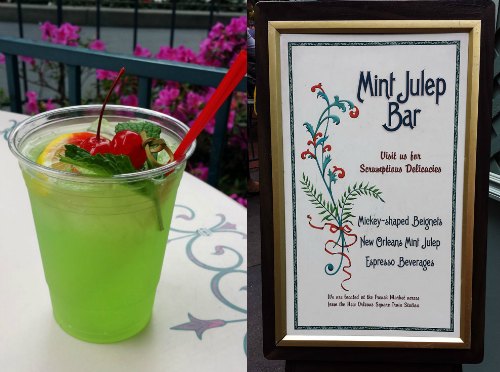 No trip to Disneyland is complete without a stop to one of the many
Frozen Treats
carts located plentifully throughout both parks. Each of the five treats are delicious.The
frozen bananas
are my personal favorite and my husband always has to get the
cookie ice cream sandwich
.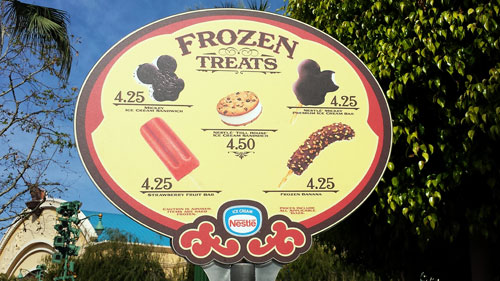 Dole Whips
- These tart treats are available in Adventureland right outside the Tiki Room. You can grab a pineapple spear, a Dole Whip (pineapple flavored softserve ice cream), pineapple juice or a Dole Whip Float, which combines the two. My favorite is the Dole Whip.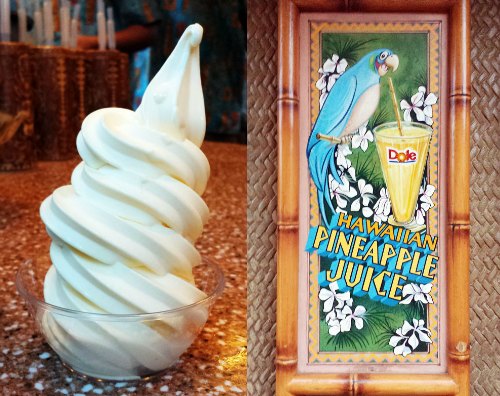 Schmoozies
is located in Hollywood Land inside Disney California Adventure Park. They offer a huge array of fruit smoothies guaranteed to quench your thirst.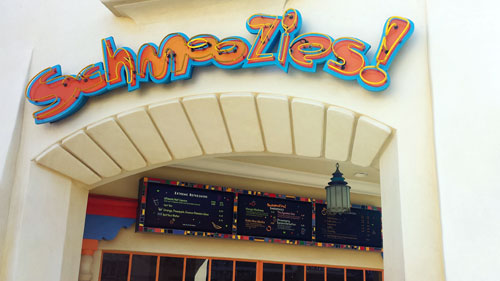 Mmmm.... ice cream! It's almost impossible to walk by this
Haagen Dazs
located in Downtown Disney without stopping in for a sprinkled cone.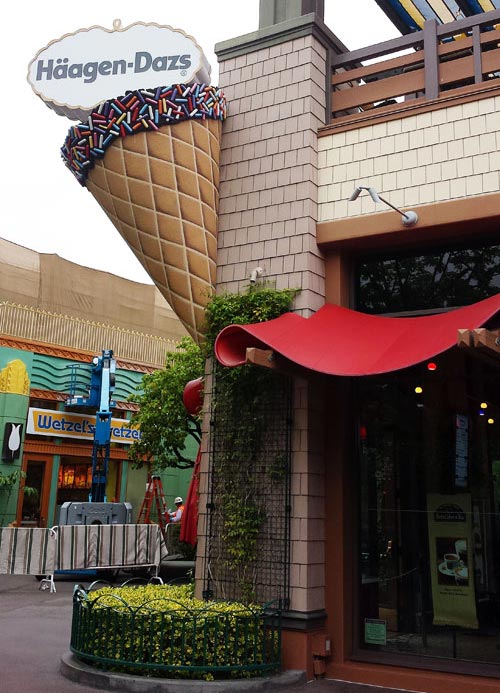 This
Starbucks
blends in so well in Buena Vista Street that you may walk right by. Inside you'll find a full Starbucks menu including all of their frosty Frappuccinos, smoothies and Refreshers. But, better than a regular Starbucks, you can also get your favorite Disneyland treats!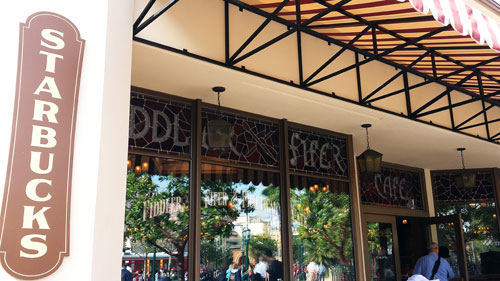 Jamba Juice
located in the Downtown Disney District is the place to be during the summer. With the widest smoothie selection, you're sure to find something tasty and refreshing. As an added bonus,
sign up for special offers
on Jamba Juice's website during your vacation.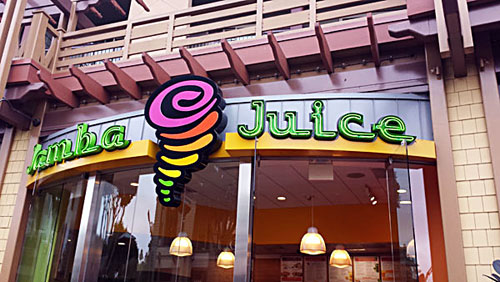 Grab an
old fashioned milkshake from Flo's V8 Cafe
. This is one of my favorite hangout spots in Disney California Adventure. The music is fun, the views of Radiators Springs are incredible, and all of their shakes are topped with asphalt (crushed Oreos). What's not to love?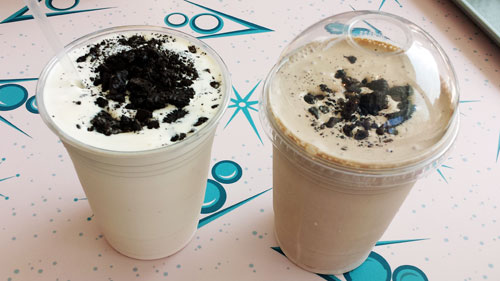 One thing that's extra cool about this fruit stand located in Adventureland next to Indiana Jones is that the treats are all healthy!
Fresh fruit, veggies and pickle spears
will keep you cool without a sugar rush.
The Pacific Wharf is full of tasty treats, but none as refreshing as
Rita's Baja Blenders.
Here you'll find salty, shivery margaritas and non-alcoholic fruity concoctions.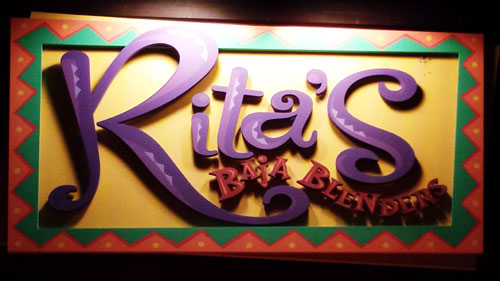 My next two special frozen treats can only be found at Clarabelle's on Buena Vista Street. On the left you see a
hand-dipped ice cream bar
. You choose your ice cream flavor, chocolate type and topping. Since we were in Disneyland, we had to go with the Mickey sprinkles. On the right is the most popular item served at Clarabelle's, a
Chocolate Chip Cookie Hot Fudge Sundae.
Traditionally they're served in a souvenir Red Trolley Car, but you can get it without the trolley and save a few bucks.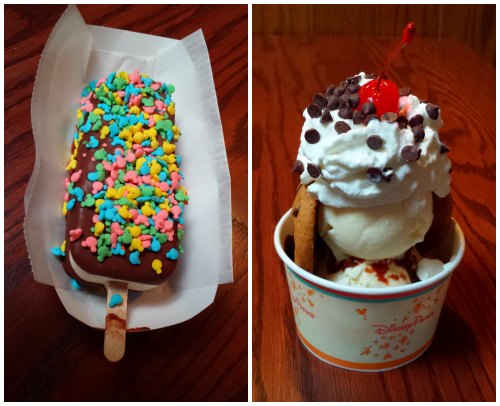 You'll may forget you're in Disney California Adventure Park as you are transported to the Boardwalk at this
soft serve ice cream shop located in Paradise Pier.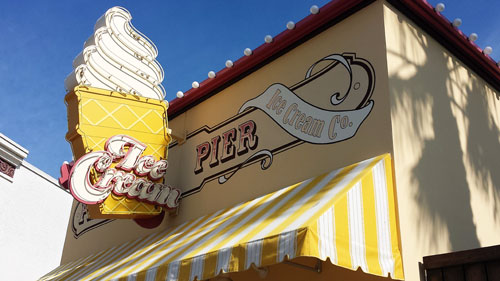 The Cozy Cone Motel is full of tasty treats, but the coolest is
Red's Apple Freeze
. This frosty drink consists of frozen apple juice, a sugary syrup and fruit flavored foam. Cool off underneath a cone umbrella.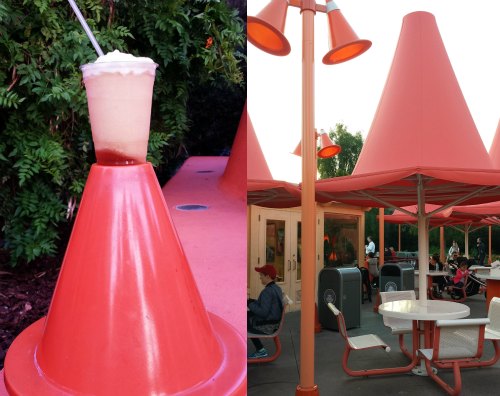 Ghirardelli's Chocolate and Fountain Shop
serves their rich chocolate in many forms. On a hot summer day, their sundaes hit the spot.
The Princess Fantasy Faire is the only place in the Disneyland Resort you'll find Boysenberry Apple Freezes, straight from Maurice's Cart. You can get them in a disposable cup, or pay little extra and get a souvenir goblet or stein.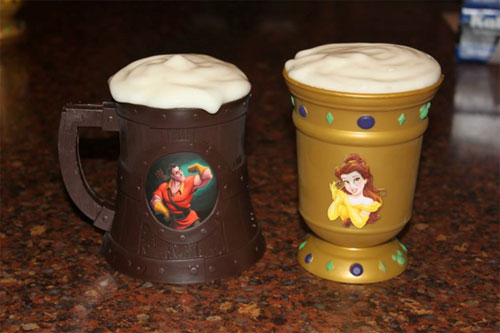 We hope your favorite cool treats made our list. If we missed your favorite, leave a comment and let us know so we can try it next time! These treats aren't the only cool things at Disneyland - check out our discounted tickets and 3rd, 4th and 5th night free hotel specials for summer savings!

Check out these other great articles:
Disneyland Resort Hotels: What's the Difference?
20 Things to Make the Most Out Of a Summer Day
Fantasmic! at Disneyland 101