Mobile ordering at Disneyland is officially here! Find out everything you need to know about this new service that began on May 29th. We'll answer all of your questions regarding how, where and why to use mobile ordering at Disneyland.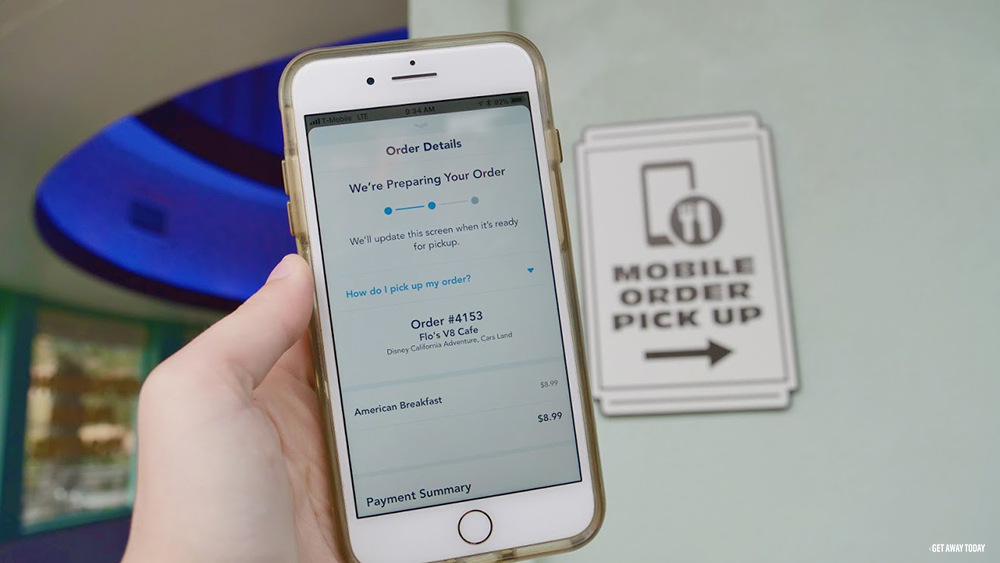 The Disneyland Resort is constantly reinventing itself. And it's not just new lands and attractions. Disneyland regularly evaluates its guest services and is always striving to improve. Over the last few years they have updated their app and streamlined their security checkpoints and processes. They have updated FastPass and rider swap procedures, and perhaps the most buzzed about update was the introduction of MaxPass. If you're not familiar with MaxPass, you can read all about it here: Best MaxPass Tips for Disneyland
But today we're talking about the Disneyland Resort's latest upgrade... mobile ordering. Mobile ordering went live across the board yesterday to rave reviews. Find out all you need to know and more.
Mobile Ordering at Disneyland
To say we are excited about Disneyland's newest roll-out is an understatement. In our opinion, the addition of mobile ordering at Disneyland is a game changer. Mobile ordering at the resort began last week for Annual Passholders. Then, yesterday it became available for all guests at Disneyland. With any new service, there are many questions. We've compiled a list of the most frequently asked questions regarding Disneyland's mobile ordering service and answered them below. If you still have questions, be sure to leave them in the comments and we'll answer them.
How do I use mobile ordering at Disneyland?
You'll first need to make sure that you have the app downloaded to your smart phone before your vacation. Then, you'll log-in with your account. You'll see "Order Food" underneath "My Plans." From there, you'll see the available restaurants and pick-up times. You'll see the available menu items, prices and everything else you need to know. Just follow the prompts and place your order for a selected pick-up time.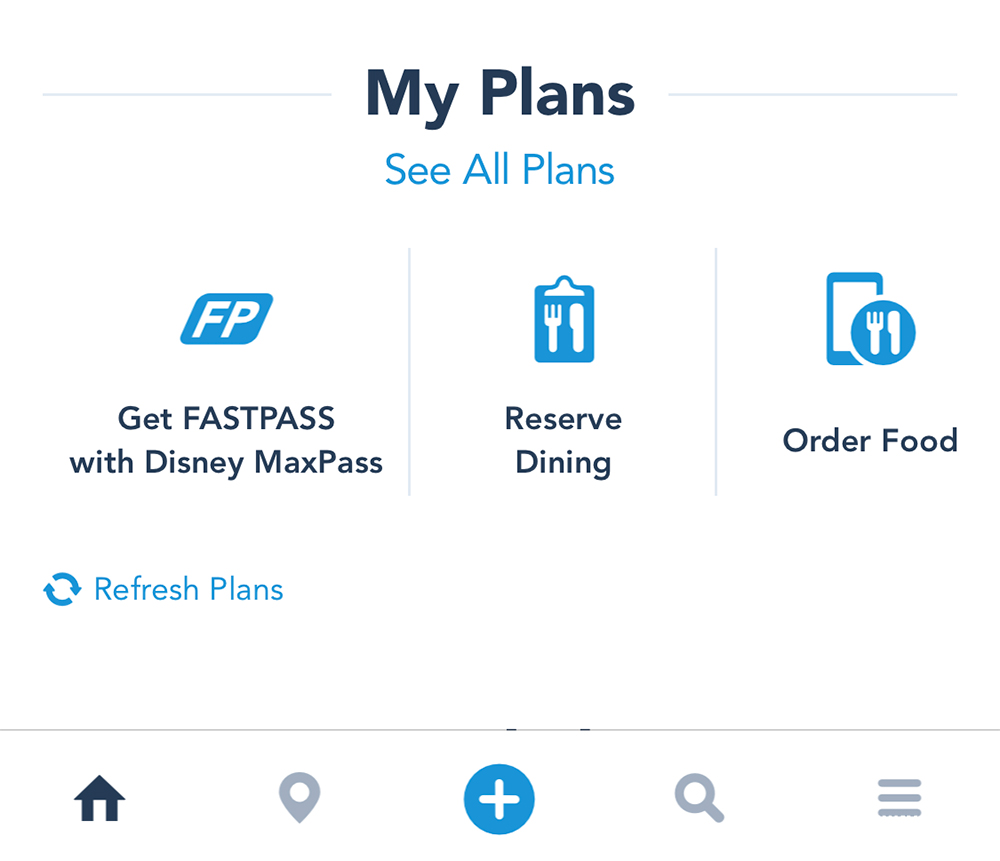 Then, head over to the restaurant during the pick-up time slot you selected. You'll need to check-in on the app again to let them know you are at the restaurant. Once you've arrived, the restaurant will start making your order and have it ready for pick-up at a separate window marked for mobile orders. I would recommend checking-in no more than five minutes before you are physically at the restaurant location. Otherwise, your food will likely be waiting for you and cause a back-up.
How much does mobile ordering cost at Disneyland?
The mobile ordering service at Disneyland is a completely free service that is available through the official Disneyland app. Good news, the official Disneyland app is also free. When you use the service, you just pay for your menu items through the app. Prices are all clearly marked on the app while you're ordering.
You'll have to have a credit card loaded on to your account as a form of payment in order to complete your order. Gift cards are not accepted. If you're an Annual Passholder and your order qualifies for a discount, it will automatically be applied to your total. You'll be able to review your order before you process. Also, it's important to remember that although the app is free, it can drain your battery. Be sure to bring a back-up charger so you don't miss out on any of the app features.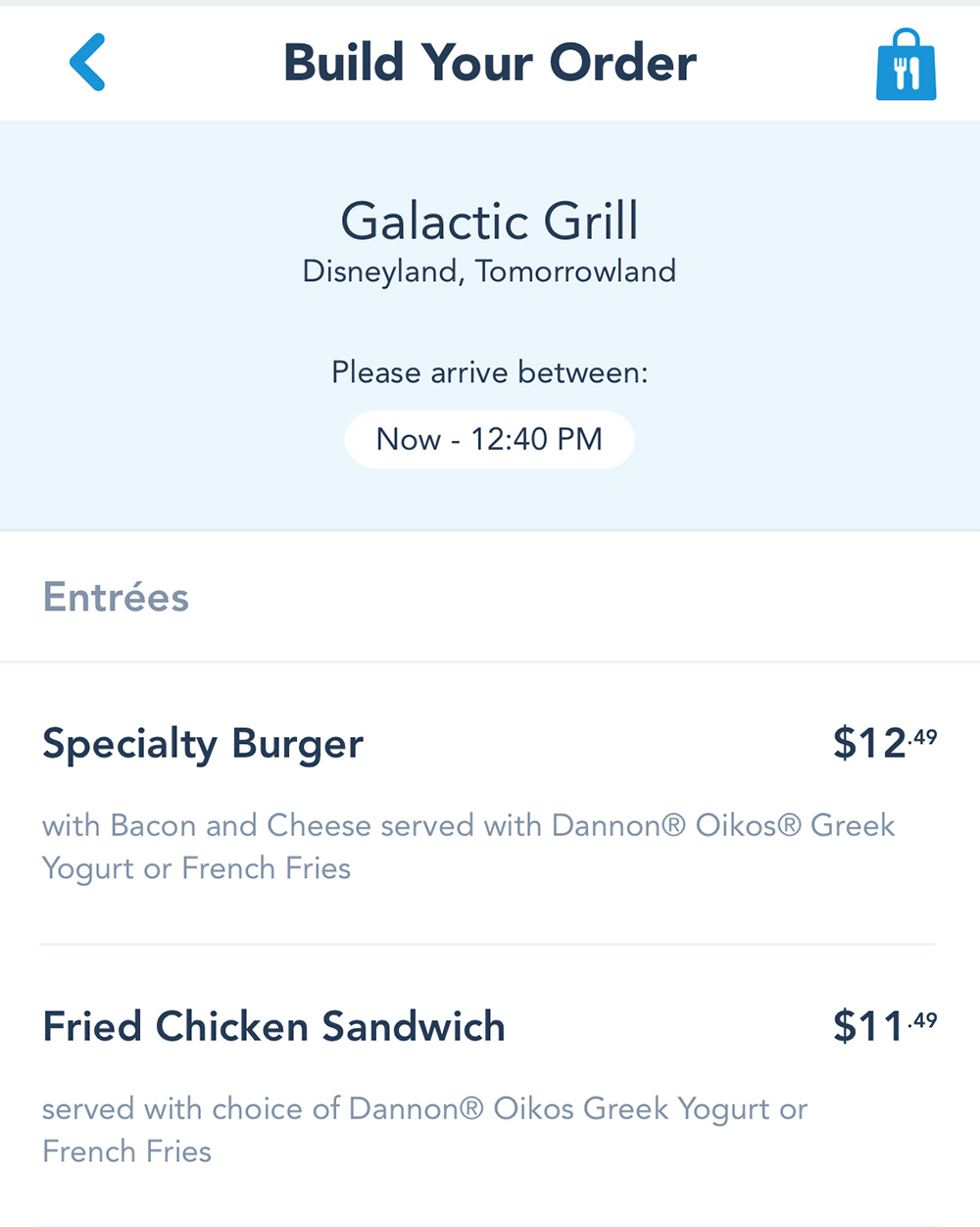 What locations accept mobile ordering at Disneyland?
Right now mobile ordering is available at 15 select restaurants in Disneyland Park and in Disney California Adventure Park. More good news? They're some of our favorite restaurants that typically have longer lines. There are six restaurants in Disneyland Park that offer mobile ordering:
Bengal Barbecue
Galactic Grill
Gibson Girl Ice Cream Parlor
Hungry Bear Restaurant
Jolly Holiday Bakery Café
Red Rose Taverne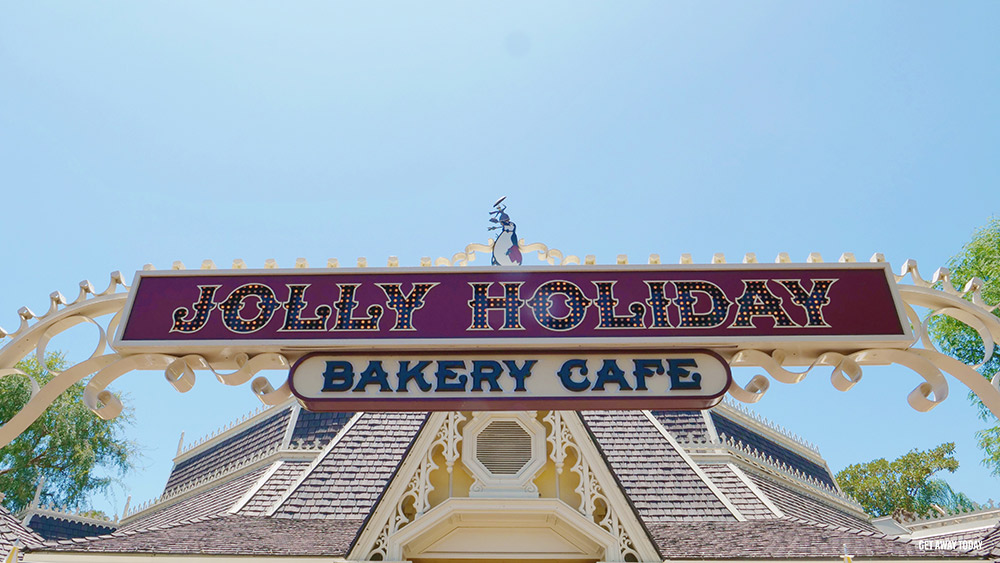 But, there are even more at Disney California Adventure Park. There you'll find nine locations that accept mobile ordering:
Award Wieners
Clarabelle's Hand-Scooped Ice Cream
Cocina Cucamonga Mexican Grill
Corn Dog Castle
Flo's V8 Café
Lucky Fortune Cookery
Pacific Wharf Café
Paradise Garden Grill
Smokejumpers Grill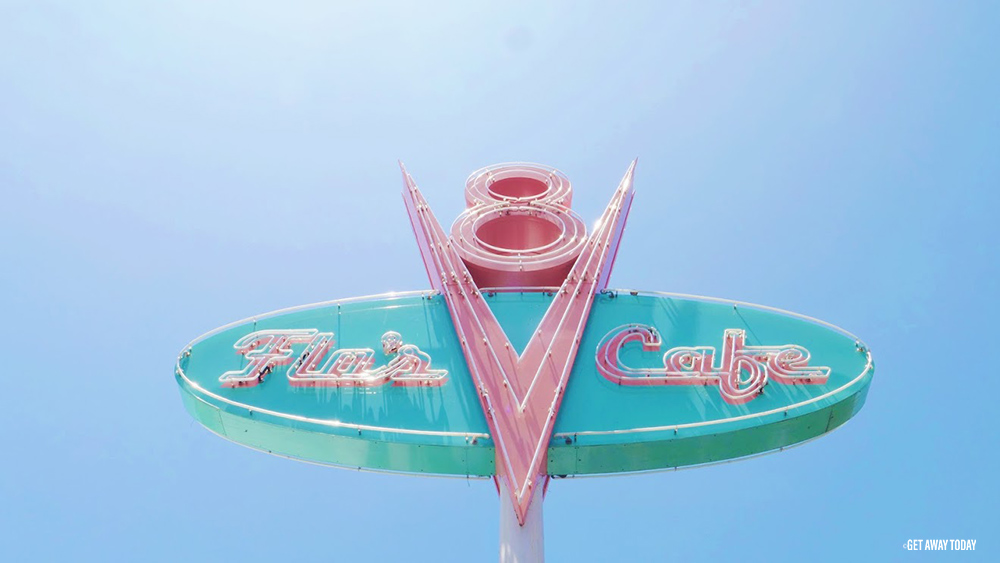 Who can use mobile ordering at Disneyland?
Anyone with a park ticket can use mobile ordering at Disneyland! For simplicity, you may just want one person in your party to be in charge of mobile ordering. Also, remember you'll need a credit card as your form of payment, so it is best if the card holder can match the account linked to mobile ordering.
Why should I use mobile ordering at Disneyland?
This is hopefully self-explanatory, but to save time! When you're at Disneyland, time is even more valuable. Don't waste it waiting in line to order food. Instead, you can maximize your time while at the parks and place your order while you're in line for an attraction, waiting for a show to start, or while you're riding the Disneyland Railroad around the park.
When can I place my mobile order at Disneyland?
The trick to using mobile ordering at Disneyland is timing. There are pick-up time slots available at all of the locations. Keep in mind that if you're traveling during a busier time, your preferred time slot may already be full. If you know about what time you'd like to have lunch or dinner, I would recommend placing your order as early as possible. Remember, the restaurant won't prepare your food until you electronically check-in at the location, so you can order as early as is available.
What can I order with mobile ordering at Disneyland?
When you're using the app to place your order, you'll see the restaurant's full available menu. But that's not all you'll be able to order. Just like when you're placing an order at any of the restaurants, you can customize your order. That means that you can easily order allergy friendly items. Dairy free, gluten free, vegetarian and any other restrictions or preferences are just a click away. If you're curious about how Disneyland handles food allergies, we've put together a guide and video that you can check out here: How to Eat at Disneyland with Food Allergies.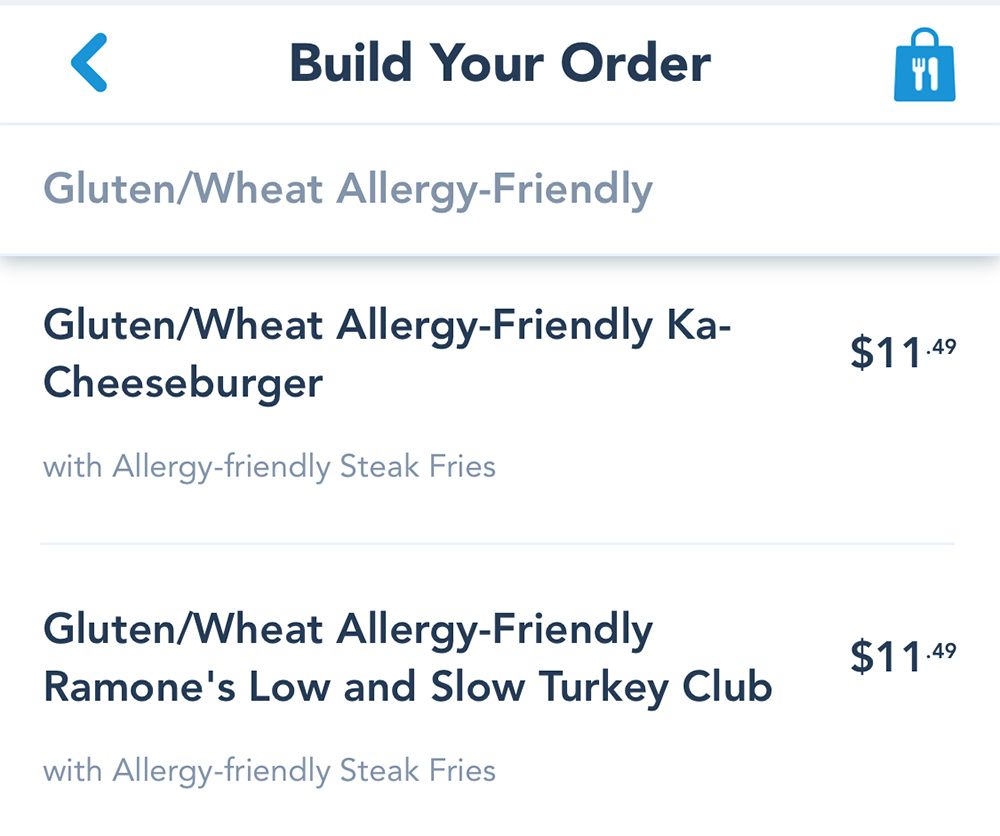 Do I have to be in the park to place a mobile order?
You don't have to be in the park to place an order, but you will have to be in the park to check-in and pick up your food. You need park admission to be able to get your food. That means if you have a 1-Park per Day ticket and you're in Disneyland, you'll only be able to pick-up food from Disneyland. It is really easy to tell where the locations are on the app. It would be really difficult to accidentally order from the wrong park.
If you have a Park Hopper ticket, you could easily place an order for your favorite restaurant in Disney California Adventure from Disneyland. You'll just hop on over when it's lunch time, check-in via the app and pick up your meal.
Can I purchase a dining plan with mobile ordering at Disneyland?
Unlike Walt Disney World, the Disneyland Resort does not offer a dining plan. Instead, you can use the app to make table service restaurant reservations. Character Dining reservations can also be made via the app. All table service reservations are separate from mobile ordering, which is reserved solely for quick service restaurant locations.
Well, there you have it. I hope that answered all of your questions about this thrilling new way to save time at Disneyland. If you have any other questions, leave them below and we will answer them.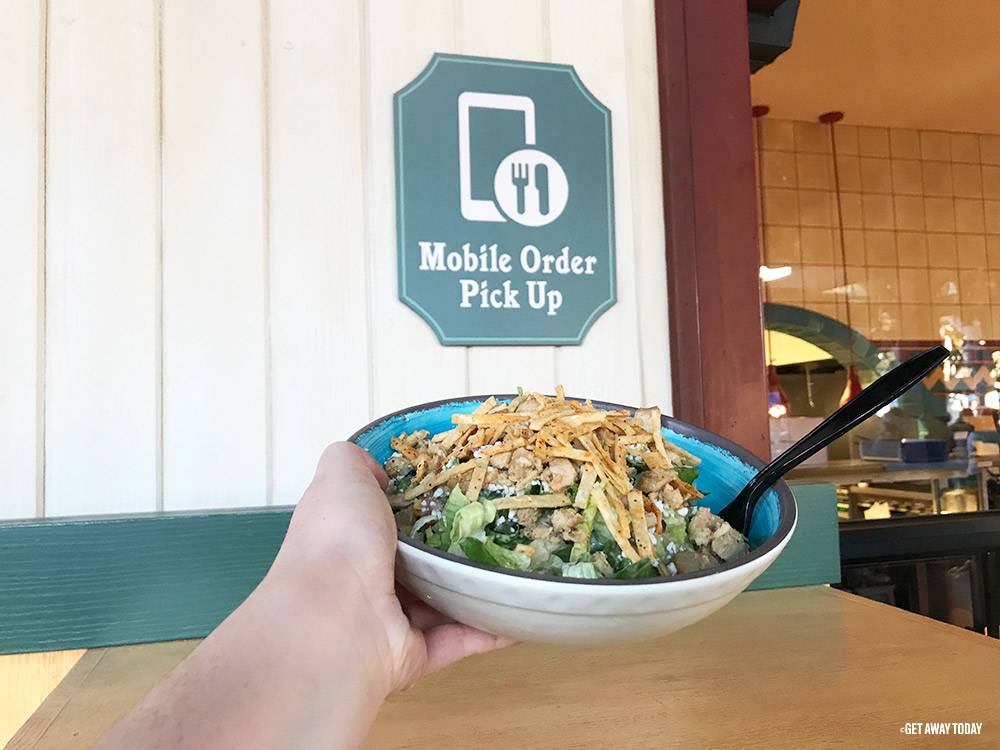 And when you're ready to try out mobile ordering at Disneyland for yourself, be sure to book with Get Away Today. Not only do we give you the best insider tips for your vacation, we make sure you're getting the best value. We negotiate exclusive offers at Disneyland area hotels, have discounted park tickets and give you free gifts for purchasing with us. You can find all of our Disneyland packages online, or call our agents at 855-GET-AWAY.

Check out more Disneyland tips and tricks: