UPDATED April 1, 2022: Mobile ordering at Disneyland is the easiest way to order your favorite meals, snacks and treats throughout the Disneyland Resort. We'll answer all of your questions regarding how, where and why to use mobile ordering at Disneyland. We also have a full list of park restaurants that accept mobile ordering.
Ever since the Disneyland Reosrt introduced mobile ordering, it has remained one of the most popular features of the Disneyland app. In this article, we'll provide you with an in-depth guide on how you can use mobile ordering on your next Disney trip. This way, you'll be able to spend less time in line and more time enjoying the parks!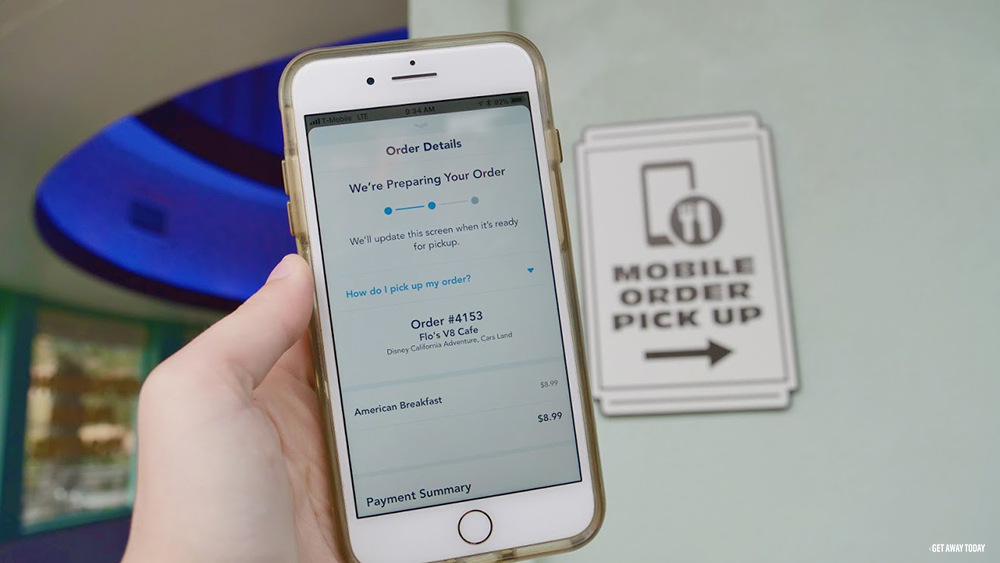 Mobile ordering at the Disneyland Resort is more popular than ever due to the Resort's efforts to keep everyone healthy and happy. Not only is it a convenient way to order food, it's cashless and quick. And, it's all part of the official Disneyland app. You won't want to do Disneyland without it. Once you use this free Disneyland service, you'll be hooked! Find out all you need to know about mobile ordering at Disneyland and more..
Mobile Ordering at Disneyland
To say we love mobile ordering is an understatement. In our opinion, the availability of mobile ordering at the Disneyland Resort is a game changer. With any Disneyland service, whether it's included or an upgrade, there are many questions. We've compiled a list of the most frequently asked questions regarding Disneyland's mobile ordering service and answered them below. If you still have questions, be sure to leave them in the comments and we'll answer them too.

How do I use mobile ordering at Disneyland?
The very first thing you'll need to use mobile ordering is make sure that you have the most up-to-date version of the Disneyland app downloaded to your smart phone before your vacation. From there you'll log-in with your Disney account. Before you head on your vacation, go ahead and link a debit or credit card to the app. That way you're ready to go once you arrive at the Resort.
When you open the Disneyland app, you'll see "Order Food" when you click on the plus sign at the bottom center of the app's homepage. From there, you'll see the available restaurants and pick-up times. You'll be able to browse the available menu items, prices and everything else you need to know. Just follow the prompts and place your order for a selected pick-up time.
Then, head over to the restaurant during the pick-up time slot you selected. You'll need to check-in on the app again to let them know you're at the restaurant. Once you've arrived and checked in, the restaurant will start making your order and have it ready for pick-up at a separate window marked for mobile orders. We would recommend checking in no more than five minutes before you are physically at the restaurant location. Otherwise, your food will likely be waiting for you and may cause a back-up for other guests.
How much does mobile ordering cost at Disneyland?
The mobile ordering service at Disneyland is a completely free service that is available through the official Disneyland app. And, good news, the official Disneyland app is also free! When you use the service, you just pay for your menu items through the app. Prices are all clearly marked on the app while you're ordering. It doesn't cost more to mobile order foods at Disneyland.
You'll have to have a credit or debit card loaded onto your account as a form of payment in order to complete your order. If you're a Magic Key Holder and your order qualifies for a discount, it will automatically be applied to your total. You'll be able to review your order before you process. Also, it's important to remember that although the app is free, it can drain your battery. Be sure to bring a back-up charger so you don't miss out on any of the app features.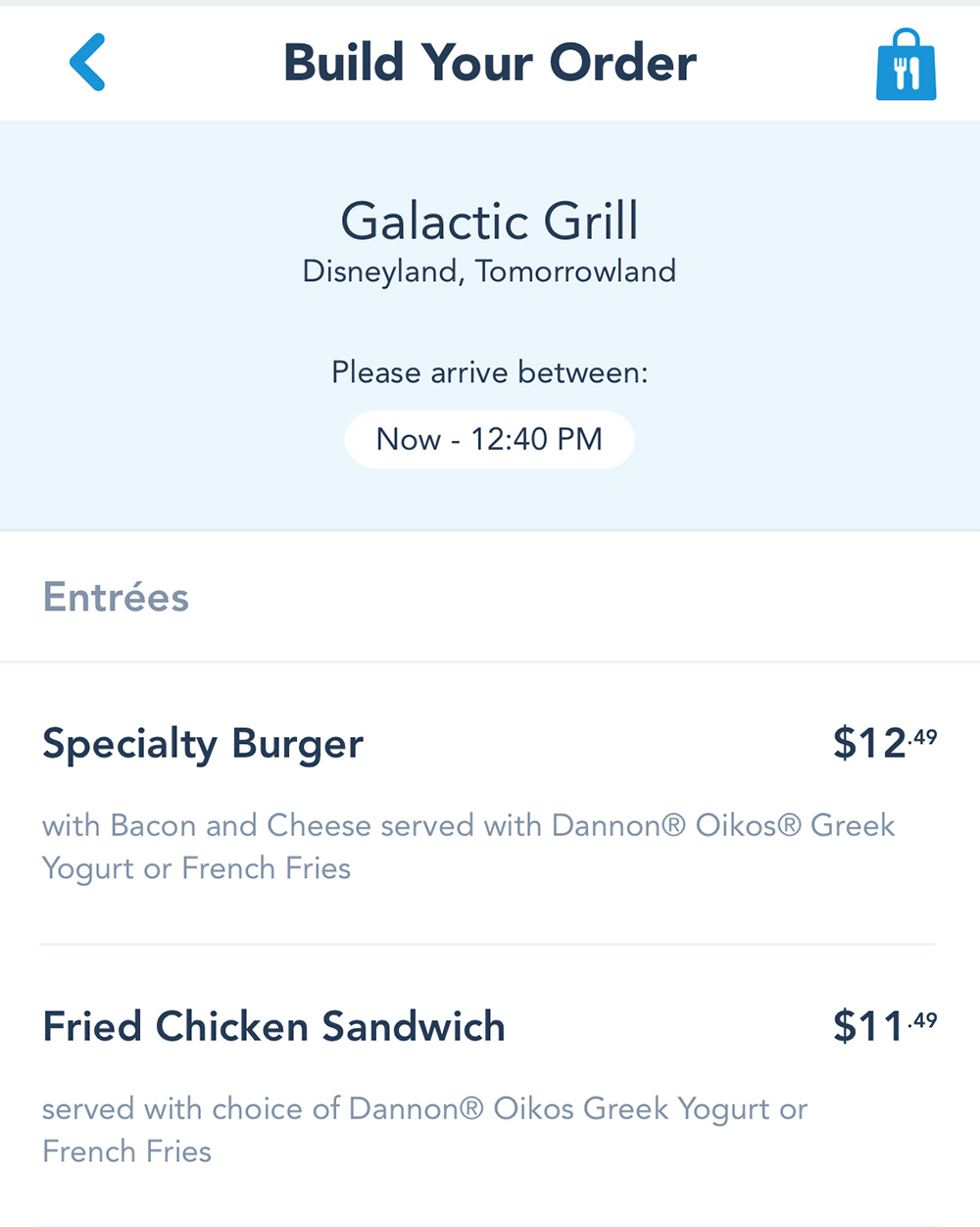 Can I use a Disney Gift Card with mobile ordering?
Yes! You can now use Disney Gift Cards for mobile orders at Disneyland. You will just enter the 16 digit Disney Gift Card Number and pin to make a purchase in the app each time you want to use it. When you use your Disney Gift Card for a mobile order, it will tell you the current amount left on your card after your order has been charged. If your gift card only covers a portion of your mobile order, you can do a split payment. Just enter the gift card first, and then choose another form of payment for the remaining balance.
What locations accept mobile ordering at Disneyland?
Right now mobile ordering is available at nearly 40 restaurants in Disneyland Park, Disney California Adventure Park and Disneyland Resort onsite restaurants. More good news? They're some of our favorite restaurants that typically have longer stand-by lines for food.
Mobile Order Restaurants in Disneyland Park
Alien Pizza Planet
Bengal Barbecue
Docking Bay 7 Food and Cargo
Edelweiss Snacks
Galactic Grill
Gibson Girl Ice Cream Parlor
The Golden Horseshoe
Harbour Galley
Hungry Bear Restaurant
Jolly Holiday Bakery Café
Milk Stand (in Star Wars: Galaxy's Edge)
Mint Julep Bar
Red Rose Taverne
Refreshment Corner
Ronto Roasters
Royal Street Veranda
Stage Door Cafe
Tiki Juice Bar
Troubadour Tavern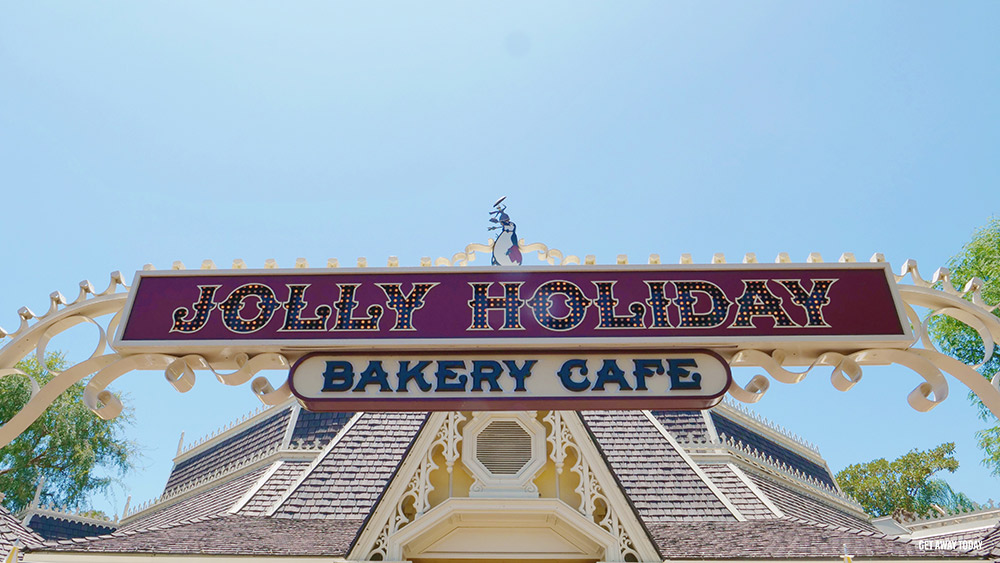 Mobile Order Restaurants in Disney California Adventure Park
Award Wieners
Bayside Brews
Clarabelle's Hand-Scooped Ice Cream
Cocina Cucamonga Mexican Grill
Corn Dog Castle
Flo's V8 Café
Hollywood Lounge
Lucky Fortune Cookery
Pacific Wharf Café
Pacific Wharf Distribution Co.
Paradise Garden Grill
Pym Testing Lab
Pym Test Kitchen
Rita's Baja Blenders
Schmoozies!
Smokejumpers Grill
Sonoma Terrace
Studio Catering Co.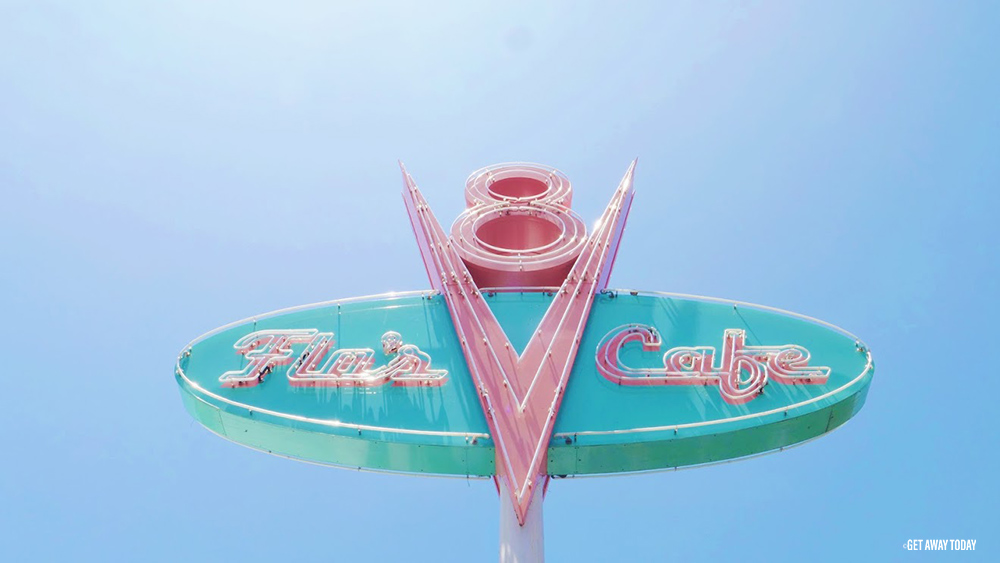 Mobile Order Restaurants in Disneyland Resort Hotels
BCH Craftsman Grill in Disney's Grand Californian Hotel & Spa
The Coffee House at the Disneyland Hotel
Tangaroa Terrace Tropical Bar & Grill in Disneyland Hotel
Who can use mobile ordering at Disneyland?
Anyone with a park ticket can use mobile ordering at Disneyland! For simplicity, you may want to assign one person in your party to be in charge of mobile ordering. Also, remember you'll need a credit card as your form of payment, so it is best if the card holder can match the account linked to mobile ordering.
Why should I use mobile ordering at Disneyland?
This is hopefully self-explanatory, but you should use mobile ordering to save time! When you're at Disneyland, time is valuable. Don't waste it waiting in line to order food and then waiting to pick up your order when it's ready. Instead, you can maximize your time while at the parks and place your order while you're in line for an attraction, waiting for a show to start, or while you're riding the Disneyland Railroad around the park. You can be in either one of the parks and place an order for any restaurant; so if you're in California Adventure with your Park Hopper ticket and know you're heading to Disneyland soon, you can order your next meal from Stage Door Cafe, Ronto Roasters, or your other favorite Disneyland mobile order location.
When can I place my mobile order at Disneyland?
The trick to using mobile ordering at Disneyland is timing, and when you're prepared, it's a piece of cake… maybe even literally. You can only mobile order for the day you are in the park. There are pick-up time slots available at all of the locations each day. You can mobile order by prioritizing either pick-up time, or location. If you want something NOW, you will simply look for the restaurants that have the earliest availability window, and then decide where you'll eat. If you have your heart set on a skewer from Bengal Barbecue, you'll want to search by restaurant, and then select your pick-up time.
Keep in mind that if you're traveling during a busier time of year, your preferred time slot for your favorite restaurant may already be full. If you know about what time you'd like to have lunch or dinner, I would recommend placing your order as early as possible. Remember, the restaurant won't prepare your food until you electronically check-in at the location, so you can order as early as is available. Also, consider eating at non-peak times. Have an early lunch rather than trying to mobile order right at noon. Eat dinner a little later instead of between five and six. Little adjustments such as this can help you get around busier times.

What can I order with mobile ordering at Disneyland?
When you're using the app to place your order, you'll see the restaurant's full available menu. But that's not all you'll be able to order. Just like when you're placing an order at any of the restaurants, you can customize your order. That means that you can easily order allergy friendly items. Dairy free, gluten free, vegetarian and any other restrictions or preferences are just a click away. If you're curious about how Disneyland handles food allergies, we've put together a guide and video that you can check out here: How to Eat at Disneyland with Food Allergies.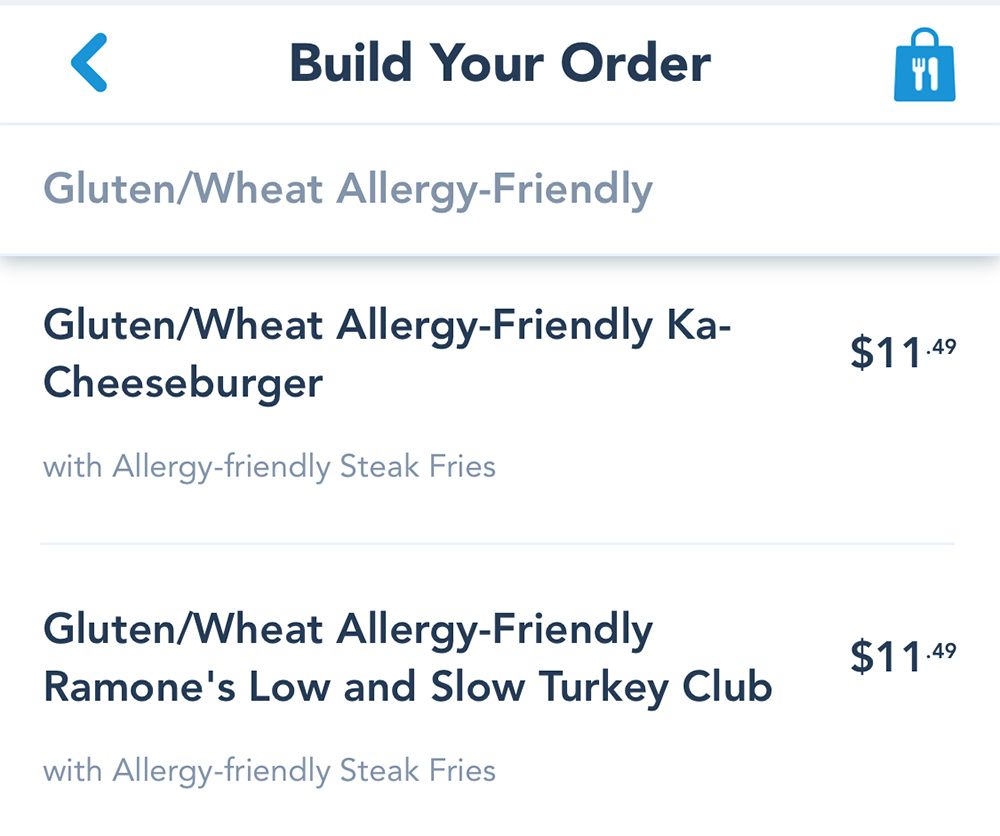 Do I have to be in the park to place a mobile order?
You don't have to be in the park to place an order, but you will have to be in the park to check in and pick up your food. You need both park admission and a theme park reservation to be able to get your food. That means if you have a 1-Park per Day ticket and you're in Disneyland, you'll only be able to pick up food from Disneyland. It is really easy to tell where the locations are on the app. It would be really difficult to accidentally order from the wrong park.
If you have a Park Hopper ticket, you could easily place an order for your favorite restaurant in Disney California Adventure from Disneyland. You'll just hop on over when it's time, check-in via the app and pick up your meal. Just make sure that if you're ordering food for the park that you didn't begin your day in, that you're planning your pick-up time no earlier than 1 PM. Because Park Hopping begins at both parks at 1PM, you'll need to take that into consideration. Having a mobile order pick-up will NOT get you access to the Parks. Again, you'll need a theme park ticket and theme park reservation in order to pick up a mobile order.
Can I purchase a dining plan with mobile ordering at Disneyland?
The Disneyland Resort does not offer a dining plan. Instead, you can use the app to make table service restaurant reservations. Character Dining reservations can also be made via the app. All table service reservations are separate from mobile ordering, which is reserved solely for quick service restaurant locations. We do recommend you make Character Dining and restaurant reservations before your vacation, as they tend to fill up.
If you're planning on incorporating any table service meals into your vacation and aren't having luck finding dining reservations, we highly recommend Mouse Dining. They will send you free e-mail alerts when your desired restaurant reservation becomes available. Or, you can sign up for text alerts for just $9 per month. The service can be canceled at any time. We recommend signing up the month before your vacation as alerts become available closer to the time of your desired reservation.
Other Disneyland mobile ordering questions?
Well, there you have it. We hope that answered all of your questions about this convenient way to save time at Disneyland. If you have any other questions, leave them below and we will answer them.
And when you're ready to try out mobile ordering at Disneyland for yourself, be sure to book with Get Away Today. Not only do we give you the best insider tips for your vacation, we make sure you're getting the best value. We negotiate exclusive offers at Disneyland area hotels, have discounted park tickets and give you free gifts for purchasing with us. You can find all of our Disneyland packages online, or call our agents at 855-GET-AWAY.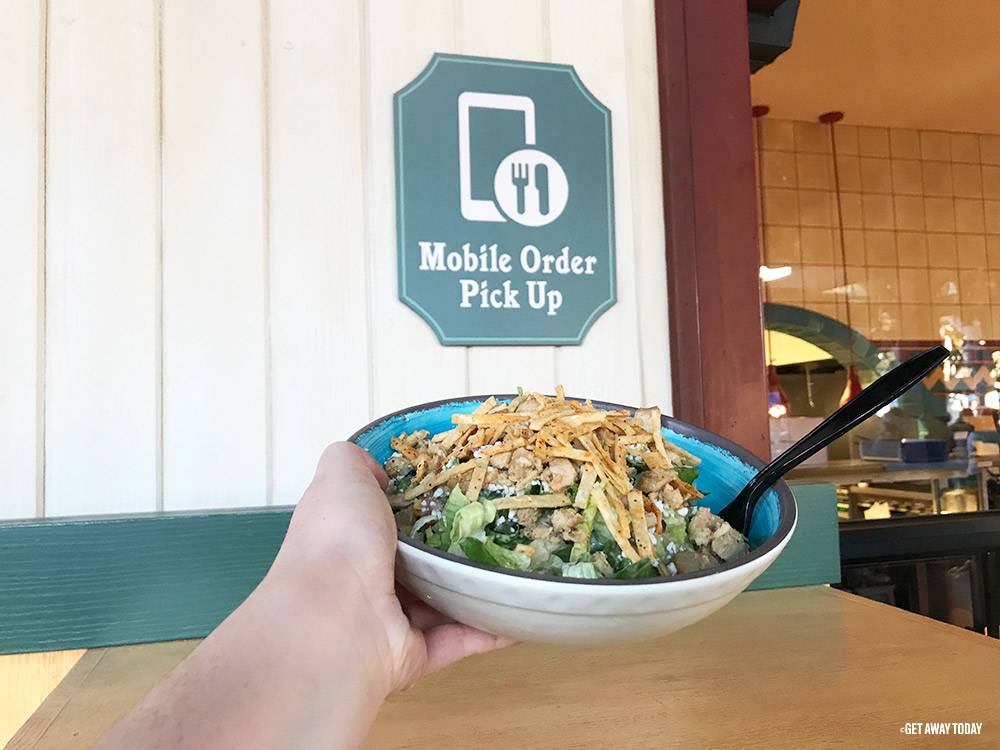 And when you're ready to try out mobile ordering at Disneyland for yourself, be sure to book with Get Away Today. Not only do we give you the best insider tips for your vacation, we make sure you're getting the best value. We negotiate exclusive offers at Disneyland area hotels, have discounted park tickets and give you free gifts for purchasing with us. You can find all of our Disneyland packages online, or call our agents at 855-GET-AWAY.