On the next stop of our Discovering Disney World tour, we take a look at Hollywood Studios! Transporting you to worlds like never before, Disney's Hollywood Studios takes you straight into the action of some of your favorite movies. Everything from thrilling adventure rides to action packed entertainment to delicious and one-of-a-kind eateries, you will find yourself continuing to make your way back to Hollywood Studios. With so much to do, we put together our top things you can't miss when visiting Hollywood Studios at Walt Disney World: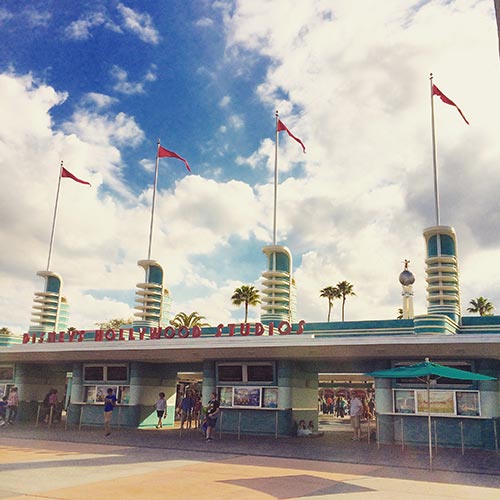 Here is a quick video with just a glimpse of everything there is to see and do at Hollywood Studios:
The Twilight Zone Tower of Terror:
"We invite you, if you dare, to step aboard because in tonight's episode, you are the star. And this elevator travels directly to... the Twilight Zone." These are the illustrious last words spoken from the host Rod Sterling as you begin your journey to the elevator ride of a lifetime. Drop in to the famous Hollywood Tower Hotel to enter the 5th dimension as you fly up and down this haunted elevator ride. Before your big descent, you actually travel through the hotel to discover even more mysteries of this abandoned hotel.Once you reach the 13th floor, be prepared to see the outside world for the last time as you travel to... the Twilight Zone.
Rock 'n' Roller Coaster Starring Aerosmith:
Get a backstage pass to the concert of the year from the stars of Aerosmith! The only problem is there might not be enough time to get there. Blast off at 60 miles per hour in a race through the streets of Los Angeles in a super stretch limousine! You fly through the darkened freeways while jamming out to many of the famous hits from Aerosmith. But every time you ride, you might get a different selection of songs! With 3 inversions, 2 rollover loops and one corkscrew, you are ready to ride like a rock star.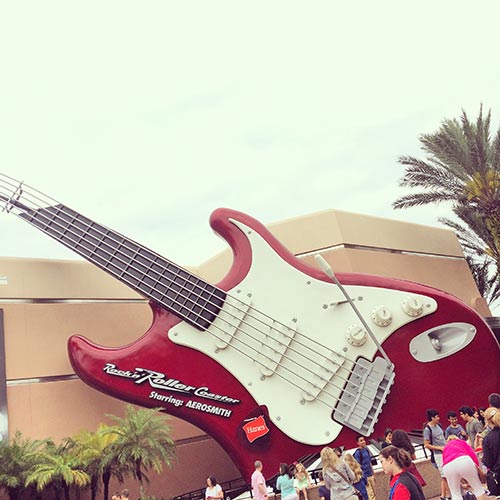 Toy Story Midway Mania!:
Swerve and twist through this 4-D adventure inside Andy's room! As you make your way through the incredibly immersive and mesmerizing line, you will like a toy with all of the over sized decor and themeing. You will even run into the always funny and entertaining Mr. Potato Head, Boardwalk Barker! Now you are ready to put on your 3-D glasses and grab your spring action shooter to compete in carnival style games. With 5 unique and thrilling games, you and all of your favorite pals from the Toy Story franchise, will test your skills try to beat your high scores. There are plenty of secrets hidden in each game to ramp up your points! And throughout the ride you might be surprised with special 4-D effects like a blast of air from popping a balloon!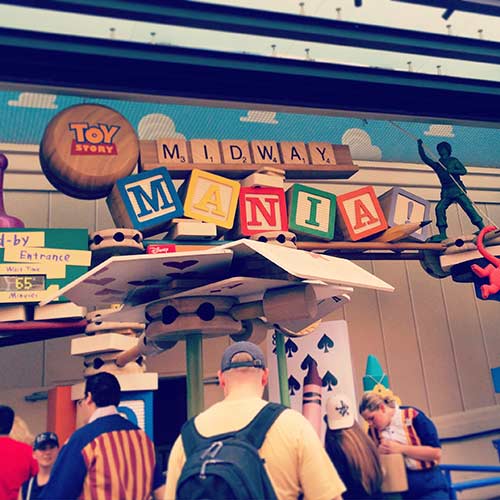 Sci-Fi Dine-in Theater Restaurant:
Catch a dinner and a movie at this 50's style drive-in and all American Cuisine. This themed resturarunt is so popular, you will need to make a reservation in advance (especially if you want to dine in at a car themed table). You are transported back into a 50's drive-in where you dine side by side in your car as you watch campy clips from old time films. The total time of the movie is about 45 minutes, so you have plenty of time to enjoy your meal, before you start to see repeating clips. With stars constantly lighting the night sky above you and a delicious meal, you don't want to miss out on this one of a kind Hollywood dinner and a movie experience.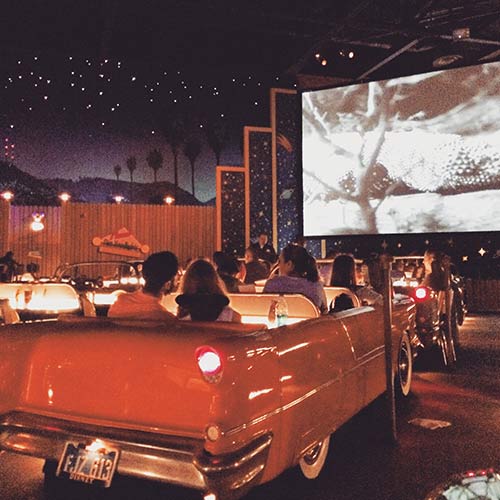 Star Tours:
Blast off to a galaxy far far away in this 3-D space adventure. In a motion simulated flight aboard a Starspeeder 1000, you may need the force with you as C-3PO and R2-D2 take control of your galactic cruiser while you launch into space. With over 50 possible story combinations, each Star Tours ride is a unique and thrilling experience. From the icy plant of Hoth to the Wookie home world of Kashyyk, or even to the Death Star itself, you never know where your space travels may take you or who you might meet along the way.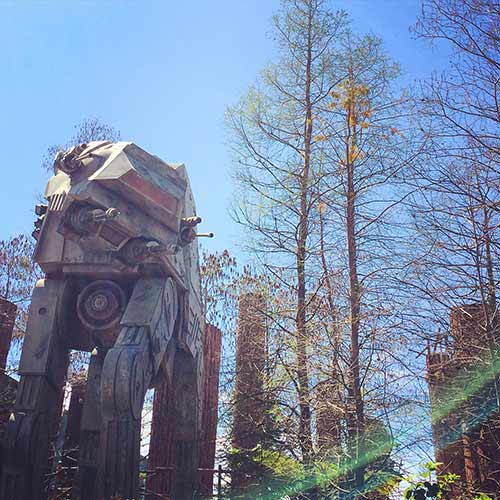 Hollywood & Vine:
For your little ones (or adults too), the Disney Junior Play n' Dine is the best way to meet and play with your kids favorite Disney Junior pals! With plenty of food options for everyone in your family, this Character Dining experience lets you interact and play along with Doc McStuffins, Sofia the First, Jake and the Never Land Pirates and Handy Manny. Everyone joins in on the fun as characters dance and sing along with the help from their friends! Each character will stop by your table to take pictures and interact with everyone. This is one of the only opportunities to meet and interact with their favorite Disney Junior characters. On top of that, the food is tasty too. Hollywood & Vine also serves an amazing American-style buffet dinner and you can add on a Fantasmic! Dining Package!
Muppet Vision 3D:
Welcome to the soundstage of the Muppets in this hilarious 3-D spectacular. Before the big show, you will catch a 12-minute pre-show featuring staring some of your favorite characters in their comical antics. You will even get a special appearance from a very important mouse! As the pre-show ends, you step out into the massive Muppet theatre based off the classic Muppet Show television series. The curtain rises to reveal the Muppets and hilarity ensues. With state of the art 3-D and real life special effects, it feels like you are part of the show.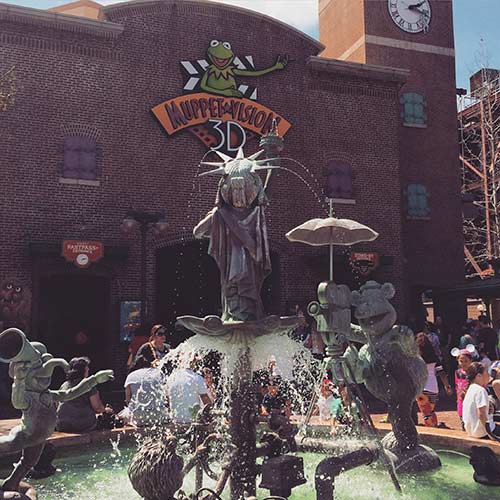 On top of all the fun food and attractions, there are a multitude of fun, exciting and unbelievable entertainment for the whole family!
For the First Time in Forever: A Frozen Sing-Along Celebration: Sing along with your favorite Frozen characters to the tunes that made the movie an instant Disney classic.
Indiana Jones Epic Stunt Spectacular: Watch Indiana Jones as he makes daring escapes and battles dangerous bad guys in this real life action movie spectacular. And if you are lucky, you can even be part of the show!
Jedi Training Academy: Young Padawans train to go head to head against the Dark side and Darth Vader himself! Be sure to get to the park early to sign up at the ABC Sound Studio - spots fill up fast!
Lights, Motors, Action! Extreme Stunt Show: Watch professional stunt drivers as they reveal the behind the scenes special effects that go into your favorite car action sequences. This show is full of explosions, jumps, high speed chases and maybe even Lightning McQueen.
Fantasmic!: What better way to end the night than watching Mickey take the power of dreams to defeat the many Disney villains who try and turn the world into a nightmare. State of the art special effects, lights and water make this show come alive.
Hollywood Studios immerses you in the magic that makes movies so extraordinary. You are transported straight into many different of Hollywood's greatest movies and television programs. Thrilling attractions, family friendly shows and one-of-a-kind eats make Hollywood Studios a park with something for the whole family. You and your family will make memories to last a lifetime and Get Away Today would love to help get you there. Book your next Walt Disney World package online or call our travel experts at 855-GET-AWAY.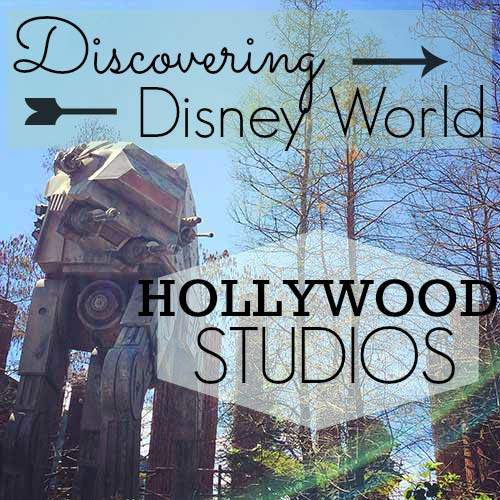 Check out these great articles: