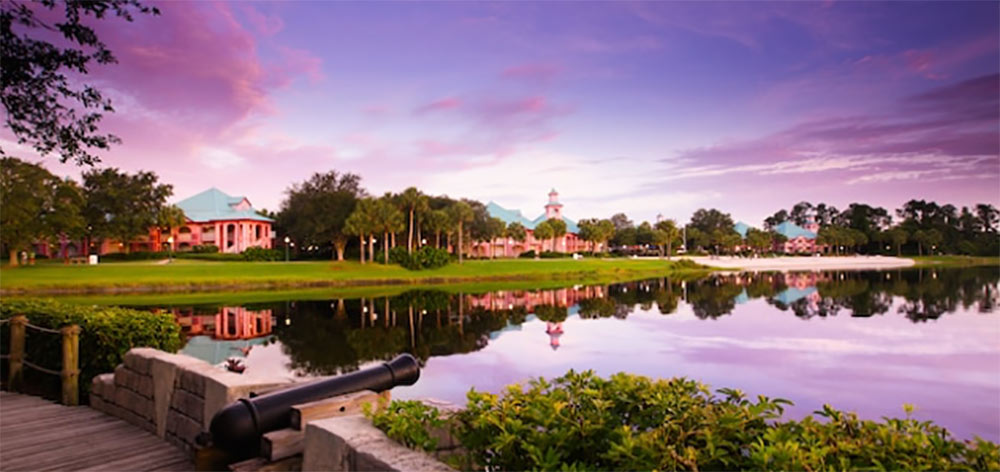 Photo courtesy of Disney's Caribbean Beach Resort
Walt Disney World Caribbean Beach Resort Review
With five different themed villages, including Barbados, Jamaica, Martinique, Trinidad and Aruba, you'll feel like you're island-hopping without leaving the comfort of Orlando's Caribbean Beach Resort at Walt Disney World. Read our Caribbean Beach Resort review to see why we love this property.
Walt Disney World Caribbean Beach Resort Review - Rooms

Live the part of a pirate in optional themed rooms at Caribbean Beach Resort. All aboard ship-shaped beds for adventure!
For your next Walt Disney World vacation, you can request rooms that sleep from two to five guests. With Resort, courtyard, woodland, pool or water views, rooms at Caribbean Beach Resort have a lot to offer when you're resting up before a day at the Parks.
Standard and Preferred Rooms: You're welcome to request two Queen beds for a room that sleeps up to four, or make room for a fifth guest in the Standard Room that features the pull-down child sleeper. Fifth-sleeper Standard Rooms offer views of either the Resort, the courtyard, woodlands, lake or pool. Two Queen Standard Rooms include views of either the lake or pool, and King Standard Rooms, which sleep up to two adults, offer views of the lake, pool, Resort, courtyard or woodlands. The bathroom is sectioned off from the sleeping area, allowing family members to share the space with privacy.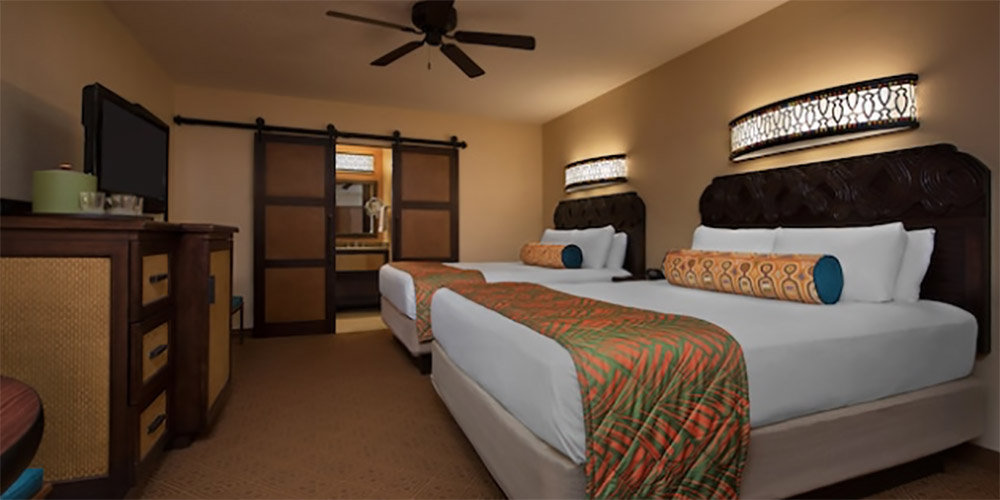 Photo courtesy of Disney's Caribbean Beach Resort
Pirate Rooms: To add a little extra island magic to your stay at Caribbean Beach Resort, you may request Pirate-themed rooms for your family. With availability for up to four guests, Pirate rooms may feature views of the Resort, courtyard, woodlands, lake or pool. The room is separated from the bathroom vanity area with a curtain that resembles a sail with a pirate emblem. Rest assured, there's plenty of privacy in the toilet and tub areas, which both have doors.
Walt Disney World Caribbean Beach Resort Review - Amenities
No Caribbean Beach Resort review would be complete without sharing the room amenities! Vacation in style with conveniences including the following:
Hairdryer
Internet - Free WiFi Service
Coffee Maker
Telephone with voicemail
In-Room Safe
Pirate Ship-Themed Beds (select rooms only)
Mini-refrigerator
Iron & Ironing Board
Onsite amenities at Caribbean Beach Resort range from themed dining to pools, beach recreation to a playground and more.

Pools - zero-entry for convenient wading and water play. Enjoy two different water slides, and water features including cannons and a shipwreck play area.
Fuentes del Morro: Guests 48 inches and shorter can enjoy this interactive water area designed exclusively for them. This pirate ship themed play area also boasts a 12-person hot tub for older guests who are keeping on eye on pint-sized buccaneers. Additionally, there is a feature pool open for guests of all ages.
Leisure pools in each village (five total)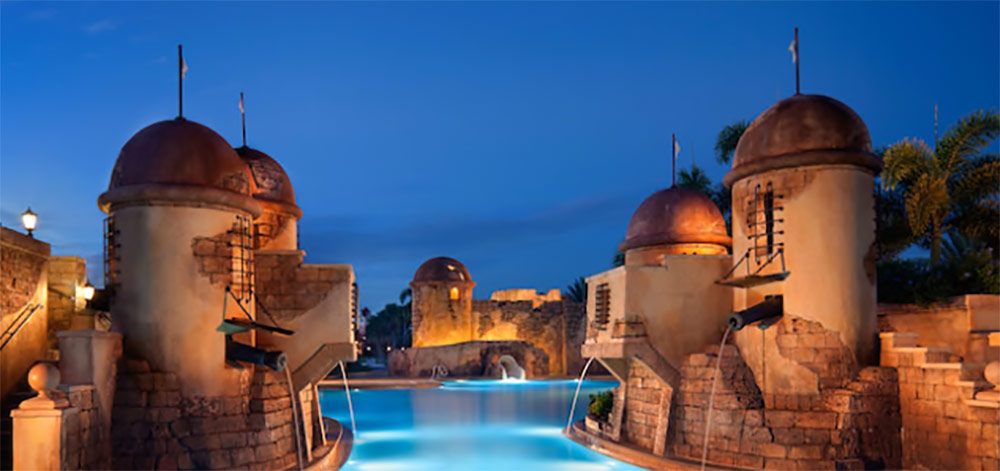 Photo courtesy of Disney's Caribbean Beach Resort
Walt Disney World's Caribbean Beach Resort offers campfires for families to gather around to enjoy treats and movie nights. Weather permitting, these complimentary campfire activities make a great addition to your Orlando vacation.
Some movie nights offered at Caribbean Beach Resort can be enjoyed poolside; when you check in, just check the Recreation Calendar available at the front desk.
Pirate Adventure Cruises: This optional, additional cost experience at Caribbean Beach Resort invites guests ages four to twelve to set sail on adventure. Over a two-hour time period, kids become pirates and learn legends of the sea while on a treasure hunt. Various resort marinas serve as ports so even the most daring of pirates can stay close to home during this experience.
Caribbean Beach Resort also offers fishing to buccaneers of all ages, and you can choose between dockside fishing or guided excursions. An experienced guide can take you on either a two-hour or four-hour fishing expedition, and reservations can be made u to 180 days in advance.

Other recreation amenities at Caribbean Beach Resort include bike rentals, jogging trails and even a playground. Before you travel, be sure to check with the Resort regarding availability. Offerings may change due to renovations, weather restrictions and the like.
Walt Disney World Caribbean Beach Resort Review - Dining
One of the best parts of a vacation is trying delicious dishes you can't get at home. Caribbean Beach Resort dining includes a lot of variety, plus kids' menus with family favorites. See what's available onsite at the Resort:
Sebastian's Bistro: For Caribbean cuisine, head to Sebastian's Bistro. This casual dining spot features surf 'n turf menu items including Coconut Shrimp and Grits, Grilled Skirt Steak and so much more. From vegetarian curry to mile-high Key Lime pie, you'll find something for everyone at Sebastian's. Reservations can be made up to 180 days in advance for this restaurant located on the water or Caribbean Beach Resort.
Centertown Market: Fast-casual dining is available at Centertown Market. Located in the Old Port Royale area of Caribbean Beach Resort, you can enjoy breakfast, lunch or dinner at the Market. Using the My Disney Experience app, you can even order your meal ahead of time right from your phone! This makes it easier than ever to enjoy tantalizing Latin and Caribbean inspired foods such as omelets, tacos, burgers, salads and more. There's also a Grab-and-Go option of the Market that offers fast-casual meals you can take with you on all your adventures.
Banana Cabana: Poolside snacks and specialty drinks are available at Banana Cabana. You'll find it next to the Fuentes del Morro Feature Pool in Caribbean Beach Resort.
Spyglass Grill: Another breakfast, lunch and dinner spot at Caribbean Beach Resort, Spyglass Grill fuses American cuisine with Caribbean flare. Featuring a walk-up counter, this eatery is located by the Trinidad pool and has a patio that overlooks Barefoot Bay.
Disney Resorts Pizza Delivery: For pizza and more delivered right to your room, take advantage of Walt Disney World Resort hotels in-room dining. Available only at select hotels, including Caribbean Beach Resort, you can have pizza, burgers, salads, desserts and more delivered to your room between the hours of 5pm and midnight.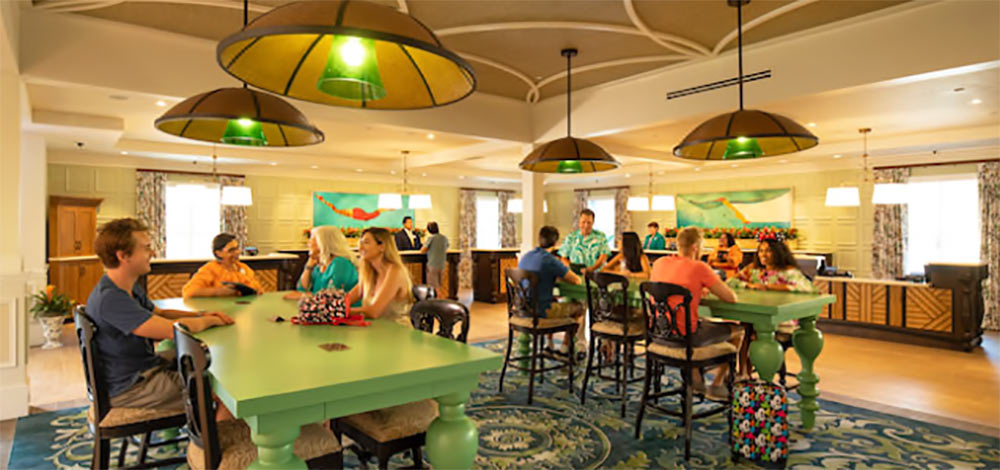 Photo courtesy of Disney's Caribbean Beach Resort
Walt Disney World Caribbean Beach Resort Review - Location
Caribbean Beach Resort is located between Disney's Hollywood Studios and Disney's Typhoon Lagoon water park. It's just south of Epcot, and its five different "island" villages border a bar shared with Disney's Riviera Resort.
Disney Skyliner: New as of 2019, Caribbean Beach Resort includes a stop along the Disney Skyliner. From the Resort you can glide over Walt Disney World and land in Disney's Hollywood Studios or Epcot.
Walt Disney World Caribbean Beach Resort Review - Overview
For carefree island living, book your next Orlando vacation and include Caribbean Beach Resort! Remember that all 2-Night and longer Walt Disney World vacation packages include complimentary concierge services from a Get Away Today travel expert. A specialist can help you book available experiences for your vacation, including fishing, pirate adventures and more offered at Caribbean Beach Resort. Check out Walt Disney World vacation packages online or call an agent at 855-GET-AWAY.