Dole Whip Donuts are a sensation at Disneyland. They capture the familiar flavors of the popular Dole Whip dessert with a tropical bakery twist. Make your own with this copycat recipe.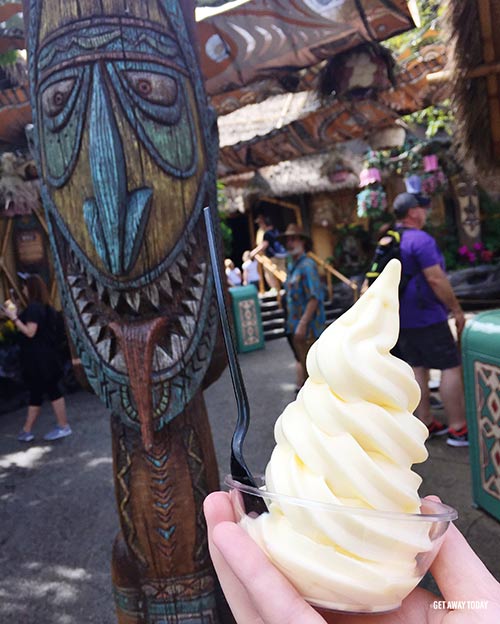 If your heart skips a beat with the mention of the phrase Disneyland Dole Whip, then you are going to need to sit down to read this post. Are you seated? Good. Disney has created a Dole Whip Donut. I repeat, a Dole Whip Donut!
It is filled with a rich creamy pineapple curd. Glazed with a sweet pineapple frosting. Then topped with a light and fluffy marshmallow meringue. The dessert is getting rave reviews! It is basically worth traveling to Disneyland just to get a taste.
If a Disney trip isn't in your immediate future, then you can make your very own Dole Whip Donuts at home with this recipe and tutorial. Do not be afraid to give it a shot. You can work some Disney magic in your very own kitchen! Trust me.
I made the process a little bit easier than the park version. I assume that you are a regular ol' baker like me and don't have bakery blow torches in your cupboard. Am I right?! I think this version is pretty spectacular. You can find the recipe, which makes half a dozen Dole Whip Donuts, below. Don't forget to let me know what you think in the comments!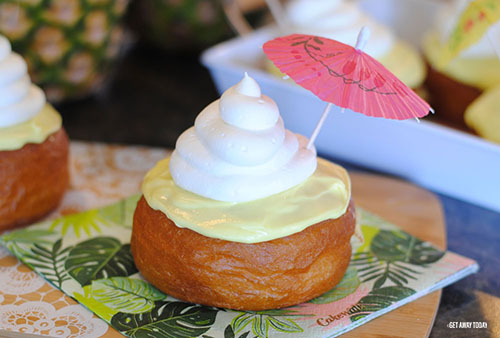 Disneyland Dole Whip Donut Recipe:
Dole Whip Donut - Pineapple Curd Filling Ingredients:
3/4 cup pureed canned pineapple
1/2 cup sugar
4 egg yolks
2 T cornstarch
2 T pineapple juice
juice from 1/2 a lemon
pinch of salt
2 T butter
Dole Whip Donut - Pineapple Frosting Ingredients:
4 oz cream cheese
1/2 cup butter
pinch of salt
1/2 cup pineapple juice
3-4 cups powdered sugar
1/4 tsp vanilla
yellow food coloring
Dole Whip Donut - Coconut Cream Topping Ingredients:
1 1/2 cup heavy whipping cream
3 T sugar
pinch of salt
3/4 tsp coconut extract
1/4 tsp vanilla
You will need to make or buy donuts for this recipe. I got mine specially ordered from our local bakery. Get the round donuts that do not have a hole in the middle. They are the cream filled variety.
Start the process with the pineapple curd filling. It is seriously amazing. I was thinking of all the wonderful things you could make with just the pineapple curd. You could use it as a fruit dip or on shortbread like a lemon bar. Or, scoop a little bit onto vanilla ice cream. Keep this recipe in your back pocket to use after your Dole Whip Donut fun!
Open a can of Dole crushed pineapple. Place 3/4 cup into the blender and cut it up into a nice fine puree. Do not make it totally smooth. You want little bits of pineapple to give the filling some texture.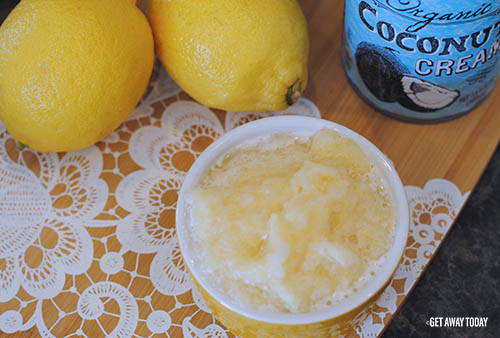 Add the 3/4 cup pineapple puree into a medium sized saucepan. Toss in the sugar and salt. Mix them together. Do not add any heat yet!
Separate 4 egg yolks from their whites. I do this by cracking an egg in half over a bowl. Transfer the egg yolk back and forth between the two sides of the shell and let the egg white drip down into the bowl. The egg yolk should eventually be stripped of all the white if you keep it moving from the two sides of the shell. Plop the yolks into the pan.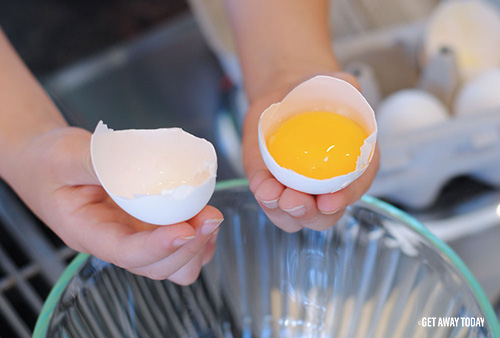 Mix 2 T of pineapple juice with 2 T of cornstarch together in a small bowl. Stir until the cornstarch is fully incorporated into the juice. The cornstarch is a thickening agent. Pour the contents into the pan.
Cut a lemon. Squeeze the juice from one half of the lemon into the pan. The lemon juice balances the sweetness of the pineapple. I think it is the secret ingredient...that is no longer secret any more.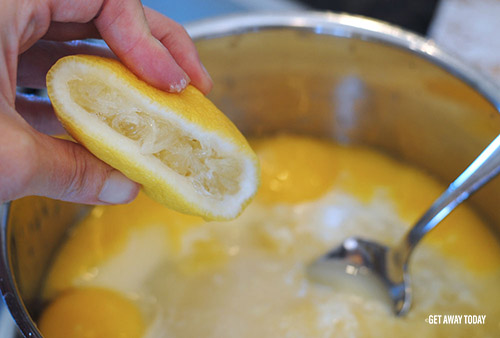 Stir it all together and then set the heat to a low medium setting. Whisk the contents continually. The curd will gradually thicken. It takes a few minutes. It is ready when the consistency is about the same as yogurt.
Remove from the heat and add the butter.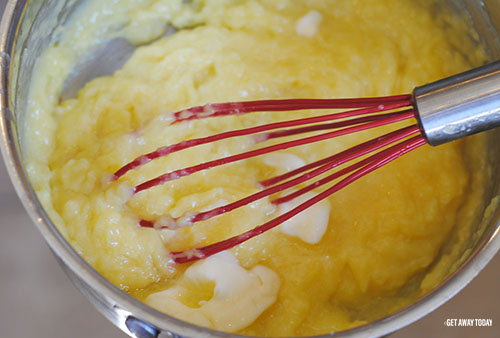 Scoop the pineapple curd into a glass jar for storage. Be sure to lick the pan clean!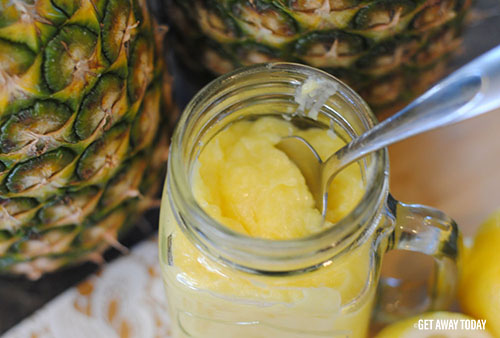 Store the filling in a glass container in the fridge and move on with the Dole Whip Donut recipe.
Next up, pineapple frosting! No donut is complete without a pretty sugary glaze. The Dole Whip Donut has a pineapple cream cheese glaze that will knock your ears off!
Place 1 stick of room temperature butter, 4 oz cream cheese, a few drops of yellow food coloring, 1/4 tsp vanilla, and a pinch of salt in a bowl. Cream the contents together with a hand beater.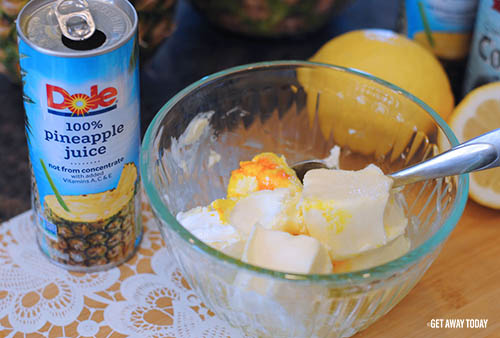 When it is nice and smooth, add 2 cups of powdered sugar and 1/2 cup of pineapple juice. Fully incorporate the sugar and juice.
Taste a little sample.
You may think it is perfect. You may want it to be a little bit sweeter. Add another cup of sugar. Blend it in and then try another little taste. Isn't making frosting fun? I think three cups of sugar is perfect. But, you can add more if you want. This frosting would not work well on a layered cake. It is supposed to be a tiny bit thin and glaze-like.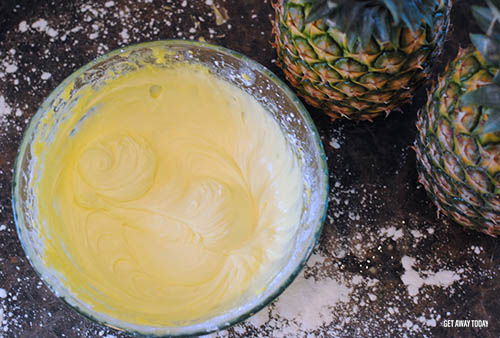 The next layer to this Dole Whip Donut masterpiece is the coconut cream topping. So, here is where we are improvising a little bit. The Disney version has a marshmallow cream meringue on top. To be honest, meringue creeps me out a little bit because it has raw eggs in it. I just can't get over that. And the top needs to be browned with a blow torch - something I don't have on hand. So, I created something equally delicious but much easier to top off our Dole Whip Donuts with. What can I say except, "You're welcome!"
Whip 1 1/2 cups of heavy whipping cream with 3 T sugar, pinch of salt, 3/4 tsp coconut extract, and 1/4 tsp vanilla extract. Beat them until the cream is stiff. But, do not over whip the cream. It will turn into butter. Butter is delicious, but not exactly what we are going for here. The coconut extract with the cream is such a yummy tropical combination. It pairs with pineapple perfectly!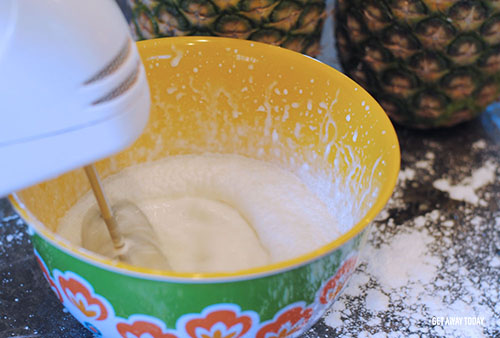 Now, all of the parts to this delicious bakery puzzle are ready to be put together.
Fit a pastry bag with a large round frosting tip and fill it with the cooled pineapple curd.
Cut a 1 inch slit in the side of the donut. Stick the round tip into the hole in the side of the donut and squeeze about 3 T of filling into the donut. This is ridiculously fun. I have never filled donuts before and it made me smile.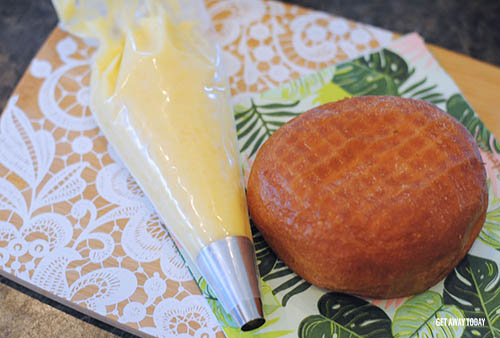 When all the donuts have their tasty filling, frost the tops with the pineapple cream cheese glaze. You don't need to add too much. Just a nice little layer around the whole top of the donut.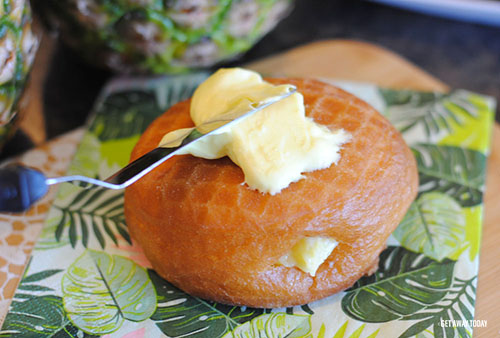 Get a second pastry bag and round tip, then fill it with the coconut cream. Squeeze and swirl a mound of the cream on top of each Dole Whip Donut.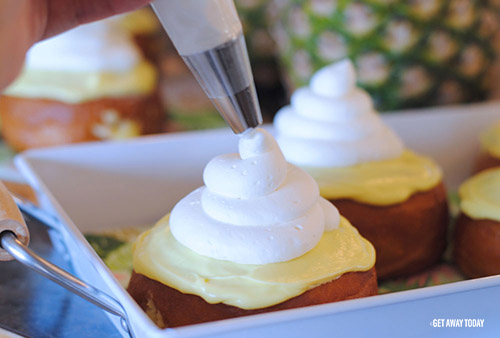 Finish the dessert with a happy little paper umbrella. They are so cute!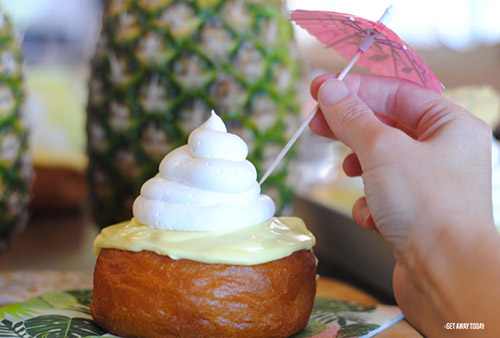 Check out the yummy pineapple filling inside! Isn't it pretty?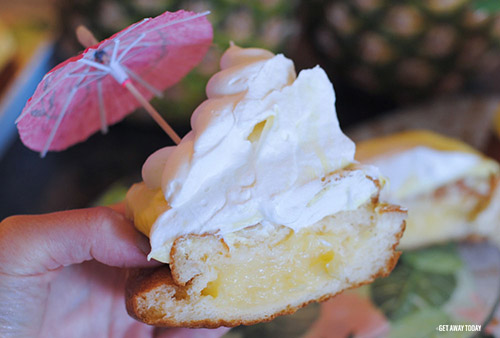 These Dole Whip Donuts are seriously so good. It is a great combination of tropical flavors.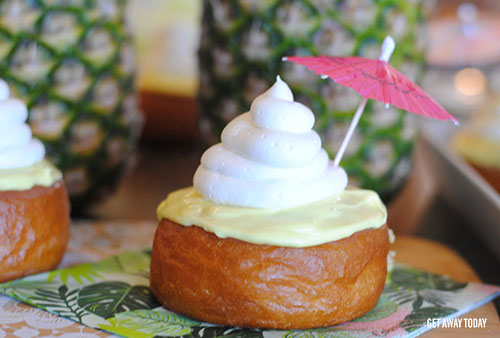 The pineapple filling is buttery and rich. The glaze is sweet and fruity. The topping is creamy with a hint of coconut. If you eat it with your eyes closed, you can pretend to be on a beach in Hawaii. Or, at the donut cart next to Sleeping Beauty's Castle in Disneyland.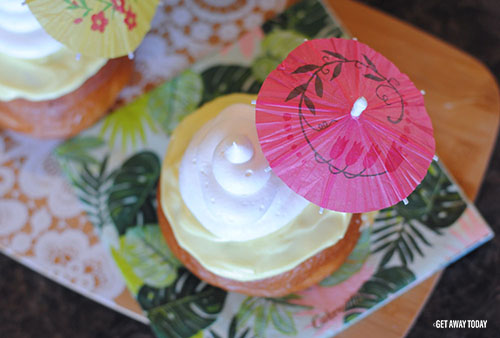 The Dole Whip Donut is only going to be around for a limited time. So, make sure to scoot on over to Disneyland before it's gone. To save on your vacation to the Happiest Place on Earth, book with Get Away Today. Our discount Disneyland tickets and reduced hotel rates help make each trip more affordable than you thought. Plus, all that extra change can be used on Dole Whip Donuts for everyone! Book online now or give our Disney experts a call at 855-GET-AWAY.

Check out more copycat Disneyland recipes: