UPDATED SEPTEMBER 2023. Halloween Time will return to the Disneyland Resort in September through October 31, 2024, along with Oogie Boogie Bash select nights. Here we'll share details for future celebrations so you know what to expect when planning your fall visit in 2024.
Halloween Time is one of the most festive and popular times to visit the Disneyland Resort. Each year from early September through Halloween night, Disney's official Halloween season takes place. Our complete guide to Halloween Time at the Disneyland Resort will tell you everything you need to know about visiting this time of year.
Disneyland Halloween Time Complete Guide
Halloween Time at the Disneyland Resort somehow manages to make the Happiest Place on Earth even more magical! If you're thinking about visiting Disneyland during Halloween, there is a lot to know. We'll break down everything there is to see and do so that you don't miss a single thing.
When, Where and What is Halloween Time at the Disneyland Resort?
Halloween Time at the Disneyland Resort begins September 1st and continues through Halloween night. This seasonal celebration takes place throughout the entire Disneyland Resort; Disneyland Park, Disney California Adventure Park, Downtown Disney and the Hotels of the Disneyland Resort.
You'll find incredible decor, Halloween-themed attractions and entertainment, as well as seasonal merchandise and menu items. And better yet, all Halloween Time attractions are included with your regular admission.
But, before we begin with anything else, we want to encourage you to start planning your Halloween Time vacation NOW. Our tickets are all valid through the 2024 Halloween Time season. This means you will be ready to go when theme park reservations open 120 days before your trip.
Since Halloween Time is one of the most popular times to visit, booking early will get you the best theme park and hotel availability.
Disneyland Park Halloween Time Highlights
There is nothing quite as festive as Disneyland Park during Halloween Time. Pumpkins line Main Street, U.S.A. and not-so-spooky magic can be found throughout the park.
Here are some of the highlights you won't want to miss!
Haunted Mansion Holiday - This fan-favorite holiday classic turns the Haunted Mansion into a mash-up of Halloween and Christmas with the crew from Tim Burton's Nightmare Before Christmas. Jack Skellington, Sally, Zero and Oogie Boogie all make appearances. Disneyland Park is the only place in the world to experience Haunted Mansion Holiday.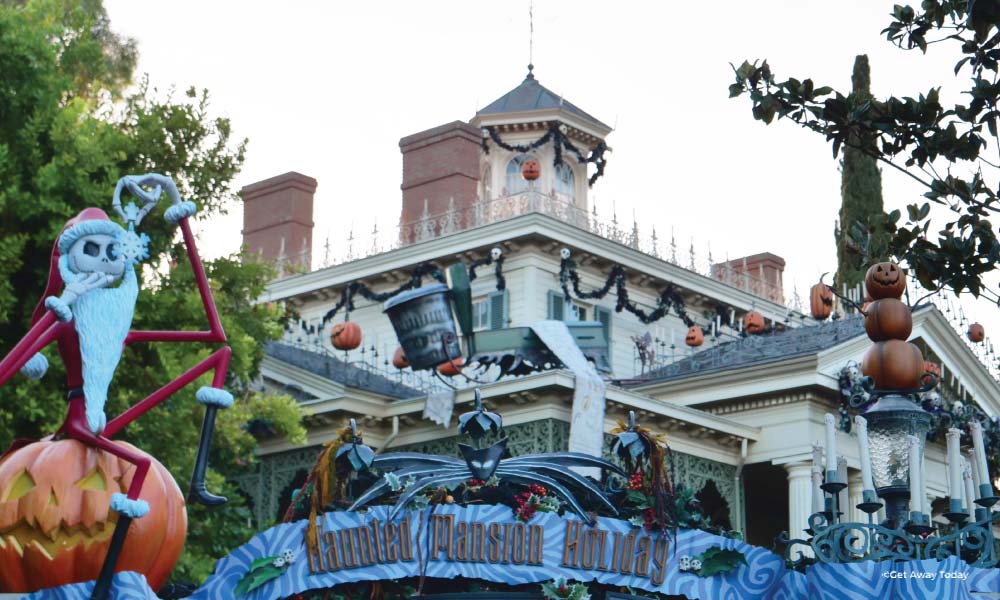 Dia de los Muertos - Over in Frontierland, you'll find a colorful homage to Dia de los Muertos with bright photo backdrops. Select character meet and greets often happen in this location as well.
Giant Mickey Jack-o-Lantern on Main Street, U.S.A. - Speaking of photo backdrops, one of the most iconic and most photographed spots during Halloween Time is the ginormous Mickey jack-o-lantern that welcomes you to Main Street, U.S.A. Remember, PhotoPass comes free with Disney Genie+.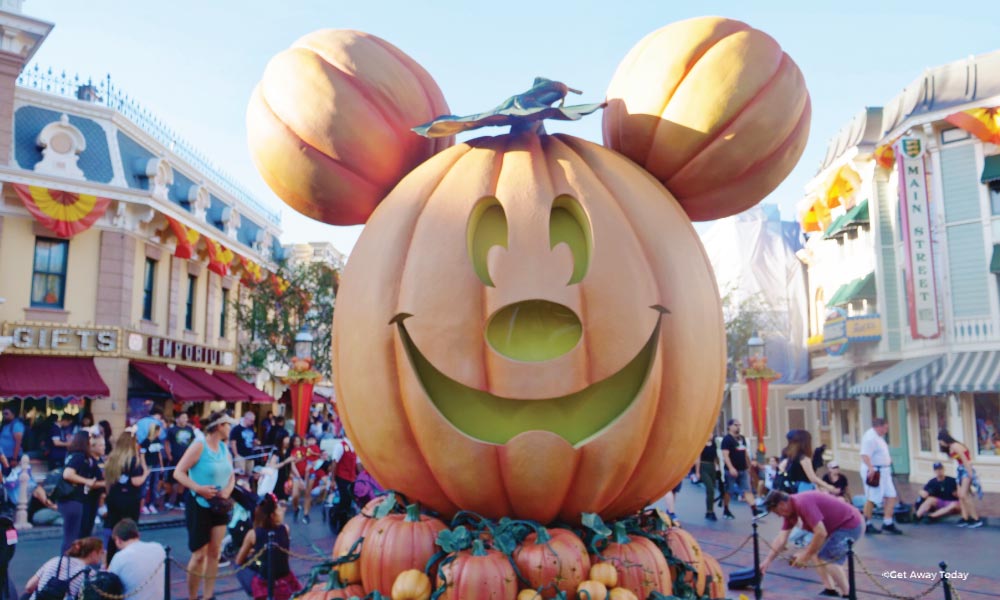 Disney Characters in Costumes - One of the most fun things about meeting the Characters at Disneyland during Halloween Time is that they're always in costume. 2023 brings new costumes to Disneyland Park so be sure to check them out as you enter town square.
Seasonal menu items at some of our favorite restaurants - You'll find pumpkin everything throughout Disneyland, and better yet, many of these seasonal treats can be mobile ordered. Be sure to try the seasonal beignets from the Mint Julep Bar and grab at least one seasonal churro.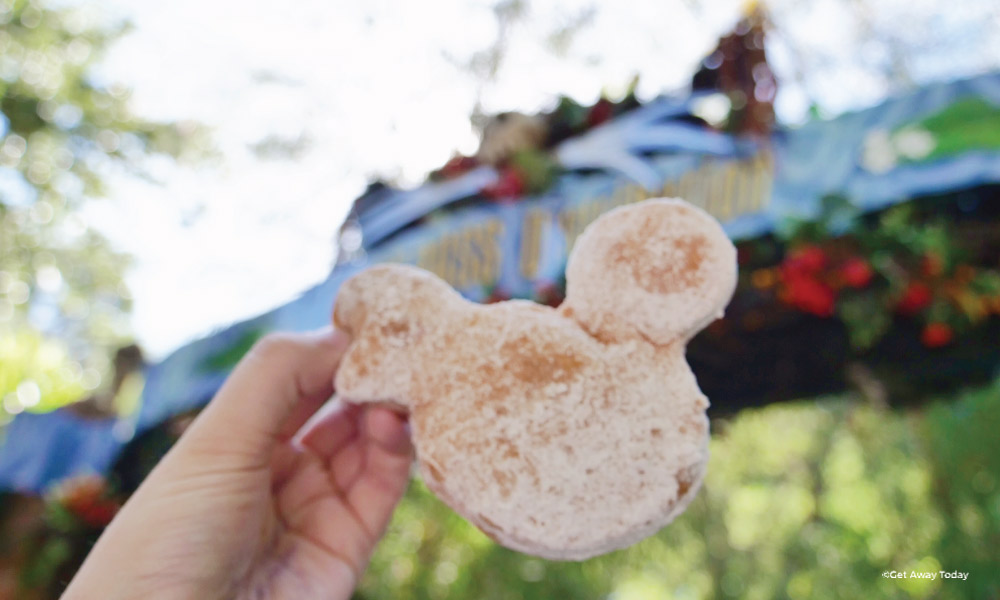 Halloween Screams - Traditionally, Halloween Screams is available nightly as a projection and special effects show - and with fireworks on select, primarily weekend, nights.
In previous years, the Halloween Screams fireworks show was exclusive to guests of Mickey's Halloween Party. However, in 2019 when Mickey's Halloween Party was retired and Oogie Boogie Bash began in Disney California Adventure Park, Halloween Screams became available to all Disneyland Park guests on the weekends.
Now it's even better with a nightly show, and fireworks on select nights for anyone with a theme park ticket and reservation for Disneyland Park.
Disney California Adventure Halloween Time Highlights
Disney California Adventure Park has some unique attractions that you won't find anywhere else throughout the year. During Halloween Time these attractions become even more exclusive due to the limited time of year you can find them.
Here's a quick overview of some of the fun you'll find at this one-of-a-kind park!
Radiator Screams - Cars Land has always been one of our favorite parts of Disney California Adventure. Just for Halloween, Radiator Springs transforms into Radiator Screams with "spoke-y" decor and "spook-tacular" rides. Make sure to visit during the day and again at night for a completely different feel. You won't want to miss these experiences that you can only find in Cars Land at Disney California Adventure Park:
Mater's Graveyard JamBOOree - A Halloween twist on Mater's Junkyard Jamboree
Luigi's Honkin' Haul-o-Ween - Luigi's Rollickin' Roadsters gets a Halloween makeover
Mater and Lightning McQueen - You've never seen "car-stumes" like those sported by McQueen and his pals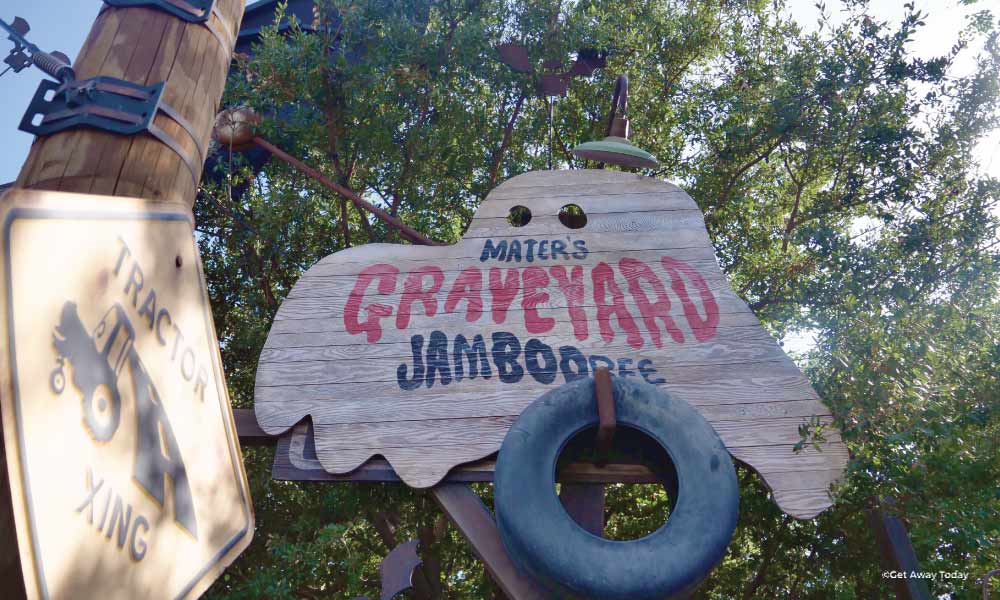 Guardians of the Galaxy: Monsters After Dark - When nighttime falls, Guardians of the Galaxy - Mission: Breakout! transforms into Monsters After Dark. This version of the attraction gets a little bit darker and features a custom soundtrack that will leave you screaming as you rescue Baby Groot from the Collector.
Not only is this attraction unique to Disney California Adventure Park, it's unique to Halloween Time and only available in late afternoon/evenings.
Plaza de la Familia - Over in Paradise Gardens you'll find Plaza de la Familia to celebrate Dia de los Muertos. Enjoy "A Musical Celebration of Coco" throughout the day, experience festive foods, crafts and interactive experiences, like honoring those who have gone on before by leaving a memory of your loved ones at a Coco themed ofrenda.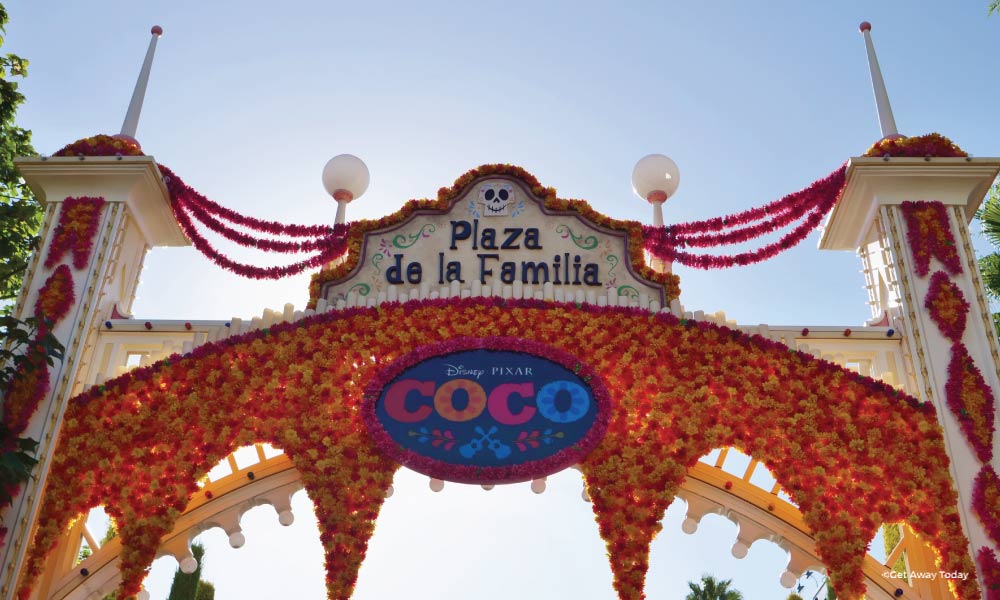 Disney Characters in Costume - The Characters in Disney California Adventure Park are also in costume. You'll find a different costume in each park, which is really fun.
Seasonal Menu Items - Disney California Adventure Park always features festive food and beverage items - including cocktails during Halloween Time.
Disneyland Halloween Food and Merchandise
One of the yummiest things about Halloween Time is the seasonal food and merchandise items you can only find during this festive time of year. You'll find pumpkin flavored sweets and treats throughout the entire Resort, as well as special menu items at some of the most popular restaurants.
Ghost peppers, gummy worms, and "poisoned apples" can normally be found on the menu in select locations in the Parks and Downtown Disney. Disneyland will usually release a Foodie Guide for each year to showcase the menu items and locations.
In addition to food and beverages, the Disneyland Resort produces new Halloween themed merchandise each year. You'll find limited time Halloween t-shirts, popcorn buckets, cups, plushies, light-up necklaces, Minnie ears and so much more. They are all so cute that you'll definitely want to factor in Halloween souvenirs into your vacation budget.
Disneyland Halloween Party
In addition to traditional included Halloween Time offerings, the Disneyland Resort typically hosts a separate nighttime party.
Through 2018, Mickey's Halloween Party was held in Disneyland Park. 2019 brought a number of changes to Disneyland's Halloween Time. One of these changes was that Mickey's Halloween Party was retired and replaced by the Oogie Boogie Bash - a Disney Halloween Party at Disney California Adventure Park.
Oogie Boogie Bash is a limited capacity special event that requires a separate ticket and is offered on select nights. On party nights Disney California Adventure Park closes early to those without a party ticket and remains open to party guests only. Oogie Boogie Bash features exclusive entertainment and experiences like rare character appearances, a Halloween parade, trick-or-treating and Villains Grove.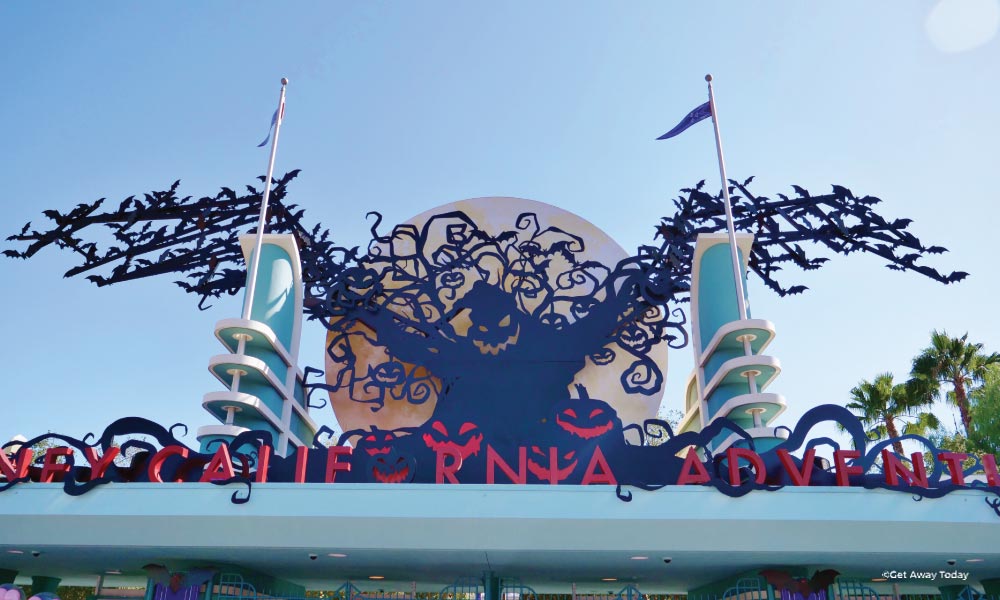 What to do if you don't have Oogie Boogie Bash tickets
You don't need to have a party ticket to have a good time during Halloween Time at Disneyland! If you don't want the extra expense of a party ticket, or if party tickets are not available during your visit. you can head into Disneyland Park if you have a Park Hopper.
This is one reason why we always recommend having a Park Hopper ticket - especially during Halloween Time. In Disneyland, you can experience all of the regularly scheduled attractions and entertainment - including "Halloween Screams" until closing.
Or, you can explore Downtown Disney and make dinner reservations for one of the great restaurants available. You could also plan a Character Dining experience at Goofy's Kitchen for dinner.
Want to venture out a little farther? Make a reservation for Medieval Times or the Pirate's Adventure Dinner in Buena Park. Whether you're planning on going to the party or not, you'll want to know when the parties are being held. This will allow you to make your plans, whatever they may be, so be sure to check out our article all about Oogie Boogie Bash for the details.
Disneyland Halloween Photo Ops
The Disneyland Resort provides some of the cutest and most fun Halloween backdrops you'll find anywhere. If you're looking for your own picture-perfect moment, make sure you hit these photo spots:
Character Pumpkin Heads at Disneyland Park Entrance
The Giant Mickey Jack-o-Lantern on Main Street, U.S.A.
Dia de los Muertos display in Frontierland
Haunted Mansion Holiday exterior - bonus points for catching Jack and Sally outside!
Halloween Tree in Frontierland (tribute to Ray Bradbury)
Oogie Boogie Entrance to Disney California Adventure Park
Headless Horseman Statue on Buena Vista Street
Radiator Screams - Everything in Cars Land is a photo opportunity during Halloween Time
Tree of Life at Plaza de la Familia in Disney California Adventure Park
Disney Characters are wearing their Halloween costumes in both parks, so grab a photo with anyone you see
Disneyland Halloween Time Cars Land
General Disneyland Halloween Time Tips
Our #1 tip for visiting the Disneyland Resort during Halloween Time is to make sure you purchase a Park Hopper ticket. This is especially important if you are traveling when there is an Oogie Boogie Bash party taking place, whether you are attending the event or not.
That will give you the flexibility to go back and forth between both parks, which you'll definitely want. If you visit Disney California Adventure Park on a day of a party without a ticket, you'll have to leave once the party officially begins. But, if you have a Park Hopper ticket, you can enter Disneyland for the rest of the night!
Like we mentioned before, it's imperative that you begin making your Disneyland Resort reservations as soon as possible. We anticipate that with the announcement of Halloween Time, reservations will go quickly. Book now and reserve your dates for September or October.
As you may be aware, Disneyland is no longer utilizing the Fastpass or MaxPass system. In its place, Disney Genie will be available in the Disneyland app. Disney Genie is a free service and provides personalized itinerary plans, forecasted wait times, virtual queue access and more. However, Disney Genie+ is available for an upgrade and also includes access to the Lighting Lane at select attractions (one at a time), PhotoPass downloads and audio tours of select parks. Disney Genie+ service is a great addition to your visit to the Parks.
If you are planning a Halloween Time Disneyland vacation, consider visiting in September. September tends to have more hotel availability, lower hotel prices, fewer crowds and warm weather. Plus, it's a great way to kick off the season and get into the Halloween spirit!
Our final tip is to stay as long as you can, and get at least a 3-Day ticket. There is so much to see and do at the Disneyland Resort year round, but to really enjoy all of the additional festivities, you won't want to be rushed.
Booking Your Disneyland Halloween Time Vacation
As you can see, Halloween Time is filled with frightful fun for the entire family to enjoy! At Get Away Today, we will always keep you up-to-date with everything you need to know and give you the best price on your Disneyland Resort vacation. The fastest way to book your Halloween Time vacation is online or call our agents at 855-GET-AWAY.