UPDATED April 6, 2021: The theme parks of the Disneyland Resort have been closed since March 14, 2020 due to the ongoing COVID-19 crisis. However, the Disneyland Resort recently announced a reopening date of April 30, 2021 and we couldn't be more thrilled! Find the latest answers to all of your Disneyland reopening questions below, including official answers and an official opening date from Disney.
Disneyland Temporary Closure and Reopening
While this is still a developing story, we have provided the answers we know for the most commonly asked questions regarding Disney theme park closures, including when Disneyland will reopen.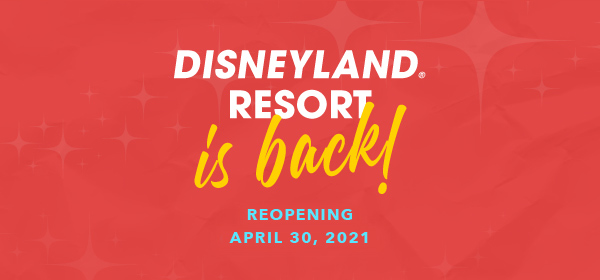 When will Disneyland reopen?
Earlier this month the State of California released guidelines that would allow California theme parks, including Disneyland Park and Disney California Adventure Park, to reopen as early as April 1, 2021. Then, on Tuesday, March 9, 2021, Bob Chapek, CEO of Disney announced that they hope to open the theme parks of the Disneyland Resort in late April.
On March 17, 2021 Bob Chapek announced that both Disneyland Park and Disney California Adventure Park will reopen on April 30, 2021! While there are still unknowns, we couldn't be more thrilled about this announcement and the progress being made.
Downtown Disney District at the Disneyland Resort has been successfully reopened since July 9, 2020. Buena Vista Street, a small part of Disney California Adventure Park, was opened for shopping and dining as an extension of Downtown Disney through March 14, 2021.
Disney's Grand Californian Hotel & Spa is scheduled to reopen on April 29, 2021 and the DVC (Disney Vacation Club) rooms at Disney's Grand Californian Hotel & Spa are scheduled to reopen on May 2, 2021. At this time there is no reopening date for Disney's Paradise Pier Hotel or the Disneyland Hotel.
Additionally, Touch of Disney, is a now sold out, private ticketed event that will take place at Disney California Adventure Park on most dates March 18 - April 19, 2021. This is considered a festival and will not count as a theme park reopening. Tickets were priced at $75 each and included admission to the event, parking, photo opportunities and a $25 Touch of Disney gift card valid for food purchases. Touch of Disney will continue as planned.
Top Questions about Disneyland Reopening
Since Walt Disney World's successful opening in July 2020, we have gotten a lot of questions about how this affects the Disneyland Resort. So we wanted to let you know what we know – and keep in mind we will ONLY share official messages from Disney. We don't report on rumors – and there are a lot out there. We also want you to keep in mind: Walt Disney World is much bigger, has four different Parks and has different government guidelines, so there will obviously be some differences. But, watching Walt Disney World go so smoothly certainly gives us hope! Now, onto our top questions:
Do I have to be a California resident to go to Disneyland when it reopens?
At this time, only California residents may visit the parks in line with current state guidelines. However, we'll be sure to keep you informed of any changes as this is an ongoing situation.
Will I need a reservation to go to Disneyland?
Yes, you will need a reservation in order to visit the Disneyland Resort. The Disneyland Resort will begin opening Park reservations at 8am (PST) on April 12, 2021 to California residents who already have valid theme park tickets. At this time, the Disneyland Resort will open up reservations within a 60-day rolling window. California residents will be able to make reservations to visit the Disneyland Resort through Disneyland's new reservation system by clicking
HERE
. We'd encourage guests who do not have a Disney account to create one before reservations open on April 12, 2021. If you have another account with Disney, for example, the Disneyland app or a ShopDisney account, your login and password are the same. Once you create a Disney account, you can link your Disneyland Resort ticket numbers.
How do I buy tickets for Disneyland when it reopens?
Starting April 15, 2021, Get Away Today will be able to resume selling Disneyland Resort tickets to California residents only. We will update this article as soon as ticket sales can resume to other guests.
Will Disneyland sell out when it reopens?
As of right now, the Disneyland Resort will operate at 25% capacity to allow for safe social distancing. However, as the state California continues to progress into lower tiers, additional theme park capacity will open up. We will continue to update this article as soon as we hear any additional information.
Because of reduced capacity, we highly recommend making your Disneyland Resort reservation as soon as reservations are available.
How will Disneyland be different when it reopens?
While the Disneyland Resort will still be home to beloved attractions and entertainment, there will of course be some changes in order to protect their Cast Members and Guests. Here's what we know so far:
FastPass and MaxPass when Disneyland Reopens
As of right now, both FastPass and MaxPass will not be available due to reduced park capacity. We will be sure to keep you updated if this changes in the future.
Park Hopping When Disneyland Reopens
Disneyland accounced that Park Hopping will be available when the Disneyland Resort opens on April 30, 2021. Guests with Park Hopper tickets will be able to Park Hop between Disney California Adventure Park and Disneyland Park starting at 1:00 PM (PST) each day of their visit.
Extra Magic Hour and Magic Morning When Disneyland Reopens
Disney has also confirmed that Magic Morning and Extra Magic Hours will not be available when the theme parks reopen. We will keep you updated if anything changes.
Health and Safety at Disneyland When It Reopens
Disney Parks Chief Medical Officer, Dr. Pamela Hymel released a statement highlighting some of the safety measures Disney is currently incorporating into their reopening plan including:
Phased reopening
Physical distancing
Capacity measures
Cleanliness and sanitation
Screening and prevention support
Cast Member training
Once again, we are so grateful to Disney in their dedication to their Guests and Cast Members.
Will the hotels be making changes?
Yes - our hotel partners know how important it is for you to be protected while you're traveling. Hotels around the world are increasing cleaning and health policies and procedures. Many of these procedures include increased frequency of cleaning high traffic public areas and high touch surfaces in guest rooms. Hospital-grade disinfectants are becoming the norm in hotel sanitation. While each hotel may have slightly different procedures, know that they are keeping your health and well being at the forefront of everything they do. You can see what additional procedures are being implemented by each property individually on each hotel's detail page on our site. Just click your desired room type and you'll see all of the hotel's detailed information, including additional Covid-19 procedures.
Guests Who Already Have Disneyland Tickets
If you already have Disneyland tickets, congratulations! You'll likely be among the first to visit Disneyland once it reopens. We are encouraging all guests who currently have tickets and want to go to Disneyland this year to hold on to them until we get more information. We don't know when Disneyland tickets will be available again, and we don't know what prices will look like. By keeping your tickets, your prices are locked in.
What if I have a Disneyland vacation booked for later this year?
At this point, we are recommending that you hold onto your Disneyland vacation reservations. With the rate that things are changing, the longer you can hold off on any reschedules or cancellations, the better. Best case scenario, you may be able to go and enjoy your vacation as planned.
If the Disneyland Resort remains closed or you are unable to visit during your travel dates because of state restrictions, you will have the most flexible rebooking options by keeping your reservation. If you are currently booked for travel in 2021, we will contact you directly as it gets closer to your dates to go over different options for your vacation package.
If you want a guaranteed Disney vacation or more full theme park experience, you may want to consider switching your Disneyland Resort vacation to a Walt Disney World Resort vacation. If you're interested in this, the quickest way to get a quote and make the change is to call our agents at 855-GET-AWAY Monday - Thursday 9am-7pm or Friday 9am-5pm MT.
If you feel as though you need to completely cancel your reservation, you may do so without any fees if you purchased our Peace of Mind Plan. If you did not purchase Peace of Mind, you may cancel vacation packages for just $150 and ticket only orders for just $50. And remember, you can reschedule your entire vacation in full with NO fees at all.
I was on vacation at the Disneyland Resort during the announced closure, now what?
Disneyland announced that guests who were not able to use the entirety of their ticket due to the park closure are valid through the end of their respective validity period. If you purchased your Disneyland tickets on or after Feb. 21, 2020, you will have until December 31, 2021 to use the remainder of your tickets.
If you are unable to use the remainder of your partially used tickets, you may request a refund by mailing your partially used tickets with a request for a refund letter. Your letter should include the following information:
1. Payable Name (i.e. name of person who purchased tickets)
2. Physical Address (this address is where the refund check will be mailed to, if approved)
3. Contact Phone Number
4. Physical Tickets (we recommend that you take a picture of the front and back of the actual ticket(s) for your records)
Mail all of this information above to the following address:
Disneyland Resort Ticket Fulfillment
P.O. BOX 61061
1313 Harbor Blvd
Anaheim, CA 92803-6161
Can I use my Kids Spring special tickets when Disneyland reopens?
If you purchased Kids Spring special tickets originally valid for use through May 21, 2020, the Kids Spring special has now been extended for travel through December 16, 2021. Please note that the entirety of your ticket needs to be used by December 16, 2021. This ticket will expire and will no longer be valid after this date. If you have not used any of the days of your Kids Spring Special ticket, all days still must be used within 13 days of the first day of use, and no later than December 16, 2021. If you choose to cancel those tickets, any cancellations must be made before the new expiration date, otherwise your tickets will become non-refundable. If your tickets become non-refundable, they do not lose their value and may be applied to another ticket for travel at a later date. If you choose to do that, you'll hold on to your tickets and may upgrade them at the ticket gate at the Disneyland Resort. Regular cancellation policies will apply. Blockout dates of July 4, 2021; November 20-27, 2021 apply .
We have sent communications to all of our guests who have this ticket type regarding their specific situation. If you have purchased this ticket with us and have not heard from us, please feel to contact us directly at 855-GET-AWAY or our social media channels.
Can I use my Southern California Resident discount tickets when Disneyland reopens?
Guests who purchased Disneyland Southern California Resident tickets will be able to use these tickets December 16, 2021. Please note that this ticket must be used in its entirety on the new expiration date. Blockout dates of July 4 and November 20-27, 2021 apply. A Southern California Photo ID is still required to use this ticket and must be presented at the park for admission.
How does the closure impact my Disneyland Resort annual pass?
The Disneyland Resort cancelled its Annual Pass program in January 2021 and refunded all Annual Pass holders. For more information regarding annual passes, please visit Disneyland's official website.
Do I have to know my travel dates to reschedule?
Nope! We can leave your total travel credit in your account and can reschedule once you have some time to check your schedule. You'll just select your account credit as your form of payment when you rebook your vacation.
How far out can I reschedule my Disneyland vacation?
Right now we will allow you to reschedule with no fees into 2021. We can help you reschedule your Disneyland vacation right away. Or, if you're still not sure of your travel dates, you can keep your entire travel credit from your 2020 vacation in your file until you're ready to book. Travel credits never expire.
Can I feel comfortable booking a new Disneyland Resort vacation with Get Away Today?
Yes! We believe the happiest days are ahead and would love to give you something to look forward to. The travel industry as a whole has been making major enhancements to keep you healthy and safe while traveling. We've put together a guide to what the travel industry is doing to promote safe travel amid Covid-19.
At Get Away Today, we pride ourselves on offering the most flexible vacation options - including offering Disneyland vacations into 2021. Here is just an overview of why you can feel confident booking your Disneyland travel with us:
Price Protection - You're never penalized for booking early with Get Away Today. We work directly with the best hotels and attractions to get you the lowest prices and best care always. And if a better special comes out after you book, you can get a refund - just ask! Don't wait around for a better deal; lock-in your availability first and we can make price adjustments later if needed.
Peace of Mind - At Get Away Today, we know things come up. That's why we offer our popular Peace of Mind Plan - so you can book with confidence. Just $75 covers any and all changes (excluding airfare) made up to 72 hours before your check-in date on most of our Southern California vacation packages.* After all, your Peace of Mind is worth it!
Layaway Plans - Lock-in your 2021 Disneyland Resort vacation for just $175 down. By booking early, you lock-in your availability and have the flexibility to pay as you go. Make as many interest-free payments as you'd like, whenever you'd like, with final payment due just seven days prior to travel. For over 30 years, we've had one goal in mind - to make vacationing affordable for every family. We promise to never stop doing just that!
Our Promise to You - Get Away Today is your best friend when it comes to your vacation, no matter where you're headed. That means we care, we're fun, flexible and help you find the best price. Included at no extra cost with every booking is a personal travel expert, best price guarantee and a donation made back to your community to help a child in need. We are with you every step of the way before, during, and even after your vacation.
What Other Theme Parks Are Reopening?
Of course Disneyland is not the only theme park affected by the pandemic. Many theme parks had temporary closures and already reopened. Southern California theme parks have gradually been opening.
Southern California Theme Park Reopening Plans
Universal Studios Hollywood: Universal CityWalk reopened on June 10, 2020. Taste of Universal is a weekend only food festival that kicked off March 12, 2021 and will continue through April 11, 2021
Knott's Berry Farm: Knott's Boysenberry Festival is taking place now through May 2, 2021. Knott's Berry Farm does not have an official opening date, but plans to open in May 2021.
Disney Cruise Line: All departures until further notice, but home to resume sailing in Fall 2021
SeaWorld San Diego: SeaWorld San Diego is currently operating as a zoo which allows guests to visit the park and explore their incredible exhibits. No rides are currently operating. Additionally, SeaWorld San Diego is hosting the Seven Seas Food Festival on select dates now through May 2, 2021.
San Diego Zoo & Safari Park: - Both the San Diego Zoo and San Diego Zoo's Safari Park are reopened.
LEGOLAND California Resort: LEGOLAND is currently partially open with limited experiences. The LEGO Castle Hotel is open and on-site hotel guests have exclusive access to LEGO CHIMA Water Park. Special events such as Build N' Play Days, give guests access to select areas of LEGOLAND Park with limited entertainement. No attractions are open at this time.
Florida Theme Park Reopenings
Although most of Southern California has remained closed for a year, many guests have switched their vacation destinations to Orlando, Florida. Below are the dates that the most popular Florida theme parks reopened.
Walt Disney World Resort: Reopened since July 11, 2020
Universal Orlando Resort: Reopened since June 5, 2020
SeaWorld Orlando Resort: Reopened since June 5, 2020
LEGOLAND Florida: Reopened June 1, 2020
Can I still book a Disneyland Resort vacation for 2021?
YES! The Park closures are temporary and we can't wait until the Disneyland Resort reopens. Both Resorts have temporarily stopped selling tickets, but we'll be sure to let you know as soon as we're able to sell Disneyland Resort tickets again. However, you can start booking your hotel online by browsing our hotel deals on our website. Can't pay in full at time of booking? No problem! We provide an interest-free Layaway Plan to our guests. For just $175 down, you can make as many payments as you want, whenever you want, until payment is due just seven days before your vacation. Learn more about our Layaway Plan.
Thank you for your support!
Get Away Today truly appreciates all of our guests and partners during this unexpected and unprecedented time. We know how important family vacations and making memories are, and are grateful for all of your support for our small, family-owned business during this time.
*Peace of Mind Plan fee covers one package at a time. Some hotels (Disneyland Resort Hotels) require 5-7 days advance notice in order to avoid the first night's charge. If you are purchasing multiple rooms, you must purchase the plan for each room.