UPDATED: September 28, 2020: The Disneyland Resort is currently in the process of a phased reopening with most of Downtown Disney having been open since July 9, 2020. Although the theme parks and hotels at the Disneyland Resort don't have an opening date yet, they have a plan and are ready to go as soon as they receive approval from the State of California. The State of California released new guidelines to reopen businesses on August 28, 2020. Although theme parks were not specifically included in this recent press release, you can find information and check open industries in California here.
Additionally, on September 8, 2020 Orange County, CA was upgraded from purple to the red level. Then, on September 16, 2020, Governor Newsom said in a press conference that they will release theme park guidelines "very, very soon," although nothing new has been released to date. Since that time, leaders of the Disneyland Resort, Orange County, Anaheim City, as well as other Southern California theme parks have urged the Governor to release guidelines. We expect to get an update specific to theme parks soon, and will of course update this article when that happens.
What Will Disneyland Look Like When it Reopens?
There is so much to know about what Disneyland will look like when it reopens. There will definitely be some changes at Disneyland when it reopens in order for the Guests and Cast Members to stay healthy and feel safe. You'll need to know a few things before you go in order to be prepared and have a magical experience. And Disney is 100% committed to making every experience magical.
We already have a great idea on what much of this will look like due to the details that Disney has released. We can also look at the reopening of Downtown Disney on July 9, 2020 and of Walt Disney World Resort on July 11, 2020. Both reopenings have gone incredibly smoothly and are well streamlined. Here's what you can expect at Disneyland when it reopens:
Masks When Disneyland Reopens
One of the first things you need to know about Disneyland reopening is that masks will be required for both Cast Members and all guests ages two and older.
Masks have the following requirements:
Cover the mouth and nose
Have at least two layers of fabric
Include ear loops
Bandanas and/or NeckGaters are not permitted
Mask wearing will be strictly enforced for all guests unless they are actively eating or drinking while stationary. Guests will not be permitted to walk while eating or drinking.
If you're interested in some face masks for your vacation, we've created some darling custom masks that you can shop right now. These masks are all high quality and include both adjustable ears and nose wires for a more comfortable fit. All of our masks fit Disney's high standards… and are pretty cute too, if we do say so ourselves.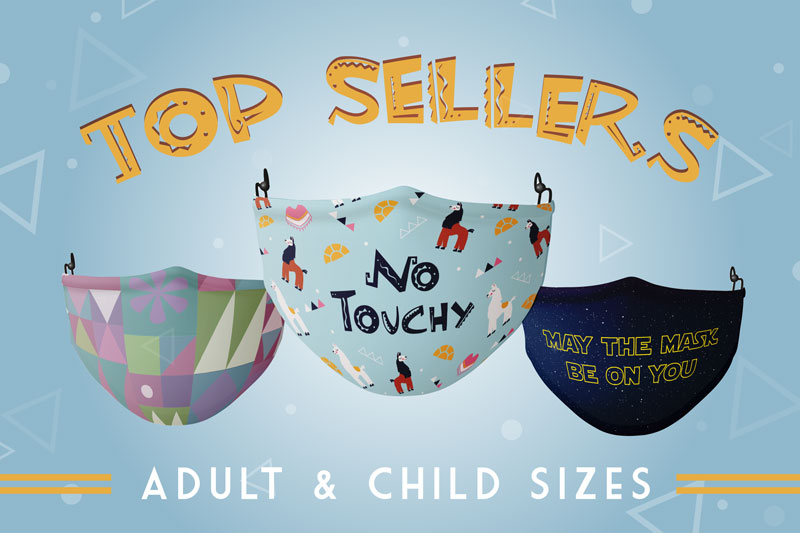 Health Screenings at Disneyland When it Reopens
Guests and Cast Members should of course avoid going to the parks if they are feeling ill. Additionally, the Disneyland Resort currently requires temperature checks and health screenings daily for all Cast Members, and temperature checks for all guests visiting the Downtown Disney District. They will also require temperature screenings before entering the theme parks when Disneyland reopens. Guests and/or Cast Members with a temperature of 100.4 degrees or higher will not be allowed to enter.
Physical Distancing When Disneyland Reopens
One of the first things that Disneyland is doing to ensure physical distancing is possible is capping park capacity. All guests will be required to have both a theme park ticket and a theme park reservation in order to get into the parks when they reopen. Reservations will be handled by the Disneyland Parks Reservation System. The details of this system will be released after an approved opening date is announced.
Disneyland has also implemented a number of physical reminders to maintain proper social distancing of six feet or more. There will be signage located throughout the parks and social distancing reminder markers on the ground. You'll find similar social distance reminders on the ground of the queues and plexiglass may be installed in some closer queue areas. Plexiglass has also been installed at the entrances at the Main Gate at both Disneyland and Disney California Adventure Park.
Cleaning and Sanitation When Disneyland Reopens
Disneyland has always been known as one of the cleanest parks around, but they will even be building upon that. While not many details have been released about what the new cleaning and sanitation procedures include, we know that they will have increased cleaning frequency. That combined with lower traffic should automatically make for an even cleaner park experience.
Dining When Disneyland Reopens
The food at the Disneyland Resort is one of the best things about a Disneyland vacation. When the parks reopen, you'll still be able to find your Disneyland staples; Mickey Bars, churros, Dole Whips, Mickey pretzels, beignets and more. While some restaurants may remain closed during the parks' initial reopening, you'll likely still find many of your favorite quick service and table service restaurants are ready to go.
However, there will be some tweaks that you'll notice at the Disneyland Resort dining locations. For one, Mobile Ordering and Apple Pay have been greatly expanded for more contactless transactions. Additionally, tables will be more spread out. Although we don't know yet if indoor dining will be part of the reopening, or if that will come later, there will be ample spacing at all table service locations. And again, masks will be required unless you are actively eating or drinking while stationary.
Parades and Entertainment When Disneyland Reopens
One change you'll likely notice when Disneyland reopens is the entertainment schedule. Disneyland will not have their regularly scheduled parades, fireworks, character meet and greets, and possibly other entertainment options. This will be done in an effort to support and maintain appropriate social distancing. However, Disney is very committed to making their parks keep that same magical feel. Instead, you'll likely see characters placed throughout the parks for special, socially distanced character interactions. The Disneyland Resort also will surprise and delight guests with spontaneous character calvacades. These events will not be published in an effort to avoid crowds gathering.
Attractions When Disneyland Reopens
We can't wait to experience our favorite Disneyland Resort attractions again! When the parks reopen, we expect that ride operations will return mostly to normal with a few tweaks. Although in Florida most attractions are open, at this point, we don't know if both indoor and outdoor attractions will be open according to California's guidelines.
Regardless of what attractions will be available when Disneyland reopens, riders will be spread out and there may be some attractions where only those in the same group will ride together to allow for greater social distancing. The queues will also maintain social distancing with markers and possibly plexiglass barriers. Masks will be required on the attractions. What won't be different is the fun and the magic!
Booking Your Disneyland Vacation When it Reopens
Although an opening date hasn't been announced, the Disneyland Resort has temporarily stopped new ticket sales. This will allow Disney to ensure that those guests who already have tickets will be able to make theme park reservations once a new park reservation system is in place. If you already have park tickets, we'd love to help you book your hotel stay.
And if you don't have tickets yet, be sure to sign up for our e-newsletter and follow us on social media to be the first to know when tickets are available again. If you just want to give yourself something to look forward to, we can book a hotel stay for you now and add tickets later too. No matter when you're comfortable traveling again, or when Disneyland opens, we are here to help!