Dressing up for Halloween is one thing I look forward to all year long. I've already started my costume making and I wanted to share one of my creations with you. My cute cousin was my inspiration for this easy Alice in Wonderland costume. Isn't she the cutest Alice you've ever seen?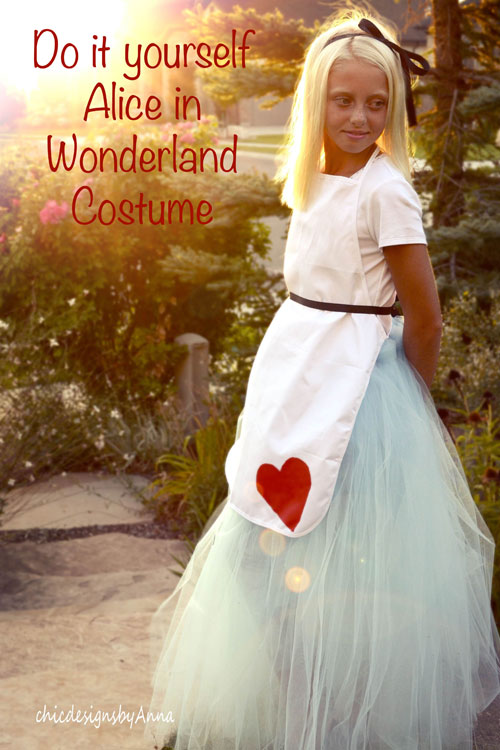 Here is what you'll need to make your own Alice in Wonderland Costume:

20 yards of light blue tulle (this is for an older child with a longer skirt - you could use about half this amount for a smaller child)
Elastic
Measuring tape
Sharp scissors
Apron (I bought mine at a craft store. They had all sizes - even baby sizes!)
Fabric paint
Black ribbon
T-shirt (light blue or white will look the best)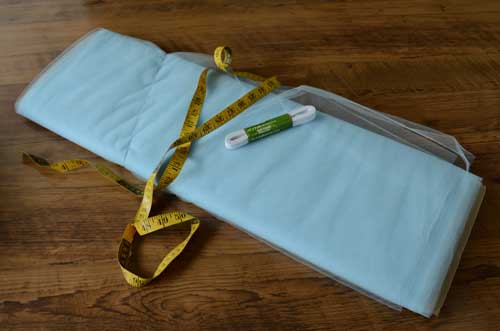 First, you'll need to measure your "Alice" from the waist to the ankle (or your desired length). Once you have your length measurement, double that amount and cut the tulle. My "Alice" was 22" from waist to ankle, so I cut my tulle into 44" pieces. Continue cutting your tulle with the same measurements until your tulle is gone. Once your tulle is cut, fold your pieces in half so that they are the length of your skirt.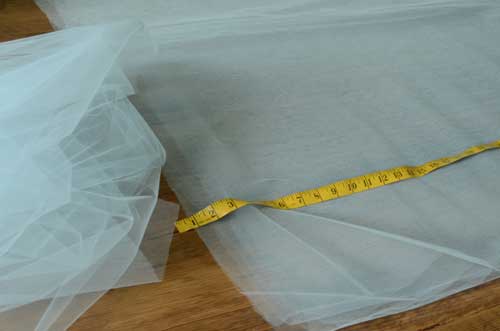 Take your folded tulle pieces, and start cutting the strips that you'll be tying to make your skirt. Cut the tulle vertically up the middle so you keep the fold at the top. The strips should end up being double the length of your skirt. My strips were 44" long, but you'll want to keep them folded. You can make the strips any width you'd like. I chose to go with a wide strip that was about 6" wide.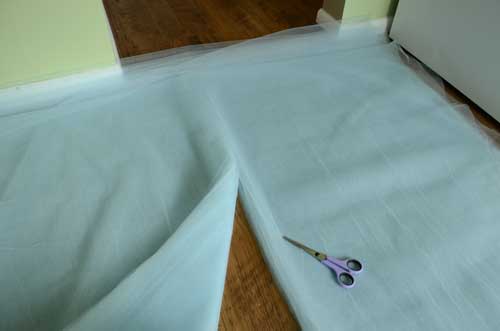 Once your strips are all cut, you'll measure around the waist of your "Alice." Add a couple of extra inches to your measurements and tie the ends together to make the waistband of the skirt. You don't want to tie it too tight and you'll need to allow enough room for the tulle knots. Next, I wrapped the elastic waistband around a chair so I could tie my knots more easily. To tie your knots, you'll make a loop with the fold on the top of your strip of tulle. Put the loop behind the elastic and pull the length of the tulle through the loop.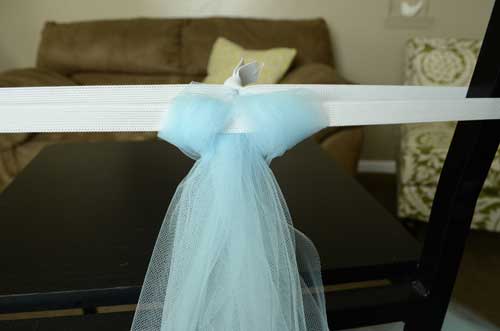 Continue this with all of your strips until they're gone or you're satisfied with the fullness of your skirt. Make sure you space the tulle evenly around the waistband. If you want a fuller skirt, just use more strips.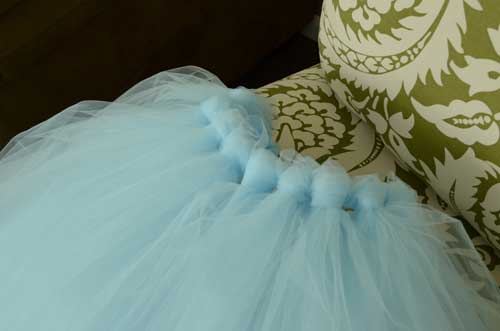 When I finished tying the skirt, I painted a red heart on the apron I bought at the craft store to add a pop of color to the costume.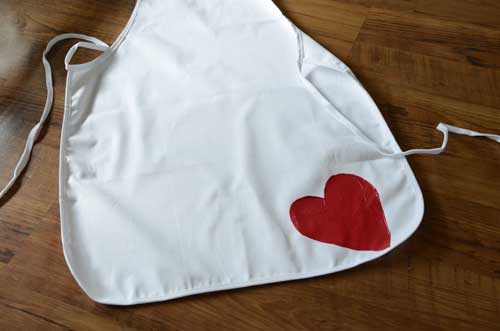 When that's done, you can just have fun dolling it up. We used some floppy black ribbon that I got at the craft store. We tied it around the apron and used the same ribbon for Alice's hair. She just wore some black shoes and a white t-shirt that she already had. If you wanted some other accessories, you could add a stuffed white rabbit, a pocket watch or any other Alice in Wonderland inspired items you already have!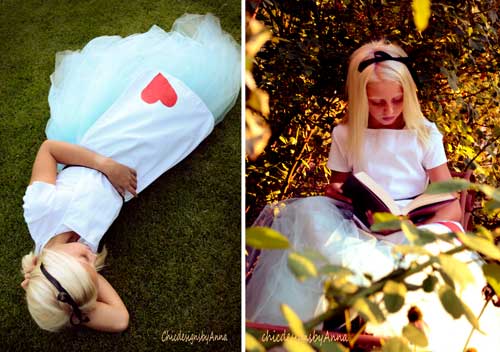 This is really fun and easy Halloween costume and it could easily be adjusted for any of the Disney princesses just by changing the colors of tulle and accessories. I hope this gives you some inspiration for your Halloween costumes and I also hope that you get to experience Disney's Halloween Time this year! This would be the perfect costume for your daughter to wear to the Mad T Party at Disney California Adventure Park and to go trick-or-treating at Mickey's Halloween Party! There's still time to book your Disneyland Halloween vacation - but don't be late!





Check out these other great vacation inspired ideas:

Disneyland Halloween Time 2013
DIY Disney Princess Crowns
DIY Disney Lunch Box Magic
Disneyland Vacation: "Are We There Yet?" Map and Activity
Disneyland Vacation: Countdown Paper Chain