This fun Shark Hoodie Tutorial, inspired by SeaWorld San Diego, is perfect for those looking for a simple way to take a bite out of their Halloween costume list!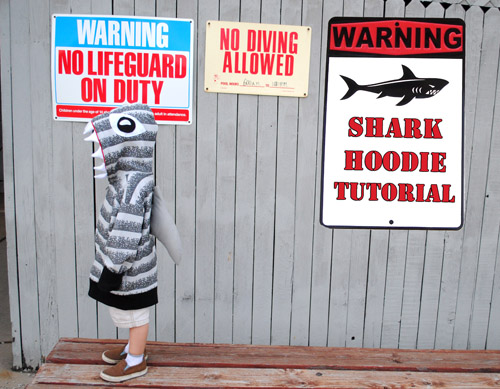 DIY Shark Hoodie
What makes the Shark Hoodie so awesome? It's warm—for those chilly October nights. It's easy—even beginning crafters can tackle this project! It is practical—little tikes can wear this versatile jacket even when the costume parades and trick-or-treating come to an end! Plus, your kids will fit right in when you take them to meet their finned friends at SeaWorld - and don't forget, kids get a free ticket to SeaWorld with each adult ticket purchased for travel in October!
Shark Hoodie Supplies

First, measure the hood of your jacket with a measuring tape. Mine was 24 inches all the way around. That will be the length of your shark teeth.

Cut a piece of white felt that is 5 inches tall and how ever long your hoodie measured. For example: my felt was 5 inches tall by 24 inches wide.
Making Shark Teeth
Fold your felt in half with the opening on the bottom. Draw the outline of your teeth using a ruler. The patter is simple. Measure up two inches and over 1 inch. Then measure down two inches and over 1 inch. This will make the base of each tooth 2 inches with the sharp point in the center. See the photo below for a visual.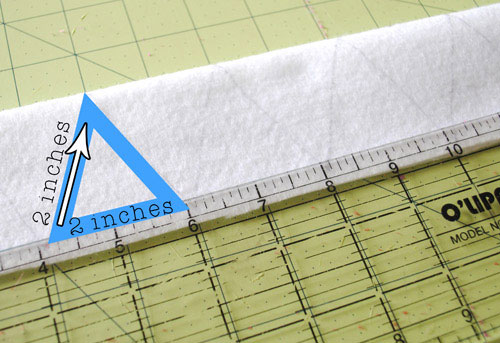 I sewed my teeth together before I cut them. Sew along your pattern and then use your scissors to cut along your sew line. Make sure to cut the right part of your fabric off! You want to be able to turn them right-side out.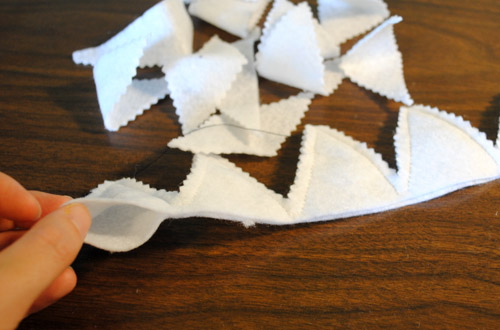 Turn the teeth and push the points out.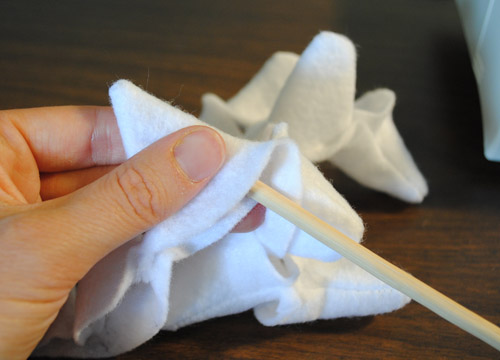 Sew the teeth into the red bias tape. I used a zig-zag stitch.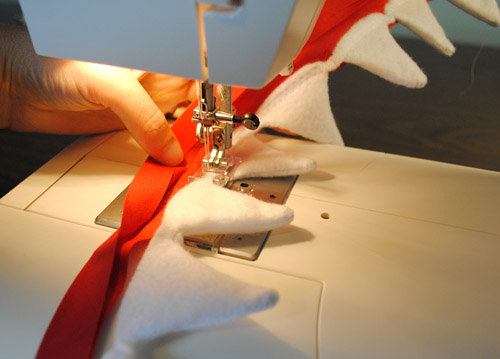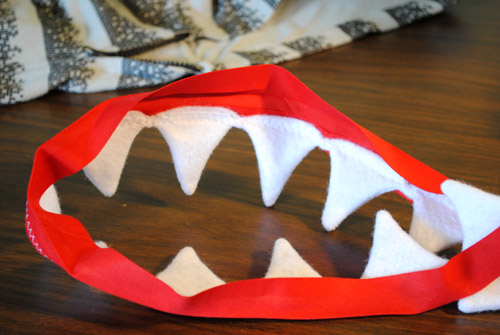 Attaching Shark Teeth to Your Hoodie
Then attach your bias tape to the inner lining of your jacket hood. It is a good idea to pin your teeth in place before you begin to sew. Take a moment to center your teeth in the hood and make sure the ends are even at the base of the jacket. I recommend changing the color of thread to match your jacket on the outside. I used grey thread.
Next, it's time to add the eyes! What is a shark without that spooky gleam in his eye? Print out the pattern (DOWNLOAD HERE) and cut two of each of the eye pieces. Pin the layers in place and sew them together using a zig-zag stitch along the edges, or you could glue them with a glue gun if you want.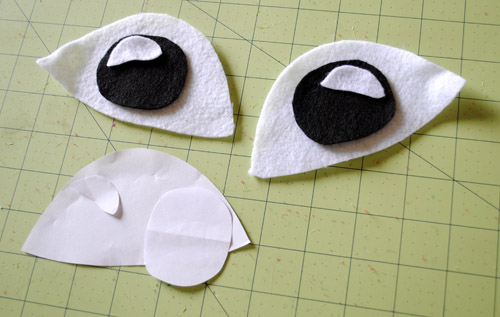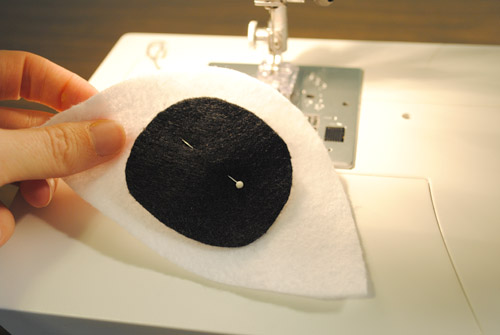 Sew the eye onto the outside of the hood. You want them to be slightly angled and positioned towards the top front of the hood. Don't worry too much about placement. I just kind of 'eyeballed' it and they turned out fine!
If you are using this fun hooded jacket as a part of your California Adventure, you might want to stop at this point. Your little travelers can wear their shark jacket to SeaWorld, the beach and anywhere else your adventures take you. How fun would that be?
Removable Fin on DIY Shark Hoodie
If you are making a costume, then I suggest adding a removable fin onto the back. It adds to the "sharkiness" and makes it fun to circle around the floor looking for carpet surfers and such.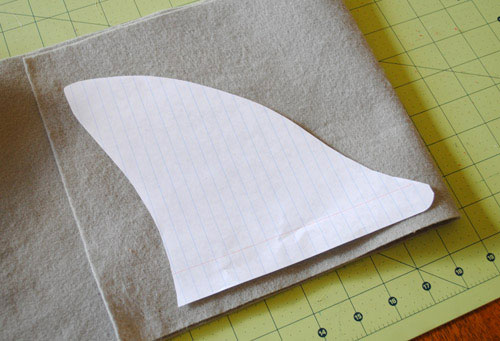 Cut the fin out of grey felt using the pattern provided. Sew the two sides together leaving the bottom open. Stand your fin up and cut a piece of fabric to act as the base. It will be the shape of a long hot dog bun. Sew two snaps onto the base. Add one to the top and one to the bottom. This is how you will attach your fin to your jacket.

With your fin still inside out, pin it to the base (your snaps will be facing in!) and then sew around the edge, leaving a small hole to turn it.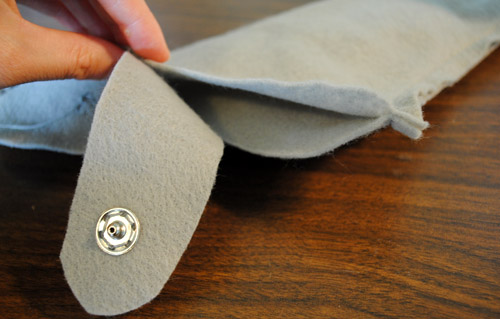 Turn and stuff your fin with polyfil. Then sew up the hole. I did this part by hand.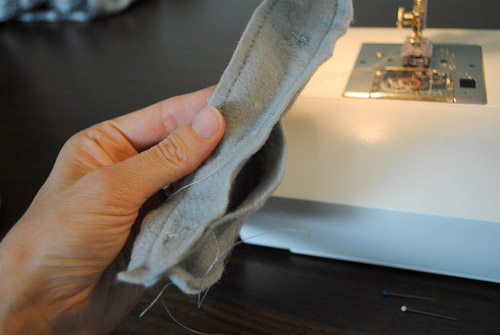 You are almost done! Sew the second half of the snaps to the back of the jacket. Make sure you have them centered. After you sew on the top snap, set the fin onto the jacket to mark the location for the second and lower snap. This will ensure a good fit.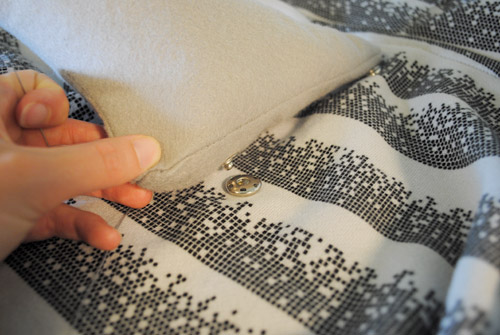 I liked the idea of attaching the fin with snaps because it makes the costume so versatile and practical. Simply remove the fin when you are riding in the car, or using the jacket for regular non-costume party activities.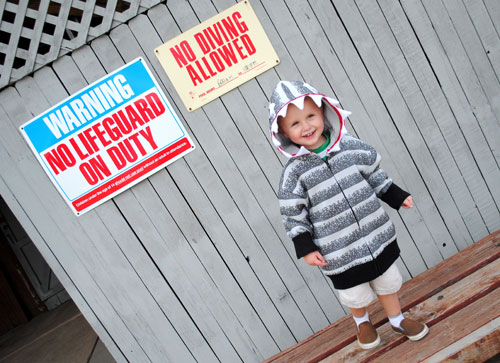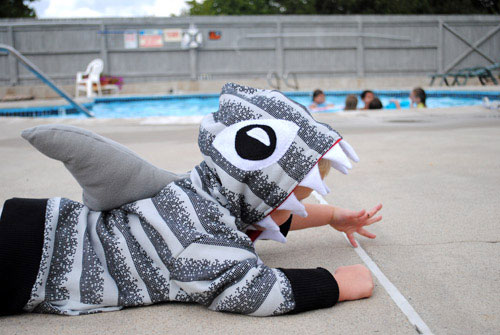 You can use this idea to make all kinds of fun toothy animals. It would be easy to make a Monster for your Monsters Inc fan or how about a Polar Bear or a T-Rex? The possibilities are endless. I hope you have fun transforming a regular jacket into a scary costume for your little Halloween Spooks!

And don't forget, you can take your school of sharks to SeaWorld for FREE all month long in October! SeaWorld is the perfect place to show off that shark hoodie, but it's fun to wear at home, too! Book your Kids Free San Diego vacation today online or by calling our Reservation Specialists at 855-GET-AWAY.