Give your family the vacation of a lifetime with this fun Easter Egg Vacation Surprise idea. Your kids will love opening their eggs to find out where you're going on your spring break.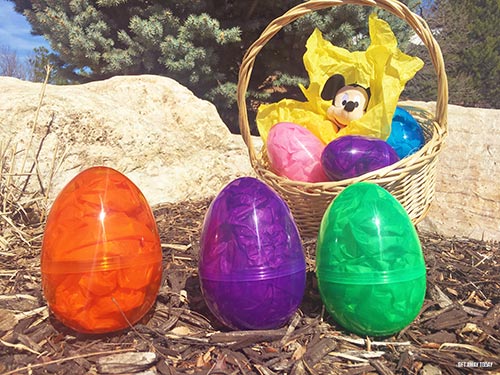 I love the idea of giving the gift of a vacation. Last year we surprised our kids with the gift of a spring time Disneyland vacation for Christmas. You can see what we did on Christmas morning here. It was so much fun and made the months "getting ready" for our vacation exciting.
This past Christmas was a little bit different. We wanted to give the kids a vacation for Christmas, but it just didn't work out. I had a baby only two weeks before Christmas and we just weren't sure what the year would have in store. But then January happened and we were ready to book a vacation! Since I love the idea of giving a vacation, I started thinking about ways to make the reveal fun. I love the idea of an Easter egg vacation surprise.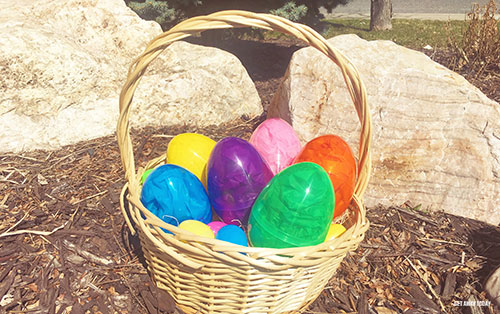 My kids are really little, and I wanted to make it easy for them to figure out where we're going on vacation without too much help from Mom and Dad. We have the ultimate trip planned and thought it would be fun to put a little clue for each of the activities we have planned in an Easter egg.
Now regular Easter eggs are a little small, so I wanted to make sure we could fit some larger surprises inside. I found these awesome jumbo sized eggs on Amazon that are perfect for an Easter egg vacation surprise. They're just the right size for our surprises! These eggs were a little transparent, so I added some tissue paper and Easter grass to hide the surprises.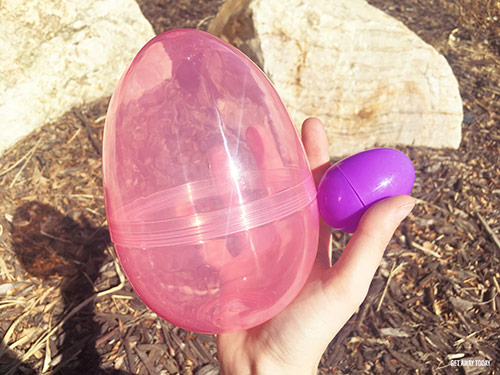 We're going to Southern California of course, so it was really fun and easy to come up with items for the vacation reveal. Here are some of the ideas for what you can put together for your own Easter egg vacation surprise:
Disney California Adventure Park: Lightning McQueen
Disneyland: Belle Funko Pop or small stuffed Mickey Mouse
LEGOLAND: LEGOs
Knott's Berry Farm: a mini Snoopy
Universal Studios Hollywood: Golden Snitch (learn how to make it here) or small Minion
Beach: Kinetic sand and/or seashells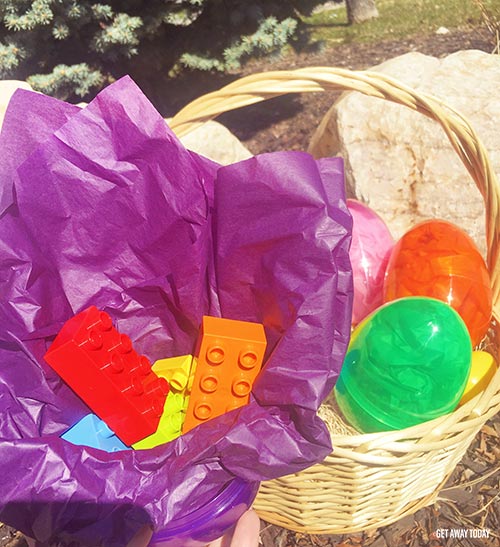 Of course, you have so much flexibility with what you include in your eggs for your Easter egg vacation surprise. What you choose will depend on your destination, the ages and preferences of your kids. I can even be based on what you have around the house. Remember, you're giving clues for the real gift... a vacation! You could easily include Disneyland tickets with lanyards, a folded up airline itinerary or some souvenir cash.
Once your eggs are filled with your vacation clues, it's time to figure out the presentation for your Easter egg vacation surprise. Once nice thing about this idea is that it is so easy to incorporate into your regular Easter traditions. You can simply place your jumbo sized Easter eggs in the Easter baskets that you use annually. Or, you can hide them and have your kids find them. If you have assigned colors for each of your children, you can customize the gifts for your kids as well. I would recommend that you have everyone open their eggs while you're together if you go that route.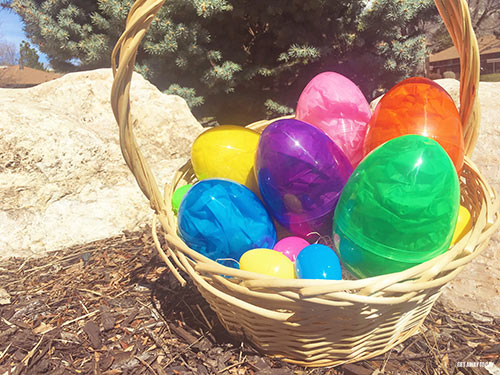 And remember, you don't have to travel immediately after opening the eggs to use the Easter egg vacation surprise idea. One of your eggs could even include a countdown until your travel dates, whether it's for spring, summer, fall or even holiday travel. The whole idea is to give your family a meaningful gift in a memorable way.
I can't wait to let our kids in on our travel plans with our Easter egg vacation surprise. And I hope it may have inspired you with some vacation planning and presenting ideas of your own! With so much going on in Southern California this year, there are endless creative options for your vacation gift giving.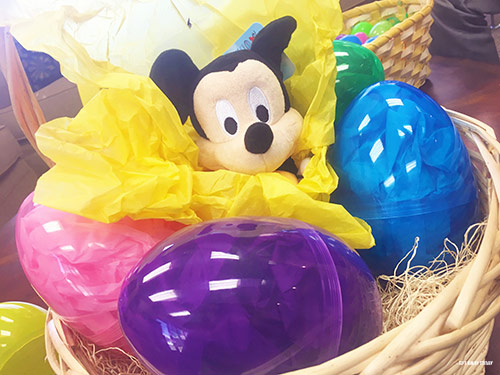 When you're ready to book your vacation, check out our Disneyland packages online or call our agents at 855-GET-AWAY. We'll help you find the perfect hotel for your vacation with the best ticket deals. We'd love to help you pull off your very own Easter egg vacation surprise!

Check out these other great articles: