How can I surprise my spouse with a vacation? Simple. Use this fortune cookie hack and free printable fortunes to make the perfect easy vacation surprise.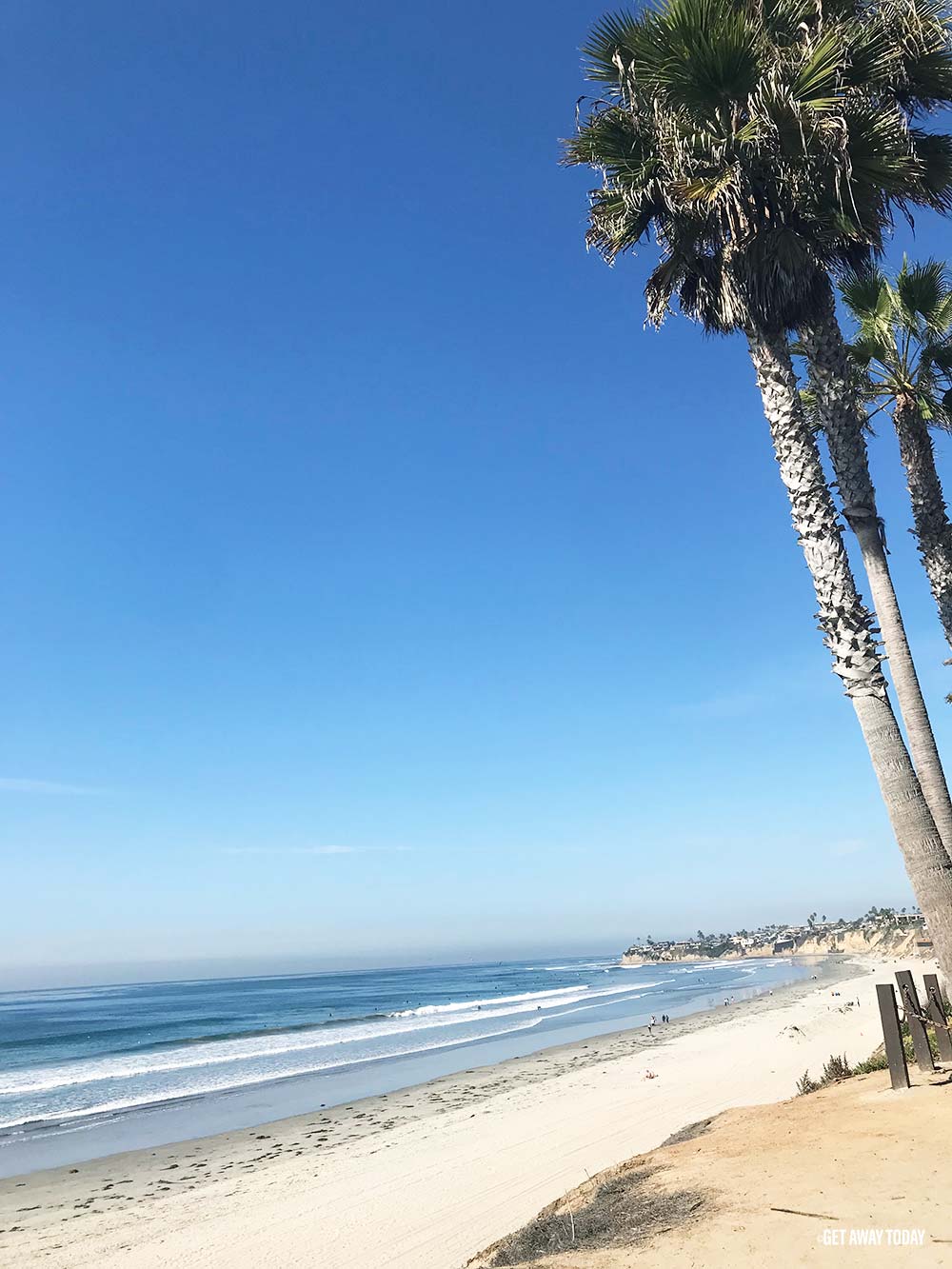 ?
Easy Vacation Surprise with Fortune Cookies
A simple and easy vacation surprise is in your near future. How can I predict that? Just check out this awesome tutorial to find out!
Really though, if you have a fun beach vacation planned for your significant other for Valentine's Day or just for fun, then this fortune cookie hack is such a fun way to reveal your plans. It just takes a few minutes to put it all together. You won't need a special cookie to tell you that a thank you kiss is on the way!
Fortune Cookie Vacation Surprise Materials:
Printable Beach Vacation Fortunes
Scissors or Straight Edge Slicer
I picked up a bag of fortune cookies at the local Chinese food restaurant. They were about 35 cents a cookie. Not too bad! You can make a whole bunch of cookies, or use just a few for this easy vacation surprise. It's up to you. When I got the cookies I asked the restaurant for a few takeout boxes. They gave me a small stack for free. Score! I think my fortune must have read, "You will be showered with generosity and kindness."
The printable I created is for a beach vacation. You could apply it to a cruise or an all-inclusive resort! Are you heading to Hawaii or California? These fortunes could totally be used for those as well. Basically, if there is sunshine and the ocean involved, you can use this printable to announce your vacation. If you happen to be heading somewhere cold and woodsy, just make up your own fortunes to go inside the cookies. The concept works for anything!
Fortune Cookie Vacation Surprise Instructions:
Print the beach vacation fortunes onto regular paper. Use color ink.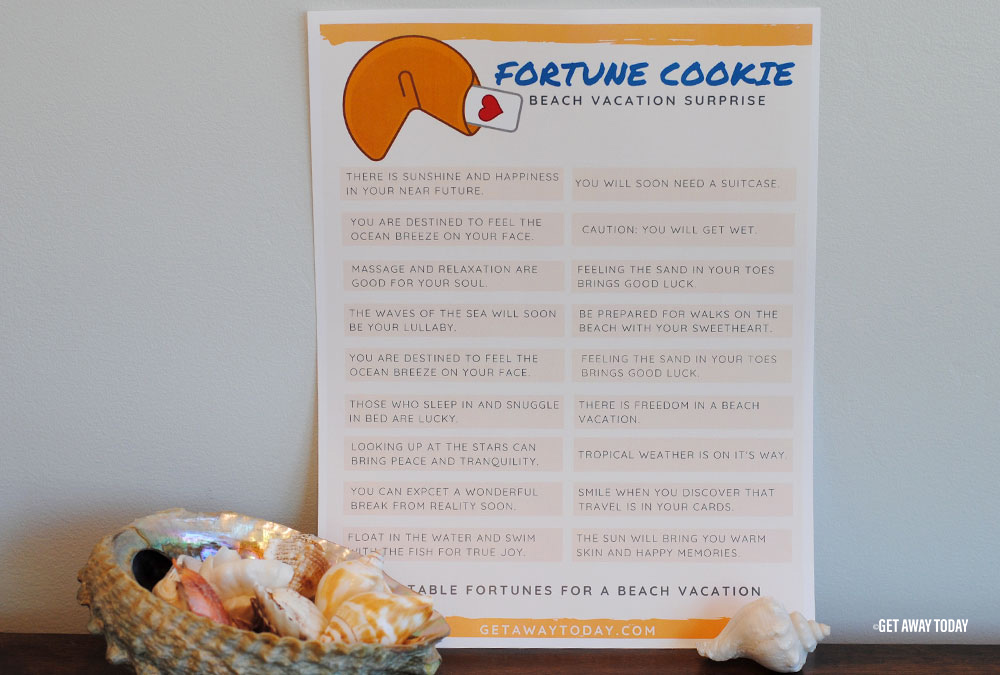 ?
Cut the fortunes out so that each square is its own little slip of paper. I used my straight edge slicer. It's so fast and slick. You could totally bust out your scissors and go to town that way. There are a ton of fortunes on this printable.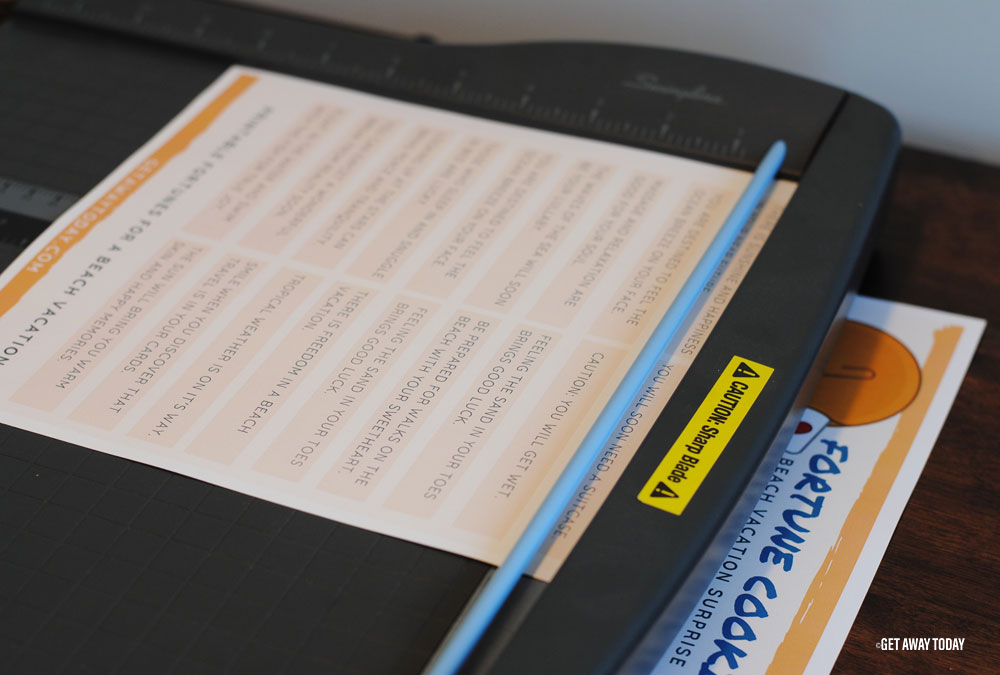 ?
Feel free to pick your top favs, or use them all for this easy vacation surprise! I wanted to be sure there were enough of a variety that everyone would be happy with them.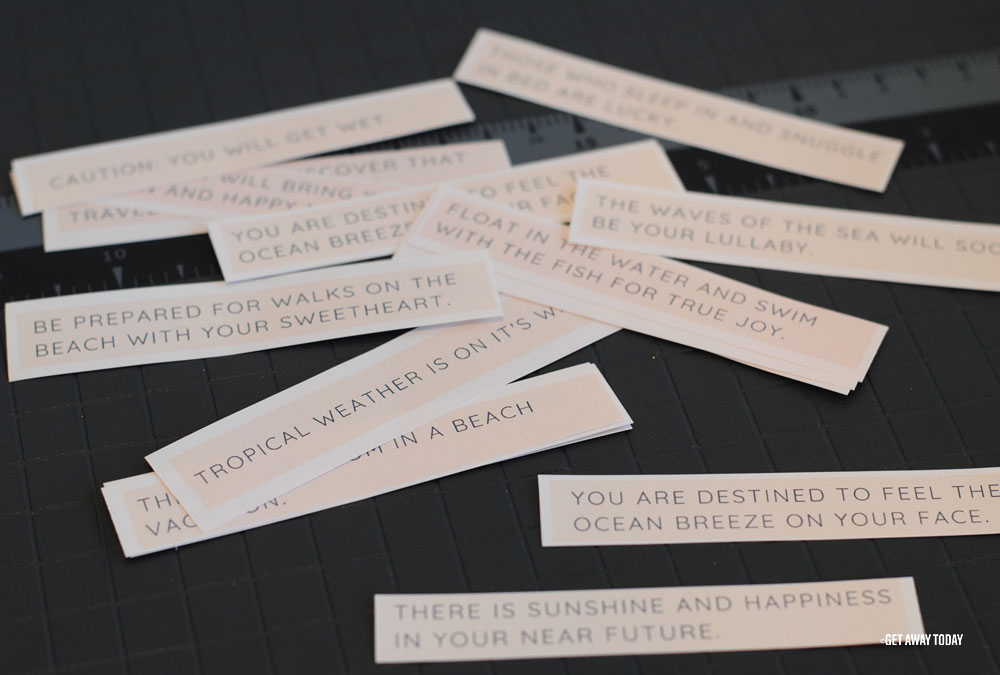 ?
Now, for the fun part of your easy vacation surprise! Place your steamer pot on the stove. I have a slotted pot that sits on top of my regular sauce pan. Fill it with about 2 inches of water. Bring it to a boil.
Unwrap the cookies and place them into the pot. I found that it works best to only steam about 4-5 cookies at a time. It is too hard to work with more than that without the cookies getting too soft and things getting crazy.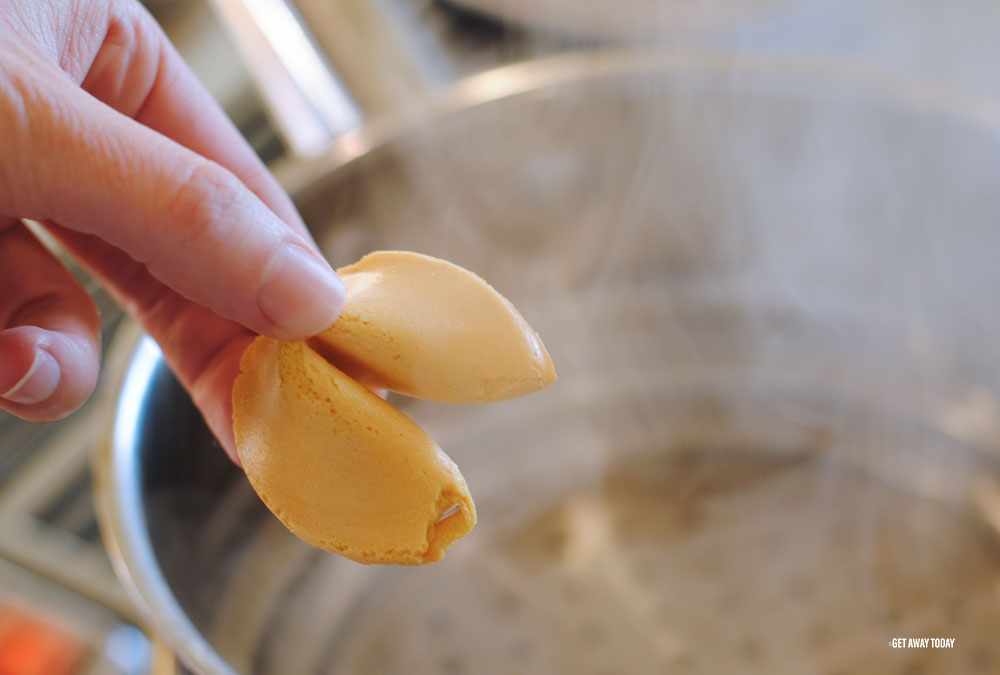 ?
The cookie gets soft as it sits in the steam. It takes about one minute is all.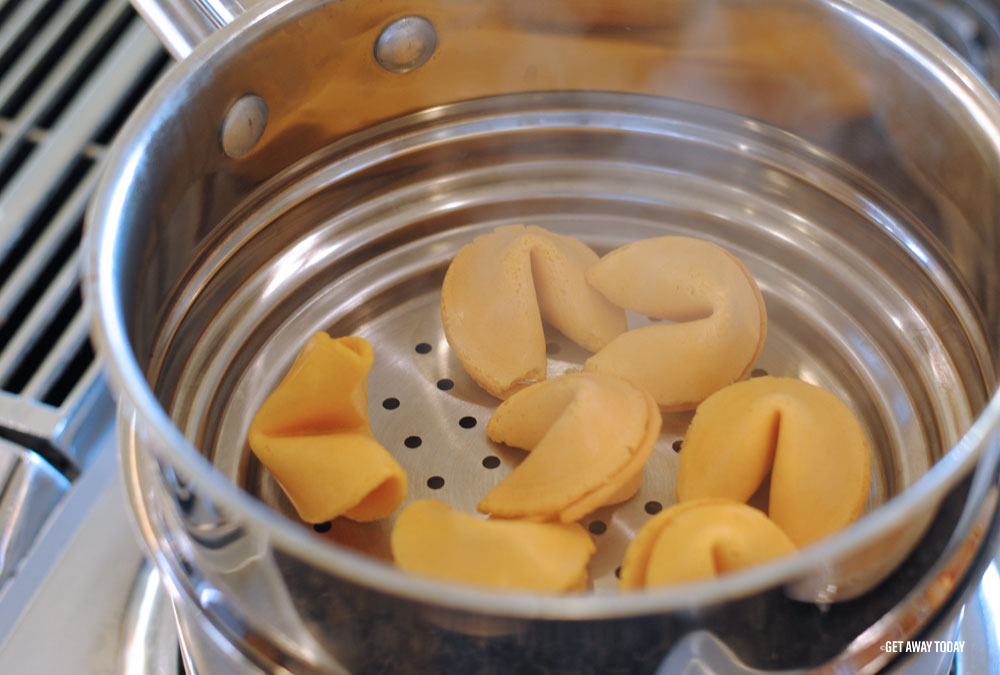 ?
Remove the cookies one at a time. Use tongs. They are hot! Open the cookie and pull out the lame generic fortune paper.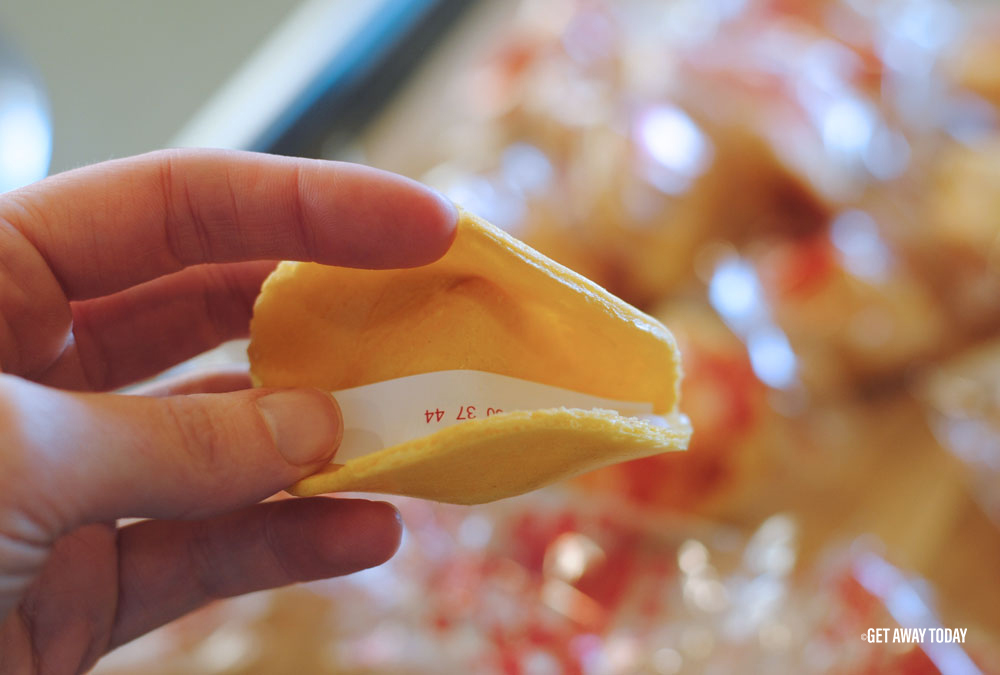 ?
Then, quickly slip your easy vacation surprise fortunes into the cookie and fold it back into the right shape. Hold it in place for about 45 seconds. The cookie will get hard again as it cools.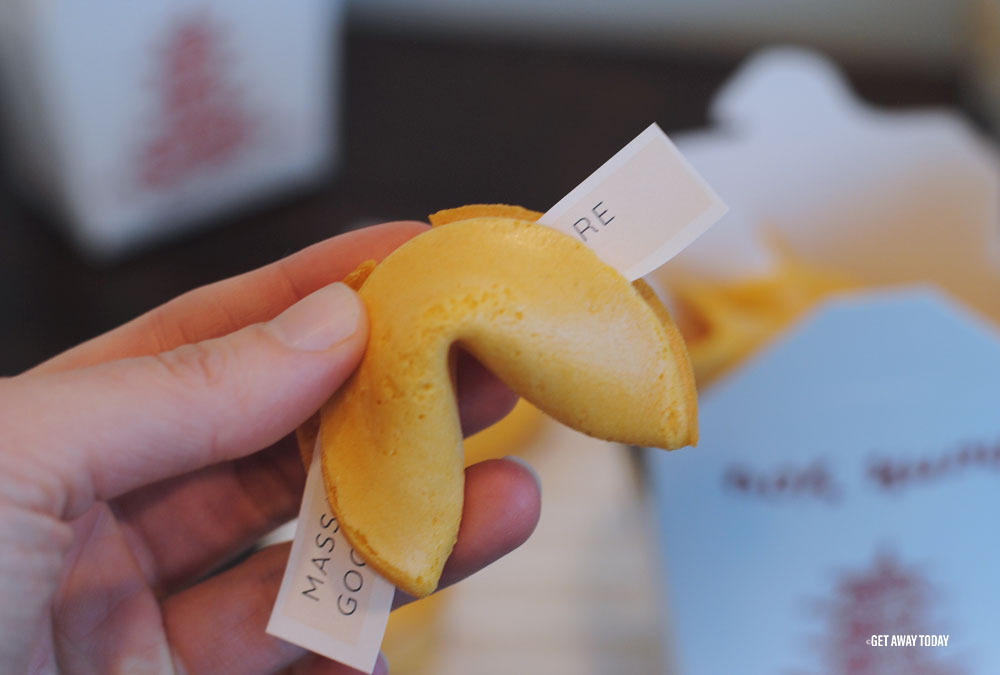 ?
Repeat the process until you have stuffed all the cookies with your new vacation fortunes.
Isn't that such a fun hack!? Who knew you could soften up a fortune cookie? It made me think of so many situations when hacking into a fortune cookie would be advantageous and exciting!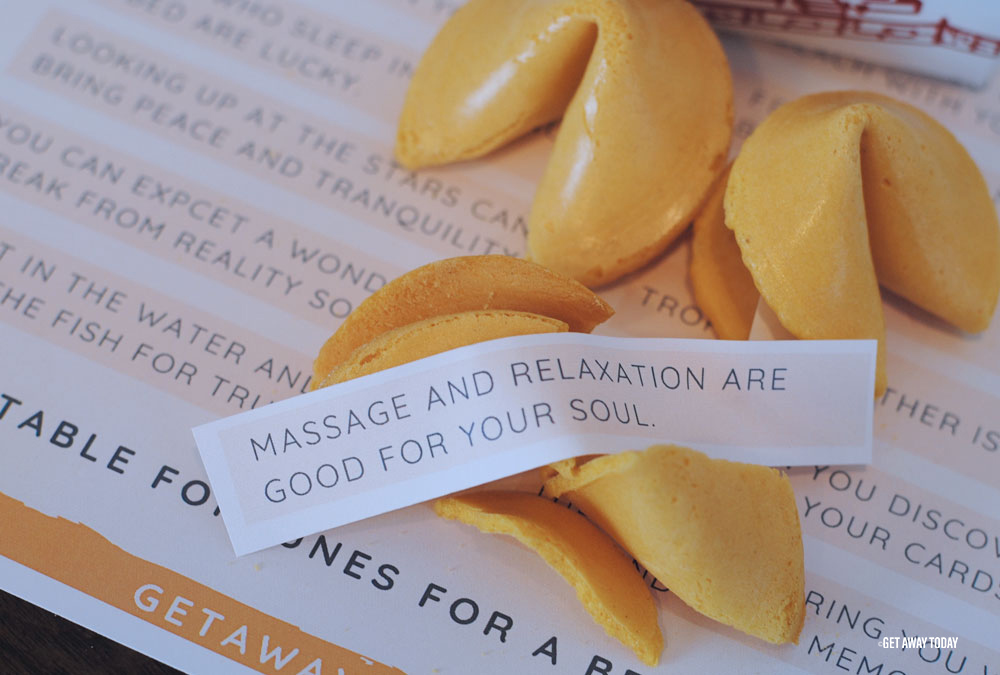 ?
You can gift the cookies in a Chinese takeout box. Slip them into the box and tie them off with a ribbon or bow. Or, you could make it a total surprise and order Chinese dinner and serve your special, easy vacation surprise cookies as dessert! Either way, excitement and joy are sure to be in your stars.
Now that you have this easy vacation surprise planned out, it's time to plan the vacation that goes with it! Whether you're heading to San Diego, Hawaii, Mexico or beyond, we can help. Browse any of our vacation packages online or give our travel experts a call at 855-GET-AWAY.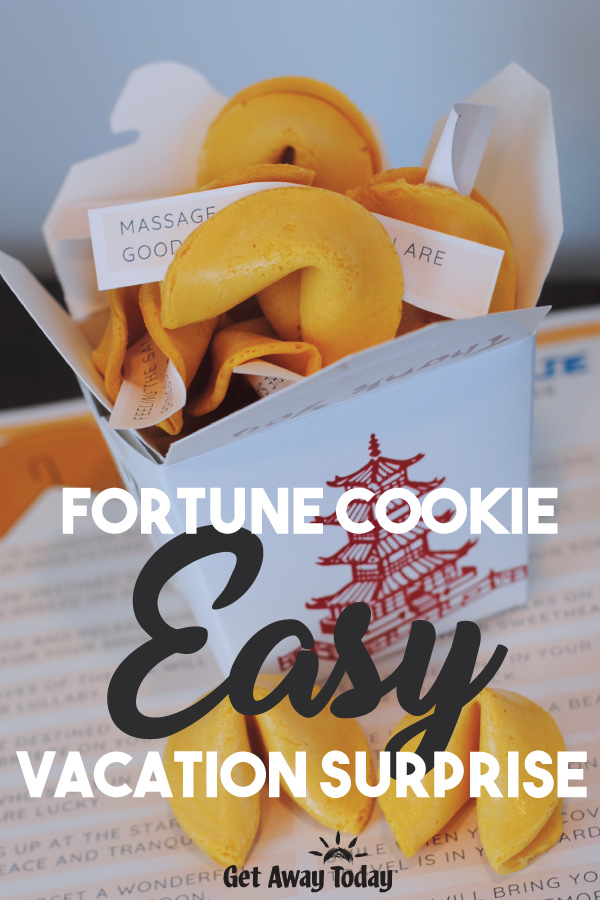 ?