Here at Get Away Today we love exploring all that Orange County has to offer. From two headlining theme parks at
Disneyland Resort
, thrilling nearby parks like
Knott's Berry Farm
, the nearby
Universal Studios Hollywood
, and back to the Downtown Disney entertainment district, we know narrowing down a hotel is no easy task! Our team visits Southern California on a regular basis to survey different attractions, hotels and all aspects of SoCal vacations so your trip can be the most magical yet. In fact, we most recently visited Fairfield Inn Anaheim Resort In August 2023.
Fairfield is one of our most booked hotels near Disneyland
—our staff has toured it, stayed there personally, and sent tons of families on vacation to this exact location. For those planning a Disneyland Resort vacation or looking to get away anywhere in Southern California, Get Away Today is your partner in travel and here to help you every step of the way. Keeping your budget in mind, we group our hotel listings into three categories:
Deluxe Property
Moderate Property
Value Property
This article reviews
Fairfield Inn Anaheim Resort
which falls under the Moderate category. Below we'll discuss our favorite things about the property along with everything you need to know to decide if it is right for you.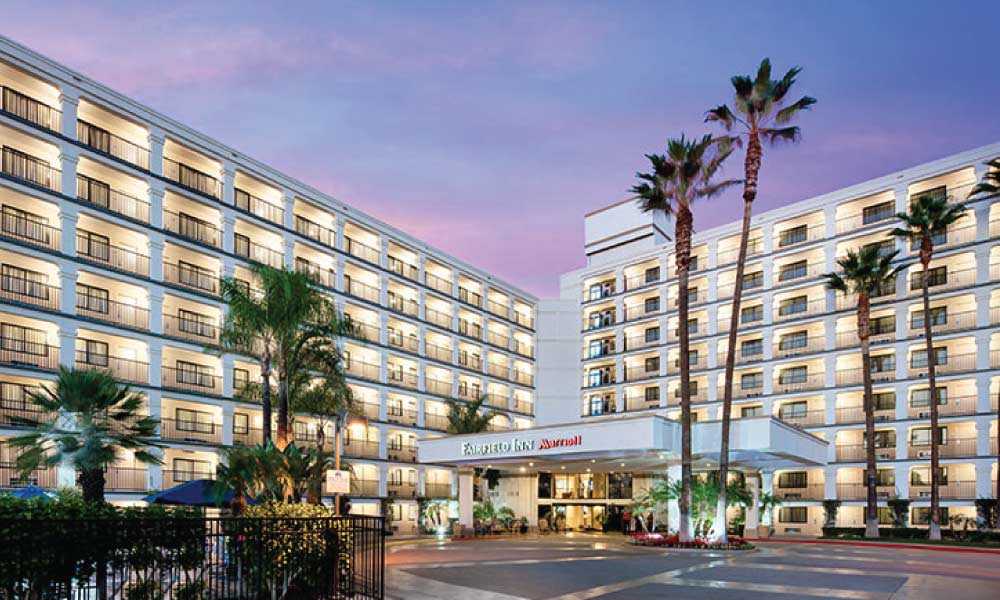 Fairfield Inn Anaheim Resort Snapshot
The Fairfield Inn Anaheim Resort is one of a handful of Marriott brand hotels located in Anaheim. With a number of attractive features as well as various on site amenities, it is a great choice for your next Southern California vacation.
Category: Moderate
Corporate Brand: Marriott
Sleeps up To: Five guests
Transportation: Walk to Disneyland
Check In/Out Time: 4:00 pm / 11:00 am
Get Away Today Perks: 5th night FREE (subject to availability)
Location:
Fairfield Inn Anaheim Resort
is just across the street from Disneyland. Most guests simply walk right over because this is one of the closest hotels near Disneyland Resort. The Fairfield Inn Anaheim Resort is right off of the I-5 Freeway. This makes getting to any nearby attractions a breeze. You're about 15 minutes to Knott's Berry Farm, or about 20 minutes to the beach. You're also in a convenient location to head south to LEGOLAND, SeaWorld or any other SoCal area attraction.
Fairfield Inn Anaheim Resort Rooms
The standard view rooms are all on lower floors and are decorated with classic Disney artwork. Just outside your door, you'll likely have incredible views of Disneyland. You can see everything from the Matterhorn and Space Mountain clear over to the Guardians of the Galaxy - Mission: BREAKOUT! All of the guest rooms are outside entry, so on fireworks nights, you can just walk outside and watch the show. You'll find rooms with either one king bed and a full size sofa bed, or two queen beds and a single sized sofa bed. The rooms with a king bed sleep up to four, and the rooms with two queen beds and a single pull-out bed sleep up to five guests comfortably. All of the guest rooms also include 55" Smart TVs which allow you to connect to YouTube, Netflix and Hulu. That alone can be a lifesaver for kids who insist on only watching their favorite shows over and over. In addition to having a wide range of room types, nearly 90% of the rooms are connected. This makes Fairfield an ideal choice for anyone looking to
plan a family reunion, or any kind of group trip
.
Fairfield Inn Anaheim Resort Pools & Amenities
The Fairfield Inn Anaheim Resort
has amenities that you'll notice right when you check-in. There is a child's play area with movies inside the lobby, which is perfect to entertain your children while you check-in. There's also a game room for older kids. Of course, there is a heated outdoor swimming pool. When you look down towards the swimming pool, you may even find a not-so-hidden Mickey. It's just an extra fun touch to add a little more magic to your stay. One of the most impressive amenities is the view of the fireworks. All of the guest rooms are outdoor entry, which means on nights that have fireworks, you can see them from the higher levels. Even if your room doesn't have a view, you can go to the higher floors and watch the show.
Fairfield Inn Anaheim Resort Dining
The Fairfield Inn Anaheim Resort is located right next to a Panera Bread, McDonald's and more. In fact, you have to walk past the Panera Bread Bakery to get to the hotel. The restaurant is open for breakfast, lunch and dinner, and as a bonus, they offer mobile orders on the Panera app. Let's not forget that because you are so close to the main entrance at Disneyland, you are also steps away from
Downtown Disney
. There you'll find all sorts of restaurants, shops and entertainment options. If you want an immersive Disneyland vacation and want to be as close to the magic as possible, but don't want to pay the actual Disney hotel prices, the Fairfield Inn Anaheim Resort is a great choice. As far as hotels near Disneyland, this is one of the best choices!
We Recommend…
Our most popular package for Disneyland Resort vacations comes with your hotel stay and
3 day park hopper tickets
. That way you can explore both theme parks and have extra time to see and do all those extra favorites like shows, entertainment and popular rides. You can find our discounted rates for the
Fairfield Inn Anaheim Resort online
or you can call our agents at 855-GET-AWAY. If you aren't sure if the Fairfield Inn is the right choice for your vacation, give our team a call. We would love to walk you through the process and find the right hotel for you. Whether you're looking for the best location, the best value, exclusive amenities, or all of the above, we'll help you find it. We appreciate being your Disneyland vacation experts.