Updated August 2019: Get 11 tips for Downtown Disney to make the most of your next Disneyland vacation. We'll tell you everything you need to know about this exciting and ever changing area of the Disneyland Resort.
11 Tips for Downtown Disney
Out of the entire Disneyland Resort, Downtown Disney is the area that changes the most frequently. It is a shopping, dining and entertainment district located in the heart of the Disneyland Resort. The one thing that doesn't change is that it is always a good time. Today we're sharing our most recent 11 tips for Downtown Disney to help you make the most of your time there.

Tips for Downtown Disney - What You Need to Know
1. Downtown Disney is considered a secure area, which means you must go through a security checkpoint. The rules for Downtown Disney are the same as they are for the Parks of the Disneyland Resort. That means you must follow all of the rules of what you can and can't bring into Disneyland. As of May 1, 2019 this will include stroller size restrictions (31" wide and 52" long max) and no smoking of any kind will be allowed.
We have two tips for entering this secure area. One) make sure you know the rules before you go; two) allow yourself enough time to get through security. Typically the Downtown Disney entrance closest to the Disneyland Hotel will have the quickest security checkpoint entrances.
2. You don't need a ticket to access Downtown Disney. One of the best things about Downtown Disney is that it's completely free to visit. You can people watch and window shop to your heart's content without spending a penny. However, with one of the largest Disney stores, a Disney Home store, a Disney Dress Shop, and many other unique storefronts it may be difficult to walk out of Downtown Disney without spending a little something. Luckily, you can rest assured that your entire spending will go towards goods and not admission.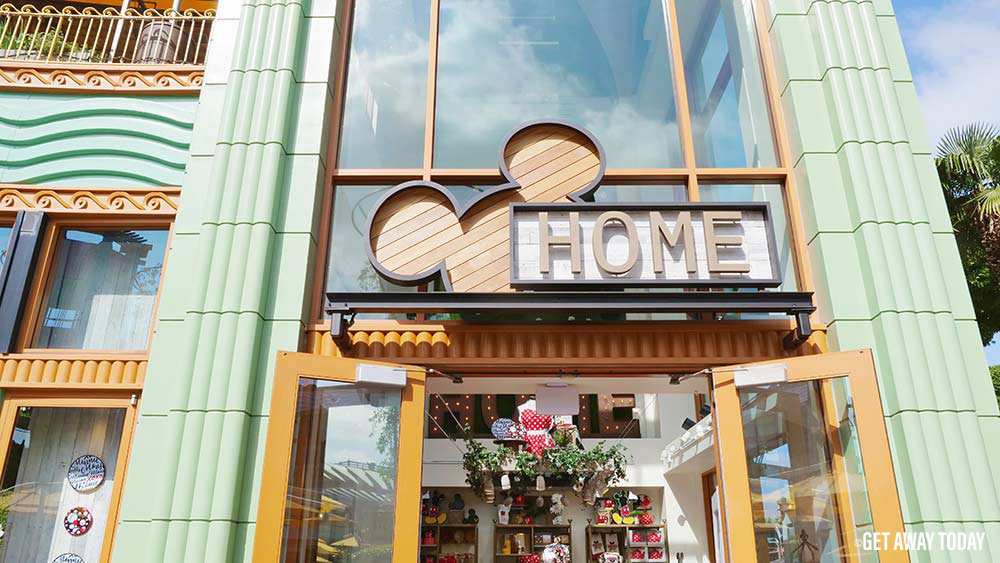 3. Park for free. Not only is admission to Downtown Disney free, but you can also park for free with validation. Most of the sit down restaurants will offer up to two hours of complimentary parking. Some events, like the temporary Pop-Up Disney! exhibit will provide up to five complimentary hours of parking, so always check when making your plans. If you're walking from a nearby hotel, taking a shuttle or an Uber to Downtown Disney, you won't need to worry about parking at all.
Tips for Downtown Disney - Entertainment
4. Make a late night out of Downtown Disney. The Downtown Disney District is open late, as in, 2 a.m. late. If you're a night owl, or want to go out for a night on the town, Downtown Disney is an awesome bet. There is also live music throughout the area, which is awesome. There are sometimes musicians set up throughout the walkway, but there is also a large stage at the end of Downtown Disney near the Disneyland Hotel. It's always a party!
5. Ride the iconic Monorail. There is a Monorail station located in Downtown Disney that goes right into Disneyland and drops off near the Finding Nemo Submarines in Tomorrowland. The Downtown Disney stop is located on the far end of Downtown Disney near the Disneyland Hotel. Whether you are a hotel guest or not, you can ride the Monorail into the park, as long as you have valid theme park admission. It's a great way to enter the park in the morning. Be sure to check the Monorail schedule, as there are certain times of the day when the Monorail does not run. For example, during September 2019, the Monorail will be closed daily from 11am - 6pm.
When the Monorail is running its regular schedule, you can catch the Monorail from Tomorrowland during the day for a lunch or dinner break. The Monorail station located in Downtown Disney just happens to be located right next to my favorite restaurant, Earl of Sandwich. They have seriously awesome sandwiches, salads, fresh fruit and treats for reasonable prices. And, since Downtown Disney is a secured area, you don't have to go back through security to get back into the parks when you're done. Just ride the Monorail back into Tomorrowland, or stroll through Downtown Disney to visit Disney California Adventure Park.
6. Experience The VOID. The VOID is a completely immersive virtual reality experience. The exact experiences may vary, but they currently offer your choice of a Star Wars experience and a Wreck it Ralph experience. Star Wars: Secrets of the Empire and Ralph Breaks VR are both incredible and tons of fun. The entire experience lasts about 30-40 minutes from check-in and costs approximately $30 per person.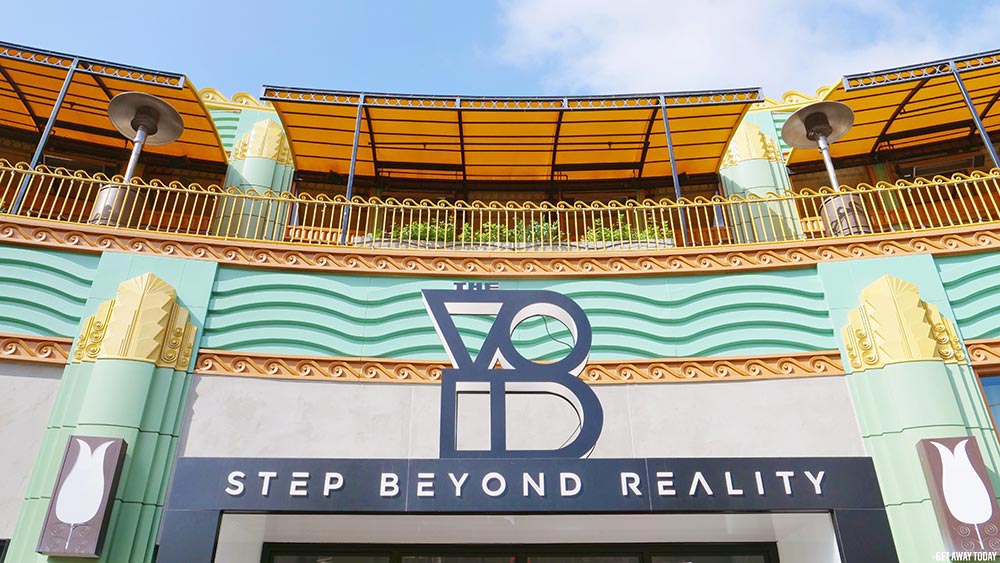 The VOID recommends advance reservations, because space is limited. Only four people can go in together, and there is a limit to how many groups can be cycled through the venue. All guests who participate must be 48 inches or taller, and they must be at least 10 years old. Because you don't need a park ticket to get into Downtown Disney, it's a really fun and unique add-on to a day when you may not have a park ticket.

Tips for Downtown Disney - Dining
7. Save time and money with the express restaurants. Many of the flagship restaurants throughout Downtown Disney have a sit down, table service restaurant AND an adjoining quick service option. These restaurants typically serve a limited menu of the exact same items that even come from the same kitchen. They are just as delicious, but, they are faster and cost less. For those on a budget and who want to spend the majority of their time in the parks, it's a win-win.
Some top express restaurants in Downtown Disney include Jazz Kitchen Express (get the beignets), Napolini for build your own pizzas, and the Taqueria at Tortilla Jo's for tacos, burritos, nachos and more.
8. Enjoy the themed restaurants. For those who enjoy a leisurely meal and consider it an experience, there are so many choices in Downtown Disney. Ralph Brennan's Jazz Kitchen is a completely themed New Orleans inspired restaurant, and you will feel (and taste) like you are in the bayou. Naples Ristorante e Bar was recently renovated and will transport you to Italy.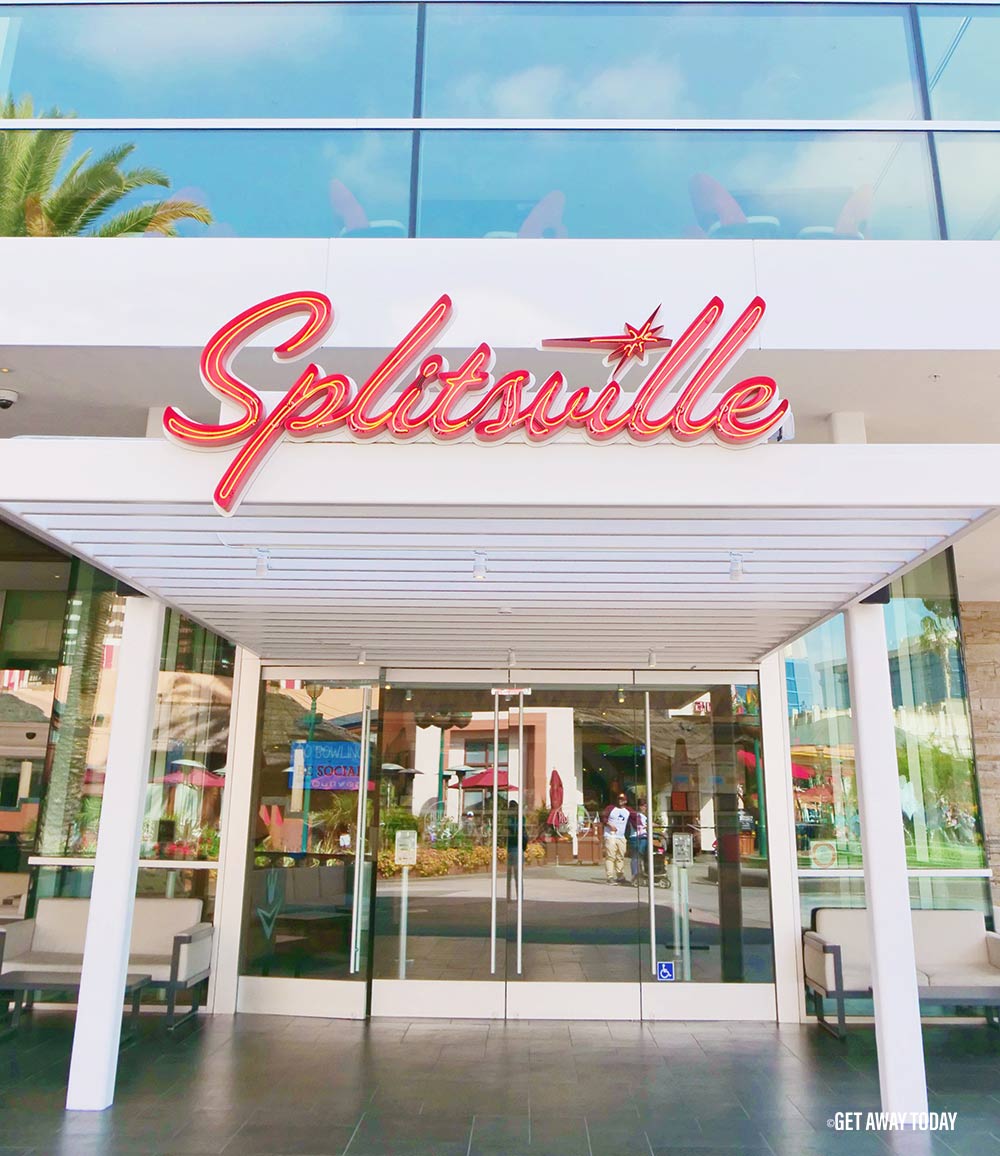 Downtown Disney also offers incredibly unique full service restaurants including a full bowling alley/restaurant called Splitsville. You can get gourmet salads, sandwiches, pizzas, as well as Icees and Coca-Cola Freestyle machines with collectible cups. It's a ton of fun.
Ballast Point is a San Diego based brewery that offers pub food and a wide variety of award winning beers from the tap. And since opening this summer, Black Tap Craft Burger has been wow-ing guests with their Instagram famous Crazy Shakes and craft burgers. Get the scoop on this eatery here: Black Tap Downtown Disney: Everything You Need to Know.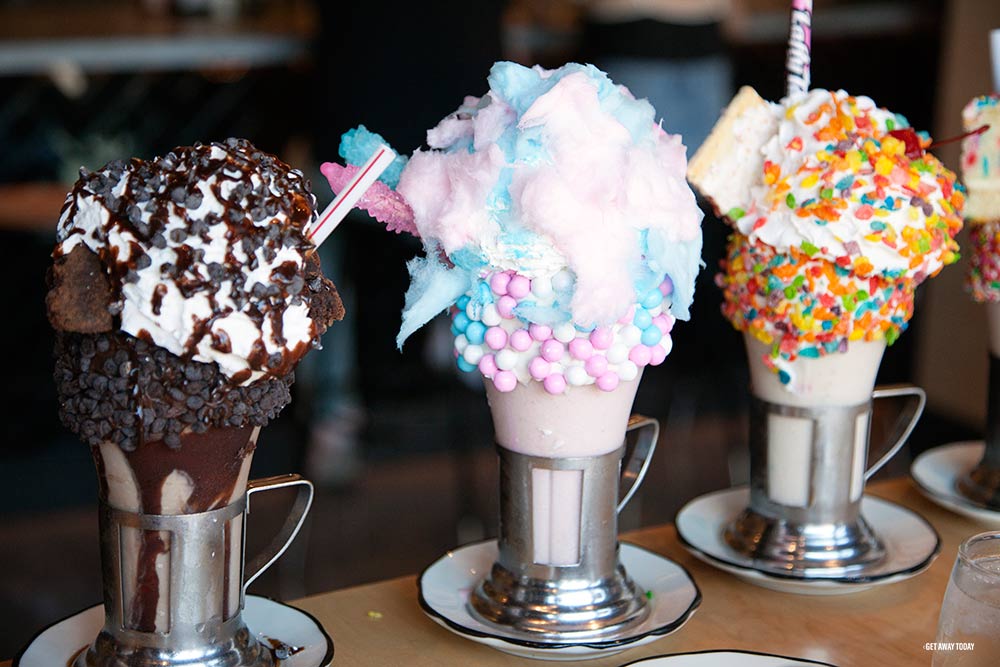 If you want to dine at any of these restaurants, we recommend making a reservation when possible. Many of these restaurant reservation systems are similar to the rest of the Disneyland Resort's restaurants and can be made up to 60 days in advance.
9. Try out some food trucks. One of the newer additions to Downtown Disney is a collection of rotating food trucks. These food trucks can be found near the main stage area (closest to the Disneyland Hotel).
10. Don't skip dessert! Downtown Disney is home to some indulgent desserts that will make you feel like you are splurging. Two of our favorites are Salt & Straw and Sprinkles Cupcakes.
Salt & Straw is a small batch, hand made ice cream shop that offers yummy and quirky ice cream flavors. One of the most popular is Pots of Gold & Rainbows, which is made with real Lucky Charms, but my personal favorite is the Gooey Chocolate Brownie. The ice cream shop also rotates through seasonal flavors monthly. Salt & Straw has vegan options as well, and they're just as yummy as the regular ice cream.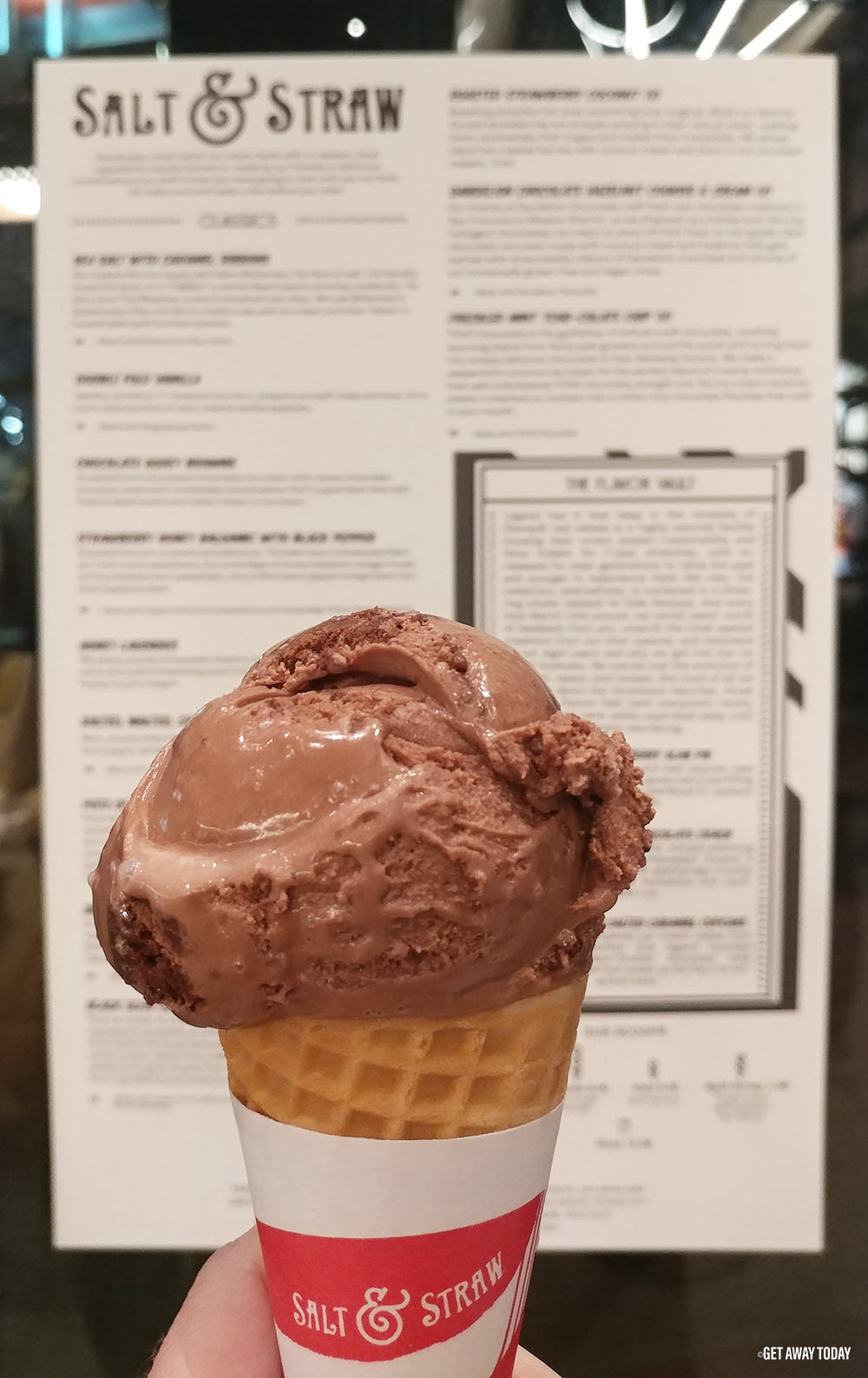 Sprinkles Cupcakes was the original cupcake shop and offers rotating flavors daily, with a few staples available every day of the week. Sprinkles also offers seasonal flavors throughout the year, like Peeps for Easter, or Margarita for Cinco de Mayo. In addition to being really good, they are adorable.
It's also noteworthy to mention that the Black Tap in Downtown Disney is the only location in the world that offers a walk-up milkshake order. You can watch crazy shakes being artfully crafted right before your eyes.
Tips for Downtown Disney - Overall
11. Enjoy Downtown Disney in the morning. The mornings in Downtown Disney are pretty quiet, and dare I say even peaceful? Starbucks and Jamba Juice are sometimes the only storefronts open, so it's a nice place to get breakfast before the crowds come. Downtown Disney is also really fun to window shop early in the morning and enjoy some leisure time before getting into Disneyland for Magic Morning, or using Extra Magic Hour if you're staying at one of the Disneyland Resort Hotels. Wondering about Magic Morning vs. Extra Magic Hour? Check out this article that explains it all: What's the Difference Between Magic Morning and Extra Magic Hour?
Planning your Downtown Disney Experience
Make sure that as you're planning your Disneyland vacation that you schedule enough time to experience all that Downtown Disney has to offer. If you haven't planned your Disneyland vacation yet, we'd love to help. All of our Disneyland packages and Disneyland tickets can be found online. We also have a team of travel experts that love Disneyland and would be happy to answer any of your questions and give personalized recommendations. They can walk you through when to go, where to stay, what to eat and so much more.
Book online or call our agents at 855-GET-AWAY.