With our free printable Disney craft, you will capture a magical vacation in a new, fun and creative way. You want your Disneyland memories to last a lifetime - and now they can!
The things you see and experience at Disneyland and Disney California Adventure Park are moments you will want to remember forever! Riding the attractions, meeting famous characters, watching Broadway-style shows, dining with royalty, viewing dazzling parades and nighttime fireworks displays, shopping for souvenirs, and eating the best theme park food on the planet are all sure to create priceless experiences. Disneyland is magical, and so are your memories.
This easy and free printable Disney craft will help you reflect back on your vacation and preserve the memories you made as a family through each person's unique perspective. What did you see at Disneyland?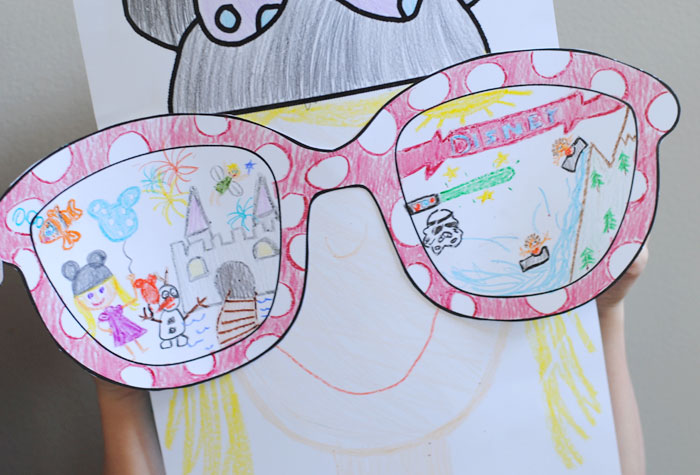 Print each of the templates onto 11x17 inch paper.
You can download them here: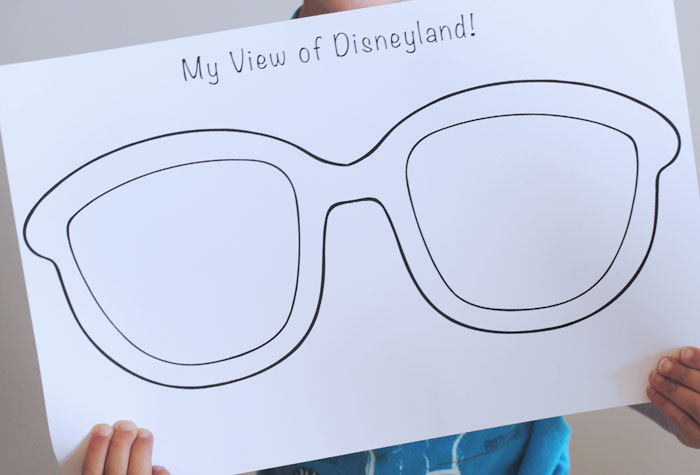 The first part of the project is the face. You can choose a Mickey or a Minnie hat template. Draw a face onto the blank section of the paper. It should look like you! Add hair, a nose, and a mouth that look like yours. But no eyes are necessary... they will be covered up by the giant sunglasses!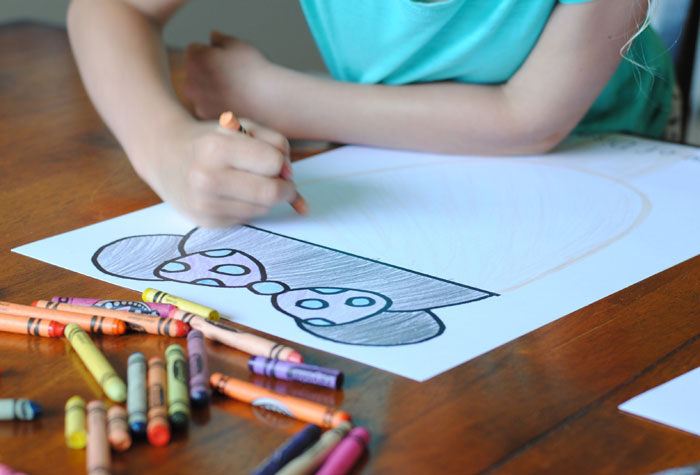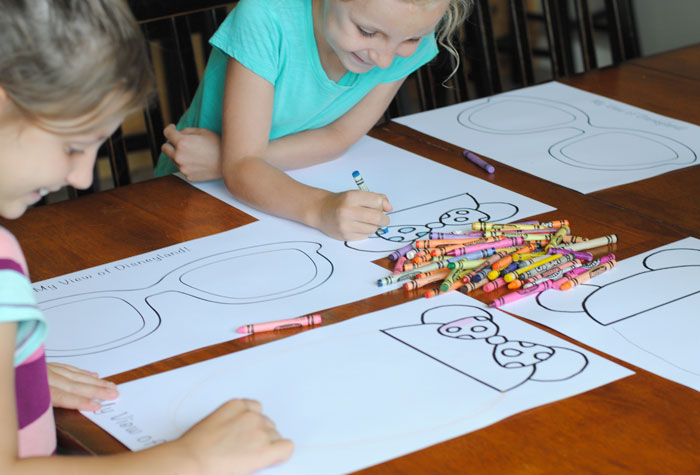 Next, color the sunglasses. The inside of the glasses where the lens would be is reserved for Disneyland vacation memories! You can draw the favorite things you saw, did, or experienced at the Disneyland Resort. It is a "reflection" of your vacation. This is a perfect way for your kids to journal special things about the magical trip.
I loved seeing what my kids drew into their lenses. My daughter drew her favorite ride, Space Mountain! It was fun to hear her tell us all why she liked it so much. In her words, "It wasn't as scary as I thought. The hills didn't even give me butterflies!"
My little boy wanted to include Mickey Mouse, of course, and he also liked the World of Color show. I had no idea he enjoyed it so much when we were there. You can record some of their comments on the back of the paper in writing if you want to remember it as well.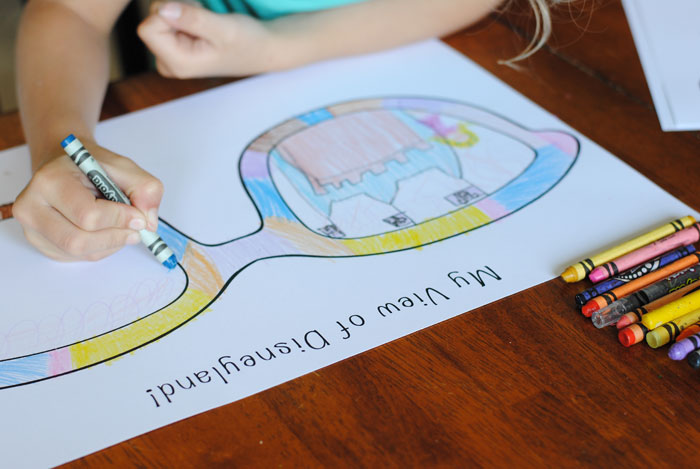 When your lenses are full of memories, cut around the edges of the sunglasses and leave the inside lens intact!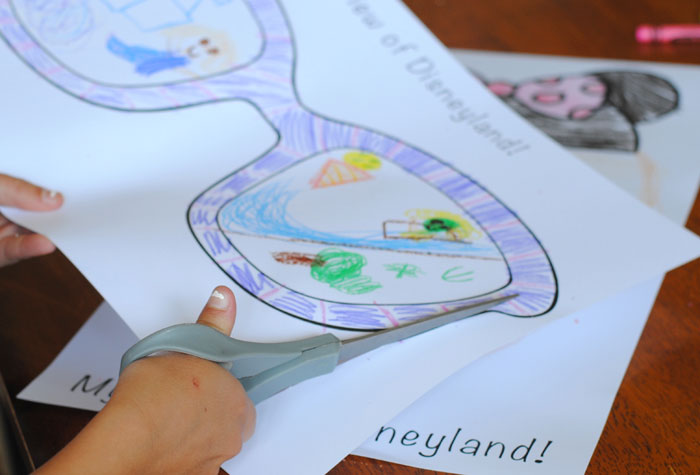 Tape the sunglasses to the face.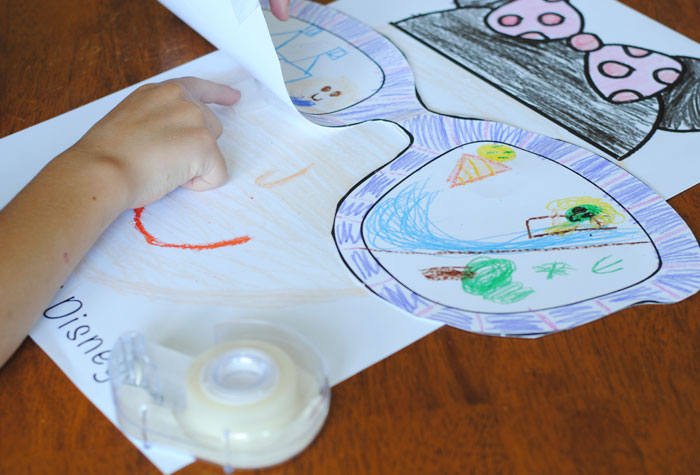 Your Disneyland reflection is complete! I hope you have fun reliving some of your magical vacation experiences with this free printable Disney craft.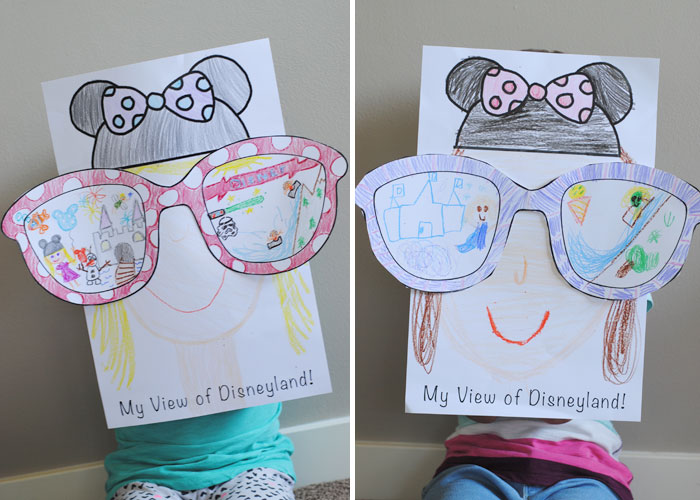 There is nothing quite as special or magical as a trip to Disneyland with your loved ones. We hope you can capture your magical memories and learn what everyone else loved about your advenure. There is so much that can be drawn in your view of Disneyland, but everyone will have a different perspective. There is a whole lot to love at the Happiest Place on Earth.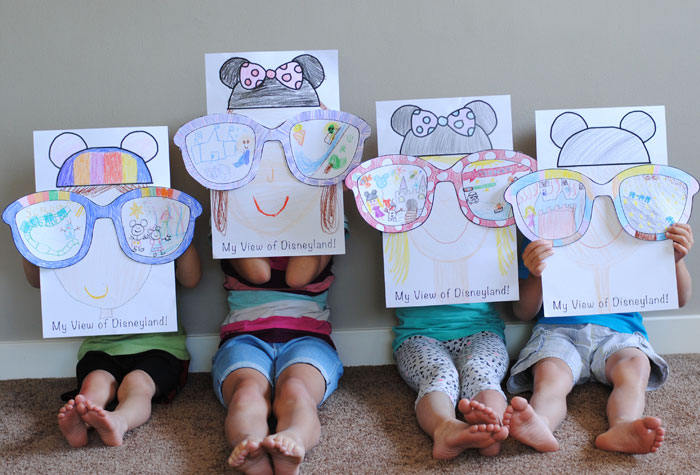 Remember, your perspective of Disneyland will also change depending on the time of year you visit! The Diamond Celebration ends September 5th, and Halloween Time kicks off on September 9th. The Holidays at the Disneyland Resort will begin mid-November and continue through the first week in January. Each time of year is so unique and will create completely different Disneyland vacation memories!
Of course the best way to enjoy is Disneyland is by not breaking the bank. We can help! With our extra night free hotel special and exclusive discounts, you can't find a better deal around. Book your Disneyland package today online or call our travel experts at 855-GET-AWAY.

Check out these other great articles: