UPDATED DECEMBER 2018. Character Dining at Disneyland is one of the highlights of a Disneyland vacation, but there are some things you must know. We've broken it down for you into 12 things you need to know about Character Dining at Disneyland.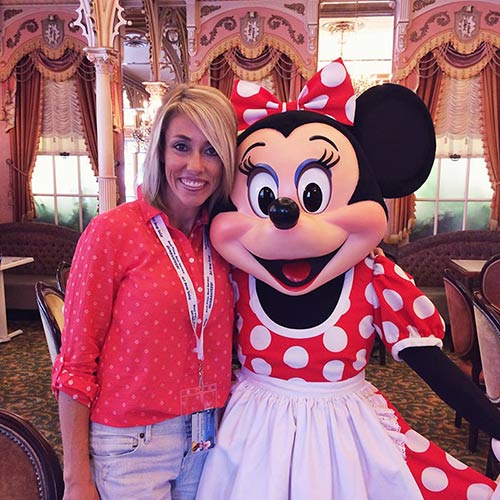 When planning your Disneyland vacation, you'll definitely want to make plans for Character Dining. Before you do that though, here are 12 things you need to know about Character Dining at Disneyland.
1. They sell out. Character Dining at Disneyland is very popular, and part of that reason is the intimate atmosphere. In order to really get one-on-one time with your favorite characters, Disney limits the amount of reservations they accept. Character Dining at Disneyland can be booked 60 days in advance, and if you're traveling during a busier travel time, you'll want to follow that 60 day guideline.
2. You can make a reservation online or over the phone. Reservations for Character Dining at Disneyland are easy to make on Disneyland's website or by calling 714-781-3463 (DINE). We prefer making reservations online because you'll be able to browse available times for each of your date choices. It helps to be a little bit flexible.
3. You'll need to hold your reservation with a credit card, even if you're planning on using cash or a different card at time of payment. You won't be charged anything unless you no-show for your reservation. If that happens, you will be charged $10 per person.
4. You'll want your camera handy at all times. If there's one thing Character Dining is at Disneyland, it's unpredictable in the best possible way. You never know who you'll meet or what crazy antics the characters will be up to.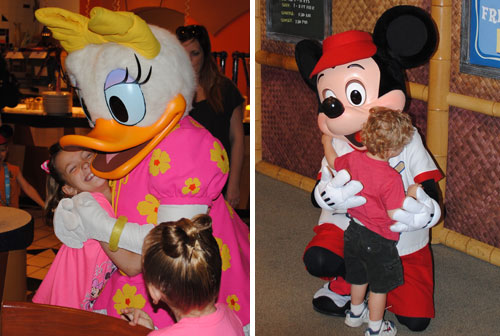 5. Not all characters are guaranteed... unless it's "their" restaurant. For example, Goofy will ALWAYS be at Goofy's Kitchen. Minnie will ALWAYS be at Breakfast with Minnie and Friends inside the Plaza Inn on Main Street. Donald will ALWAYS be at Donald's Seaside Breakfast at the Paradise Pier Hotel and Mickey will always be at Mickey's Tales of Adventure Breakfast at the Storyteller's Cafe.
6. Looking for Stitch or Mickey Mouse outside of the Parks? The ONLY place Stitch can be found outside of the Parks is Donald's Seaside Breakfast Buffet at the PCH Grill in the Paradise Pier Hotel. Additionally, the only place Mickey is guaranteed outside of the Parks is Mickey's Taleas of Adventure Breakfast at Storyteller's Cafe in Disney's Grand Californian Hotel & Spa.
7. They're all you care to eat and drink. Character Dining at Disneyland is in part so great because everything (except alcoholic beverages) is included. All Character Dining options are currently buffet style, which means you'll be able to eat as much as your heart desires. And with all kinds of food options available, you won't want to stop at a single plate!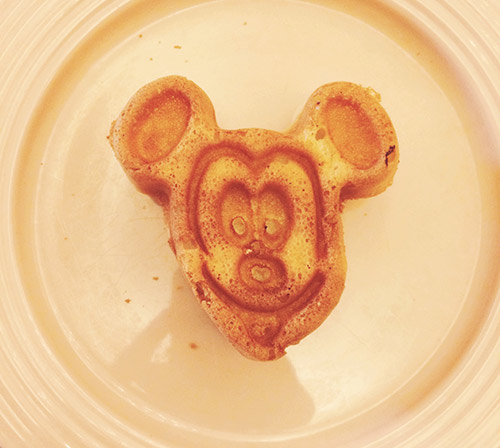 8. Kids ages two and under eat for free. Yay! But, like with the park tickets, kids 10 and older will need an adult ticket. Don't worry, it's worth it.
9. There are four different Character Dining options to choose from at Disneyland. Breakfast with Minnie & Friends is located inside Disneyland and you'll need a ticket to get in, even with a reservation. Each of the hotels offer a Character Dining experience as well, so if you don't have a park ticket for your last morning, you could plan a Character Breakfast at one of the hotels to extend that vacation magic just a little bit longer. You can make reservations at the following hotels: Goofy's Kitchen at the Disneyland Hotel, Mickey's Tales of Adventure Breakfast at the Storyteller's Cafe inside Disney's Grand Californian Hotel & Spa and Donald's Seaside Breakfast at the PCH Grill at Disney's Paradise Pier Hotel.
10. There's at least one Character Dining choice available almost any time of day. All four Character Dining options at Disneyland serve breakfast, but you can also enjoy lunch and dinner if breakfast isn't your thing. Over in Goofy's Kitchen and Mickey's Tales of Adventure, you'll find breakfast that well extends into lunch hours during most of the year. With items like pizza and fried chicken available, it's easy to call it a lunch. Goofy's Kitchen is also the only Character Dining at Disneyland that serves dinner nightly.
11. It's also important to know that prices fluctuate depending both on the Character Dining you pick and the time of year you are visiting. Typically, the dinner option at Goofy's Kitchen is more expensive while Minnie & Friends and Mickey's Tales of Adventure have currently shown some of the lowest pricing. If you're traveling during peak times (summer, holidays, etc.) you'll likely notice that prices are a bit more as well.
12. One of our favorite things about Character Dining at Disneyland is that you can easily view the menu ahead of time. This is perfect if you have children who are picky eaters and are worried about spending money on something they won't enjoy! You can find the menus for each Character Dining location on Disneyland's website or via the official Disneyland app on your phone.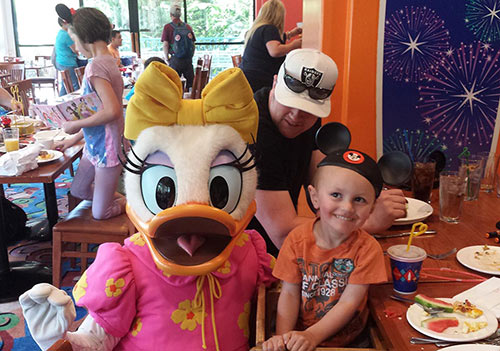 Bonus Tip: If you're celebrating a birthday, anniversary or something special, make sure to let the staff know. You can do this when you make your reservation over the phone or when you check-in. You'll be surprised with a fun treat (usually a cupcake or something similar) decorated for the event. It's just another example of that special Disney magic!
No matter which Character Dining at Disneyland you choose, you're in for an experience that you'll remember forever. Make sure to make Character Dining a part of your Disneyland vacation and book up to 60 days in advance. If you haven't booked your Disneyland vacation package yet, we'd love to help with that! All of our Disneyland packages can be booked online, or you can call our agents at 855-GET-AWAY.