The Grinch and all of his friends are back and have transformed Universal Studios Hollywood into Whoville! The atmosphere and feeling is electric and is guaranteed to put you into the holiday spirit. And they have extended their stay until January 4th so you have more chances to catch this festive and heart-warming event. The whole park is filled with the Whos of Whoville roaming the streets of Universal and ready to take pictures and interact with all the guests at any time. There is so much to experience at Grinchmas on top of everything you love about Universal Studios.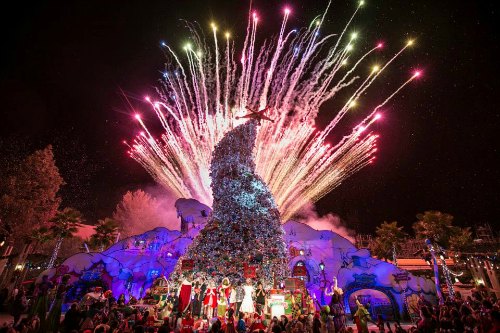 Photo courtesy of Universal Studios Hollywood
When you arrive you can't miss the one of a kind curved Seuss-ian tree! Standing over 60 feet tall, this is truly a unique tree you can't see anywhere else. Every single night they have a tree lighting ceremony that lights up the park with the Whoville Choir caroling along!
Included in the price of admission is the awesome behind the scenes Backlot Studio Tour. You don't want to miss this at any time of the year, but especially during Grinchmas. While you are traveling on the tram through the backlot of Universal Studios, you arrive at the real life set of How The Grinch Stole Christmas in Whoville. You stop and are greeted with a holiday performance by some Whos! They re-enact some favorite scenes and songs from the film with the help of The Grinch, Max, and your favorite Who characters!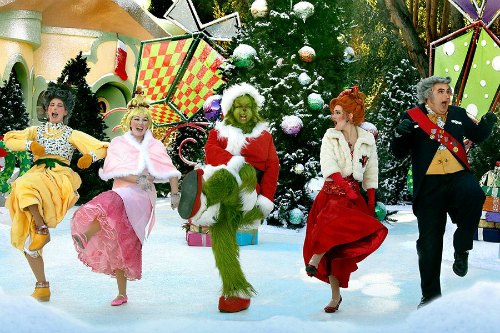 Photo courtesy of Universal Studios Hollywood
Be sure to catch a reading of How the Grinch Stole Christmas from Cindy Lou Who herself! (You might even get a special reading from a celebrity who is filming in the backlot.)
While you are enjoying all the sights and sounds Grinchmas has to offer, a picturesque evening snowfall fills the park every evening. There is a playground of snow where you can even build your own snowman! You will completely forget you are in Hollywood in this snow covered winter wonderland.
There are so many new activities and fun to be had at this years Grinchmas celebration. A guest favorite is the photo op with the Grinch himself and his loyal dog Max! This will be a experience and picture you will look back fondly and the interactions with this dynamic duo.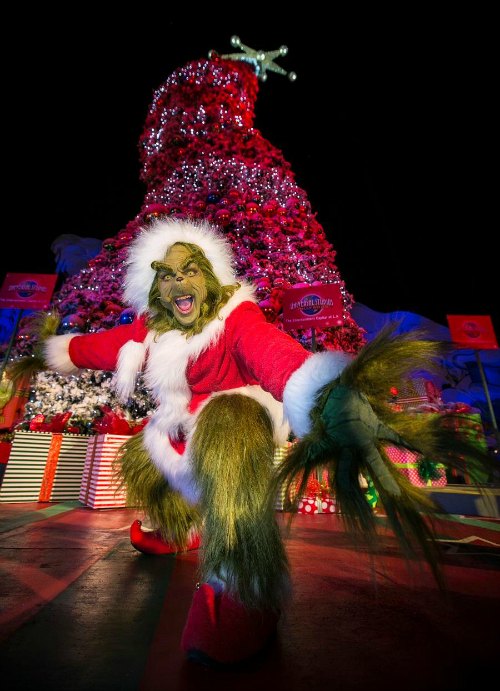 Photo courtesy of Universal Studios Hollywood
If you want to spend a little extra money you can decorate a gingerbread man! They provide you with a giant gingerbread man cookie, multiple frosting flavors and colors, and of course some colorful and tasty toppings. And the best part is you get to eat your masterpiece afterwords - and it is delicious!
You and the kids can decorate and design your own holiday ornament! They provide the paper ornaments and everything you need to design your beautiful decorations then you get to put it on the tree for everyone to see!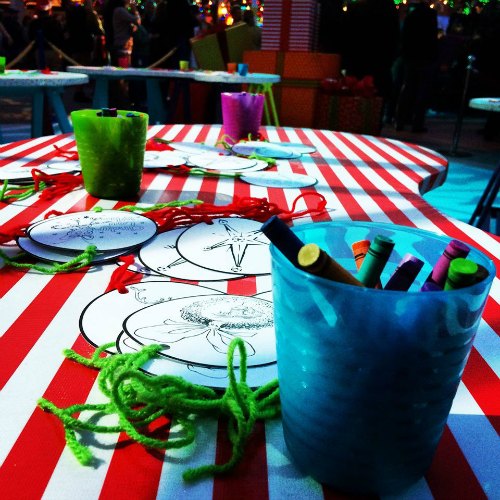 Photo courtesy of Universal Studios Hollywood
Probably one of the greatest things they do here at Grinchmas is donating a book to a child in need. All you have to do is write a postcard to the Grinch and make his heart grow a couple sizes and he sends a book those who need it in your own community.
With all this amazing Whoville town full of characters and holiday spirit, you want to be at Universal Studios Hollywood this holiday season. Now with their extended dates there is more time to get there! And it is not too late to give this incredible vacation as a gift for Christmas. Check out our blog with some fun
Last Chance Ways to Give a Vacation
. We would be happy to help find you the perfect Universal Studios Hollywood vacation or it is a perfect addition to any of our
Disneyland packages
! Book online or call any of our travel agents at 855-GET-AWAY.
Check out these great articles: