Grow your own Groot with this Guardians of the Galaxy party activity. Use our free template and let your party guests plant their own super hero to grow at home.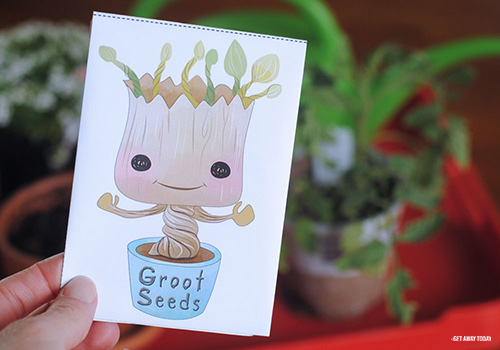 The Guardians of the Galaxy are a collection of unlikely friends who work together to save the galaxy from almost certain destruction. During their down time, they know how to let loose and have fun. Music, dancing and joking around are all part of their regular routine. You can use inspiration from the Guardians of the Galaxy to create a birthday party or galactic event that is sure to be out of this world.
This Guardians of the Galaxy party activity lets your little party guests grow their very own Groot. Plant tiny Groot seeds and watch them grow into a real live plant! The free printable Grow Your Own Groot template makes this activity easy and fun for everyone. With a little bit of Disney magic and some imagination, your guests can have a best tree friend, just like Rocket Raccoon does.
To grow your own Groot, you will need:
Before your Guardians of the Galaxy Party begins, print the Grow Your Own Groot template onto white printer paper. You can choose to make each party guest their own packet or have them share.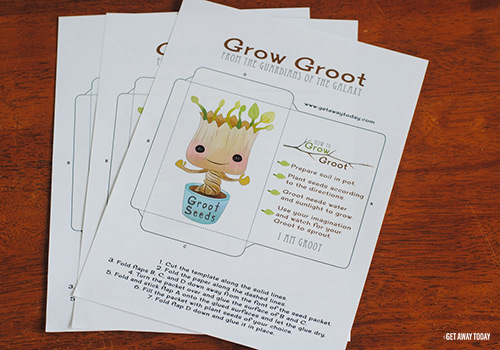 Directions for creating the packet are printed onto the template. Start by cutting around the solid edges of the image.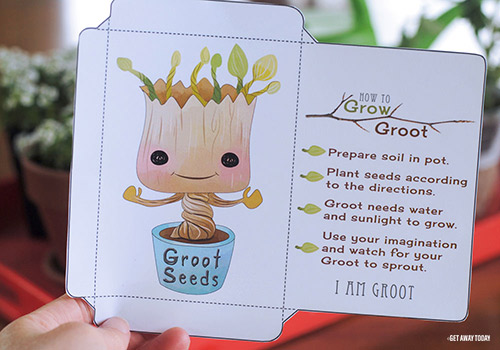 Then, fold along the dashed lines. I folded the C tab first and then the B tab.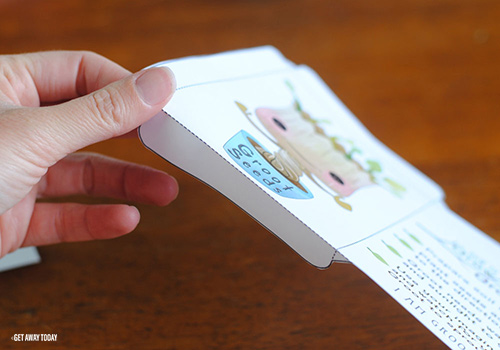 Fold along the A dotted line and crease it into place. Add adhesive to the B and C tabs. You can use rubber cement, a glue stick or double sided tape. Press the back of the seeds packet (Tab A) onto the glue and press it into place.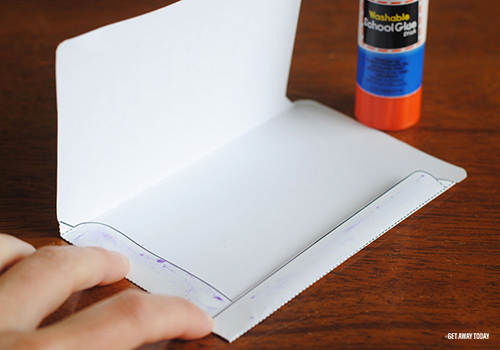 Fill the Grow Your Own Groot packet with plant seeds. There are so many seed options to try. Obviously, the seeds are not going to grow a real super hero talking tree...even one that can only say three words! But, it is still fun to watch the plant sprout and grow. With a little imagination, it can be a lot of fun.
I wanted to find some seeds that would sprout quickly. You don't want the Guardians of the Galaxy Party guests waiting 6-8 weeks to see something germinate. Some of the best and fastest growing seeds for kids to plant are: sweet peas, marigolds, sunflowers, poppies, wildflowers, morning glory, salad bowl lettuce, radishes, chives, spinach, spring onions, and carrots.
Make sure to take note of the instructions on the original seeds packet. The directions given to grow your own Groot are a little bit different since they include a magic and imagination. Fold over the final tab and glue it into place to keep the seeds safe in the package.
When it is time for your Guardians of the Galaxy party, give each guest a small tera cotta pot. Hand out the Grow Your Own Groot packets.
Let your guests fill the pots with potting soil. Place the seeds on top of the soil. Then, cover them with a layer of dirt.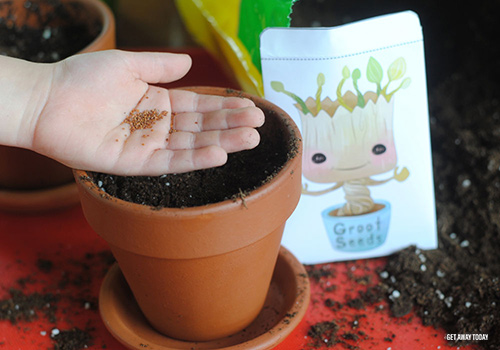 Give the dirt a little drink of water. I purchased a fun little watering pot for this Guardians of the Galaxy party activity to make watering the pots extra exciting and easy.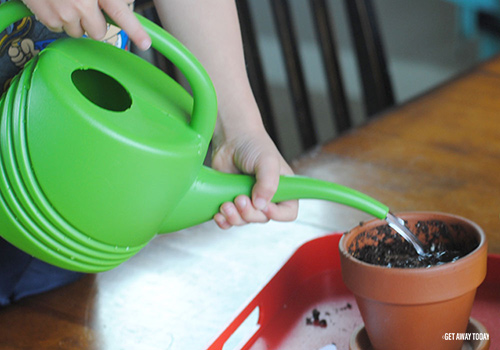 Your Groot is ready to grow! Make sure to send the instructions home with your party guests so they know to water the seeds and give them sunlight. After a few weeks, Groot will grow into a real plant! It is so fun to watch it happen. Remind your helpers that these are pretend Groots, so they don't get disappointed when the plant doesn't come to life.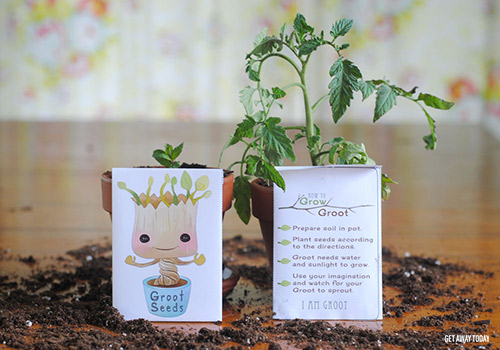 If you are lucky enough to be heading to Disney California Adventure Park this summer, you can be one of the very first to ride the brand new Guardians of the Galaxy - Mission: BREAKOUT! It opens May 27, 2017. You'll be able to help Rocket Raccoon break the rest of the Guardians out of captivity. Expect to laugh and scream, and be sure to hold on tight for the ride of your life!
To book your summer vacation to Disneyland, give our agents a call at 855-GET-AWAY. Or, you can book our discount Disneyland tickets and Extra Night Free hotel specials online. Either way, you're sure to have a galactic vacation!

Check out our other great articles: