Fold your own Harry Potter Bertie Botts Every Flavor Beans Box. Use the
simple template
to create a Harry Potter treat that is perfect for a movie marathon or a Halloween bash.
Harry Potter Treat - Bertie Botts Every Flavor Beans Box
I am not sure how it happened, but it is October again! Tis' the season for pumpkin desserts, fall leaves and Harry Potter! I know that "technically" Harry Potter isn't just a Halloween thing, but it is a perfect time of the year to celebrate our favorite things from the world of witchcraft and wizardry!

Harry Potter Treat - Bertie Botts Every Flavor Beans Box
I wanted to create a Harry Potter treat that could be easily made for Halloween parties at school and would also work for little Harry Potter gatherings too! One of my favorite treats from Hogwarts is Bertie Botts Every Flavor Beans. I am not sure if I would actually eat them, but I like to think it would be a fun adventure. Even eating Jelly Belly candies is a little bit of a rush, because there are a handful of flavors that I don't care for. Maple and Coffee totally make me gag. Imagine eating a jelly bean that tasted like vomit or ear wax. No thank you!
That is what makes Bertie Botts Every Flavor Beans the perfect Halloween dessert! It is a perfect mix of a trick and a treat You can make a box of Bertie Botts Every Flavor Beans with this cute printable! They take just moments to fold. But beware, eat at your own risk!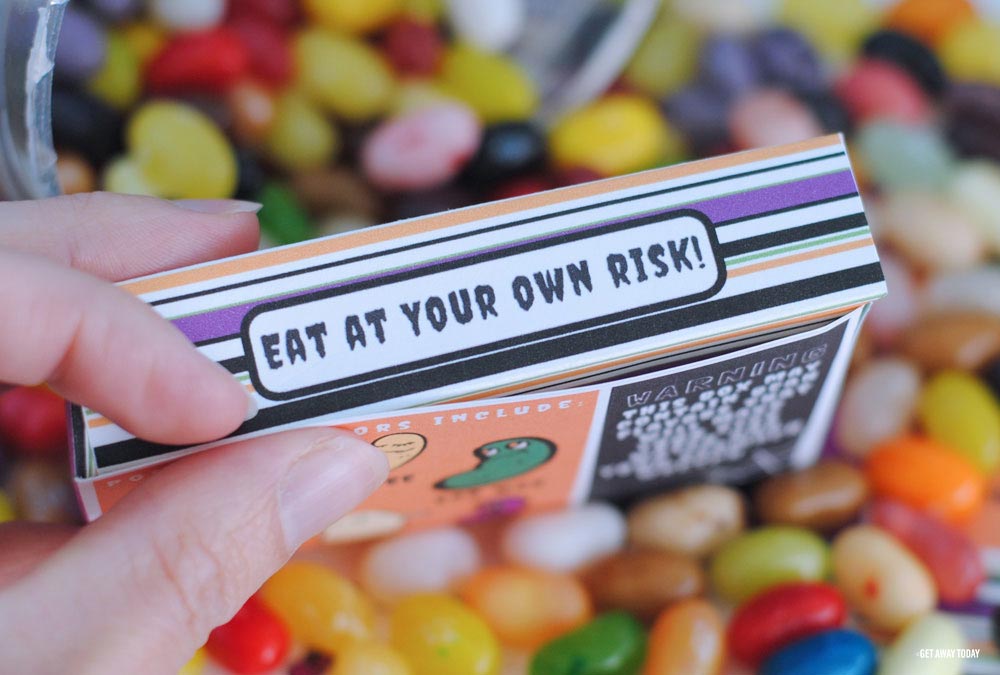 You will need:
Harry Potter Treat - Getting Started
Start by downloading the cute template here. It is a PDF file that is easy to print. You will want to print the template onto heavy cardstock paper. The firm paper makes the Every Flavor Beans Box sturdy and more authentic. Make sure to use color ink as well! Print as many copies of the template as treat boxes you want to create.
Cut around the outside of the entire template. Take your time to make straight cuts.
Harry Potter Treat - Folding the Every Flavor Beans Box
Lay the Every Flavor Beans template so that the printed side is facing down onto a table or craft cabinet. Fold on each of the lines. You will fold everything up away from the table. Crease the lines with your finger so the fold stays in place. There are little tabs and then the big lines between all of the rectangle boxes. You will make 12 folds in all.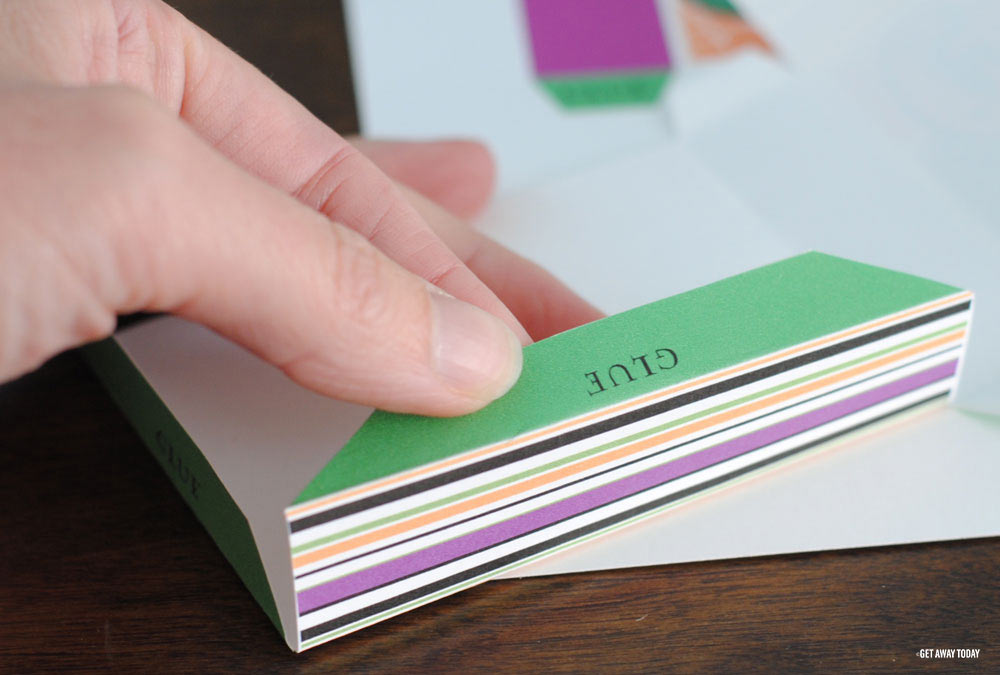 Then, there are green tabs that have the word, "glue" printed onto them. Those are the tabs that you will use to create the box shape! I decided to use double sided tape instead of a glue stick because it has a very short drying period. Zero seconds! But, a glue stick would totally work for this step as well.
Place the tape (glue) on the green tabs and then line the tab up with the connecting piece of the template. Your goal is to fold it into a box. It's pretty easy! You can use a pencil with an eraser to poke into the inside of the box to help secure the tabs in place.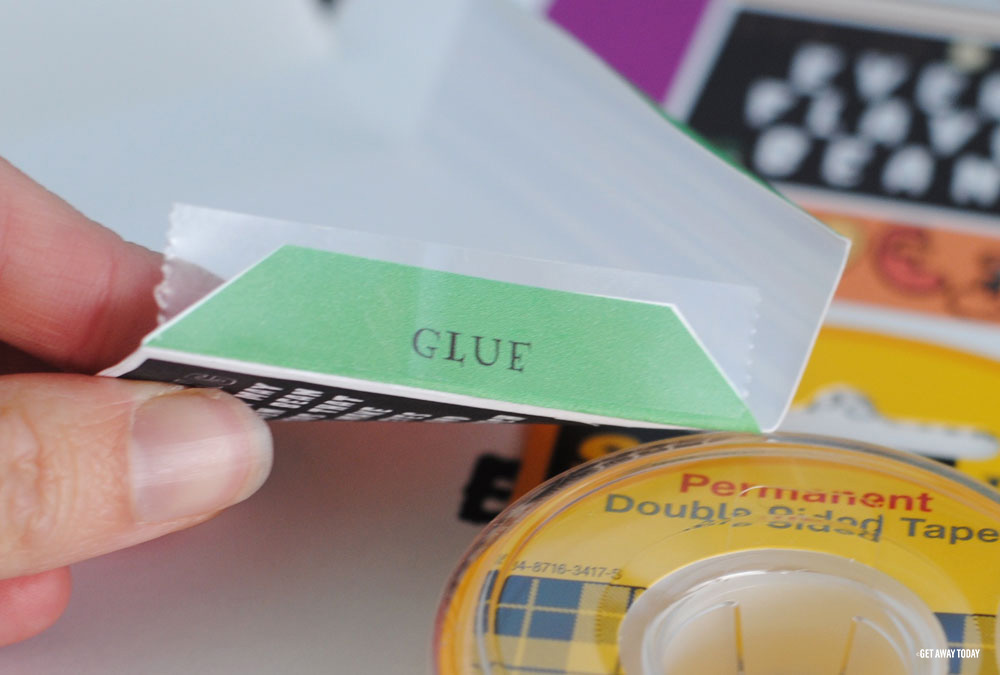 The top tab folds and tucks into place so it can be opened and closed easily. You need to have access to the candy!
Harry Potter Treat - Filling the Every Flavor Beans Box
Fill the Bertie Botts Every Flavor Beans Box with Jelly Belly candies.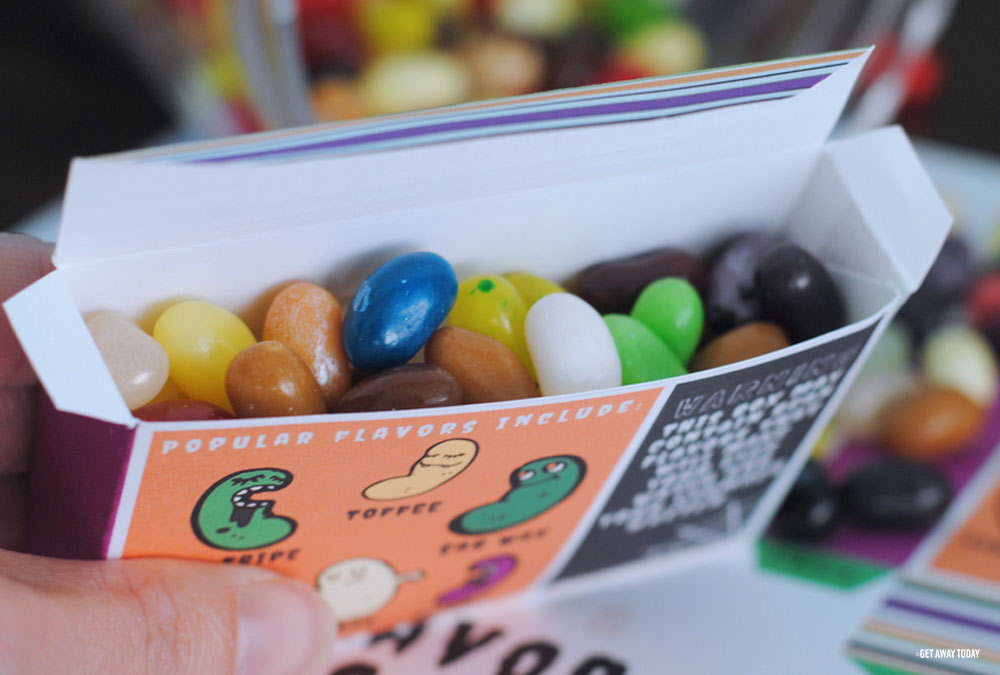 These jelly beans have over 30 flavors. They are colorful and fun to eat. Like I said before, not all of the flavors are my cup of tea, but that is kind of the point! I ordered a huge bin of the Jelly Belly's off of Amazon. You could fill at least 30 boxes with this container of candy.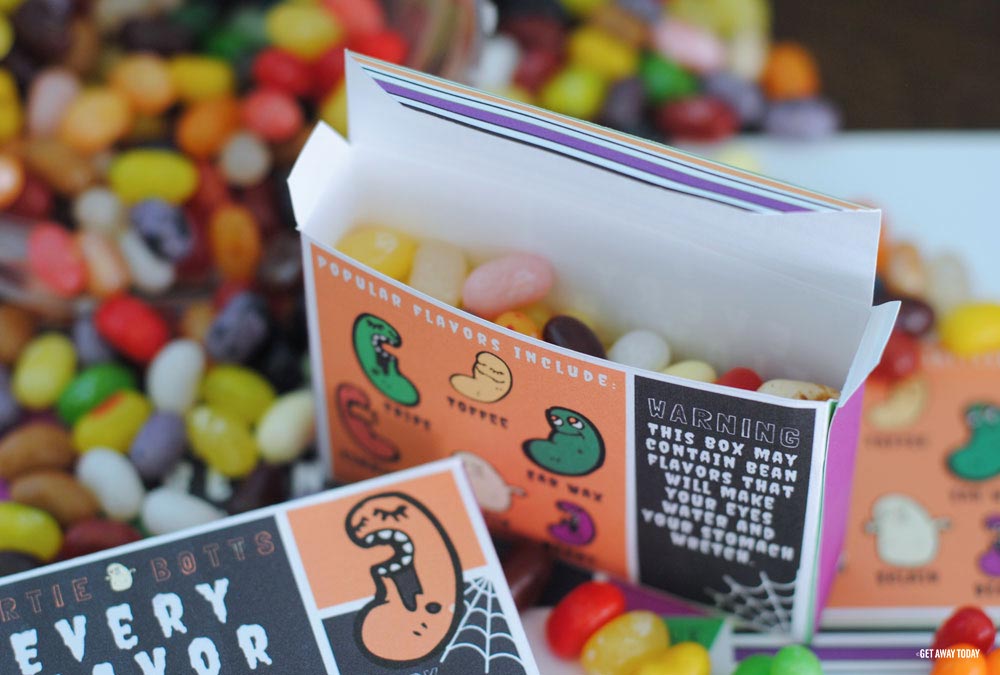 If you are handing them out to rowdy kids, I would use a little square of tape to secure the opening flap in place just so they don't spill the beans on the way home from school. Folding this simple candy box could even be part of the Halloween party fun if the kids are 8 year or older. Have fun!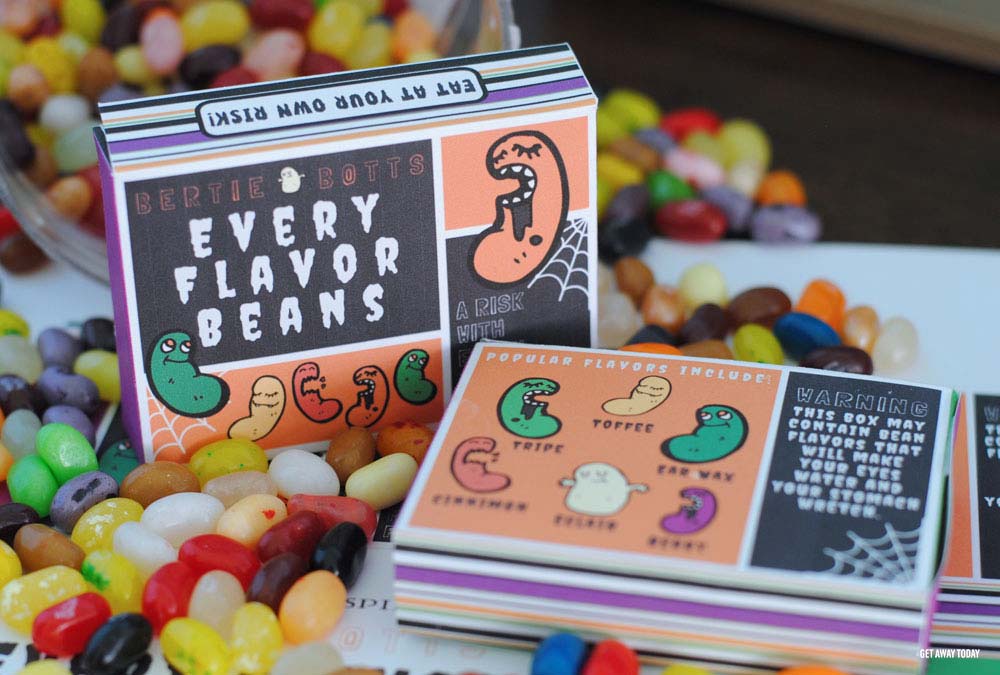 If you want to get your hands on an orignal box of Bertie Botts Every Flavor Beans, Get Away Today can help you! Whether you want to visit The Wizarding World of Harry Potter Hollywood or Orlando, we have discount vacation packages available to get you there. Check them out online, or give us a call at 855-GET-AWAY. We wouldn't want you to rely on a broom for travel, so we look forward to helping you plan a Harry Potter vacation!