Chances are pretty good that spending a day enjoying the Wizarding World of Harry Potter is going to make you thirsty! The best thing to do in that situation is purchase a nice chilled mug of Butterbeer, put your feet up, and relax for a while. The next best thing, however, is to quench your thirst with water from your own personalized Harry Potter water bottles. Or, if you feel like "being up to no good," then you could bust out the frosty root beer instead.
Harry Potter Water Bottle Labels
It is so easy to transform a regular plastic bottle into a magical one. You don't even need to use a magic spell. All you need are a few supplies you probably already have around the house and the instructions below.
Harry Potter Water Bottle Label Supplies
First, print the labels onto regular paper. You can download the file here.
Then, peel the existing labels off of the water bottles.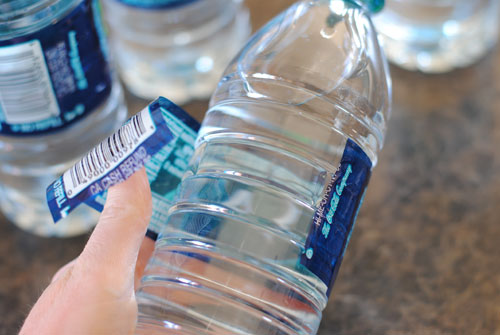 Cut the labels into strips. Do NOT cut off the white tabs at the ends of the label. You will most likely need the length for the paper to wrap around the bottle completely. Test the wrap around the bottle to see if it fits properly. Different brands of bottled water make varied sizes of bottles. With the right adjustments, these labels will fit most standard watter bottle sizes.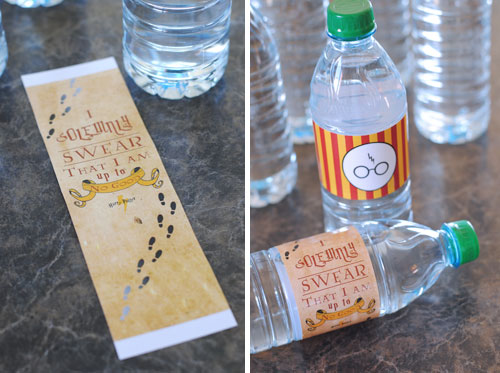 Roll out a strip of clear packing tape onto the table. Place the label face down onto the tape leaving a small amount of tape at each edge. The tape serves two purposes. First, it sticks the label onto the bottle. Second, it acts as lamination for the paper to keep it nice in your cooler and protects it from spills.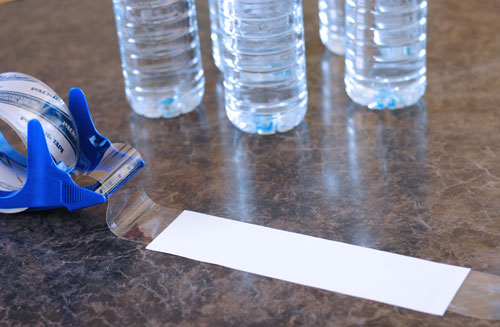 Wrap the label around the bottle and secure it in place with the tape at the ends.
And voila! Just like that, your water bottle goes from "muggle" to "wizard"-- in a manner of speaking.
Harry Potter Drink Labels - For All Bottled Drinks!
Since all forms of soda pop are usually banned from our house, my kids think it is fantastic when they get a taste of the bubbly sugary beverage. I must have felt like being "up to no good" today at the store because I couldn't help but toss a pack of bottled root beer into the cart. It felt a little bit more wizard-like than water! If you want to make your little witches and wizards happy, you could certainly use these water bottle wraps to wrap something a little bit more tasty.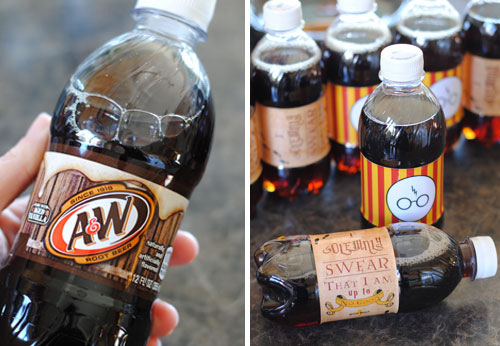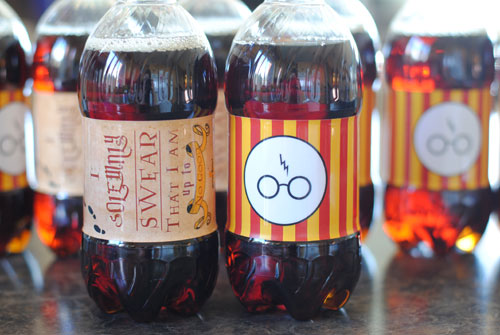 The Wizarding World of Harry Potter can be found at both Universal Studios Hollywood and Universal Orlando Resort. Harry Potter and the Forbidden Journey, Ollivanders Wand Shop, Flight of the Hippogriff, Hagrid's Magical Creatures Motorbike Adventure, real Butterbeer and more can be found at select parks. Lucikly, you don't have to find your way to Platform 9 3/4 to get there. All muggles are invited to explore this magical place. You can add
Universal Studios Holywood
tickets to your Disneyland vacation, or make it an incredible getaway in itself.You can stay at any of our Anaheim area hotels only about an hour away from Universal Studios to get the best deal, or you can stay at one of our hotel partners right by Universal Studios and be closer to the magic. Either way, we'd love to help you book your vacation. Check out our Universal Studios Hollywood packages online, or call our vacation experts at 855-GET-AWAY.

Check out these other great articles: