There are so many reasons to cruise - being able to completely disconnect, exploring new destinations and just unpacking once, being waited on, making your own schedule... and the list goes on. If cruising isn't already appealing enough, Holland America offers exclusive experiences that make cruising irresistible to the most discerning traveler.
There's no question that one of the major draws of taking a cruise is the food. And with Holland America, they take food to the next level with their Culinary Arts Center presented by Food and Wine Magazine. You'll find hands-on cooking classes taught by the cruise line's award-winning chefs and special guest chefs. Special guests vary depending on the cruise include famed chefs from around the globe and will also be available for book signings and special menu offerings. There are even special classes for kids and teens. Holland America also offers winetasting and mixology. Guests can keep Food & Wine® recipe cards and wine tasting notes along with copies of the magazine as souvenirs on select cruises. And, if for some reason you can't make it to the classes, you can watch from your stateroom on the ship's channel. Guests will also be able to tempt their taste buds on-shore as well with regionally inspired workshops, including local market tours in selected ports of call.
Get a sneak peek into what the Culinary Arts Center has to offer here:
Or, if you're looking for ways to sharpen your skills, you can take advantage of Digital Workshops hosted by Windows. These hands-on classes are offered throughout each cruise and give guests the opportunity to learn how to take, edit and enhance vacation photos, how to connect via social media, how to blog, make videos and more.
Guests also have access to the largest at sea library with Exploration's Cafe, where you can grab a quick bite and take advantage of wi-fi hotspots. Longer cruises also host seminars where you can learn about the destinations you'll be visiting during your cruise.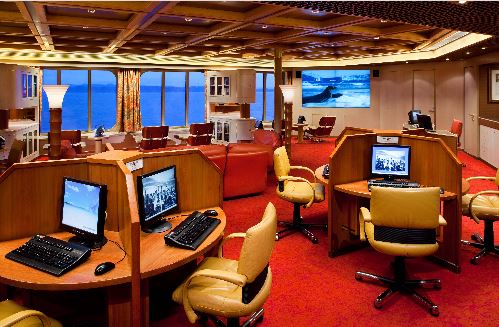 And, one of my personal favorites, are the free dancing classes offered on each cruise inspired by the hit show, Dancing with the Stars. Holland America's Dancing with the Stars at Sea contest gives guests the opportunity to shine on each Holland America Cruise with an onboard Dancing with the Stars guest competition. Cruisers will be paired with the ship's professional dancers and will be scored by the audience and three judges. In October, 15 finalists will win a chance to compete in the finals on a free Western Caribbean cruise that will depart in December 2014! It's just one more reason to get out your dancing shoes! In addition to the special lessons and competition, select dancers from Dancing with the Stars will be onboard teaching lessons, performing and meeting guests on select cruises. Get a glimpse into the glamorous fun awaiting you on a themed Dancing with the Stars: At Sea cruise:
These awesome Dancing With the Stars themed cruises will take place on the following dates and itineraries:
June 14, 2014, ms Zuiderdam, 7-Day Roundtrip Vancouver
June 21, 2014, ms Zuiderdam,7-Day Roundtrip Vancouver
July 26, 2014 ms Westerdam, 7-Day Roundtrip Seattle
August 2, 2014, ms Westerdam, 7-Day Roundtrip Seattle
November 29, 2014, ms Westerdam, 7-Day Eastern Caribbean
Don't miss any of the fun - book your cruise today and experience the difference of Holland America! Our Cruise Experts would love to help you find the best deal at 877.510.2929.

Check out these other great articles:
Holland America: Alaska Cruises from $499
Cruise Destinations: How to Pick the Itinerary For You
How to Choose the Perfect Cruise